2017 TERRAIN PARK CONTEST RESULTS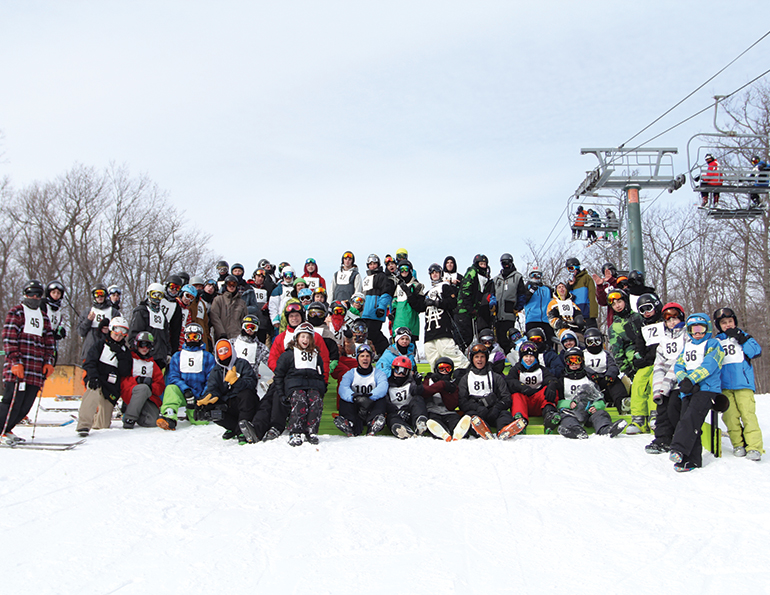 The Scott Delforte Park Jam, Bristol Mountain, N.Y.
As a whole, the entries in this year's SAM Terrain Park Contest embodied what most park enthusiasts seek: variety. From huge features and bigtime events geared toward pros, to simple jibs and grassroots gatherings aimed at park newbies, it all combined for yet another impressive snapshot of what skiers and riders are finding in parks all over the world.
A total of 1,035 online votes were cast between the two categories: events and features. The results may point toward some trends in the park world, or at the very least an appreciation for ingenuity, and doing things for the right reasons.
Feature winner: Junkyard Dog. This small feature, built by Whitecap Mountain, Wis., volunteer Josh Bremer out of salvaged wooden posts and 4X4s, caught the attention of 33 percent of voters—more than double that of the runner-up, The Baker's Dozen at Grouse Mountain, B.C. The two couldn't be more different. Baker's Dozen is a massive snow feature built as part of a course for Red Bull Uncorked with the help of pro snowboarders Mark McMorris and Seb Toutant.
Event winner: The Scott Delforte Park Jam. Bristol Mountain, N.Y., has hosted this fundraising event for the last 13 years. All proceeds from the event help pay for local grade-school kids to ski or ride—335 kids have benefitted since the event's inception. Its mission and its format must've struck a chord with voters. The same could be said for the runner-up, Girls Rock the Park at Ski Sundown, Conn., which finished only four votes behind. Going on its fifth season, this grassroots event is designed to help introduce girls ages 8 and up to the joys of terrain parks.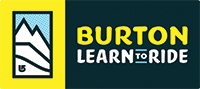 Congrats to our winners, thanks to everyone who voted, and thanks to Burton for its support and for providing awesome swag bags for the winners.
NASTAR GOES GOLD
In 2018, the National Standard Race—better known as NASTAR—celebrates 50 years of providing a system of standardized racing to recreational skiers. Originally conceptualized by SKI editor John Fry in 1968, NASTAR grew so quickly that the magazine brought in former U.S. Alpine Team head coach Bob Beattie to be its commissioner in 1970. Beattie ran the program for 30 years, always with the idea that it was all about allowing people the opportunity to simply enjoy the experience of ski racing.
In the last 50 years, more than 170 resorts have hosted NASTAR races. It is now operated by U.S. Ski & Snowboard (formerly known as the U.S. Ski and Snowboard Association), which continues to carry out the goal of bringing greater awareness to the sport of ski racing, and motivating more individuals to give it a try.
NO MOUNTAINS NEEDED
Snowsport England is the national governing body for skiing and snowboarding in England, and part of its mission is to promote increased participation in snowsports, especially for kids. In 2016, it started National Schools Snowsport Week, which gives school kids the opportunity to ski or ride free of charge, or at least at a heavy discount. This year's event is scheduled for April 23-29.
Those dates don't seem ideal for winter activities, right? For this initiative, the dates on the calendar don't really matter because every venue participating in Snowsport Week is either a dry slope or an indoor snow facility. Nearly 2,300 kids participated in the 2017 event.
The timing of the 2018 week is aimed at capitalizing on the enthusiasm generated by the Winter Olympics. With more Brits watching skiing and riding on TV during the Games, "we believe the third edition of the week will attract even more schools and hopefully mean many young people will catch the skiing or snowboarding bug!" says Tim Fawke, chief executive of Snowsport England.
In England, year-round skiing and riding has developed British Olympians, including snowboarder Aimee Fuller and alpine World Cup skier Dave Ryding—who are both supporters of Snowsport Week. "I started skiing when I was at school and used to spend hours and hours at my local dry slope," says Ryding. "It is a great sport for young people and I hope the performances of our British skiers and snowboarders will help inspire more people to give snowsports a go."
SPAGHETTI WESTERN
In a tight race, 5-year-old Colby Rogers was named Mini Mayor of Colorado's Sunlight Mountain Resort for the 2017-18 season. Rogers, who lives in nearby Rifle, edged out two other candidates with 3,948 online votes, running on a "platform" that included getting spaghetti on the resort's menu and lobbying to paint chairlifts pink.
Each fall since 2015, Mini Mayor candidates—always local kids under 12—and their "adult campaign managers" apply online and outline why they want to be Sunlight's mayor. Voting is open to the public for a few months starting in September. The winner gets a free season pass, new skis or snowboard, and a seat on Sunlight's "executive board."
Last year's mayor, 9-year-old Gabby Noyes, says the role prompted her to ski more and encourage other kids to do so, too. In fact, Noyes' platform was "helping other kids learn to ski."
Rogers, in addition to her longer-range campaign promises, says she plans to continue the focus on getting more kids on the hill. Her mom, Jade, says she also hopes Colby will learn that being a leader means helping people.
Sunlight Mini Mayors serve a one-year term and can seek one reelection. It's too early to tell if Rogers will be a career politician. For now, we anticipate Sunlight's weather report for this year to lean towards "cloudy with a chance of meatballs."
INVESTING IN INDEPENDENCE
After Red Mountain, B.C., launched "Fight the Man. Own the Mountain." back in August 2016, it's gained some attention for using equity crowdfunding as a means to raise capital dollars. When the campaign was a commitment-free proposal, more than 3,500 people said they were interested in throwing down a minimum of $1,000 in return for an ownership stake in the resort. So CEO Howard Katkov and Co. turned it into a real equity crowdfunding campaign, able to accept real dollars.
The offering came out of the gate hot. On the day it launched to Canadian investors in August 2017, a total of C$508,500 ($394,000) in pledges came through—a single-day record for any such effort in Canada. Then the pace leveled out. The resort set a deadline of Dec. 1 to reach a goal of C$1.5 million in order for the first round to close. By mid-November, after it gained approval to launch the offering to American investors and beyond, Red had raised C$1 million with only two weeks left to reach its goal.
And then, the procrastinators came through. By Dec. 1, investors committed more than C$1.7 million. The goal was surpassed, but it came down to the wire. In an online letter announcing the milestone, Katkov said, "Skiers and snowboarders are accustomed to pulling the trigger at the eleventh hour, packing up the truck for a powder mission on a moment's notice… I think that's what we saw here as dozens of investors came in during the final 24 hours to help us hit our subscription goal."
But that was just round one. Investors can still buy a piece of Red Mountain, and the resort plans to keep the opportunity open until April 2, 2018.
A campaign that started 18 months ago with a video on Facebook is now responsible for not only raising capital dollars for one of North America's largest independently owned ski areas, but also raising awareness—and stature—for all ski areas that aren't swimming in the consolidation pool.
supplier news
ALPINE ENGINEERING LLC (Ericksen Associates, Inc. through 2008) founder Nils Ericksen, P.E., is retiring after 40 years in business, and the business is retiring with him. Ericksen began his career at Killington, Vt., in 1969. His first independent engineering project was relocating a T-bar at Smuggs' in 1978. His daughter Kirsten, a civil engineer, joined the company in 1991 part-time, and then full time in 2008. Nils served as SAM's technical editor for 34 years, writing dozens of articles and developing the ongoing "Idea Files." He was a voting member on the ANSI committee for 35 years; Kirsten has since taken over his seat. Kirsten is now working at Killington, where her dad started, as civil engineer, and permits and compliance manager. The Ericksens said, "We can't imagine ever working in a better environment than the ski industry. Thank you to everyone who has supported us over the years! It has been a great pleasure to work with such incredible people."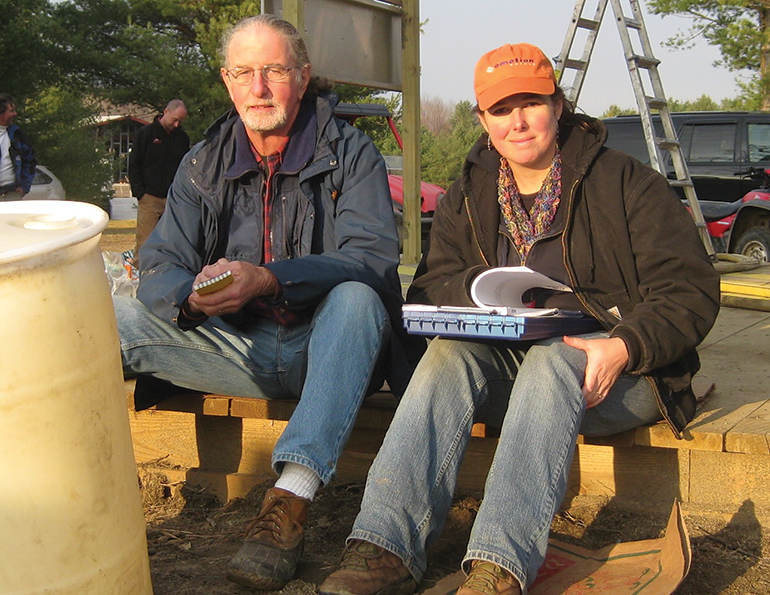 Nils and Kirsten Ericksen.
Cultural exchange facilitation company CCI GREENHEART has changed its name to GREENHEART EXCHANGE. The company is a designated sponsor of the U.S. Department of State for J-1 Exchange Visitor Programs, and has long been a partner for mountain resorts that employ international students participating in the J-1 Summer Work Travel program.
ECOTECSNOW has teamed up with JUNIPER SYSTEMS to offer a snow depth monitoring and management system called SNOWGAGE. The system utilizes a proprietary wide-band radar unit mounted under each grooming machine to measure snow depth. The company says the system is accurate to within +/- five inches. Inside the cab, a Juniper Systems Mesa2 tablet is paired with the SnowGage sensors and a GPS receiver to provide real-time data accessible through a secure cloud-based app. The snow depth data is illustrated in color on a high-res Google Maps base layer. The system can also display grooming fleet locations and performance data.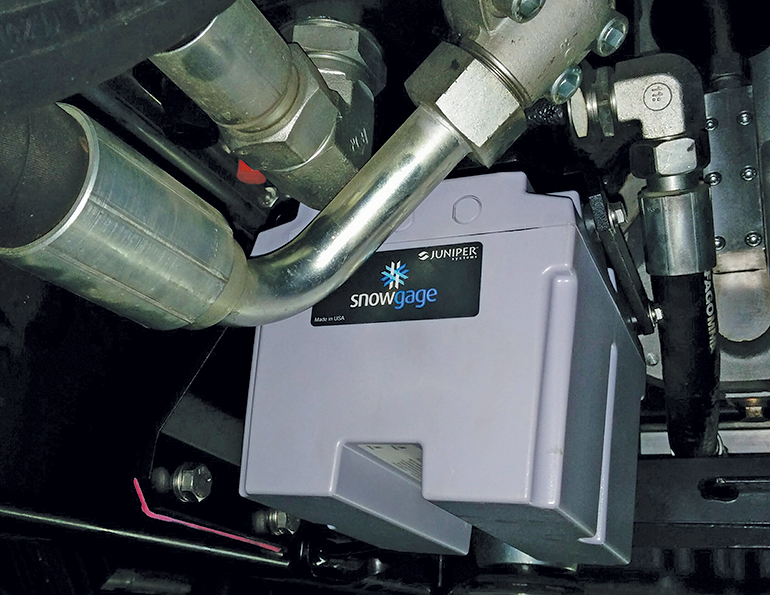 A SnowGage radar unit.
SNOWVATION has partnered with Peak Resorts' four New England properties—Mount Snow, Vt., and Attitash, Wildcat, and Crotched, N.H.—to provide the online booking platform for each resort's snowsports school products.
K2 SKIS has named Ryan McBride head of U.S. sales.
Annamica Delabbio is now the resort program manager for SNOW PARK TECHNOLOGIES.
People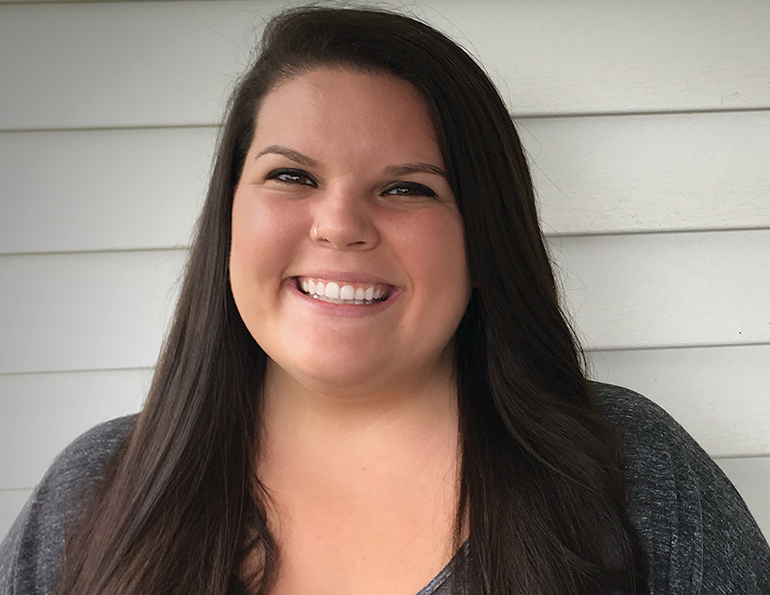 Molly Ross, Blue Hills, Mass.In the East, Lost Valley Ski Area in Maine welcomed John Herrick as general manager. … Tim Shannon is now ski and snowboard school director at Crotched Mountain, N.H. … Molly Ross, a 2017 SAM "10 Under 30," was named general manager of Blue Hills Ski Area, Mass. … Brian Czarnecki has been promoted to COO for Camelback Resort, Pa.
In the Rockies, Ty Hoath was named VP of human resources at Jackson Hole Mountain Resort, Wyo. … Rob Spence joined Steamboat Resort, Colo., as VP of food and beverage. … Telluride Resort, Colo., welcomed Lynne Sandoval as director of group experiences. … Brittany Clelan has been named VP of human resources for the KSL/Henry Crown and Co. entity. … Ski Utah hired Albert Kenworthy as its new sales/membership manager.
Aspen Skiing Co. restructured its management team: Katie Ertl has been promoted to senior VP of mountain operations, overseeing mountain operations at the four SkiCo resorts. John Rigney was promoted to senior VP and will oversee events, strategic operations, mountain food and beverage, rental, and retail divisions. Lynda Edwards is now VP of mountain food and beverage, while Rich Burkley was selected to oversee a new strategic and business development group as senior VP, strategy and business development. Matt Jones will lead efforts in marketing and technology development. Rana Dershowitz is now chief legal officer and senior VP of real estate. David Clark has been promoted to VP and associate general counsel, and Auden Schendler was promoted to senior VP and has assumed responsibility for all SkiCo purchasing.
In Idaho, Schweitzer made several personnel moves: Rob Batchelder is the new director of mountain operations, Richard Nakatani has been promoted to Lakeview food and beverage manager, Jordan Hansen is now the chef at Sky House, and Robert Stiers has been promoted to Chimney Rock head chef. … Lookout Pass, too, has made a few management changes: Brian Bressel is the new general manager, Matt Sawyer is the new marketing director, Gary Forest is now snow sports director, and the new IT manager is Ward Dorrity. … Ken Rider is now the director of sales and marketing at Brundage Mountain Resort.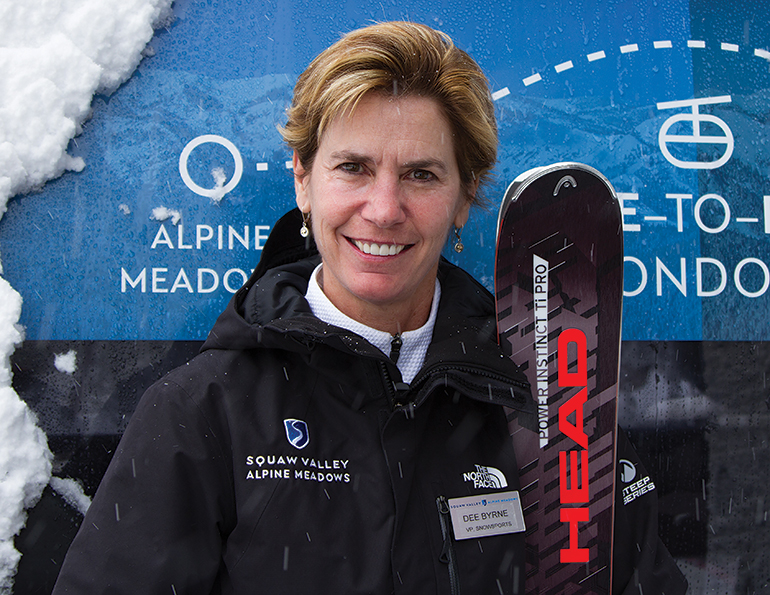 Dee Byrne, Squaw Valley Alpine Meadows, Calif.In California, Squaw Valley Alpine Meadows named Jennifer Scharp its human resources director, Dee Byrne is now VP of skier services, and El Furtney has been promoted to managing director of the ski and snowboad school. … Duane Stutzman is now snowsports school director at Sierra-at-Tahoe, and Maria Aime is the new manager of Wild Mountain children's program.
Obituaries
Two-time Olympic ski jumper Eugene "Gene" Kotlarek died Nov. 9. He was 77 years old.
French downhill skier David Poisson died on Nov. 13 following a crash during a training run in Canada at the age of 35.
George Krueger of Ski Lifts Unlimited died Dec. 12 after battling cancer. His contributions to the ski industry spanned 50 years.
Awards
Longtime Rossignol sales rep Deno Dudunake was honored with the 32nd annual BEWI Award at a luncheon in Boston on Nov. 10. ... Rusty Gregory received the 2nd Annual Bob Roberts Award of Excellence, given to an individual who has made significant contributions to the California ski industry.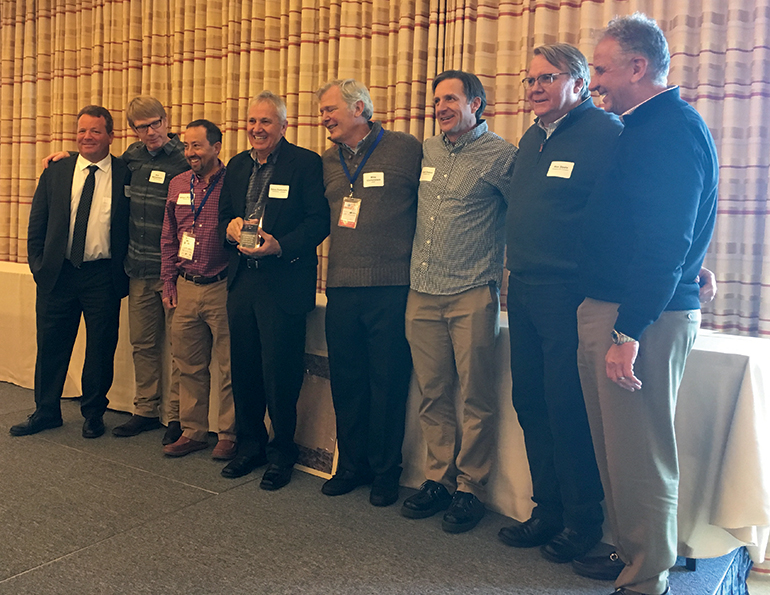 Deno Dudunake (center, dark jacket) is joined by current and former colleagues.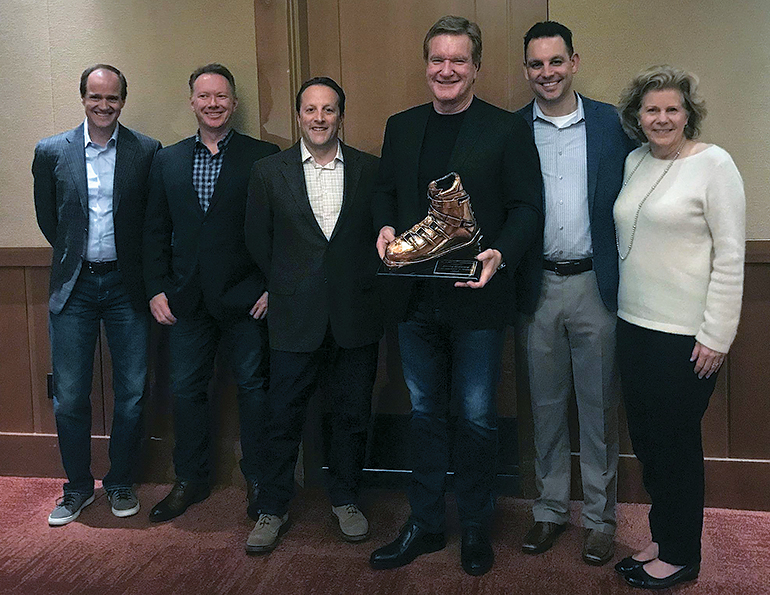 Eric Clark, Mark Brownlie, Ron Cohen, Rusty Gregory, Michael Reitzell, and Sally Helm.
Moira McCarthy earned the NASJA Mitch Kaplan Memorial Award for her excellence in coverage of snowsports. Jeff Blumenfeld received the Bob Gillen Memorial Award, presented to an individual corporate member of NASJA for contributions to the advancement of snowsports.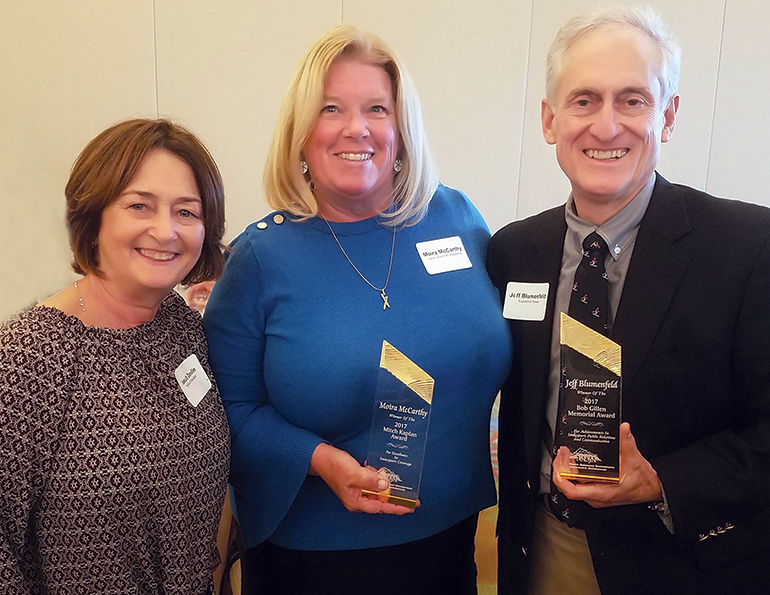 Moira McCarthy (C) and Jeff Blumenfeld (R) with NASJA president Iseult Devlin.