Years ago, Diane Mueller had a dream: to live in a world where miniature golf was a really big deal. "I always thought we could really take miniature golf and make it more like 'World Class Miniature Golf'—have courses and holes that people just want to get out and play," she says.
Mueller, executive vice president and co-owner of Triple Peaks, LLC—which operates Okemo, Vt., Mount Sunapee, N.H., and Crested Butte Mountain Resort, Colo.—just may have been a true visionary back then. As more resorts amp up their summer and shoulder season offerings, mini golf is being considered more and more. Spots that are finding success with it have realized that it's about way more than just windmills and colored golf balls.
To make miniature golf much more than just a check-the-box side activity, resorts are investing in courses that provide a fun, educational, challenging, and totally memorable experience that speaks to all ages—from tiny tots to grandma. When done right, this experience can translate into a healthy return.
Recipe for Success
For Mueller, there are two important criteria for success: "Any good mini golf course should be somewhat challenging," Mueller advises. "It should not be vanilla." So, too, she says, should a good course embrace a theme, one that entertains players from start to finish. "What we try to do is tell a story as players are going along. The course at Okemo? It tells the story of Okemo and Ludlow in a fun, active, and entertaining way."
To meet these criteria, Mueller worked with her team—from marketing to construction—to create their courses. At Okemo, for instance, the players see the course, and the region, through the eyes of "Lumbering Cal," an imaginary cat who roams the area and has a distant relation to Calvin Coolidge. One hole features several reproductions of the buildings at nearby Black River Academy, where Calvin Coolidge went to school. Players not only enjoy the challenge of the hole and the creativity of the architecture; they learn a bit about Coolidge and his connection to the region. So your hole in one (or two or three) comes with not just the joy of success, but also nuggets of knowledge that stay with you for good.
Another hole celebrates the ingenuity and sense of humor of true Vermonters. The "Okemometer"—a hanging rock that golfers must play around—is explained as their way to check weather. When the rock is wet, it's raining. If the rock is swinging, it's windy.
"We had a great time with this, creating it and seeing it played now," she says. "It really gives people more than the golf experience."
Okemo used a design company to help create the layout, and then built the course in-house. It opened back in 2011 and cost about $175,000 to design and build. A round of mini golf can be purchased a la carte, and is also included in the Adventure Center pass, which provides access to many other attractions and activities at the resort.
Steamboat Mini-Tour
At Steamboat Resort in Colorado, a new course made its debut this past summer as part of the resort's multi-year base area revitalization aimed at increasing non-winter business. The course has all the makings of "World Class Mini Golf."
This isn't the resort's first foray into the mini golf world, says Steamboat's vice president of skier services Jim Schneider. However, its first go 'round just didn't cut it. "We had a mini golf course. One of those that comes in a kit and you put it together and put it away each season," recalls Schneider. "It was ... ehhh ... it was okay."
The kit course was usually located at the Promenade and Creek portions of the base area, but the recent redevelopment left no place for it. That gave Schneider and Co. a chance to consider if mini golf was even going to be a part of the mix moving forward.
Ultimately, the resort decided to do it right by developing and building a permanent course with interesting holes, striking landscape, and yes, a story to tell. Steamboat chose New Jersey-based Harris Miniature Golf Courses, Inc. to design the course.
"Steamboat has a very tight base area, so first we had to figure out, 'where could we put this?'" Schneider says. The answer was a spot that, in the summer season, had little use: under the bottom portion of a chairlift and its lift maze.
The next step was to decide what it would look like. In addition to beautiful landscaping and lovely water elements (the golf balls float, so you can scoop them out if you go in the drink), its holes have stories to tell. They highlight such famed spots as the Steamboat Barn, Rabbit Ears Pass, and more. So the course is easily accessible and occupies an idyllic setting with fun challenges, all while serving up a mini-tour of the surrounding region.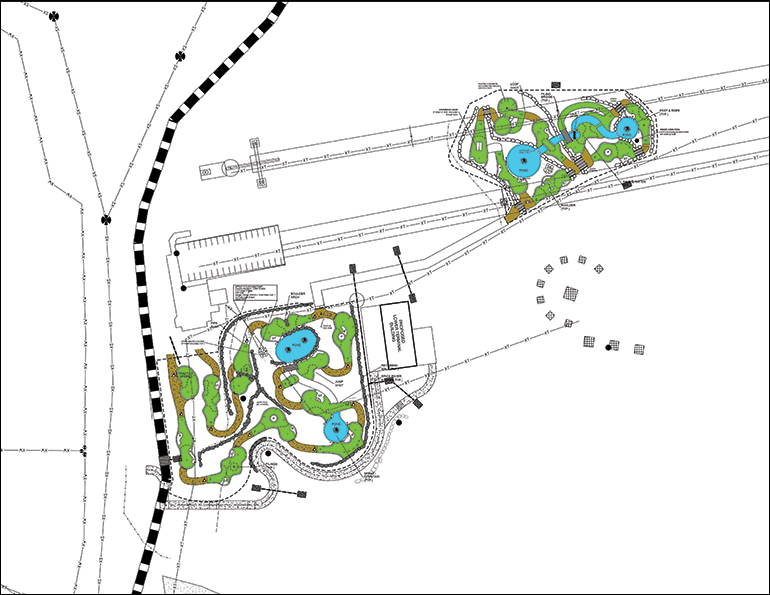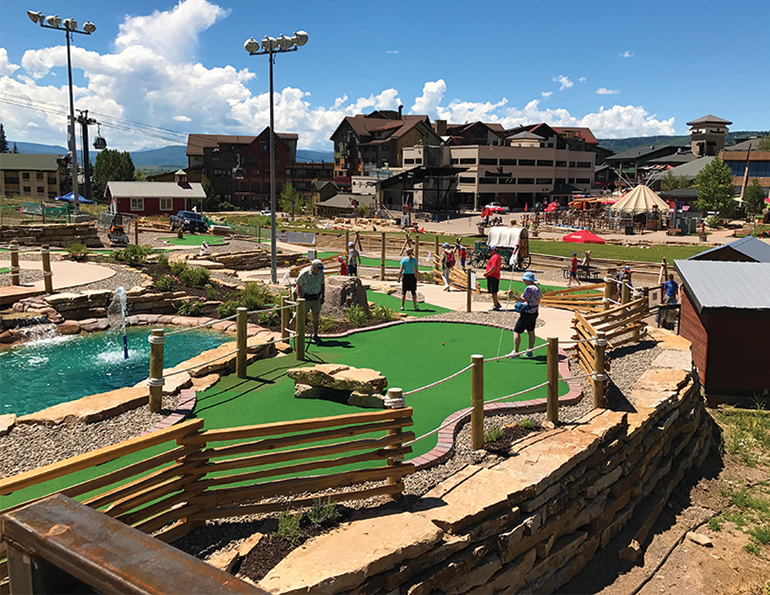 Starting with a smart design (top image) courtesy of Harris Miniature Golf Courses, Inc., Steamboat Resort, Colo., built its new course in a very visible location in the base area, and extended its liquor license to include the course.
Keys to Success
Schneider, who with his team studied successful courses around the country, realized there are some keys to successful miniature golf courses beyond theme and style.
1. Visibility. First, he says, "Put it where the people are." By making it visible—at Steamboat, it is near the creek and the popular stage area, as well as the mountain coaster—it is inviting, not hidden. Steamboat also did something brilliant: extended its liquor license for the abutting Bear River Bar & Grill to include the course. Guests can play along with their kids, friends, and family members, all while sipping the beverage of their choice.
2. Compatibility. Schneider also says it was important, with it being permanent, for it to work seamlessly with the ski area. "We just cover it up with snow in the winter," he says. "It's great to not have to take it down."
3. Individuality. Echoing Mueller, he strongly suggests, "making [the course] your own. We named and themed each hole, making it unique to Steamboat. If you make it your own, then people recognize it as a special part of your area," he says.
World Class
Mont Saint Sauveur in Quebec has taken all that to heart and more, creating a mini golf experience that may just take Mueller's grand dream to another level. Investing more than $1 million in its mini-golf course, the resort created a visual masterpiece that's as fun to play as it is lovely to see.
When creating it a year ago, resort management started by thinking basic but beautiful, says Greg McCullough, vice president of operations for les Sommets, the company that owns Saint Sauveur and several other resorts in the region. "But then we thought: let's make it more natural. Let's build it into the side of the mountain, with ponds with fish in them, plants growing, and all that," he recalls. The course blends so well into the hillside, McCullough says, that often folks' first reaction when heading there to play is: "Where is everything?"
To design the course, Sauveur employed Bailey Consulting, a mini-golf solutions company based in Florida. Bailey worked conjointly with two local companies—KM Aquatic & Design and DJ Harvey Pond World—to do the rock and water features. The course has a running river, a waterfall, and seven holes on an island accessed by a footbridge.
But that's just the surface. Sauveur put as much attention to detail underground, too. All of the course's water areas are self-filtering, meaning they stay clean and fresh using natural elements below ground instead of chemicals above.
Why Mini Golf?
So, is the investment worth it? All the resorts mentioned here believe so.
For McCullough, this first full season provides a strong suggestion that the ROI will be good. The resort, which has had waterpark elements for 35 years, had added a mountain coaster and dry rides for younger kids in recent years, and has become a diverse summer destination.
Miniature golf did two obvious things for Mont Saint Sauveur right away: it helped create a more inviting shoulder season, and added to evening activities. "So in the end, it is actually creating whole new revenue streams, rather than just adding to them," he says.
And it's weatherproof, too. In the past, "As soon as the weather man says there is a 40 percent chance of showers, 50 percent of folks who planned to come were not showing up," says McCullough. With the addition of mini golf and the other "dry" activities, "Now, they know they still have fun things to do."
He says the mini golf course only reached 2/3 of its business goal for the first year. Rough weather early in the season takes partial blame, and the summer attractions industry in Quebec is very competitive overall. Once operations got going, the resort saw 200 to 250 rounds a day, charging $7-$12 per round, depending on whether guests purchased a standalone ticket or multi-activity ticket.
Sauveur expects business to jump and see an ROI quickly. McCullough believes that will unfold because mini golf works well with the resort's entire product. "If you had a [mini golf course] that stands alone, you might have a problem," he says. But as part of a full menu of fun, it's an excellent addition.
Steamboat expects to see an ROI in about three years, Schneider says. In its first summer, the course averaged about 150 rounds a day—some via all-resort passes, and some from la carte tickets.
And the path to making money is easier, because no one is left out. "You know what's great?" Mueller asks. "It's fun, it doesn't require a lot of skill, and it's great for family. My 94-year-old mother? It's her speed, and yet it is still fun for everyone." Few other activities can say the same. Fore!
---
Guest Editor Says...
As a father of three, I can definitely appreciate these types of activities. I've spent many hours watching my kids jump into air bags, scamper up climbing walls, and we've played our fair share of mini golf. In my mind there's only one thing missing from most of these experiences: Where is daddy's cocktail?!?!
Before you start judging me and questioning my parenting skills, think about it. Mini golf is just one of the summer activities popping up at resorts all over the country that appeal to kids more than adults. Have you ever tried a bungee trampoline? An average adult might last three minutes, while kids will go forever.
As all of us continue to expand our summer activities, we can't forget mom, dad, grandma, and grandpa. Watching your kids enjoy these activities is fun, but after an hour or two, adults are ready to head home. However, if we offered food, drinks, lounge areas with shade, etc., then we stand to retain the guest longer and entice them to return in the future—props to Steamboat for thinking of this. But if we don't pay attention to the adults, families may not return. So give me a cocktail, a chaise lounge, and a putter—and let's do this! — Ethan Mueller