In late October, just before Halloween, we visited new NSAA president and CEO Kelly Pawlak in her Mount Snow office to explore her background and plans for her position. Both of us were excited about it, for overlapping but different reasons.
Olivia: SAM, a magazine owned and run by women for the past 15 years, has been championing women in positions of power in the ski industry for some time. We know the challenge of leading in what has been a male-dominated world. In a strange twist, for a story on women leaders, we had featured Kelly on the cover of SAM about four years ago. Another strange coincidence: Kelly is the second woman to lead NSAA; the first was Ann Hasper—my mom—in 1963. So I feel a special connection with Kelly, and an extra burst of excitement about her selection.
Dave: In careers and in life, sometimes everything comes full circle. This was one such moment. Almost exactly two years prior, I sat at that same table in Kelly's office and told her that I was leaving my post as Mount Snow's marketing director to work for Olivia at SAM. Now I was back with my current boss to interview my old boss. It felt surreal.
In another twist, Kelly, too, was now moving on from Mount Snow. At the time, she only had a couple days left as vice president and general manager of the mountain she called home for more than 31 years. The following week, Kelly was headed to Colorado to start looking for the place she'll live come January, when she assumes one of the biggest jobs in the global ski industry—president and CEO of the National Ski Areas Association.
Here's a bit of the conversation that took place.
Olivia: Where was the first place you skied?
Kelly: Pats Peak. I grew up in Bow, New Hampshire, so I started taking lessons there as part of the after school program.
Olivia: Do you snowboard, too?
Kelly: I did try to learn to snowboard. It was during the American Skiing Company days and we had a big learn to ski and ride program. So I actually went up to Killington and took the program there. After the lesson, I couldn't walk. I fell so many times that my wrists and my tailbone were killing me. I never miss a meal, and that night was one of the few times I did. I was staying at the Killington Grand and couldn't even get out of bed for dinner.
After I got back to Mount Snow, I was determined to learn how to do it, so right away I took two private lessons. I could turn one way, but couldn't turn the other way.
Dave: Like Zoolander?
Kelly: Something like that. After that I gave up. I'm really glad I tried it, but was also glad to put my skis back on.
Olivia: What about summer? What keeps you busy?
Kelly: Well, I'm sorry to say it, but I really don't like golf. I'm bored by it. I have tried mountain biking quite a bit, but I prefer cross-country to downhill. I'm not a speed person—I don't ski fast, I don't drive fast, I don't do roller coasters—I'm a wimp! I love to garden. I love to hike.
Olivia: This is a silly question, but what's your favorite movie of all time?
Kelly: Oh, god. I don't really want to share that (laughs). I'm a big sap. Let's just say it's a Disney movie.
Olivia: Who has been your mentor?
Kelly: I have lots of mentors. Like, a lot. Quite honestly, the people at Mount Snow have been my mentors. There's always someone kind of whispering in my ear, whether it be on the chairlift, or a staff member, or when I'm out to dinner with my family. And that feedback—while the timing for it sometimes isn't the greatest—has helped me get better.
If you think about Mount Snow's passholders, for instance, so many of them are running big companies and are very successful people, they have so much wisdom to share. And the staff, too. Many of them are doctors and lawyers and engineers in their real lives, and come here on weekends to patrol or teach skiing. So all that feedback they give, geez, I have notebooks and notebooks of stuff. I've gotten some great ideas from them over the years. So all those people, collectively, have helped me be better at my job.
Some of my other mentors, of course, have been my bosses. Chris Diamond gave me some terrific guidance. Stan Hansen was great. Scott Pierpont taught me about lifts, which, at the end of the day is the most important thing we do at a ski resort. They have to be running safely, operators have to be on their game. That's number one, and Scott taught me a lot about that. And my dad was the one who taught me work ethic.
Dave: You always sweat the little things, and no job is beneath you. How will your focus on the importance of the little things apply to the new, big-picture position at NSAA?
Kelly: I need to better understand the schedule first, and sit down with the staff at NSAA to learn how everything works, but I'm hoping to be able to visit as many ski areas as possible. I think that's very, very important in order to gain a better understanding of what the membership is looking for from NSAA. And it's not just the big ski areas I'd like to visit, but the smaller ones, too. I love small ski areas. There's something about the smaller operations that is really interesting to me, and I look forward to learning more about how they tick.
Who knows, we may find that moving forward some of the ways we can help the ski industry be more successful is by focusing on the smaller things. We'll have to figure that out. Either way, I will focus on some of the smaller things—at least in my mind.
Olivia: What would you say your staff likes most about you, and what drives them insane?
Kelly: What drives them insane, Meeker?
Dave: Oh, boy. Well, a positive thing about your leadership style is also one of the things that drive staff crazy—you're always around. You're not like the Almighty Oz sitting up here directing things from behind a curtain. You could walk around the corner any minute. And that keeps people going down the right path. It's part of your attention to detail and making sure the little things don't slip through the cracks.
Kelly: Yeah, I take pictures of things around the resort that need attention and send it to my directors. They see it and probably think, "Oh, man. It's another picture from Kelly!"
For me, walking around is measurement. If we said we're going to have tissues at every lift maze, are there tissues at every one? We said we're going to have a bench for snowboarders and a garbage can at the top of every lift—are they there? If they're not, I let the person responsible know.
Also, overall I can be strong willed. I tend to micromanage marketing, too. The snow reporter becomes my best friend, because I'm on the phone with him or her just about every morning making sure we get the snow report right. I'll be in touch with the snow reporter before I even leave my house if there's something we need to change.
Olivia: You're managing the message.
Kelly: I just think the snow report is the most important tool we have, so it's really important to me that we get it right.
Olivia: Tell us about something cool you did during your time here at Mount Snow.
Kelly: Back in 2004, we painted every chair number 50 gold for Mount Snow's 50th anniversary. But we actually kept them gold after that season because, well, we just didn't get around to painting them black again! I'm glad we did because everybody loved it. That then morphed into if you happen to get the golden chair, you make a wish and it comes true. Kids love it. It's one of Mount Snow's signature items.
So when we were ordering the Bluebird Express [the Leitner-Poma six-passenger bubble chair installed in 2011], Tim Boyd chose the color blue for the bubbles and I said, "Oh! We need to get a golden bubble for chair number 50!" Poma initially told us we'd have to wait to get just one golden bubble, so I just figured it wasn't going to happen.
It was the first new lift we'd had in a long time, so on opening day for the Bluebird we had all these people here, like John Christie, who was the GM years ago, and all the reporters and passholders and folks from Peak Resorts. Meeker is out there doing his thing on the microphone and all the hoopla while the lift is spinning and we're waiting for the time to load first chair. But then suddenly Meeker stopped what he was saying, turned and said to me, "Kelly, we have a surprise for you!" I saw the golden bubble come into the terminal and stop. I was so surprised! I cried. It was awesome.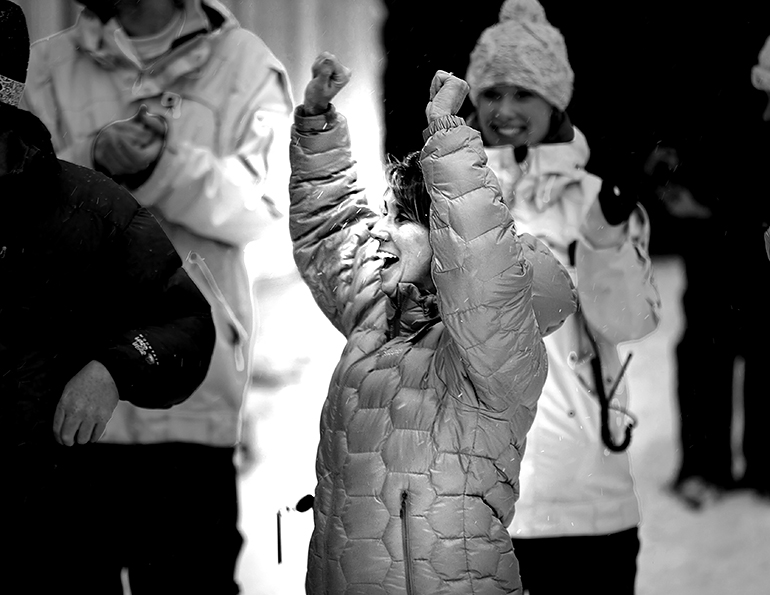 Kelly in 2011 at the opening of Mount Snow's Bluebird Express—a Leitner-Poma six-passenger bubble chair. The staff surprised her by installing a golden bubble on chair number 50 to match the golden number 50 chairs on the rest of the resort's lifts.
Olivia: What's one of the biggest accomplishments you've had during your time at Mount Snow?
Kelly: It has to be West Lake [Mount Snow's new $30 million snowmaking water project]. We have all been working on getting snowmaking water for, oh, geez, the files go back to when Chris Diamond was running the resort. I've always said, once we get water I'm outta here (laughs). And the new base lodge at Carinthia is a big deal, too. I'm going to miss working on the details of that project, especially the interior design of the building. My husband Dan and I just finished building a house so I've been into that kind of stuff.
Olivia: So does that mean you're going to redecorate the NSAA offices?
Kelly: Haha! Well, I haven't changed this office at all since I got in here after Stan [Hansen, Kelly's predecessor]. So the NSAA offices are probably safe.
Olivia: What is the biggest challenge facing our industry today?
Kelly: I think that the thing I worry about is that we all want more skier days, but we don't want to steal from the folks down the street. We want to create new skier days. I don't know the answers on how we get there, but as I go around talking to operators I think collectively we can figure out.
Olivia: What excites you most about this new job? What are you most looking forward to?
Kelly: The complete change. It's completely different from Mount Snow, and after 30 years at Mount Snow it's time for a new challenge, a new adventure. It's a really capable and awesome team here [at Mount Snow] and I just felt it was time to go. Dan and I have always wanted to live out west, so I'm excited about that. I don't think we'll be there forever, though. Once I retire we'll probably move back east because this is where our family is. But while we're there, we'll immerse ourselves in it. And, again, I'm just really excited to visit other ski areas all over the country, see how they do things and discover how NSAA can help.
Olivia: What do you bring to the table in your new position?
Kelly: I can naturally understand marketing. But I also understand that it's different for western fly-to destinations than the drive-to market here at Mount Snow. I actually prefer operations, but marketing comes more naturally to me. I think my general understanding of the ski industry will help, too. But I have so much to learn about the governmental affairs side, and I look forward to diving into it all.
Olivia: What's the biggest issue that you wanted NSAA to solve but it didn't?
Kelly: I didn't have that issue because I looked at NSAA as a toolbox. So, I just use all the NSAA tools, whether it's going to tradeshows and seminars or using all the data to benchmark the resort. I never thought that NSAA was there to deliver something to me— they were there to support our resort, whether it was through education or safety. Could it be more helpful? I hope that as an operator going in and as a communicator I'm going to be able to identify what will be helpful to the membership and what won't. That may come from sitting down with the head of such-and-such ski area and asking which NSAA tools are useful, and why other tools aren't used, and so on.
Olivia: What other groups do you plan to reach out to?
Kelly: I'm really excited to work with groups like NSP, SIA, USSA, etc. I'm an open book. I don't have any agendas. I've always kept my head down and done my best to my ability. I'm aware of the history in some instances, but I'm starting fresh.
Olivia: You've been on several boards and committees, so you're constantly listening to feedback and making decisions. Now you're going to have 300-plus areas to listen to, in addition to trying to maneuver the politics and agendas. What will be your approach?
Kelly: It will be difficult as the new person on the block and everyone is going to be pitching their agenda. I have to make sure not to promise anything to anyone because although that agenda may sound great at that time, further investigation might find that it affects something else in a negative way. Or, it's just not the right timing. So I'm going to have to stay focused, and I can't tell you what that focus will be yet, but once it's defined I'll have to remember every day to ask myself and the staff, "Is this going to get us further along in what we want to achieve?" And if it won't, we'll have to be prepared to say no.
Olivia: What's your leadership style, and how has it helped you be successful?
Kelly: I manage by walking around, and I really feel like you have to do anything you would ask your staff to do. By doing that I think you gain respect. But it's also my weakness because then I sometimes don't delegate enough and sometimes I've spent too much time on the front line and not planning for the future. But I'm constantly working on my weaknesses. I think my hands-on style will stick with me in the NSAA role and probably be a good thing as I travel around and meet all the operators.
Olivia: What is the importance of NSAA starting this next chapter with a female leader?
Kelly: I think you want females, starting at a young age, to understand that anything is possible. It is important to celebrate it, but sometimes people are looking for a story, and I don't have one. I have worked with so many guys who have been so respectful and so awesome. If I have been held up or passed over because of my gender I have been either too ignorant or too confident to see it. If somebody says, "she can't." I say, "oh, heck yes, I can." But I am very aware that it's not that way everywhere and I am so blessed. I mean, think about what women are going through right now at this moment in our country.
Olivia: What advice do you have for female leaders in the ski industry?
Kelly: Speak up. You have to let people know at the appropriate moment what you want to do. I told my bosses I wanted to be GM and I was passed up twice, and each time they explained to me why and I said, "OK, I need to go back and work on this, I'm not ready." But I spoke up and communicated what I wanted to achieve. Don't be afraid to ask. You are more apt to achieve your goals. If you want that job but are worried about your kids—most women I talk to, that is the biggest thing because we all have guilt over not being there—just ask, "Hey, I'd love to do that job but here is something I need to make it work for my kids." I think some women are afraid to ask.
Olivia: What are your thoughts on Millennials?
Kelly: I'm really excited for the millennial workforce; I think they are going to whip us into shape. We are so old school—seven days a week, work harder and longer. They are going to ask for more quality of life and that could be a game changer for the industry, and I am going to enjoy watching that. They may open the door to a ski industry that does things differently.
---
Guest Editor Says...
I love stories like Kelly's. She has dedicated her life to the ski industry, and has an amazing story of personal growth that I not only enjoy, but can relate to as well.
For anyone just getting started in their career, take note of a few things Kelly mentions in her interview.
The first is the idea of a mentor, but her underlying theme is all about relationships. Our business is complex. Resorts have many different departments, so we rely on many different people in order to succeed. That means you need to work well with others and develop trusting and respectful relationships if you want to go far in the ski industry.
Next is how you approach adversity. Kelly was turned down for the GM position twice before she got the job. Many people would find it easier to point a finger (the index or otherwise) at someone else, or the company, and move on. Having the ability to move past such adversity and stay the course will do you well, especially given the challenges this business presents that are never fully within your control.
I smiled at the next point, as it's something my parents instilled in me: sweat the details. The reality is, we all compete on a similar platform. We all have snow, chairlifts, lodges, ski schools, etc., but we differentiate ourselves in the details of those services and products.
And then there's the importance of listening. As Kelly pointed out, there is so much to learn and absorb from those around us. As a leader in the ski industry, you get feedback from everyone, and hear all different perspectives. Those who truly listen and engage with their audience will be of the wiser.
Last, but not least, is change. The world is changing quicker than ever before, and we need to be open to it. Our workforce and our customer's values and desires aren't what they once were. Our industry's future is wrought with questions and challenges. If we can embrace the idea of change, from the small details to the big, then I believe these perceived challenges are actually opportunities.
—Ethan Mueller