HARD TO PASS UP
We've had a short breather since the last round of ski area ownership consolidation—at least, as of mid-August—but the wild world of season pass partnerships hasn't slowed down a lick. These arrangements between mostly unaffiliated properties are marketed as value-driven, benefit-laden products designed to provide skiers and riders with more options. And that's exactly what they are, and exactly what they do.
On the business side, many, if not most, of the current multi-property season pass products were created in response to the affordable Epic Pass and its growing list of resorts—and growing number of passholders. Banding together in order to compete on the big stage is a prudent business strategy, one that has expanded into a global initiative with some unlikely players getting into the mix. And the list of many resort partners continues to grow.
For example, Sunlight, Colo.—a mountain with a strong local following—has partnered with resorts far and wide as of late. Within the last year, Alp 2500 in Spain and Kiroro in Japan both reached out to Sunlight expressing a desire to partner, and the resort did just that.
The growing interest from international resorts to partner with ski areas stateside is a sign that our North American pass wars have global repercussions. But it's not entirely new. Remember Monarch Mountain's "One Planet. One Pass"? In 2011-12, Monarch passholders had access to nearly 30 different resorts spread across seven states, British Columbia, Germany, and Austria. The moniker has since been dropped, but Monarch passholders still enjoy free or discounted days at 19 different ski areas, including Masella in Spain and 5-Berge in Germany—for $459. That kind of value competes with the big boys.
In other partnership news, Powder Alliance netted an additional mountain when it added Bogus Basin, Idaho, and La Parva, Chile, but lost Snowbasin, Utah, which switched to Mountain Collective. As we went to press, Wachusett Mountain, Mass, and Stratton, Vt., had just teamed to give Wachusett passholders three days at Stratton for a $99 pass upgrade.
The landscape will continue to evolve as unaffiliated resorts lock arms in an effort to compete. And remember, the biggest splash is yet to come—the new Aspen/KSL entity is still working on its season pass product for 2018-19. The pass wars will continue to heat up.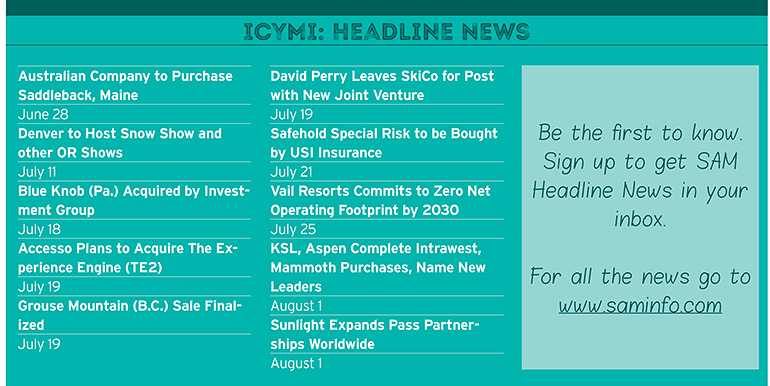 PONDERING NSAA'S PAST—AND FUTURE
As NSAA president Michael Berry ends his 25-year leadership of the association, we should all recognize his major accomplishment: establishing a vibrant, effective organization from the ashes of the failed attempt to unify the resort and consumer-goods sides of the industry known, briefly, as USIA. NSAA has become the leading industry association in many ways, and Berry is largely responsible for the organization's success. (For his perspective, see "The Long View.")
There's still work to do, of course. NSAA's Growth Model has shown the need for improved learn-to programs and more forceful efforts to recruit newcomers to skiing and riding, but it hasn't moved the needle much. Can Berry's successor find the means to make progress on this front?
There are a host of other action items as well. We polled several resort leaders to hear their priorities, and we got an earful:
• "As a medium-sized independent area, I worry that the interests of all ski areas are not served by the association. With all of the consolidation in our industry, the influence that two or three organizations have on all of us is enormous."
• "The Growth Model has run its course and unfortunately did not move the needle. What's next?"
• "Climate change: there is nowhere to hide. It is here, and will get worse. What are the industry's non-negotiable positions on how we adapt moving forward?"
• "Given this round of industry consolidation, being a resource for smaller resorts and ski areas as they navigate a shifting business paradigm."
• "Understand the needs of the membership—so, ski or ride as much as possible."
• "We have a problem of good, talented people leaving this industry for a number of good reasons (poor wages, lack of benefits, lack of housing, no realistic career path, latent sexism, etc.) that we need to get a much firmer handle on. We need someone to take ownership and charge of a national retention program within this business to stop the bleeding."
• "Focus on bridging the divide between multi-resort conglomerates and independent areas. Cooperation has been a hallmark of the industry, but recent mergers have the potential to segregate our industry to the detriment of our other goals, i.e., increasing participation, retention, combating global warming, etc."
• "Think of (Telluride CEO) Bill Jensen's market segmentation: We as an industry can not afford to see 150 Sunset ski areas die and disappear. What is the new business model that can rescue/save the largest portion of this group and how can NSAA facilitate the effort?"
• "Sustainability. I define it as 'being in business forever,' not the narrow version of environmental activism. Changes in the market, world dynamics, political landscape, energy sources, employee issues (housing, wages)—all matter."
• "Change the name to Mountain Resort Association. The focus on winter is still primary, of course, but in the future the balance of winter and summer will be much closer industry-wide."
• "Accessibility and welcoming. The industry must become more inclusive. Age, gender and race are obvious opportunities. In our old boys industry, that never really changes, we pay lip service only. VERY old school. "
• "Attention to suppliers and their needs within the organization would be most welcome. We have never been asked for input."
See all of the comments from industry leaders at saminfo.com/september-2017.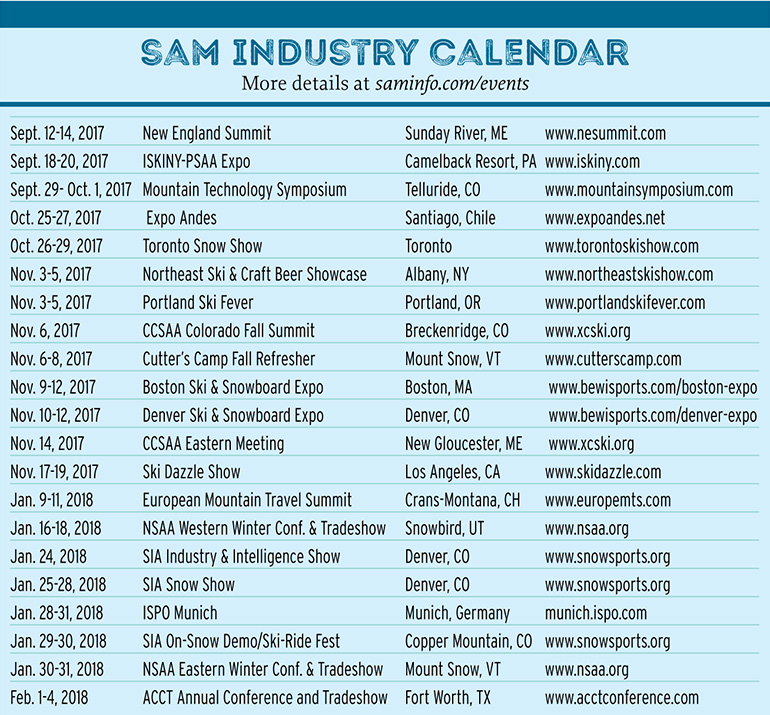 SUPPLIER NEWS
NXTCONCEPTS UNVEILS NEW SERVICES
Marketing and technology company nxtConcepts is offering two new services that use location technologies to communicate and connect with customers via their portable devices: a mobile loyalty app and AI chatbots.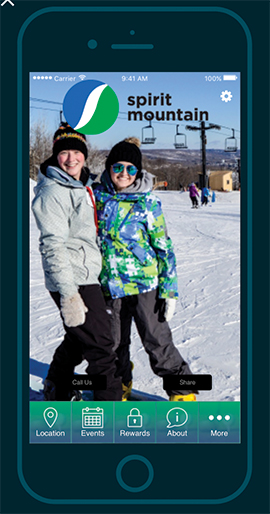 Resorts can use the mobile loyalty app as a tool to learn more about guest needs and also to send specific targeted messages to guests using a geo-fencing feature. For instance, a guest could receive a bounceback offer when returning rental equipment. The app also allows guests to check conditions, make a restaurant reservation, book a private lesson, order food or merchandise, and more. Using the loyalty rewards feature, repeat customers are rewarded by using GPS check-ins, which add points to the guests' virtual loyalty card within the app. Those points can then be redeemed for products or services.
The other new service is chatbots, which is an artificial intelligence computer program that conducts a conversation via text methods. It can be programmed to answer common customer queries, 24 hours a day. Resort chatbots can: provide directions, sell a lift ticket, recommend services, show current specials, link guests to condition reports, and more.
NEW U.S. INSTALLATIONS FOR SNOWFLEX AND 365 BY YIIPI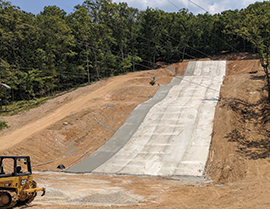 Artificial snow systems are taking hold in North America with two new installations. Branson Zip Lines and Canopy Tours in Branson, Mo., has partnered with Briton Engineering Departments Ltd., to design and build a year-round tubing hill using Snowflex. The 290' X 60' tubing slope will have a concrete sub-structure for multiple layers of Snowflex to anchor to. Once complete, up to eight tubes can go down the slope simultaneously.
Within the next two years, Branson Zip Lines plans to build a full-fledged snowsports facility with a surface made entirely of Snowflex.
In Middlefield, Conn., Powder Ridge Mountain Park & Resort is installing the Northeast's first artificial snow surface in two phases. The resort has sourced ,,365" by Yiipi, a Swiss synthetic snow surface manufacturer, for the installation. Phase one is scheduled to open Sept. 2, and includes a 500-foot run for skiing and riding, plus two tubing lanes. The second phase will open a 2,800-foot-long slope for skiing, snowboarding, and tubing year-round.
MAPPING OUT SUMMER OPTIONS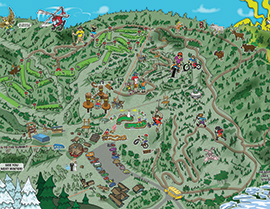 Winter trail maps—paper, digital, or on-site—are a necessity for guests that need help navigating the terrain at alpine resorts. Summer downhill mountain biking maps are important, too. But maps that assist in wayfinding during the summer, at resorts with a variety of activities, are far less common. Mount Sunapee, N.H., saw the need for a comprehensive summer map, so it commissioned digital design shop North Pole Design to create one. The map presents an overview of the property and illustrates all of Sunapee's many activities: aerial adventure park, zip lines, disc golf, archery, as well as mountain biking and the MTB pump track. The map is displayed in large format signage around the resort, and utilized in various breakout collateral pieces.
GETSKITICKETS hired Matt Palacio as regional sales director.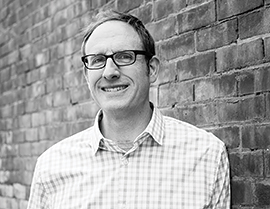 Patrick OlstadSE GROUP welcomed Patrick Olstad to its landscape architecture team.
AERIAL ENGINEERING president Jim Ellis is retiring. The company will be merging with Superior Tramway Co. of Spokane, Wash. Ellis will remain on as an advisor.
GROUP ROSSIGNOL NORTH AMERICA president Rob Steele has retired from his role and has been succeeded by Francois Goulet.
HKD hired Nate Ringquist to join its snowmaking team.
SMI has launched SmartParts, an online customer portal containing all the information to set up and maintain SMI snowmaking equipment.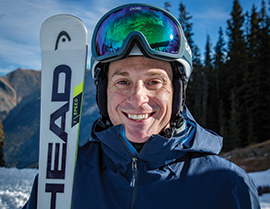 Eric LiptonSNOW OPERATING has appointed Eric Lipton as the managing director for its Conversion & Growth Partner Program.
RESORTLOGIC is a new consulting company formed by Tom Lithgow, former vice president of CNL Lifestyle Properties.
N.W. DUKE CO. is closing its doors following the retirement of Norm and Marva Duke.
ALPINE MEDIA TECHNOLOGY is installing its LiftDigital product at the first two ski resorts to adopt it, Steamboat and Winter Park in Colorado. LiftDigital is a digital content delivery platform that includes small TV screens on chairlift restraining bars that provide information and advertising as the lifts ascend.
4FRNT SKIS was acquired by LINE Skis founder Jason Levinthal.
PEOPLE
In the East, Pats Peak, N.H., named John Pawlak its skier services director and Stefanie Costello ski patrol director following the retirement of Bertie Holland, former skier services director, and Bob Wright, former patrol director. Holland and Wright will act as consultants during the transition. ... Chris Kennelly has been appointed director of mountain dining at Stowe Mountain Resort, Vt. ... Kevin Harrington is the new mountain manager for Mount Snow, Vt. ... Gay Vietzke was named regional director for the Northeast Region of the National Park Service.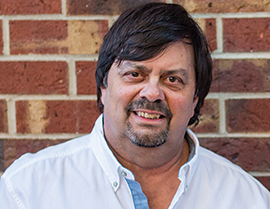 Fred SeymourIn the Midwest, Fred Seymour has been named general manager of Giants Ridge, Minn.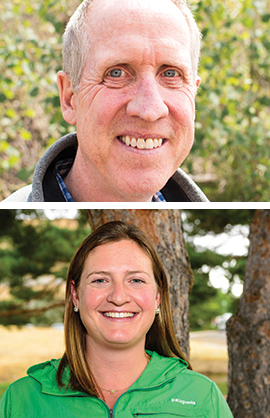 At top: Robert Linde. At bottom: Meegan Mosynski.In the Rockies, Geoff Buchheister is now vice president and general manager of Keystone Resort, Colo. ... David Perry stepped down as COO of Aspen SkiCo. to take on a new role as president and COO of the Aspen/KSL joint venture. ... Ken Rider is now director of sales and marketing at Snow King Mountain Resort, Wyo. ... Dave Fields has been promoted to general manager and COO of Snowbird, Utah. ... Arizona Snowbowl hired ski industry veteran Robert Linde as assistant general manager. ... Hogan Koesis has been named mountain bike director for Mountain Capital Partners' resorts. ... Meegan Mosynski is the new executive director of the National Ski Patrol.

In the Far West, Vail Resorts promoted Mike Goar to the position of Tahoe region vice president and COO of Heavenly Mountain Resort.
OBITUARIES
Joseph Kosik Sr., long-time owner of the Mt. Holly Ski & Snowboard Resort, Mich., died June 12 at the age of 87.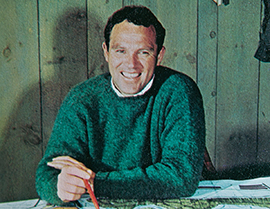 Tom CorcoranTwo-time Olympian and founder of Waterville Valley Resort, Tom Corcoran, died June 27 at the age of 85.
Robert Ward Parker, a 10th Mountain Division veteran and major figure in the post WWII ski industry, died June 29. He was 94.
Richard "Dick" Peterson, former chief executive officer of Vail Associates and president of Colorado Ski Country, died July 15.