SNOW VALLEY, CA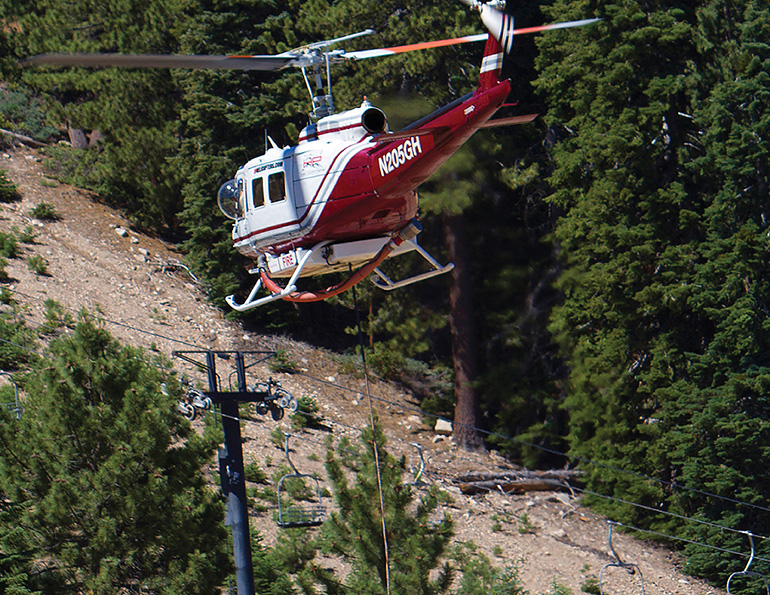 Snow Valley is investing more than $5 million to build SoCal's first detachable six-pack leading up to the resort's 80th anniversary season. The Leitner-Poma product will have 72 carriers to transport 2,600 riders an hour over its 4,635-foot length, more than double the capacity of the 1,200 per hour of the 1973 Lift Engineering double it replaces. The ride will take 4.6 minutes, as opposed to 14 minutes for the old lift. The six-pack has an AC top drive with bottom tension; power comes from a 500 hp motor. Two 300-hp diesel backup engines provide backup power. Construction began in May, and is on schedule for a December opening. In early August, the resort completed the removal of the old lift, which involved use of a 25-ton crane to grab the 50,000-pound top terminal in one pick, and began pouring foundations for the new lift. "This lift will have a huge impact on our visitation," said Snow Valley VP and GM Kevin Somes. "We've already seen a jump in season pass sales." This year's investments follow the more than $1 million spent a year ago on increased snowmaking and an updated rental shop.
MOUNT SNOW
In early June, Mount Snow broke ground on a new $22 million, 38,000 sq. ft. base lodge at Carinthia, which will be more than four times the size of the current lodge. To make room, a snowmaking pump house was removed, and the pipe was rerouted to a new pump house being constructed nearby. Locally based Dupuis Construction, which Mount Snow partnered with to build the lodge, then excavated roughly 16,000 cubic yards of material from the site, and placed about 5,000 cubic yards of structural fill to build the foundation on. Dupuis poured 1,500 cubic yards of concrete for the footings, foundation walls, and slabs within the 19,400 sq. ft. footprint. Plans call for the structural steel building and wood glue-laminated roof system to be "water tight" by the end of December so interior utility work can move forward during the winter. The company is sourcing as much local material as possible and working with local suppliers. Construction is following the Vermont energy conservation criteria by using the State Stretch Code. Compliance includes using high-efficiency heating and cooling systems, kitchen ventilation, low-flow plumbing fixtures, LED light fixtures, and more. Completion is scheduled for fall 2018.
SUN PEAKS, BC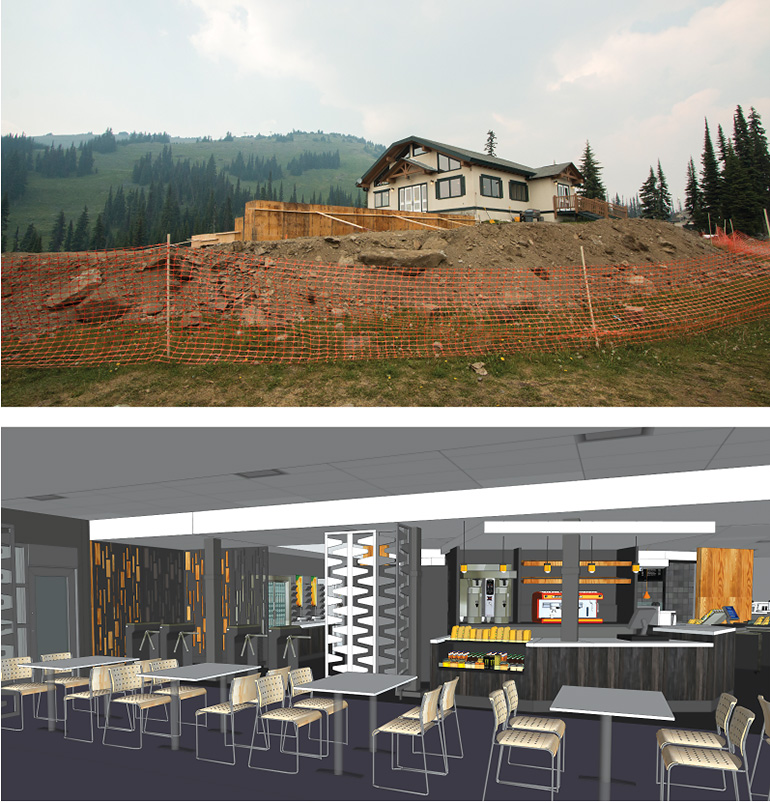 Sun Peaks is remodeling two key food and beverage outlets—the mid-mountain Sunburst lodge and The Annex, formerly Bento's, in the base area. "Our whole focus has been on ease of guest service," said Vivek Sharma, GM of the Sun Peaks Grand Hotel and manager of the lodge projects. Both are scheduled for mid-November completion. The Annex, a family-friendly central location where many visitors congregate throughout the day, adds 2,000 sq. ft. of space, a 45 percent increase, to ease guest flow and increase capacity. The resort has added two food stations, for a total of four, and each is self-contained. The stations include a poutine bar (fries, etc.), grill station, soup station, and a signature Asian station. There's a new Starbucks and a full bar with libations as well. In all, The Annex provides fast access for guests seeking a quick break. A dedicated kids' area serves the very active ski school program at lunchtime. The Sunburst, Sun Peaks' signature on-mountain dining outlet, is doubling in size to better serve its year-round clientele. Kitchen facilities in the now-3,850 sq. ft. lodge are vastly upgraded to keep up with volume. The Sunburst, similar to The Annex, will now offer four food stations, including a signature Mexican station, with a full-service bar that overlooks the mountain.
WELCH VILLAGE, MN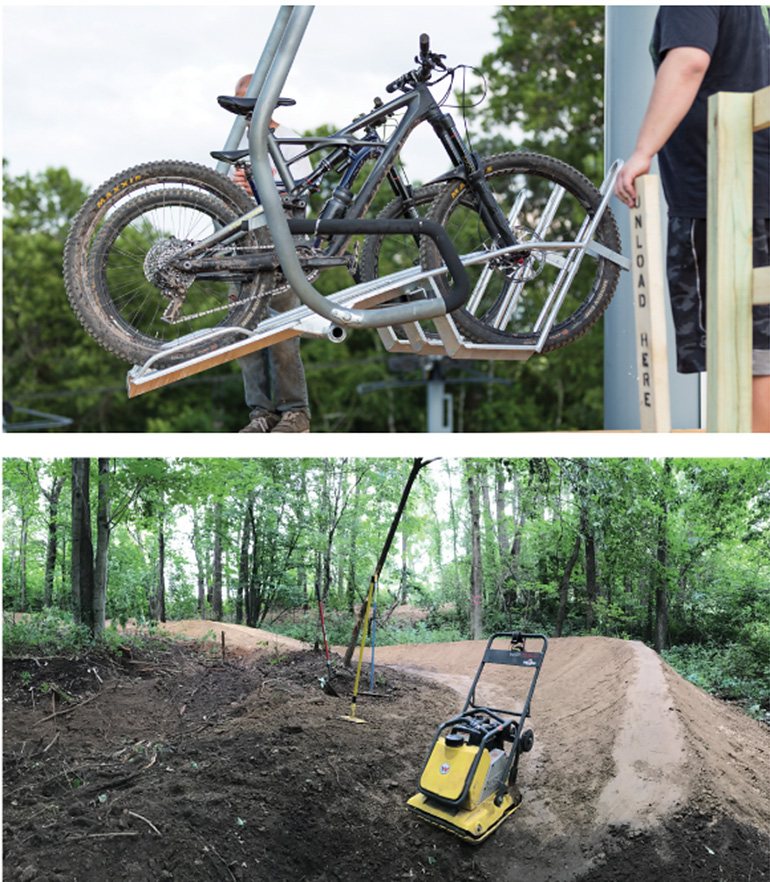 In November 2016, Welch Village hired Scott Linneberger from Kay-Linn Enterprises to complete its bike park master plan, including the design of several phases of future downhill and cross-country mountain bike trails. After the resort updated its conditional use permit with Goodhue County and obtained a land alteration permit, Minnesota-based trail builders Trail Source began construction of the first phase on May 1. By July's end, three lift-served, machine-built gravity flow trails and a skills park were complete. Dirt that was already on site was used to construct the trails, including berms, rollers, and jumps. A couple loads of clay were trucked in for the skills park in the base area. The three downhill trails are rated green, blue, and black, respectively, and stretch nearly four miles. A fixed-grip quad transports riders at half its winter speed, and 15 Deasonbuilt bike carriers, on every third chair, transport bikes. The resort built wooden loading and unloading platforms at the bottom and top terminals. Welch partnered with Valley Bike & Ski to provide an on-site bike shop with rentals and repair. Next year, plans include building two more downhill trails, expanding F&B for downhillers, adding an MTB festival, and certifying six MTB instructors to offer lesson programs.
ELDORA MOUNTAIN RESORT, CO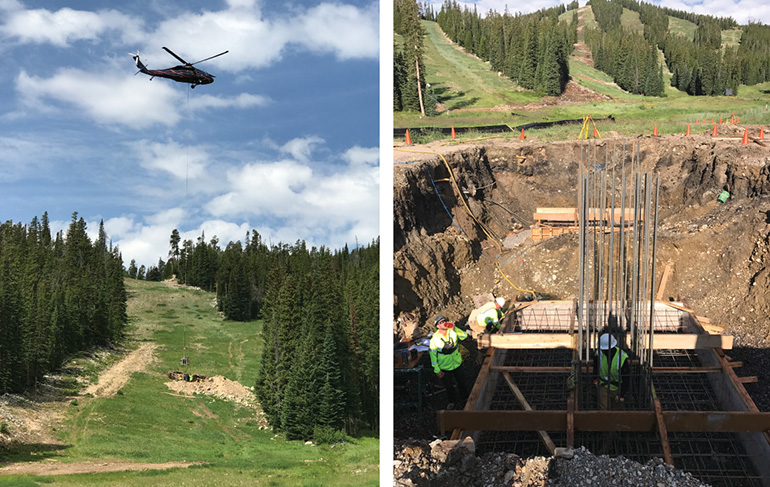 Eldora is installing a new Doppelmayr high-speed detachable six-passenger chairlift for the 2017-18 ski season, part of a $9 million investment that includes $1.6 million in electrical upgrades as well. The new lift will completely remake the base area experience: it replaces the Cannonball and Challenge fixed-grip double and triple chairlifts, which have operated since 1973 and 1977, respectively. The yet-to-be-named lift will follow a new alignment, one that starts lower in the base area to provide improved access from the parking lot, beginner area, and both base area lodges. It will cut ride time from about 11 minutes to 4.5 minutes. With Eldora's kid-heavy clientele, the resort opted for Doppelmayr's restraining bar for kids instead of a traditional footrest. The lift will transport 3,600 riders per hour up a 1,000-foot vertical rise spanning 3,830 feet, powered by an 800 hp motor. It has an AC top drive and bottom tension. Construction began as last season ended. The area removed the old lift over the snow, which reduced the environmental impact and sped the process. Rocky Mountain Recycle of Denver recycled many of the old parts; chairs were auctioned to local Eldora fans. Paul Johnston's Highlander Ski Lift Services and Construction of Park City is doing the installation. By mid-August, the top terminal and most tower foundations had been poured, and the base terminal was about to follow.