The rental process and its many steps—paperwork, standing in lines, boot fitting, carrying gear, etc.—are quite removed from the fun aspects of skiing and riding. No one wants to see half the day melt away before getting to the fun part. Of course, this isn't the experience everywhere. And while long lines may never disappear completely, especially on peak days, creative innovations and strategies are simplifying the process, and in some cases actually making it enjoyable.
In general, finding the right methods and procedures that work for a specific resort or shop is paramount, along with paying close attention to the clientele. "The ones [rental shops] that know the customer, those shops build their rental shop to accommodate customers and keep them coming back. There's no one way to do it," says Mike Poole, rental manager for Head USA, purveyors of the BYS reduced-sole-length rental system.
Keep It Moving, People
The issue of waiting lines is a common problem. Every day, busy resorts are renting to thousands of people who want to get in and out as fast as possible. Resorts have implemented several techniques to minimize wait time, and also use that time to inform and engage guests.
Winter Park, Colo., one of the closest ski resorts to Denver, offers an overnight rental reservation program for guests staying at the resort. The rental shop stays open until 9 p.m. so guests can complete the rental and sizing process the evening they arrive—when lines are low to non-existent—to avoid the morning rush. "In the morning, guests don't have to do anything other than pick up their gear from a storage area and head to the slopes," says Mandy Wass, director of retail and rentals at Winter Park.
Skiers and riders can also make gear reservations online or over the phone if they are not at the mountain. An equipment rental delivery service is also available, servicing nearby condos.
Wachusett Mountain, Mass., just an hour outside of Boston, uses its own custom online rental reservation program, which was created in house, to speed and simplify the process. It allows guests to provide all the sizing details and pay ahead of time. When guests arrive at the shop, they are typically out the door with properly fitted gear in 7 to 12 minutes, according to vice president of mountain services Carolyn Stimpson.
The mountain also handles many international visitors. To help communicate with non-English speakers, as well as visual learners generally, the mountain has created a series of instructional videos that preview the rental process without words. These videos—posted online and also looping in the shop—show all the steps of the rental process, from sizing information to wearing the right type of socks, and more.
Interaction Remains Paramount
Efficiently moving people through the queue like an assembly line is important, but it shouldn't be robotic. Resorts are taking steps to ensure guests have an informative and pleasant experience, driven by a time-tested tactic: positive human interaction.
One increasingly popular means is the melding of the ski school and rental department, especially for serving beginners. Instructors have the technical knowledge that's incredibly helpful with some of the very first interactions a first-time skier or rider might have with the ski world.
For this purpose, many rental shops set up special queues for first-timers. At Blue Mountain, Pa., a ski school staffer greets rental guests and asks about their skiing or riding experience. He or she is trained to separate first-timers (or those that haven't been on snow in a very long time) into their own line where they are put in closer contact with staff that is most knowledgeable about the learning process. These employees dispense advice, as well as information on pricing and rental options.
"Ski school employees simply have the most knowledge. Instructors know the resort the most, they ski the most, and they are there to ski. This is vital for the all-important conversion in the industry," says learning center director Joe Forte. The center does about 1,200 lessons on a busy Saturday, he says.
The first-timers spend about 30 minutes indoors learning about the equipment and other necessary aspects of the process. A ski instructor helps to fit their boots, and that same instructor is the one who will teach them on snow. This allows time for the instructor not only to provide practical information, but also to establish rapport with the client.
Initially, there was concern the additional time spent with first-timers would lead to a bottlenecking of the rental process, but Forte reports this has not been the case. And while more experienced renters require less guidance and information, Blue has worked to generally integrate the ski school into rentals because the quality interactions its staffers provide benefit all guests.
Hugh Reynolds, VP of marketing for Snow Operating, a company dedicated to partnering with ski resorts and increasing conversion, believes this increase in service represents a vital piece of improving the rental process. "We emphasize value and efficiency in the process, and the biggest opportunity that we see with rentals right now is the integration between the snow school and rental departments," he says.
Another example of this type of integration: Vermont's Killington Resort. The area has a high-volume rental department, averaging 44,000 rentals a season and 2,400 rentals during a peak day. The area has tweaked its rental system to add a higher level of customer service to humanize the process.
Similar to Blue Mountain, Killington separates first-timers who will be taking lessons and sorts them into 5-7 person "pods." They, too, spend some extra time indoors to become familiar with the equipment, and also have the opportunity to ask questions. Of note: every resort representative we spoke to emphasized the importance of remembering what it was like to be a first-timer and how confusing—and frustrating—the experience can be.
Additionally, Killington has increased the customer service levels at the boot fitting stations. Having streamlined the rental process itself, Killington has shifted employees from the gear adjustment area to boot fitting, where the additional assistance has greatly improved the guest experience over the years.
Dave Beckwith, Killington's golf and snowsports director, acknowledges the need for quality ski and binding service, and is building on that by making improvements with boot fitting. He says that managers and supervisors are frequently working with guests, chatting with them, and offering advice. This is well received by customers, he notes, as they aren't necessarily used to managers helping them find the correct boot.
Maps, Bridges and More
There are, of course, some tangible devices that make the rental process easier. One, the boot fitting bridge developed by Brian Head rental manager Chuck Driggers, is a simple device that has made waves.
What's a fitting bridge? "It's a 34-inch-high bridge that allows us to fit boots without having to bend over. It greatly increases efficiency," says Driggers. "I call it a win-win-win for customers, employees, and speed." The bridge has steps on either end, and the platform in the middle puts guests at a height that makes working with boots and feet exponentially easier.
Driggers says the bridge allows the rental team to fit the boots very quickly—employees can size the foot, retrieve the boot, and put it on within about 90 seconds. On average, he believes he can get a customer in and out of the door in four minutes (on a midweek, non-peak day), and can service 700-750 people in an hour.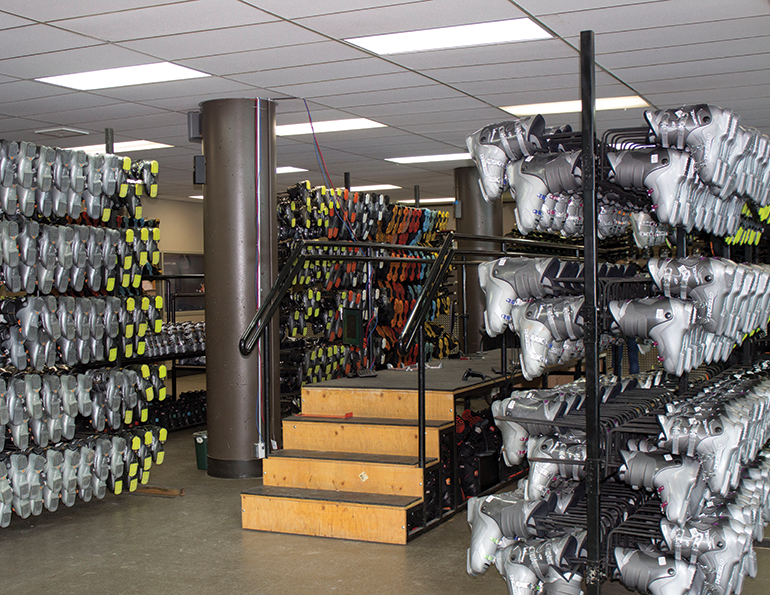 Brian Head, Utah, uses a "bootfitting bridge" to put renters' feet at boot techs' working height, which speeds and eases the fitting process.

But, he adds, speed is far from the only thing that matters. "We don't want guests to feel like cattle. We have to slow down to spend a little more time conversing, helping ease any fears, talking about new technology, and improving the customer service aspect," says Driggers. The time saved on fitting is spent on improving customer relationships.
On the snowboard side, Burton has devised a few techniques to help smooth the process. Beyond the color-coding system, where the boots/boards/bindings are color-coded to match each other, the aim is to essentially "take the thinking out of it," says Burton global experience manager Shaun Cattanach, who spent years as an instructor and in rental shops before working for Burton.
One key tool: Burton provides a tech map, which includes details about sizing, and is installed on tech benches in the rental shop. Notably, these charts are based on the rider's weight more than his or her height, and convey that message to guests. Burton has also devised its own version of a Brannock device (the standard foot length/width measuring tool), which ensures that a customer's foot measurement lines up with Burton boots. These tools help streamline the snowboard renting process.
Les Sommets in Quebec, Canada, solved a problem many rental shops face: how and where to store all the rental gear itself. The resort company realized that skis and boards don't need to be stored indoors in a heated room, as boots do, but still need to be in shelter. And so les Sommets created la boîte à ski, or the "ski box." It's essentially a large, customized shipping container located on-snow that doubles as rental equipment storage and distribution kiosk. After guests are fitted for boots indoors, they walk outside and pick up their skis from staff at the ski box.
Christian Dufour, marketing director for les Sommets, estimates that the company was able to store 30 percent of its ski fleet at Saint-Sauveur, the busiest of les Sommets' five areas, in the ski box last winter. This opened up more room for boot fitting and other customer service components inside the rental shop.
The mountain staffs the ski box with two full-time ski instructors, who have the opportunity to chat with clients. Even if guests are not taking formal lessons, the instructors can offer advice and assistance with small but important details, and answer any questions. Dufour likens this type of help to a beginner surfer getting a few tips on where to paddle out, what rocks to avoid, and where the beginner-friendly areas are.
The ski box was so successful in 2016-17, the first winter it was used, that the company plans to implement some form of this system at all five mountains within two years.
With all these rental innovations across the industry, resorts have a growing arsenal of tools with which to improve the rental process. If the industry is to increase its conversion rate, it's important for the rental process to become smoother and more informative, and the hassles of yesteryear (hopefully) to become a thing of the past.