The all-important role that ski and snowboard instructors play in beginner conversion is captured in a phrase I heard long ago: "We teach people, not a system." I have lived by that thought throughout my 20-plus years as a member of PSIA-AASI. It helped develop my vision as a ski school director, assistant general manager, and, more importantly, in my current position as PSIA-AASI's CEO.
Our industry is very focused on how to grow snowsports. We must find new, successful, and sustaining ways to welcome guests to our resorts and sports. As NSAA president Michael Berry said at the NSAA National Convention, "Modifying our instructional methods and level of outreach to new participants is vital to improving beginner conversion rates."
To that end, instructors, schools, and resorts can develop methods and programs to meet the needs of all people, in every demographic. Focusing on their experience—out on the slopes, on the chairlift, in the rental center, in retail shops, ski school, liftlines, or restaurants—can help create lasting impressions that make beginners want to come back for more.
Here are several ways we can improve our success rate.

1. Hook Guests Right Away
Tubing … how do you compete with that? It's a great question to ask in the context of introducing skiing or riding to new guests. Tubing is easy, it's fun, and guests get immediate satisfaction from it. We can strive for those same ends in our ski and ride lessons.

So: how can we hook our guests in the first 20 minutes of the lesson? Typically, lessons start with lineup for 15 minutes, where the beginner guest must stand next to a sign and wait while 10 to 20 sets of eyes decide how to split the group.

What if instructors engage with guests in those first few minutes, and revolutionize lineup? Then staff can size up the guests and group them with people of like mind. This encourages conversation and camaraderie. So often with beginners, we focus on class size and the connection between the guest and instructor. But helping people connect, not just with the instructor but also with classmates, can make or break the decision to return. Remember, this is their day off, weekend of fun, or vacation! Ours are social sports, and the more we create the right culture and energy, the more success we'll see.

What if, rather than meet by a sign, students gather in a spot where they can explore sliding activities on their own to fill this time? Creating an environment where guests can safely feel the thrill of sliding almost immediately could put a smile on their faces and change the entire dynamic of that first impression. As Snow Operating has demonstrated, sculpting and creating an interactive learning area encourages students to explore on their own. This sets up the student for success, and provides an environment for the instructor to deliver a memorable experience.

It is amazing how a natural half pipe or quarter pipe with an uphill runout can empower a guest to try new things. Cranmore, N.H., and Jiminy Peak, Mass., have both developed new and creative beginner areas. They continue to push their industry partners to deliver a successful and safe teaching environment.

Another great example: Burton's Riglet Parks. These entice kids of all ages to explore and have fun through snowboarding. AASI partnered with Burton on a video for kids 3-6 that's worth viewing (find "AASI and Burton can help kids start snowboarding sooner" online).
2. Create a Great Environment
Of course, the beginner experience starts well before the guest is on snow. Providing information and streamlining the process can help ease the guest's way. NSAA's Conversion Cookbook outlines a variety of useful strategies, from providing pre-arrival information and easing the guest's arrival at the resort, to simplifying the rental experience and training all resort staff to support first-timers.

The more we can encourage department leaders across the resort to work together and support beginners, the quicker we'll see success in converting new guests. A smooth handoff from department to department, which involves a high level of communication between skier services and mountain operations, can foster a sense of teamwork and create the environment needed for the beginner.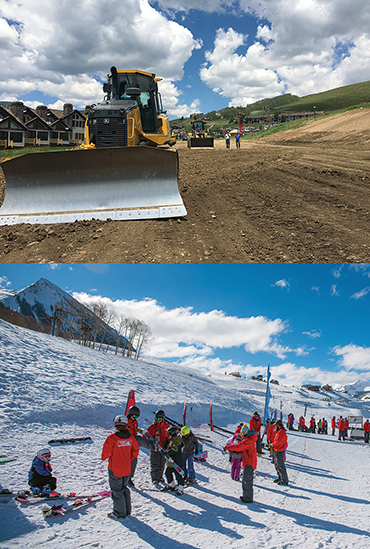 Crested Butte Mountain Resort, Colo., has redesigned the beginner experience. The new area emphasizes comfort for the guest: the resort expanded the size of the learning area, regraded it to provide a more consistent slope (compare top photo with the bottom photo), and realigned the conveyor lifts. Photo credit: Trent Bona.While working at Crested Butte Mountain Resort, I saw this on a weekly basis. Solid communication between the children's school manager and the lead groomer immediately improved the consistency of the learning area. (It helped that one of the grooming employees happened to have a 3-year-old child starting to learn at the time.) The team discussed not just the vision of the final product, but what was and was not working. They all could relate to what guests needed. The groomers saw how guests and instructors used the terrain, and that brought everyone's vision together quickly.

The resort services and mountain operations teams at CBMR are taking this further. Over the past few years, they evaluated what is needed—not only in the beginner area, but also on the first chairlift ride. This past summer, they redesigned the entire beginner experience, regrading the entire learning zone and realigning the conveyor lifts.

And then there's the learning environment as a whole. To deliver the right experiences and adventures for our guests, evaluating the learning area is key. Some resorts may find that the best solution is to dedicate capital to regrade and redefine beginner areas during the summer months, as CBMR has. But that's not the only solution.

For some, small changes can yield big dividends. This might mean evaluating the size of the learning area, and determining how many people can fit in this area safely. Consider the continuity of the flat area, as well as how consistent the slopes are. A consistent slope is more comfortable for guests as well as staff, who become more knowledgeable in using it day after day.

It's also important to create an area that looks exciting to enter, one where guests will want to hang out. If it's a kids' area, put out the extra cones and features that bring the area to life. We can learn from Starbucks on this: it has found success through consistency. So create a welcoming environment where people want to return time and again.

Eaglecrest, Alaska, provides a good example of this. Over the past eight years, the ski area determined the right fit and installed a new beginner lift, regraded terrain, and eventually built a new slopeside base facility that makes new guests feel welcome. It also meets the needs of the area's kids, adults and adaptive programs. Eaglecrest does a great job of setting up its beginner area, no matter the weather. This dedication from the staff delivers a consistent product for all guests.

Eaglecrest's new base facility offers another key lesson: Be mindful of meeting guests' needs when they're not sliding, too. Guests might lose interest in their adventures if there's no restroom, water, shade, shelter, or places to sit when they need a break.
Eaglecrest, Alaska, has revamped its entire beginner experience over the last eight years. The city-run area has installed a new lift, regraded terrain, and built a new slopeside facility that helps make new guests feel welcome. Whether on the snow or off, meeting guests' needs with a comfortable environment and dedicated staff is key.

When it comes to the whole environment, Jackson Hole Resort is putting it all together. The resort is building a brand new mid-mountain facility for its Mountain Sports School programs. This facility, high on the mountain, is integrating an indoor and outdoor environment that creates a comfortable and inspiring setting from the start. It begins with equipment fittings, and ends with guests' first on-snow experience that includes sliding, riding surface lifts, playing on terrain features, and access to their first lift experience.

One of our main goals, as instructors, is to get guests out into the mountain environment. It's important to lead guests away from base areas and into a new, unexplored setting. That experience alone makes converts. Jackson's approach, instantly starting beginners out of the base area, helps ignite a love of the mountains.

As we explore new ways to bring beginners into our sports, we should try to think like a new guest, and challenge ourselves to ensure the learning environment is comfortable. Today, guests expect more; sitting in the snow might not be something they bargained for. We have to look past "the way we've always done it" and imagine how we can make the experience more enjoyable.
3. Commit to Training
Remember, too, the people who provide and guide these experiences. Empowering our instructors, and, for that matter, all employees at a resort, is key to making them feel confident in their positions.

What instructors do on the hill can make a significant difference for the future of the sport. Instructors take on their positions because they are passionate about teaching. Training gives them confidence in their service, safety, and technical skills, which fosters success. If areas commit to training that expands instructors' knowledge and personal growth opportunities, we will see continued success in retention of both staff and guests.

In this, it's important to emphasize how to teach, not just what to teach. At times, instructors can get caught up with lengthy explanations—we love to share our knowledge. But it is so important at the beginner level to keep it simple. Pacing is key during a beginner lesson, and should be a focus of training. Avoid overloading the guest.

This is a great topic of discussion during return hire training for second- and third-year instructors. This group often gets overlooked. It is so important to refresh the beginner experience with this level of instructor.
4. Support Middle Managers
Last but not least, keep supervisors and managers involved on the hill. It is important for these leaders to be present to support and empower their staff. They need time to shadow and observe lessons, and most importantly, provide coaching and real-time feedback. This will raise staff retention and boost morale.

What can get in the way of that? Technology, oddly enough. Technology often helps us manage the business better, but it can take key leaders away from working with their staff and the guest. Don't let payroll and scheduling interfere with supporting the instructor out on the hill. Evaluate time commitments as a team on a daily basis. This can enhance the leader's success, and also improve staff morale.

Remember that, at our core, we teach people. Our goal as managers is to provide all the tools and resources needed for instructors to create FUN, so they can forge a lasting impression with our guests—an impression that makes them want to return year after year.

Change can be hard. Not all new ideas succeed. In reimagining how we deliver the beginner experience, it is important to give instructors the tools to create lifelong adventures through education. Then, we need the courage to allow our instructors to manipulate the "system" as they see fit. A ski or ride lesson is not only about teaching people to turn, it's about delivering an experience they will talk about for a lifetime.
WHAT STEPS CAN I TAKE?

Here are five things you can start doing right away to broaden your talent pool:

1) Analyze your company's workplace culture to see if it's the kind of place that attracts top talent. (www.greatplacetowork.com/mst2017)

2) Encourage your company to take Camber Outdoors' CEO Pledge. (www.camberoutdoors.com)

3) Start a conversation in your organization. Convene a small group and seek to understand a variety of perspectives—all are valid.

4) Share your story. Reach out to the SAM editorial staff to talk about your experience in the ski industry.

5) Consider your options. In a leadership parable called "The Way of the Owl," Frank Rivers suggests that if we see a boulder rolling down a hill on a collision course with a village below, we might take one of three actions: We can stand aside, knowing we cannot stop the boulder; we can jump in front of the boulder, and be flattened for our efforts; or, we can run alongside the boulder and give it a nudge at the right moment. That nudge does not stop the boulder, but it does alter its trajectory and allows us to save the village below.