Blessed with abundant beauty and space, but occasionally hampered by building restrictions, ski areas have found a natural fit for expanding their lodging and guest experience options in "glamping"—a catered camping experience that takes much or all of the work out of spending a night in the woods, leaving guests to relax and connect with nature.

Shorthand for "glamorous camping," glamping is conceived by ski areas in a variety of guises, from backpacking tents set up on platforms to custom-built lodgings with amenities that rival those in luxury hotels. Glamping exists across a wide swath of ski country, from the Catskills to a Vail ranch to slopeside in the California Sierra.
Location is Everything
For years, Rosie Sundell would take her family to a special spot at Caifornia's Bear Valley to drink in the view of the Mokelumne Wilderness. As of July 1, the same sweeping vista can be enjoyed by guests staying in the resort's new 12'x14' glamping tents (at left), supplied by Davis Tent and Awnings of Denver, sitting on platforms built by resort staff. Construction costs for each tent fell in the $4,000 to $6,000 range, excluding labor, says Sundell, the resort's senior director of revenue.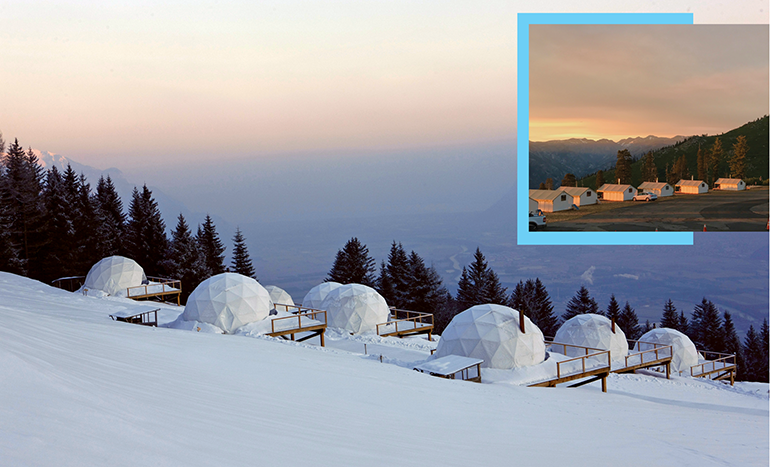 Inset: The glamping tents at Bear Valley, Calif., overlook the valley and neighboring mountains. Main photo: Glamping pioneer Whitepod in Switzerland offers an eco-luxury alpine experience.

"Our new CEO [Blake Lyon of Toronto-based Skyline Investments] came to this spot and said, 'This would be a great place for a hotel,'" recalls Sundell. With input from Bear Valley's new summer recreation director Tom Hinojosa, that idea evolved into 15 glamping "bungalows" at the site—an easier ask for a resort located within the Stanislaus National Forest.

For $139 per night, guests enjoy a queen bed topped with a memory-foam mattress and warmed by a wood-burning stove. Solar panels provide electricity for LED lighting, and Wi-Fi is available throughout the camp. "Glampground" guests receive a welcome basket of wine and snacks and dine on the Monte Wolf Deck at the resort's nearby restaurant, which features live music every Saturday night. Restrooms with showers have been upgraded to serve glamping guests as well.
"We want people to be able to arrive, park their car, and we provide everything else," says Sundell.
"When they get in the tent we want them to be able to wear their PJs, not have to sleep in their jeans."

She says weekends have booked up quickly, and midweek has also started filling in—an impressive start, considering this is the first time in Bear Valley's 50-year history that it's marketing itself as a summer destination. In Hinojosa's brief tenure, he's brought in a complementary array of new seasonal activities, including mountain biking and an adventure park.

A bit more of a "rugged" experience, with equally amazing views, can be found at Fernie Alpine Resort in British Columbia, which launched what it claims is North America's first lift-accessed camping experience this year. Guests can ride the Timber Chairlift to the mountain summit, where they camp on platforms set up with North Face tents (or bring their own). While the accommodations aren't luxurious, the overnight experience is enhanced with champagne upon arrival, a raclette dinner catered by the nearby Lost Boys Cafe, s'mores by the fire, and breakfast in the morning.

"Most people are not going to backpack up 2,000 or 3,000 feet to camp in an alpine meadow," says Matt Mosteller, senior vice president of marketing for Resorts of the Canadian Rockies, Fernie's operator. "We want people to be able to experience camping at the mountaintop level, where the sunrise and sunsets are absolutely mind-blowing."

Mosteller says that using camping to expose guests to Fernie's natural wonders—which include ridgeline hiking and the archaeological treasure trove of a 40-million-year-old coral reef—can pay off for other parts of the resort's operation, including skiing and the extensive network of lift-served mountain biking trails.
"By easing them into the goodness of nature and putting smiles on their faces, we can get them to come back for our other activities," he says.
Starting Small
Some glamping ventures are decidedly modest, but no less impressive. The single glamping tent at Plattekill Mountain in upstate New York enjoys a million-dollar view: guests arise from their queen bed and step out onto a deck set with Adirondack chairs to look across a pond and the slopes of the ski area. It's an exclusive perspective that up to six guests can enjoy for just $120 per night. The tent is available year-round; summer guests pretty much have the resort to themselves, while in winter the lifts are just a short walk away.

Plattekill's luxury tent and other amenities are provided by Tentrr, a company that has carved out a niche in the sharing economy by providing tents to resorts and individual property owners who want to offer an outdoorsy, Airbnb-like experience. Tentrr's agreement with Plattekill includes setup, takedown, and maintenance of the glamping facility.

In its first year, 2016, Plattekill got three or four bookings for the tent, but had six already by early-July 2017. "Glamping is so popular, especially for people from downstate who want to be immersed in nature without hordes of company," says Christy Jarmonack, the resort's marketing and group sales manager.

Black Mountain, N.H., on the other hand, offers a good example of how to create a glamping experience with a modest budget by building off of other activities and utilizing existing facilities. From Memorial Day to Columbus Day, Black offers glamping hitched to an equestrian outing: guests saddle up for a 45-minute trail ride to the resort's mid-station cabin. Formerly used by the ski patrol, it has been converted and is now used by overnight guests.

"We started doing summer and sunset rides about 12 years ago, and we thought it would be fun to offer the cabin experience too," says Liz York, Black's marketing director.
This is the seventh summer the cabin has been available for overnight stays.

The "rustic but comfortable" cabin sleeps up to six. Amenities include running water and electricity, although guests must bring their own sleeping bags for the beds. The $179-per-person cost includes the trail ride up and down the mountain (the horses stay overnight, too), lodging, dinner (burgers and hot dogs or, for an extra $10 per person, steak and chicken), and a hot breakfast. A 4 p.m. departure from the base allows enough daylight to take a short hike to a Mount Washington viewpoint or play a game of beanbag toss. After dinner, s'mores and beer from the nearby Moat Mountain Brewery are served around the fire.
Experienced Glampers
For Peter Mack, the union of glamping and skiing comes naturally: the founder of luxury glamping company Collective Retreats has a professional background as a hotelier for Starwood Resorts, and grew up ski racing at Vermont's Killington Resort.
"Ski areas very much want to enhance their summer offerings, and there's a huge demand for glamping," says Mack.
He adds that a fringe benefit of snowmaking operations is the availability of power and water in relatively remote areas, which glamping facilities can tap into. Tents can also be easily disassembled for winter, meaning they won't be in the way of ski operations.

Left: The glamping tents at Collective Retreats' locations at a Vail ranch (shown) and Big Sky's Moonlight Basin are built with locally-sourced materials and offer off-the-grid luxury. Center and right: Plattekill in upstate New York has started small, with one glamping tent located across from the mountain for winter and summer guests. Guests are treated to a view overlooking a pond and Plattekill's trails from the platform of the ski area's tent.
Urban residents who drive up to the mountains for a ski weekend also happen to be the ideal market for a $700-per-night luxury camping experience, says Mack. "These are generally not people who want to pitch a tent on their own, crack a beer, and cook their own dinner," he notes. "We realized there were people who want all the benefits of a hotel, but also want to stay outdoors on a mountain." Collective Retreats' target market is "wealthier and outdoorsy" 28- to 55-year-olds; families make up about 40 percent of guests, while couples account for another 30 percent.

The five-year-old company has established a high-end glamping camp at Big Sky's Moonlight Basin through an operating agreement with the resort, similar to Tentrr's with Plattekill, as well as on a private ranch in the Vail Valley. "We do all of the work, so it's really just a revenue stream for them," says Mack.

Each of Collective Retreats' custom-designed tents is tailored to its location and uses locally sourced materials—antler chandeliers provide lighting in the 10 Big Sky tents, for example. Amenities live up to the glamorous roots of glamping: beds have 1,500-thread-count sheets, en-suite baths are equipped with rainfall showers, and on-site culinary and concierge teams provide made-to-order meals and activity planning, respectively. Local flavor extends right down to the snacks: huckleberry s'mores are served to Big Sky guests, while the Vail s'mores are infused with 10th Mountain Division bourbon, says Mack.

Huttopia, a French company with 38 established glamping locations in France, opened its first North American location in 2015 near Quebec's Mont Sutton. It includes 100 glamping tents in a variety of styles: from the posh "Trapper's Tent," complete with a full bathroom and small kitchen, to the more rustic "Bonaventure Tent," which still comes with electricity and a small fridge. All glamping tents include comfy beds, linens, and towels. The property features a welcome center with a restaurant, a swimming pool, a kids' playground, organized kids' activities, and more.

While not directly affiliated with Mont Sutton, Huttopia Canada's Claude Beaudoin says, "We participate in the ski resort marketing package for partners." He adds that Huttopia is encouraged about Mont Sutton's new owners' commitment to developing summer activities, which will be a beneficial venture for all.

Left: The interior of a luxury yurt from Pacific Yurts (photo: Pacific Yurts, Cottage Grove, Ore.). Center: "The Chalet" is one of the many different glamping accommodations to choose from at Huttopia White Mountains in New Hampshire, which is the company's first U.S. location and just opened in June. Right: A poolside Airstream at Huttopia White Mountains serves fresh crepes, croissants, and more.

Just across the boarder, Huttopia White Mountains opened this summer—the company's first in the U.S.—near North Conway, N.H., which is also home to Cranmore ski area and convenient to several others. The lakeside property features a variety of glamping tents, and amenities abound. Guests can feed on croissants, crepes, and homemade pizza served out of the poolside Airstream caravan, or enjoy a glass of French wine and a bite of cheese. Adults can take cooking and craft workshops, and for the kids there are open-air movies, organized activities, and a playground.
Beaudoin says the typical demographic for Huttopia's properties are families of four with kids under age 15 during the summer months and holidays.
Active couples, groups of friends, and retired folks are the primary clientele midweek, and early and late summer into the fall.

With 15 eco-friendly geodesic domes set on the slopes of the Alps, the Whitepod eco-resort in Valais, Switzerland, turns the glamping trend a bit on its head: it offers lodging in well-appointed geodesic domes (or "pods"), with a small ski area (two lifts serving 7 kilometers of alpine trails) added as a guest amenity.

"Guests don't pay anything extra for the slopes, nor skis or snowboards if they need to borrow some," says Laura De Kock, marketing and communications manager for the resort. "It's a little extra fun that's part of the experience."

Founded in 2004, Whitepod is not only a glamping pioneer, but also one of the first resorts to offer a four-season luxury camping experience. "No one was as crazy as us," De Kock says. "The key is definitely the area: we have a little piece of mountain just for us. No noisy bars, no cars. And it's unique to be able to 'glamp' in the mountains with a meter of snow around your pod, while you're snug as a bug in your pod next to the fire." The resort is adding three new suite pods this winter, along with new amenities like a sauna and electric bikes, she says.

More ski glamping is on the way to the U.S., too. Squaw Valley plans to introduce a new glamping experience in summer 2018, and Collective Retreats has several new deals in the works, as well as plans to add lakeside Airstream and geodesic dome lodging at Big Sky, says Mack.
"We see ski areas as the perfect fit for us," he says.