Ski bums have long been stereotyped as nirvana-chasing powder-hounds that put self-gratification above all else—be it hygiene, life partners, or a career. But today, a wave of modern-day ski bums are motivated to chase financial stability, long-term relationships, and intentional careers alongside their ski or snowboard passion. Though not without grit: These entrepreneurs need to face insecurities that range from seasonal housing to long-distance dating and health insurance. Here are the stories of five professionals who chase snow year-round and find the tradeoffs are more than worthwhile.

Fifteen Years on Snow
Andrew Snow, the suitably-named finance manager at Mad River Glen ski area in Vermont, doesn't take a hiatus from snow—ever. "May 2019 is my 186th month of consecutive skiing," says Snow. That's 15-plus years of month-to-month turns on the slopes.
In the U.S., Snow skis in Vermont from November to May. He sometimes extends his season from October to June, with lift-served skiing at Killington or hike-to-ski days on the snowfields of Mount Washington, N.H. His late spring trips have included A-Basin, Mount Hood, Whistler, and Chile.
Snow's odyssey began in 2001, after he graduated from college and became the marketing assistant at Mad River Glen. When an Australian colleague invited him to work as a lift operator at Hotham Alpine Resort in Australia in 2004, he decided to give it a try.
"The environment was like college, without classes and homework. I thought I'd do it for just one summer," says Snow. But his manager offered him a sponsored visa. Snow worked there for seven years, and at various Vermont resorts—Mad River, Killington, and then Bolton Valley—each winter.
"After I stopped working at Hotham, I thought year-round skiing was something I'd keep up for just one more summer, to hit 100 consecutive months. But I realized skiing during the summer was pretty cool, with generally warm temps, lots of sunshine, soft snow, and a totally different vibe. Plus, you can ski in the morning and go for a hike or hop on a bike in the afternoon," he says.
But it wasn't all sunshine and roses. Those early years put stress on his relationships and social connectedness. "I missed good college friends' weddings and family functions. I felt disconnected from my American life. There was a delay in settling down," he says. As a result, he married later—he was 35 when he and his wife tied the knot in 2014.
He also needed to piece together healthcare options. "Early in my career, it was hard to figure out continuous health insurance. Later, I got lucky, when I had an almost full-time job at Killington ski resort and then Bolton Valley," Snow says.
There were upsides, of course. "The pay in Australia is relatively good compared to the U.S. Over the years, I saved money, and that compensation difference was beneficial for me," he says.
Craving greater stability, Snow took a full-time position as the director of mountain services at Bolton Valley in 2011. He and his wife then moved to Europe in June 2016 and planned to stay put, but the opportunity at Mad River Glen was too good to pass up, so they returned to Vermont in December 2017.
The Snows now split their year between Vermont and Europe. From May to September, he works remotely from the Netherlands, where his wife's work is based.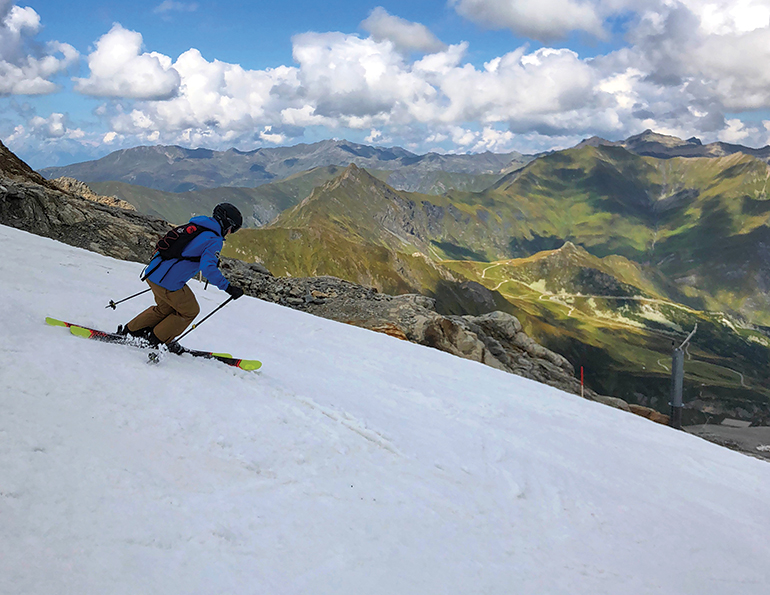 Andrew Snow summer skiing on Hintertux Glacier in Austria."Our summer location has made it easy to keep this streak of monthly skiing going. I have an understanding, supportive wife. Travel in Europe is relatively cheap, so I make my way to the Alps—Austria or Italy—at least once a month. Hintertux, Austria offers skiing 365 days a year, wind and weather permitting. And Passo dello Stelvio, Italy, is open for skiing in the summer," he notes.
Indoor skiing doesn't make the cut, though. "We have a snow dome only eight miles from where we live in the Netherlands, but I haven't skied there yet! I'll check it out, but it's no substitute for the real thing," he says.

Working the System
The year-round ski-bum lifestyle "is a massive puzzle all of the time," says ski and mountain guide Izzy Lazarus. "I use the system to my advantage. My personal trips include work, and my work trips include personal time," she says.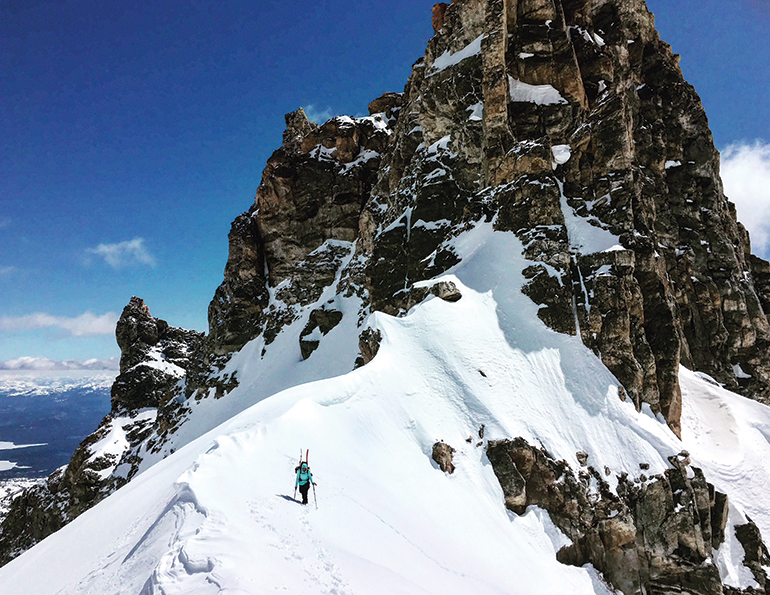 Izzy Lazarus trekking in the Tetons.Lazarus spends winters in Jackson, Wyo., where she works as a backcountry snowboard and mountaineering guide. In spring, she guides in the Cascades, on Mount Rainier and Mount Adams. In the summer and fall, she's a rock climbing guide in the Tetons, Utah, Nevada, and Southern California. To support her continued education and bolster her lifestyle, Lazarus applies for scholarships such as those from the Jackson Hole Mountain Guides scholarship program.
At first, to make ends meet, she lived in a Subaru. "I didn't have a home base. I'd take people climbing or skiing, and then sit in the front seat and ask myself why I made this my life—especially when it's raining and you have nowhere to go," she recalls.
In 2016, she upgraded her vehicle/home to a 2001 Ford Econoline E150 cargo van, which provided more space for self-care.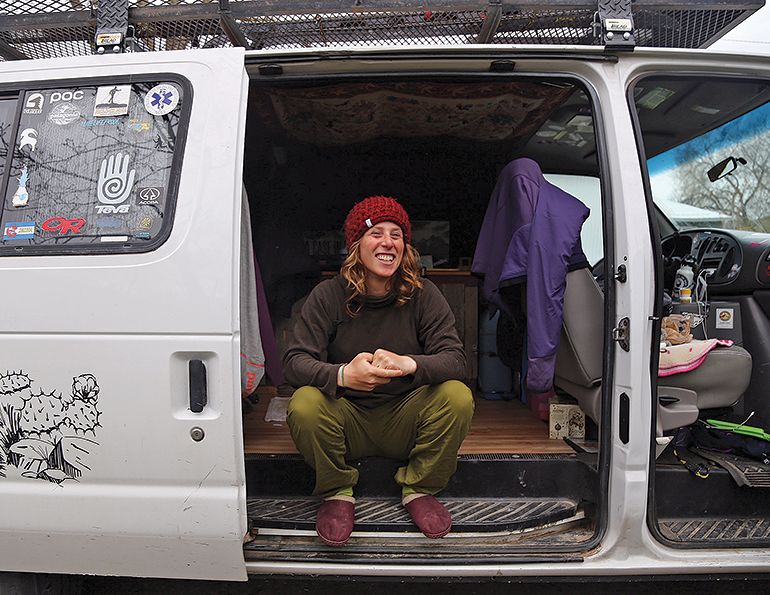 Izzy Lazarus living the van life in her 2001 Ford Econoline with all the comforts of home."In a van, I can cook without being outside. It allows you to be comfortable and in a space that's yours. I can afford and take ownership of that home, which makes me feel less scattered, especially when I travel so much. I can also stop to take naps as I drive," she says. "A friend owned it before me, so it came with sentimental value. It was badass with artwork on the outside. And it was loud—I couldn't roll into town without someone sending me a photo."
After two years with the Econoline, in June 2018 she downsized slightly to a Chevrolet Astro (long a popular vehicle/home choice), which she modified for mobile living. Lazarus removed the bench seats and built a simple platform that functions as a bed, with storage underneath for a cooler, water jug, and a Coleman dual fuel two-burner stove. All the comforts of home.

For Better and For Worse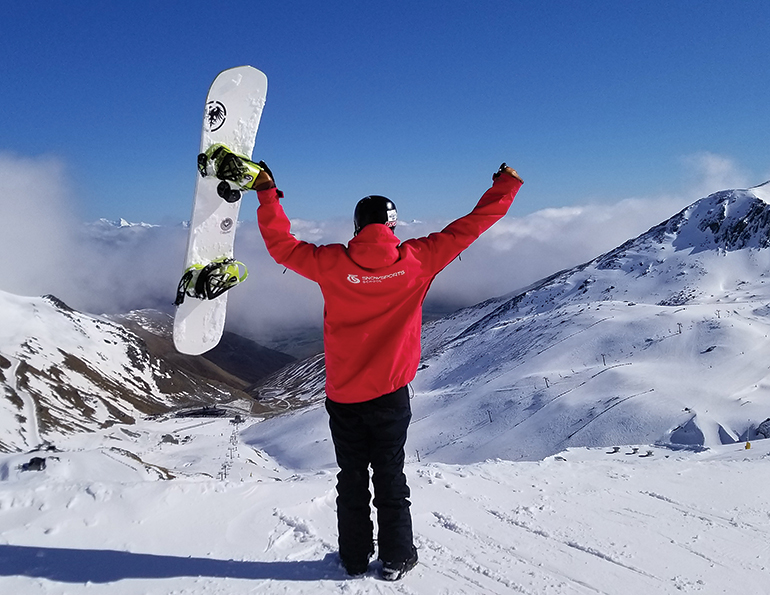 Ian Boyle at The Remarkables, New Zealand."The biggest challenge is leaving the new friends that you meet. I live in these places six months at a time. I build friendships, rip the band-aid off, and hope to see them the following year," says snowboard instructor Ian Boyle, who works at Jay Peak Resort in Vermont, and then shifts to The Remarkables Ski Area in New Zealand from June to October.
On the plus, side, he says, "I have a whole lot of encouragement from family and friends in Vermont and where I grew up, in New Jersey. Everyone is supportive of me to live this dream lifestyle. When people have your back, it's easier to make those big decisions."
There's more: "The reward of this lifestyle is doing what I love all year long, and getting paid for it. And meeting people all over the world is sweet," says Boyle. Plus, he adds, his professional development has benefitted from international experience and a global understanding of the snowsports industry.
Financially, he "trims the fat." When his car broke down last winter, he hitchhiked to the mountain. That saved money on gas and car insurance. Housing in New Zealand is expensive, so last year he lived in a van. This year, he plans to rent rooms via week-to-week sublets, which will cost less than a year-long lease. He doesn't dine out.
Humor is often essential for a lifelong career of chasing winter. "I usually need to repack my bags like five times," chuckles Boyle as he recalls an incident at Los Angeles International Airport. "I was changing airlines to go to New Zealand, and the weight limits on the bags were different. It was the end of May, super hot, and the airport was busy. I was ripping my snowboard gear out of my bags. People were looking at me like I was crazy. I had to get all of my backcountry splitboarding gear into one bag to avoid the extra 300 bucks. …That chaotic mess sums up my life," he laughs. Dozens of powder days must make up for the stress.

Global Living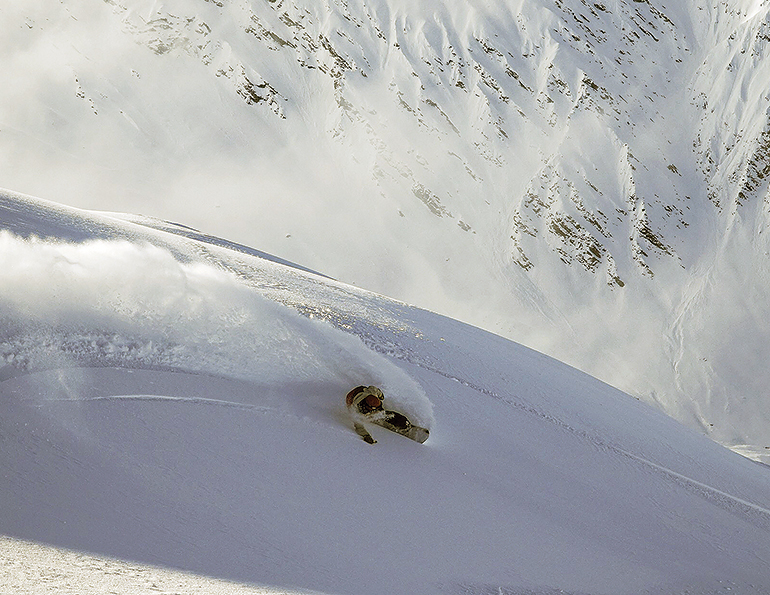 Chris Walker on a heli trip in New Zealand.Chris Walker sums up the positives of ski-bum life quickly. "I have friends who go on a three-week trip every four years. I can take an eight-week trip every six months," says the Kiwi. The 10-year slopes manager posts up at Coronet Peak Ski Area in New Zealand from April to October, then relocates to Genting Resort Secret Garden in Chong Li, China, where he fills the same role. In between, he has plenty of time for travel and other pursuits.
Establishing this lifestyle hasn't been easy. Walker gave up pursuing work in the U.S., due to its tighter visa restrictions. He's also unable to invest in a permanent home, high-quality belongings, or owning many possessions. And when Walker made the lifestyle switch, he sold a beloved car to pay for that first overseas plane ticket. Talk about sacrifice.
Now, though, the transitions between his residences are easier. He has employee housing in China and can easily acquire a worker visa there, due to his snowmaking and grooming skillsets. Back in Queenstown, N.Z., he stores his car—which doubles as a storage unit—on a friend's property, and his living arrangement in New Zealand allows him to return to the same house each year. The minor inconveniences are well worth his travel experiences along the journey: "I've struggled to find another career that gives me the flexibility to relocate, and employers who hire me for six months with time off," says Walker.

A Snowy Bloodline
For Maddie Crowell, now a pro ski guide, ski bum blood runs in the family.
"My dad went to Syracuse University and was going to become a doctor. But during college, he went on a ski trip to Utah. After that, he dropped out of college to pursue this ski life," says Crowell. Her parents still live off the grid outside of Telluride, Colo., where they snowmobile in and out all winter. Crowell recalls going to her first avalanche education course at 14 years old with her dad, with whom she still skis the backcountry.
When she left Telluride to attend the University of British Columbia, her dad feared she'd follow a traditional ski-bum path like he did. He urged her to finish school, and offered to pay her tuition if she did.
Crowell met the challenge, and at the same time, began forging a unique course. She crammed her classes into Wednesday and Thursday, skied five days a week, and finished her degree in forest science in four years, in 2013. After graduation, she worked as a forest biologist in Canada, with an eight-month contract that left her free to ski-travel from December to May.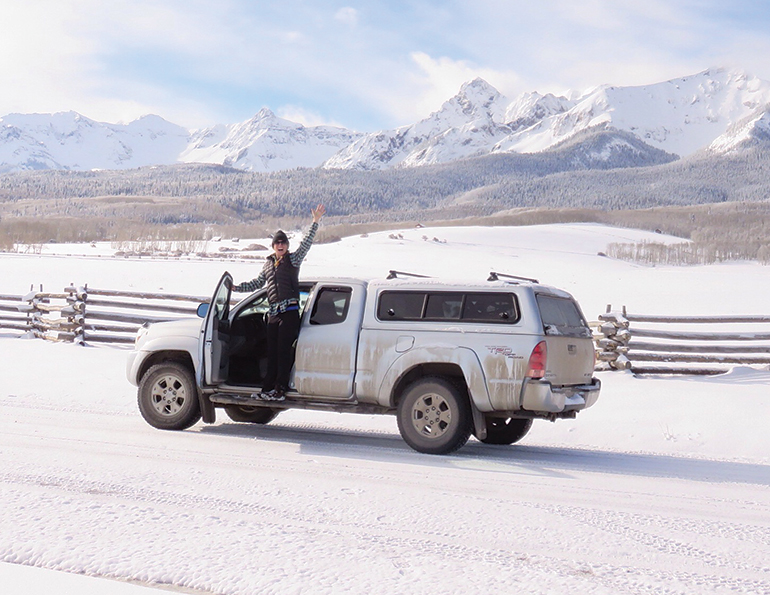 Maddie Crowell with her live-in truck in the Tetons.Last winter, she shifted her career to ski guide. "I always had a tick in the back of my mind to ski guide," Crowell says. And it actually made her ski life less nomadic than it had been. "The year-round lifestyle of chasing skiing is very nomadic. You're constantly moving, which can be unsettling and challenge relationships on a personal level," she admits.
To become more settled, Crowell moved back to Telluride, where she can stay in her family's in-town apartment when she's not on the road. In the winter, she works at a nearby cat skiing operation (the guides sleep onsite), co-leads a ski-and-yoga retreat in Japan, and backcountry ski guides, including an upcoming Denali ski expedition. In the summer, she's a mountain and ski guide on Mount Shasta.
And she's still becoming established. At the moment, she says, "I'm a new guide, so my work is inconsistent and not super lucrative." She qualifies for Medicaid health insurance, lives in her truck when she guides on Shasta, and is a sponsored ski ambassador with Salomon, which helps her afford the equipment.
Overall, the benefits outweigh the sacrifice. "This life is rewarding. I love working outside, having new experiences, and meeting different people. When you have a common passion like skiing, it's really easy to connect with people. That's one of the most powerful things about this sport," she says.
It's the human connection that helps us realize we share a universal love for skiing, a love that—for some—stretches beyond borders.