Cutter's Camp Timberline Lodge, Ore., May 13-17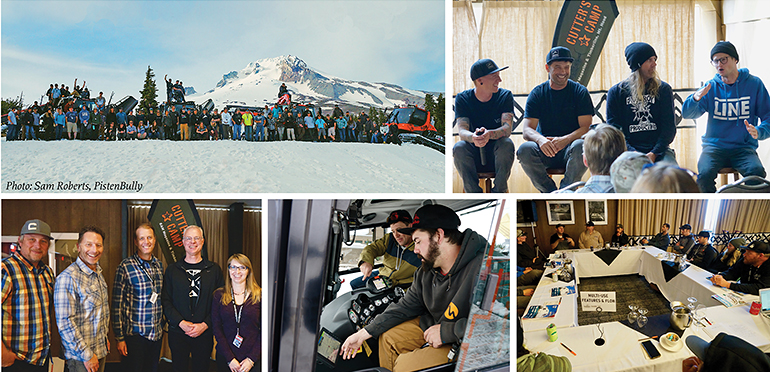 The 17th annual Cutter's Camp welcomed freestyle terrain professionals and industry experts from around the world for five days of collaboration, education, and networking. Top row, left: The Cutter's Camp group with Mt. Hood in the background. Top row, right: The Fireside Chat panel of (L to R) Lucas Ouellette and Steve Petrie, Arena Snow Parks; Krush Kulesza, Snowboy Productions; and Andy Parry, Tell-a-Friend Tour, discussed using parks to drive growth at resorts. Bottom row, left: A power panel of risk management experts discussed key areas of terrain park litigation; (L to R) Elia Hamilton, Peak Resorts; Richard Jolly, Keating, Bucklin & McCormack; Jason Kartchner, MountainGuard; Brad Stanford, Farleigh, Wada & Witt; and Mistica Walker, Safehold Special Risk. Bottom row, middle: On-hill one-on-one coaching gives campers hands-on building practice. Bottom row, right: One of the many POD sessions—small break-out groups focused on specific topics.
Interalpin 2019, Innsbruck, Austria, May 8-10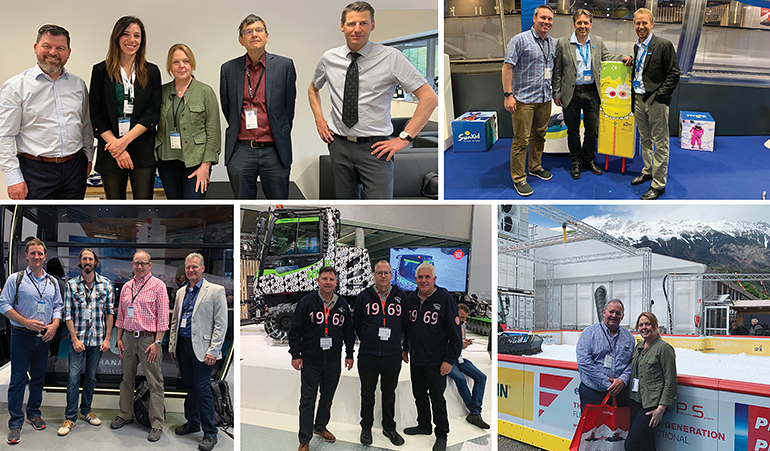 About 29,000 resort professionals from 90 different countries attended Interalpin to see the latest offerings from roughly 650 different suppliers at the event. Top row, left: (L to R) Stefan Kleinlercher, head of exhibitions Congress Messe Innsbruck; Marilise Di Domenico, Leitner-Poma; SAM's own Sharon Walsh; Markus Pitscheider, secrétaire général O.I.T.A.F.; Emanuel Wohlfarter, CEO, Sunkid GmbH. Top row, right: Conor Rowan, StarLifts USA (L) with Steve Daly, DemacLenko, and Dennis Kinsella, PistenBully. Bottom row, left: (L to R) Louis Skowyra, Arapahoe Basin Ski Area; Scott Price, Mountain Capital Partners; Mike Manley, Leitner-Poma of America; Rob Walz, Cascade Mountain. Bottom row, middle: PistenBully's team of John Glockhamer, Paul Swanson, and Dennis McGiboney unveiled the new electric PB 100E at the show. Bottom row, right: SAM's Sharon Walsh with Tom McHugh of UmbrellaBars USA.
SAMMY AWARDS SAN DIEGO, CALIF., APRIL 29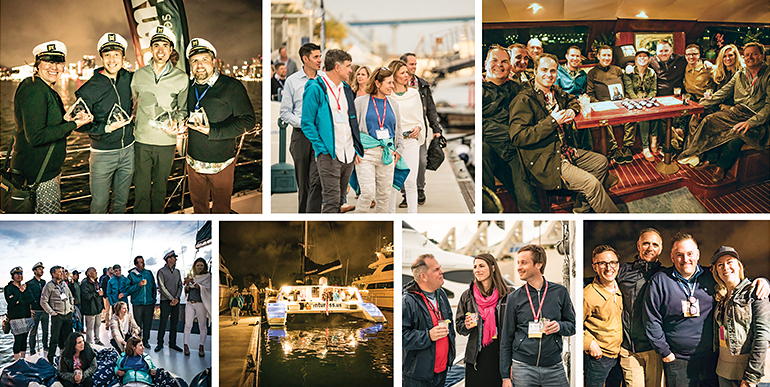 Four of our industry's top leaders were honored with SAMMY Awards during a sunset cruise in San Diego. Top left: SAMMY Class of 2019—Dawn Boulware, Taos Ski Valley; Simon Pagé, Sommet Saint-Sauveur; Geoff Buchheister, Keystone Resort; Hugh Reynolds, SNOW Operating. Top middle: All aboard! SAMMY revelers get ready to celebrate. Top right: A booth of SAMMY hall of famers. Bottom left: Looking on during the award ceremony. Bottom middle left: The S.S. Adventuress. Bottom middle right: ASSQ's Yves Juneau (L) toasts Simon Pagé and his fiancé Marie. Bottom right: Dave Amirault, Steve Wright, Joe Hession, and Halley O'Brien Photos: Dave Gibson, Propeller Media Works.
NSAA NATIONAL CONVENTION SAN DIEGO, CALIF., APRIL 29-MAY 2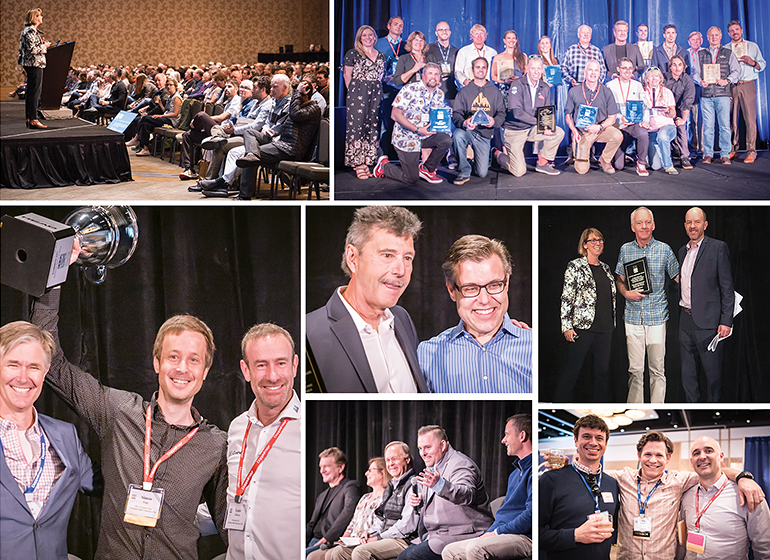 The 2019 NSAA National Convention welcomed more than 900 attendees. Top left: NSAA President Kelly Pawlak addresses the crowd. Top right: The esteemed group of NSAA award winners. Middle left: Head's Jon Rucker (L) presented the Conversion Cup to Simon Pagé and Louis-Philippe Hébert from Les Sommets. Center: Vail Resorts CEO Rob Katz (R) presented Blaise Carrig with a Lifetime Achievement Award. Middle right: Lifetime Achievement Award honoree Bob Bonar (C) with Kelly Pawlak and Snowbird GM Dave Fields. Bottom left: "Industry Thought Leaders" panel. Bottom right: (L to R) Dave Meeker, SAM; Tim Barnhorst, MountainGuard; Jay Scambio, Loon. Photos: Dave Gibson, Propeller Media Works.
U.S. Ski and Snowboard Hall of Fame Park City, Utah, April 4-7
The industry gathered on and off the slopes to celebrate the 2018 inductees to the U.S. Ski & Snowboard Hall of Fame and Museum. Left: Dan Egan (L) with inductees Hilary Engisch-Klein, Bill Jensen, Kristen Ulmer, and Tom Kelly. Above: Past Hall of Fame inductees are a who's who of our sport.
Cross Country Ski Areas Association Conference Lake Placid, N.Y., April 1-4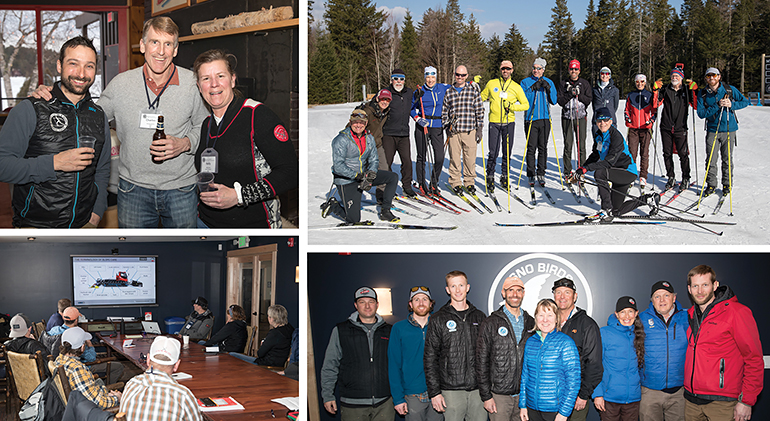 The Cross Country Ski Areas Association held its annual conference in the heart of the Lake Placid Olympic venues. More than 55 attendees learned the latest on participation, research, grooming, and education. Top row, left: (L to R) Nick Mahood of Woodstock Nordic, Vt., Charles Santry of HKD, and Kelly Davis of Davis + Kaplan enjoy happy hour. Top row, right: Morning ski at Mt. Van Hoevenberg. Bottom row, left: Pro Academy in a classroom session. Bottom row, right: Pro Academy graduates. Photos: Reese Brown, CCSAA
Canada West Ski Areas Association Conference Whistler, B.C., April 24-26

Left: CWSAA president Christopher Nicolson (R) congratulates Danny Cox, recipient of the 2019 CWSAA Jim Marshall Award. Middle: Peter Alder (L), pictured with CWSAA board chair Andre Quenneville, was awarded the Jimmie Spencer Lifetime Achievement Award. Right: Paul Mathews holds court at the Ecosign booth.