THERMOMETER CALIBRATOR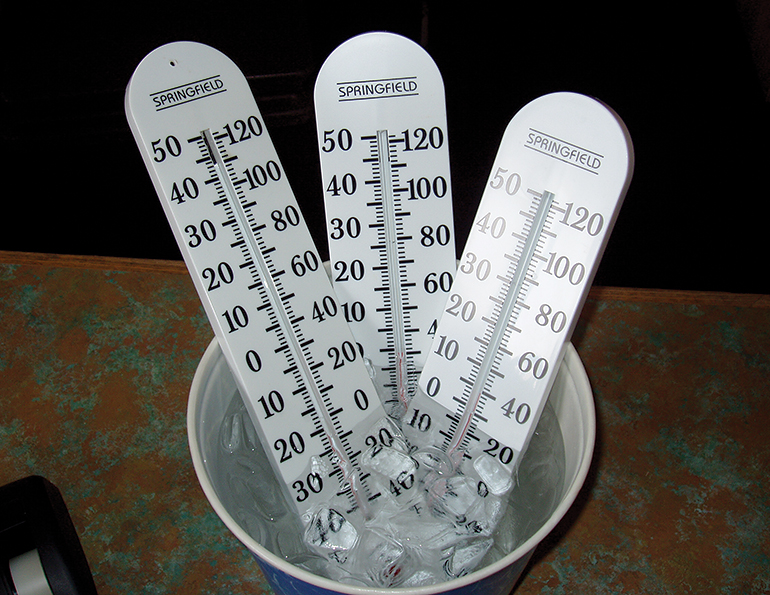 A good thermometer is a vital instrument at ski areas, especially for snowmakers. However, there is no need to spend an arm and a leg to get an accurate one—a standard hardware store outdoor thermometer will do. The trick is to calibrate it. And John Holland, ranch foreman at Rocking Horse Ranch, N.Y., (which doubles as a ski resort in winter) has a clever way to do just that. Holland's calibration instrument consists of a Solo cup or bucket filled with a mix of ice and water. First, add the ice, then add water up to the level of the ice. Allow the mix to sit for 30 minutes (out of direct sunlight), and it reaches that point where ice at 32 degrees equals water at 32 degrees, only in different physical states. Submerge the thermometer(s) in the ice water for 10 minutes. The glass tube with the temperature gauging liquid (mercury in years past) can be shifted up or down until the liquid level reads 32 degrees. Bingo! Note to self: Remember to turn off the snow guns at 33 degrees.
PIPE WELDING CRIB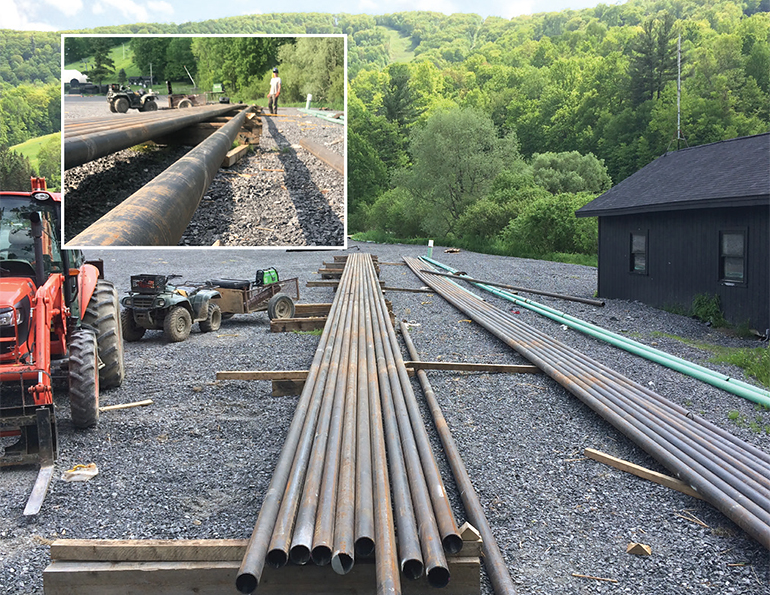 "This is a very simple idea that has saved so much time and stress," says Jeff Harvey Jr., terrain park manager at Catamount, Mass. It simply uses large wood beam "cribbing" placed at the proper width and level to create a user-friendly setup for welding Catamount's new snowmaking pipe. One person can roll/move pipe sections into place easily. Harvey loads the "pipe rack" daily with 30 sections of 45-foot pipe lengths, and welders can prep roughly 1,000 feet a day. It's then ready to be dragged up the mountain. Pipe loads on one side, and wedges are used to hold sections in place for welding. Once finished, the wedges are removed, welded sections are rolled off the crib, and the process starts all over again. "Simple yet very helpful," Harvey says.
A WINCH IN TIME SAVES...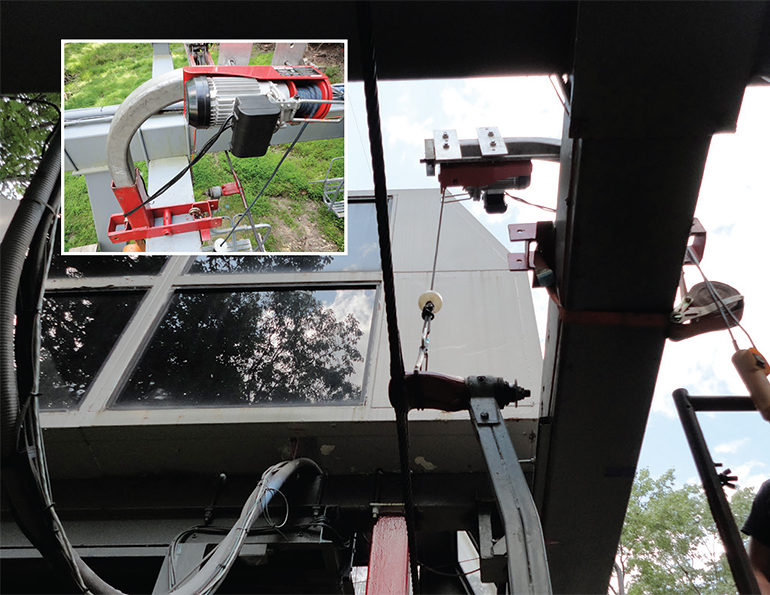 Removing and hanging chairs on a fixed-grip lift can be a laborious chore—but an unavoidable one, given B77 requirements for annual non-destructive testing. To make the job easier, the mountain ops crew at Camelback, Pa., came up with the idea to use a winch, as shown here. The portable machine they crafted consists of a winch mounted on an old hanger arm from a Doppelmayr chair. The hanger arm is attached to a bracket that is held in place by a ratchet strap and secured to the terminal frame above the haul rope. The hanger arm positions the winch directly above the chair and haul rope. The winch takes about 10 minutes to install, and operates on standard 120 volt electric. The entire package "makes hanging triple chairs all day a lot easier on your back!" says Camelback lift maintenance manager Ryan Abel.