What was once the activity of a few diehards and fitness buffs, skinning up the mountain to "earn your turns," has now become a popular trend among skiers and snowboarders of varying commitment and ability levels. Rather than venturing in the backcountry, though, many take advantage of the inbounds terrain at ski areas for their uphill pursuits.
This influx of uphillers presents various challenges for resorts across North America, with safety concerns—for uphillers, downhillers, and on-hill staff—chief among them. As a result, many have instituted uphill travel policies, sell uphill travel passes, or, in some cases, have banned the practice altogether.
Depending on the mountain and the community, the skinning public's reactions to resort responses aimed at dealing with increased uphill traffic have varied from downright angry to total acceptance and support.
Snow King Resort in Wyoming has experienced this full range of reactions from its local community since implementing an uphill travel policy and charging for uphill travel passes in recent years. How did it turn the angry mob of local uphillers into a growing—and revenue driving—group of enthusiastic participants? Let's find out.

Introducing Change
Snow King is located within walking distance of downtown Jackson, a mecca for outdoor enthusiasts. Skinning is nearly as popular as lift-served skiing at Snow King, but after uphill traffic exploded a few years ago, the resort had to do something to control it.
To start, Snow King implemented one of the more lenient uphill policies in the industry. Skinners can access the mountain during and outside of operating hours as long as they follow one of three authorized routes. Dogs are not allowed during operating hours, and skinners must yield to downhill traffic and machinery.
As more and more people took advantage of this access, Snow King saw new challenges—alongside an opportunity to monetize the traffic. As a rare ski resort that relies more on summer revenue than it does winter revenue, monetizing uphill traffic was a priority during the ski season.
After all, uphillers benefit from snowmaking, grooming, and patrolling on the mountain—as well as plowed parking lots and indoor facilities—just as much as downhillers, so a little contribution seemed fair.
Despite the logic, locals didn't take kindly to paying for something they'd always done for free. Some locals view Snow King as their mountain, as it resides on public land. In 2015, when Snow King charged uphillers a scant $7.50 registration and armband fee, it was met with resistance. Community backlash ensued when the resort rolled out a $75 uphill pass in 2017. The offended were loud with their criticism, both on the hill when passes were checked, and on social media.
Luckily, Snow King also has understanding friends in the community. Steve Sullivan, founder of outdoor apparel maker Stio and an avid uphiller at Snow King, wanted to help. "We have partnered with Stio in the past and saw this as a good opportunity to grow our partnership," says Snow King GM Ryan Stanley. Together, Snow King and Sullivan came up with a plan to appease the critics and strengthen the community.

Let the Games Begin
Snow King engaged uphillers by inviting them to join in a little competitive fun. The $75 uphill pass ($50 pre-season) remained, but with new benefits. Stio and Snow King would improve signage for uphillers and track their vertical. Together, the two companies invested approximately $30,000 into gamifying uphill travel at the resort, and launched the Uphill Challenge in 2018. The investment purchased RFID tracking hardware, maps, signage, and tracking software.
"We had installed RFID gates for the lifts, so the uphill tracking was an extension of using our RFID season passes," Stanley says.
Uphillers track their vertical by scanning their passes at the base of the Summit Lift or Rafferty Lift and then following one of three routes to kiosk destinations on the mountain— one at a mid-mountain pump house, one at the saddle about two thirds up the mountain, and one at the Panorama House at the peak. Red stars indicate scan stations on the uphill map. Vertical feet and times can be viewed instantly online. Stio awarded prizes to participants throughout the season based on vertical logged and speed.

Round One
The first season of the Uphill Challenge drew 250 participants, some of whom logged more than 100,000 feet of vertical. On average, participants logged 30,000 vertical feet, the equivalent of 19 trips to the peak.
Stio provided prizes for the fastest and most aggressive participants. The grand prize, a $700 top-of-the-line Stio jacket, went to Josh Woodbury for his 171,055 feet in vertical. Every month, a group of winners received jackets, sweaters, pants, t-shirts, and hats based on their times and vertical performances, which amounted to nearly $5,000 in Stio gear.
"I was really surprised how quickly it took off and by the number of people that enjoyed using it, " says Stanley. "It was a challenge to pull together, and it cost more than expected, but provides long-term value with positive engagement and opportunity to connect with our community."
A new community of uphillers grew out of the fun and competitive nature of the challenge. Participants even met up to skin together, after learning about each other on the leaderboard. Snow King once again had a positive association to uphill access, plus a few dollars to help with winter operations.

Summer Challenge
The success of the inaugural winter Uphill Challenge led Snow King to extend the challenge into summer. Beginning in July 2019, runners, hikers, and bikers can log vertical and speed via the same kiosks used in winter. The summer challenge is an added benefit for winter season passholders, but also draws in summer scenic lift passholders.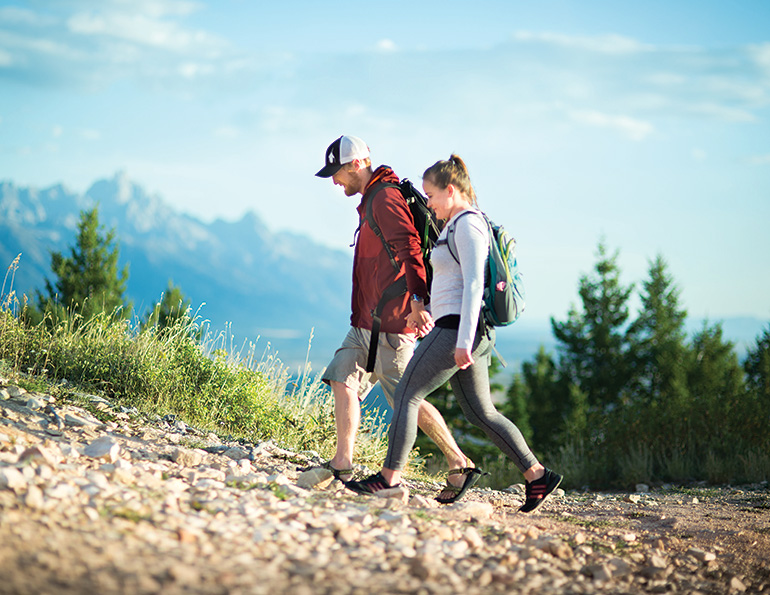 With Stio continuing as a sponsor, Snow King also invested in software upgrades for the summer to include groups and fundraising. With the software update, groups of up to 10 people can work together toward a vertical goal while also raising money for the Jackson Hole Ski & Snowboard Club, a key partner of Snow King and the race community. According to the site, "corporations, non-profits, or individuals may elect to match or cover the elected donation for their group to incentivize staff members, friends, or family in promoting physical fitness over the summer."

Up Next
Having listened to the local uphillers, Snow King is making a few tweaks to the challenge for the 2019-20 season. Though final details were not available at press time, these will likely include another pass option that pairs a select number of days of lift access with the uphill pass. Different goals will be tracked, and prize opportunities will expand. Awards will be given monthly to the top male and female competitors for fastest times and most vertical feet climbed. In addition, bi-weekly random drawings will be held for those who have climbed more than a certain amount of vertical feet for the period. Prizes will be sourced from Stio, Snow King, and the ski club.
The group component for businesses and non-profits to fundraise will carry into winter, too, benefiting the local ski club.
The goals for the future? More people outside and finding value in Snow King's pass products, says Stanley.

The Lesson
Snow King's actions are a great example of taking criticism and turning it into positive action. Listening to your customers, even their complaints, can often lead to understanding where there are opportunities to make your resort better—so long as you can think outside the box.