Get a Read on Your Leadership Skills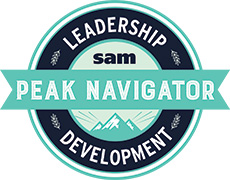 Some people are genetically predisposed to be leaders, but they still must learn the skills necessary to effectively lead others. Hence the PEAK Navigator program, developed in partnership with Paul Thallner, Summit Series facilitator and founder of High Peaks Group--a firm specializing in leadership and team development.
The PEAK Navigator program is designed to help mountain resort industry leaders tune their leadership skills, get teams engaged, and build employee loyalty. The program debuted at LMOE this past spring, and will be offered at the ISKINY/PSAA Expo this fall. Now, SAM and High Peaks Group are bringing it to the industry at large, through a cutting-edge online platform.
Why now? An entire generation of effective industry leaders is retiring, and the new guard is stepping up. But how many of these new leaders have been taught leadership skills? As it turns out, not as many as you'd think.
Several years ago, a resort general manager sent SAM a Letter to the Editor expressing his frustration about that very issue, stating that we as an industry were setting up the next generation for failure. That prompted us to recognize this new generation of leaders through our SAMMY Awards and 10 Under 30 profiles. Two years ago, we took it a step further by establishing the SAM Summit Series, a mentorship program aimed at developing up-and-coming leaders (see p. 58).
The success of these programs, and great feedback we've received from those involved, have encouraged us to expand the ways in which we address the continued interest in leadership development, such as the PEAK Navigator program.

How PEAK Navigator Works:
Participants take an online assessment. This measures the behaviors that are known to create high engagement and performance. It produces an individualized report that will be reviewed in a one-on-one leadership coaching session with Paul. The final piece is a facilitated, dynamic, online experience where leadership growth is discussed with peers.

Learn More:
To learn more about the PEAK Navigator or the Summit Series, visit www.saminfo.com/leadership-development.