In an April 2019 New York Times travel section piece, hotel and bar owners in popular vacation spots generally bemoaned social media influencers as "wannabe freeloaders." "Influencers Pay Double" reads a sign that ice-cream vendor Joe Nicchi posted in his Los Angeles food truck this June after getting besieged by requests for free cones.
Certainly, the rapid rise of these digital advocates—who have a sizeable audience on social media and, through posts, can sway followers to visit a resort or buy a product—raises questions. What role do influencers play in today's marketing campaigns? What's the best way to ferret out the pros from the posers? What happens once a resort engages with an influencer? And, perhaps the most difficult question to answer: is it working?
Despite the recent backlash, ski resorts are eager to explore these social media opportunities and have been using them to their advantage in various ways.
"If you're trying to tell a very specific story, influencers can penetrate that market more than traditional advertising," says Deer Valley senior communications manager Emily Summers. "And people are often more receptive to the third-party voice of someone they follow."
 Influencer partnerships "are certainly growing in terms of what our clients are requesting," says Emily McCormack, principal of Hula Communications, a PR agency that, among other travel destinations, works with Canada's SkiBig3 for the U.S. market. "We've been dipping our toes in a bit over the last couple of years, doing research, talking to people, and really being picky about whom we bring in as influencers."

Do Your Homework
The first part of the process: finding the right ones to work with. That often means sifting through the sort of requests that give influencers a bad rap. "The sheer number of people who reach out to us for stuff is incredible," says McCormack. "It can be labor intensive to look through and evaluate whether this is legit or just somebody trying to get a free trip."
Notes John Burton, director of marketing and PR at Timberline Lodge and Ski Resort in Oregon, "We get hammered by influencers every day wanting free lift tickets or hotel rooms [in exchange for a post]." He can intuitively write off most of them. "Ninety-nine percent are definitely not in alignment with anything we want to do," he says.
Nonetheless, over the last seven or so years, Timberline has included influencer outreach within its overall communication strategy and messaging. Burton seeks those who align with the resort's marketing goals, have a high degree of professionalism, and possess a basic understanding of Timberline.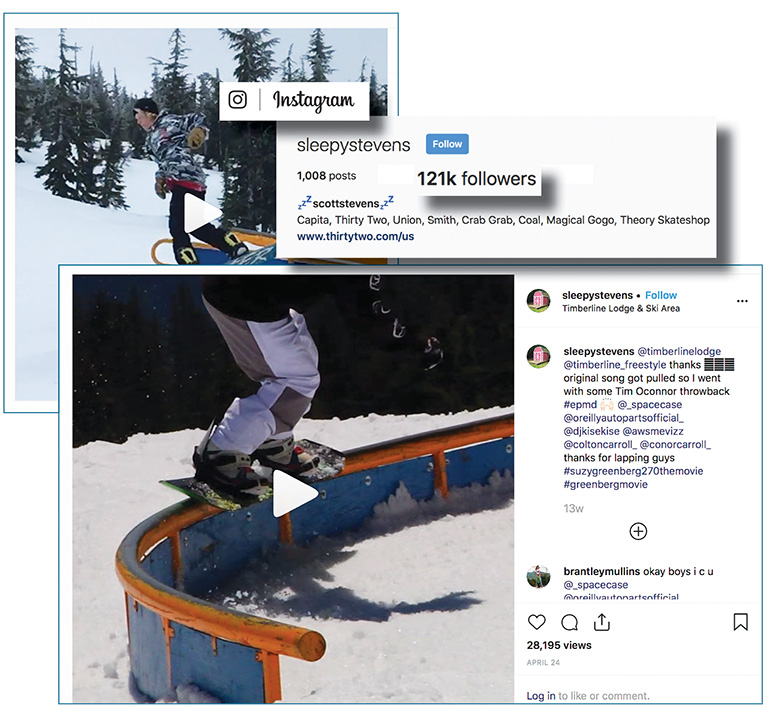 John Burton at Timberline works with professional snowboarder Scott Stevens to get local riders stoked about the area's park. An audience of 121,000 followers on Instagram is definitely a good qualifier, but working with influencers who align with your brand and will engage your public is just as important.
The vetting process shares similarities to what PR pros do for print or online journalists, but with the understanding that influencers act more as mini marketing agencies, touting an area's attractions in a more authentic voice than a traditional ad campaign. Some journalists have become influencers in their own right, too, providing a hybrid of traditional coverage with a strong online presence.

Establish a Strategy
When Courtney DiFiore took over as communications and social media manager at Killington in late 2018, she set out to develop a more comprehensive social strategy that included increased influencer engagement. "We're very particular," she notes. "We only work with those who match our brand and speak to our demographic. We don't want to partner with anyone just because they have a huge following."
DiFiore uses the social monitoring service TrendKite to research influencers. Destination marketing firm DCI, which works with Killington, also helps identify potential partners. Another option, too: digital tools, such as Instascreener, which uses metrics to help marketers find the best influencers.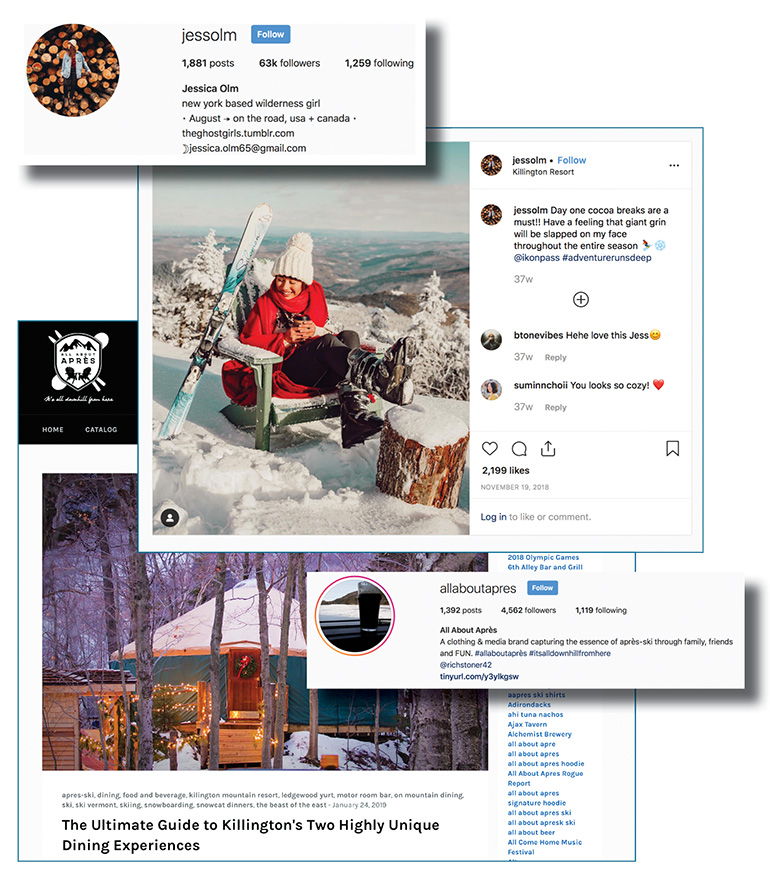 Killington got unexpected influencer coverage due to Ikon's influencer program that sent N.Y.C.-based Jess Olm to Killington on her Ikon pass. Social media manager Courtney DiFiore also works with smaller, targeted influencers like New Jersey-based All About Apres. Although it has a small following, it directly targets a key demographic for Killington.
Many resorts focus on Instagram, but since Killington is known for its videos, says DiFiore, she pays attention to whether an influencer has a YouTube channel, too. And she's even diving into TikTok, the lip-synching video app that's been blowing up among Generation Z. "I had to have my 17-year-old sister show me the ropes," says DiFiore, who's 29. She's seen others on it, such as Teton Gravity Research, and is figuring out how using it can benefit Killington. So far, she sees potential. "Within a year, it could be almost as big as Instagram for us," she says.

Quality Over Quantity
No matter the format, in addition to reaching the right audience and sharing brand values, an influencer, of course, must have the content to back it up.
High-quality photography, a clearly defined style, and familiarity with the audience are qualities that Jackson Hole Mountain Resort communication director Anna Cole considers when looking at someone's social media channel. "Every resort has to spend a little bit of time thinking about what works for them," she says. "We want to stay away from celebrity and fashion, for instance."
Few resorts engage influencers with mega followings. Mountain Creek, however, partnered with Burton Snowboards to bring in Blippi—a young-kids'-focused YouTuber with 4.1 million subscribers—for a learn-to-snowboard video. The result has garnered more than 10 million views and counting.
Primarily, though, ski area marketers work with influencers who have fewer but more desirable followers, such as active families or avid snowsports enthusiasts. "Most resorts are doing more middle-of-the-road stuff," says Gregg Blanchard, SVP of strategy at Inntopia and writer of the SlopeFillers marketing blog.
Recent statistics bear out the benefit of working with targeted influencers. According to a July 2019 article published by mobilemarketer.com, a study by analytics firm Influencer DB showed that, globally, Instagrammers with more than 10,000 followers have an engagement rate of 3.6 percent, while those with 5,000 to 10,000 followers attract 6.3 percent engagement; those with 1,000 to 5,000 followers have the highest rate, 8.8 percent.

Influential Partners
An obvious choice for ski areas: professional skiers and snowboarders, most of whom already have an extensive social media presence. For example, as one of the country's few summer skiing and riding training grounds, Timberline has long had a formal relationship with the U.S. Ski and Snowboard Team, which translates into valuable social media currency, says Burton.
The athletes who fly your resort's flag are influencers, too. "We're really proud of our athlete team," says Jackson Hole's Cole. "It's been around since the '90s, but the onset of social media elevated the purpose of that program." The more than 20 athletes—freeride skiers and snowboarders, plus a pro surfer who winters in Wyoming—have a combined reach of more than 4 million followers on Instagram, Twitter, and Facebook, notes Cole, four times as many as the resort's own social media channels.
Partnerships with nearby hotels, tourism offices, and even other brands can also pay off. Last year, Jeep—which sponsors the World Surf League—approached Jackson Hole about helping to host three pro surfers who wanted to learn to snowboard. "It was great for everyone involved," says Cole. "And Jeep helped out with the expenses, as we don't have a lot of money to bring in big names."
And don't discount an alternate type of influencer: one with four legs. At Timberline, Heidi and Bruno, the resort's resident Saint Bernards, can drive more engagement than any human, says Burton. "Those dogs are gold. We do a simple video of Bruno playing in the snow with a giant tennis ball, and it gets 1 million impressions before the end of the day."

Setting Parameters
After determining whom to work with, creating a written contract that clearly spells out what each side will provide proves critical to a successful partnership. These contracts usually specify the number and frequency of posts, Instagram Stories, and/or videos an influencer will provide, as well as the tags and anything else a ski area deems important to include.
Says Deer Valley's Summers, who hosts some 100 influencers per season, "We want to make sure we give them all of the right info in terms of tagging and messaging, and let them know that the things we set up during a visit aren't optional."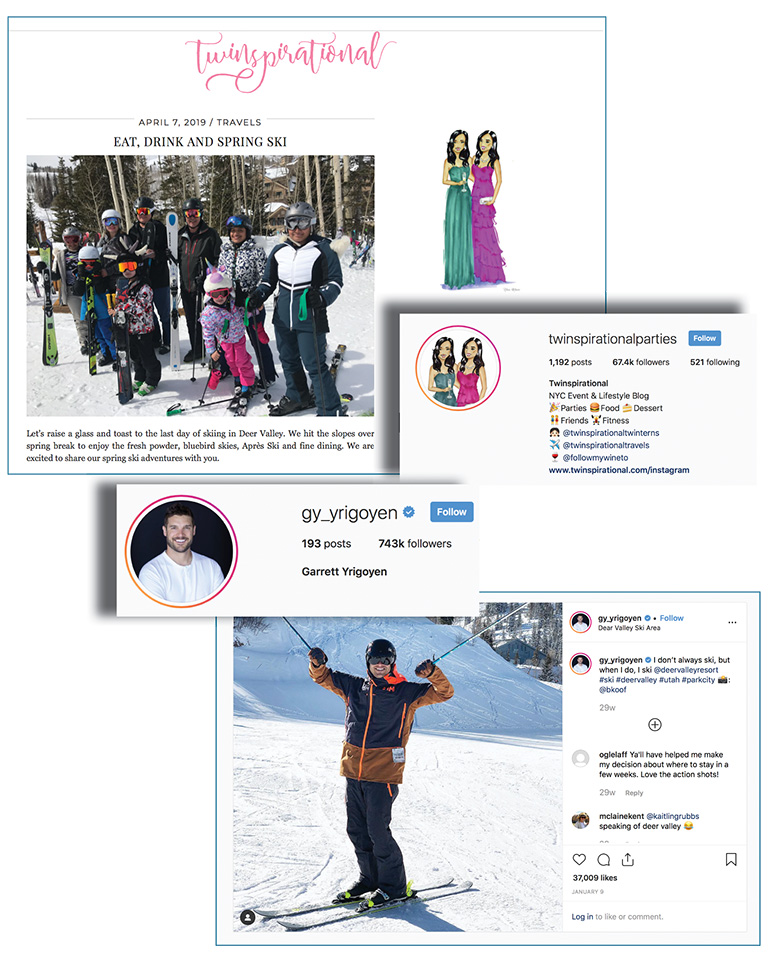 Emily Summers, Deer Valley communications manager, targets on-brand luxury travel bloggers, foodies, and the famous. While some are paid, others are simply acted-on opportunities, like when the Bachlorette couple came to town. An invite to ski was all they needed to get exposure to Garrett Yrigoyen's 743,000 followers on Instagram.
Many resorts manage two different types of influencer relationships: ongoing throughout the winter, primarily with local or regional contacts, and one-off visits.
At Killington, DiFiore—who maintains ongoing relationships with five regional influencers and plans to reach out to 10 more for the coming winter—prepares a contract that varies case by case in terms of required posts or videos. One thing she doesn't do: dictate the substance of those posts. "I don't want it to come across as fake," she says. "Yes, it's a partnership, yes, it's marketing, but I don't want it to feel like an advertisement. I want them to tell our story in their voice."
DiFiore also goes one step further by repurposing influencer content into an expanded blog post on Killington's website. "It keeps the story going so it's not a one-off," she says.
At Deer Valley, too, influencers may serve as content creators for the resort. "Most of them are great videographers," says Summers, "and we are incorporating that into our overall assets."

I Scratch Your Back…
In return for their services, influencers almost always get some kind of trade from the ski area. "It can range from a single meal to a fully hosted trip," says Summers. She, like some other resorts, also works with paid influencers. DiFiore, who says payments can run anywhere from $50 to $300 per post, added a line item to her budget this year specifically for those payments.
But resorts shouldn't despair if funds are lacking for paid posts. "There is value when you work with a professional influencer—that's their livelihood," says Blanchard. "But I do like the resorts that focus on their community and existing audiences and try to tease out people who have more influence there. Those people are not looking for money, but maybe just a cool experience that they'll be excited to tell their friends about."
In addition to no- or little-cost travel experiences—and sometimes payment—influencers benefit from getting new content to share with their followers as well as the opportunity to build an audience. "I don't think it comes down to they just want a free trip," says DiFiore. "They're partnering with others because they want to reach new people and build their following. And usually they're passionate about whatever their niche is."

Bang For Your Buck?
Perhaps the most difficult aspect of the resort-influencer relationship? How to measure results. A cousin to sponsorship, influencer marketing builds brand awareness that can be difficult to quantify. Sure, it's easy to monitor likes, shares, and comments, but translating that data directly into visits and spending poses a challenge.
Though he uses an aggregation platform that consolidates data from all social media posts, "it's really hard to attach an ROI to it," says Timberline's Burton.
"Very few resorts are measuring by dollars as much as they are just knowing the value of the audiences reached and branding in general," says Blanchard. Is it accurate to gauge the success of an influencer campaign by the number of likes or shares a post gets? "Given the lack of other metrics, sometimes that's your only choice," Blanchard says.
That said, a 2016 study from content generator Tap Influence and Nielsen Catalina Solutions claims that influencer marketing delivers 11 times the ROI of traditional digital advertising. And emerging tools allow companies to quantify reach. CreatorIQ, for example, offers the Enterprise Creator Cloud, which tracks link clicks, comments, reach, and the amount of content produced—all valuable metrics to know when working with influencers.
In the meantime, Summers says she evaluates the success of a partnership by "the quality of coverage they're putting up, timeliness, how on-message posts are, if they are re-shareable to our account, what kind of assets we are getting to reuse, and engagement from followers."
Will influencer marketing eventually become the go-to strategy for ski areas, nudging more traditional avenues out of the way? Summers thinks not. "It doesn't replace anything," she says.
But it adds something valuable nonetheless. "It provides a great opportunity to extend your reach on a more personal level," she says.