SQUAW VALLEY ALPINE MEADOWS, CA

In response to input from a guest survey, Alpine Meadows is replacing the base-area Hot Wheels CTEC Triple with a new, longer Treeline Cirque Leitner-Poma detachable quad that simplifies access to the open bowls of the Sherwood area. It also retains access to the low-intermediate terrain served by the old triple.

The $10 million lift spans 5,100 feet with a vertical rise of 1,036 feet. Capacity will improve from 1,500 pph to 2,400 pph, powered by a 900 hp AC drive. The carriers are equipped with kid stops on the restraint bars for added safety. The new lift also has a 25 percent download capacity, to accommodate employee foot traffic for a possible future summit lodge.
The new quad is remarkable in several respects. It will have a one-of-a-kind, angled midstation where the upper terminal of the old lift was, and uses a two-rope design. Beginners and intermediates can unload at the midstation to access the lower terrain. The dual-grooved midstation bullwheel then takes the carriers around a 31-degree turn and brings passengers another 1,000 feet up to the ridge, where they can access Sherwood.
The bottom-drive motor at the base terminal powers the lower rope, which in turn powers the midstation bullwheel and the upper rope. Leitner-Poma's Jon Mauch says that this arrangement is very energy efficient, and the first time such a system has been used.
To expedite opening after inclement weather, a covered rail system at the bottom terminal will house the carriers overnight. The bottom terminal site itself was raised 18 feet to improve access to and from the base lodge, and also reduce snowmaking needs.
The project began in early spring when snow was still on the ground—as much as 20 feet at the summit. Crews did over-snow logging, skidding downed trees behind snowcats, which reduced impact on the land and made the process more efficient. Load-testing is expected in late October or early November.
TAMARACK RESORT, ID

Tamarack Resort Holdings, the investor group that purchased Tamarack last November, has resumed construction in the base village that has been sitting dormant for the past decade, and is replacing the high-speed Wildwood chairlift that was removed in 2012.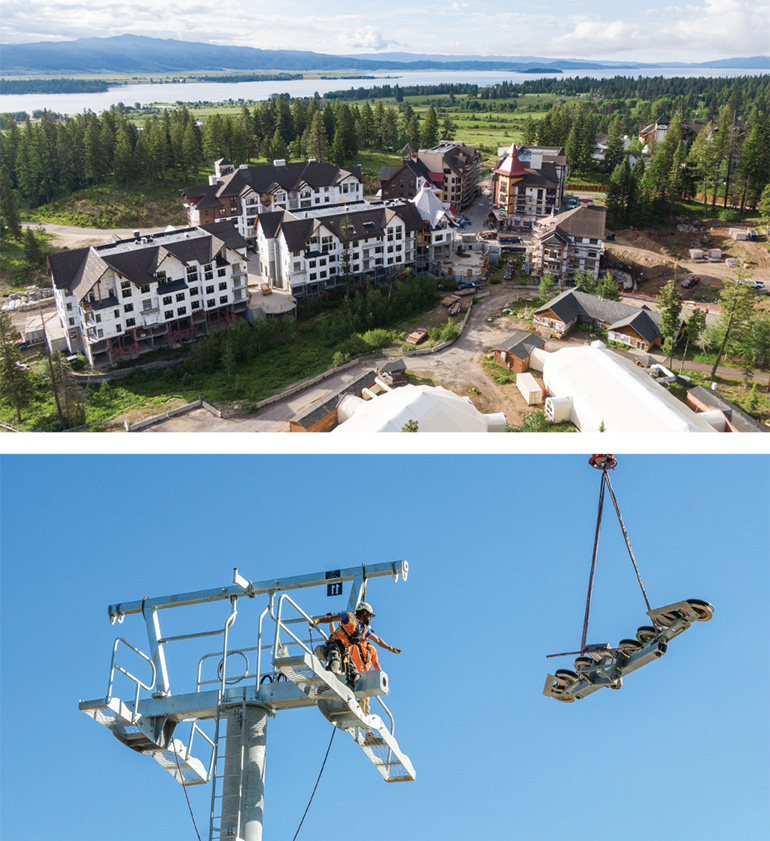 The village was mostly complete when Tamarack went into bankruptcy 10 years ago, and construction was halted. A crew of roughly 80 workers is now completing work on three of the six buildings, including 56 of the 129 condo units. Tamarack is also building a 32-room employee housing facility that will house the construction workers while the project continues over the next several years.
Since its founding, Tamarack has used dome structures to house guest services, such as equipment rental, as well as offices. The domes are being removed, and those services and uses will move into thousands of square feet of commercial space on the ground floor in the village buildings as they are completed. The condo units are located above the commercial space.
In addition, Tamarack is installing a new Doppelmayr detachable quad in the Wildwood area where a previous lift was located. The new lift will have 18 towers over its 5,316-foot span and rise 1,646 vertical feet. The electric drive will operate at a max of 1,000 fpm, transporting 1,800 pph. A new 440 hp diesel auxiliary drive will serve as backup, along with a 140 hp diesel tertiary drive.
LIBERTY, ROUNDTOP, AND WHITETAIL, PA
Peak Resorts is investing $3.5 million to upgrade the snowmaking systems at Liberty, Roundtop, and Whitetail and optimize them for marginal temperatures. The upgrades will increase capacity, improve efficiency, and save energy. "We are targeting 50 percent system utilization at 28 degrees WB and 100 percent utilization at 25 degrees WB without increasing existing air plant capacities," says Peak Resorts VP of projects Brendan Ryan.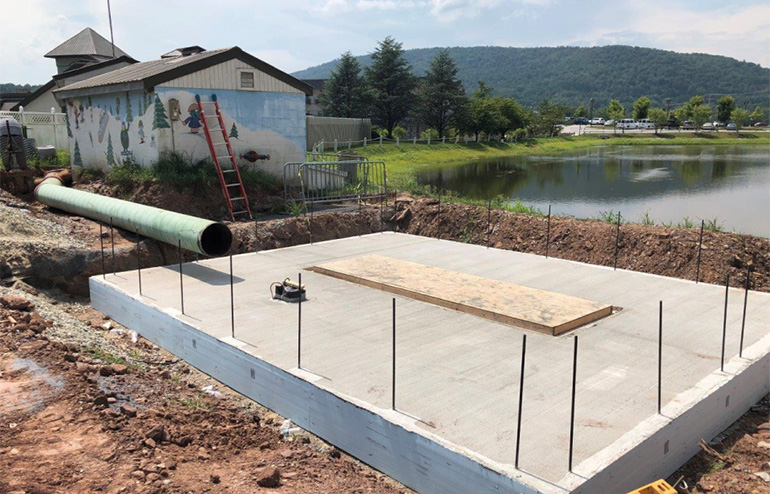 Peak is installing nearly 22,000 linear feet of new steel pipe at the three resorts, to improve water and air delivery and to operate at higher pressures. New primary electrical is being added at both Liberty and Whitetail to accommodate new pumps and fan guns. Almost 10,000 linear feet of armored cable is being installed across the projects.

Liberty's new primary pumphouse will almost double its summit water pressure and increase its instantaneous pumping capacity by roughly 50 percent. This will make nearly every gun on the hill perform better. Roundtop's new booster pump will increase system capacity by 25 percent and nearly double its summit water pressure. A new HKD iSno control system is also being installed. Torrent Engineering is supplying the new Flowserve pumps at both resorts.

Peak is replacing ground guns at all three resorts with a mix of fan guns and low-e fixed towers and sleds supplied by HKD, SMI, and TechnoAlpin. The new guns will reduce air consumption, manpower needs, and startup time. Whitetail is getting new primary infrastructure able to support the fully auto fan guns that are replacing air/water guns on two trails.
MAGIC MOUNTAIN, VT

Magic Mountain is replacing its Black Chair—a 1962 Pohlig double, equipped with Yan triple chairs—with a 1986 Poma Alpha model fixed-grip quad to be named the Blackline Quad, and expanding its snowmaking pond for the 2019-20 season. Total investment is $2.1 million, with $1.6 million for the chairlift.



Magic purchased the quad from nearby Stratton Mountain two years ago. Its 5,203-foot span will follow the old line but terminate 75 vertical feet higher on the mountain, providing access to all of Magic's terrain. The added 200 feet or so of the line will become a new expert trail.

A new, 400 hp Regen DC drive will power the lift from the bottom terminal at 450 fpm. The lift's 2,000 pph capacity more than triples that of the old lift. As a result, Magic will up its daily lift ticket sales limit from 1,500 to 2,000.

To defray the cost of galvanizing the new chairs, Magic sold $250 per-chair sponsorships. As of late July, only 10 sponsorships were unsold.

Magic is doubling the capacity of its snowmaking pond to 9 million gallons. The area is rerouting the stream that feeds the pond so the stream flows around rather than directly through the pond; weir boards will route water into the pond during high-flow periods. An existing pumphouse from another nearby brook will help replenish the pond as well.


STEAMBOAT, CO

Steamboat is putting $15 million into the overhaul of its Doppelmayr eight-passenger gondola—the primary lift out of the resort's base area. In 2017, Steamboat replaced the terminals, grips, launching equipment, and spacing system. This round, the gondola is getting new towers, haul rope, drive, top bullwheel, new (and more) gondola cabins, and more. It has the same alignment, length (8,506'), and vertical rise (2,176') as the old one.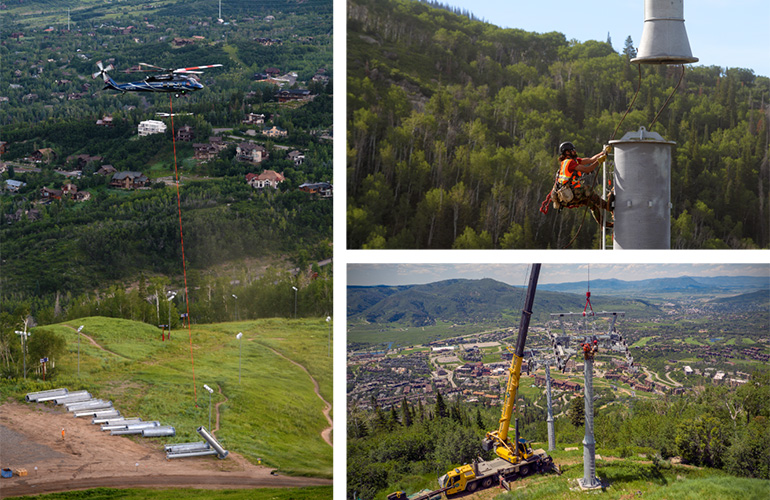 The project began in April. The 31 old lift towers were removed and were replaced by 26 new galvanized lift towers. Crews reused/bolstered 12 existing foundations and built 14 new ones. The new 54 mm diameter haul rope—up from 52 mm—will carry 137 new eight-passenger cabins, 12 more than the lift had before. Download capacity will increase from 75 percent to 100 percent.

Level walk-in cabins will make loading and unloading more efficient. The new cabins will also streamline freight hauling. Steamboat uses the gondola to transport about 12,000 lbs. of freight—mostly F&B—up the line per day. Instead of using three dedicated freight cabins, as in the past, any cabin can now handle freight.

The top-drive lift will have all new drive equipment: two main AC electric motors, each with 840 hp, and two new backup gensets. Rope speed will increase from 5 m/sec to 6 m/sec. The additional cabins and faster rope

speed combine to increase uphill capacity by 38 percent, to 3,600 passengers per hour. Ride time will drop from 12 minutes to 10.