Employee hiring and retention isn't getting any easier for the snowsports industry. Finding snowmakers is especially difficult, and we're not even talking about keeping them around longer than one season. The antiseptic job descriptions that say, "Must be able to lift, pull, carry, or drag 75 lbs." omit the reality that applicants must be able to do so "on steep inclines, postholing through deep snow, in subzero temperatures, handling lethally high water pressures, high voltage electric and compressed air, alone, in the dark."
However, while being a snowmaker may be one of the most difficult jobs at a mountain resort—especially those with expansive manual snowmaking systems—it is also one of the most rewarding. Snowmakers are responsible for getting ski areas open for the season, keeping them open after inclement weather hits, and expanding the amount of terrain guests are able to enjoy. Making snow produces tangible and often spectacular results.
Even more rewarding, though, is the team camaraderie inherent with accomplishing something difficult together. At some resorts, being a snowmaker isn't just a job—it's a privilege. These resorts all foster a great culture and instill pride in their snowmaking teams.
I spoke to a handful of resorts—two with big manual systems, and three with large automated systems—that have been successful at attracting and retaining snowmakers. Here are some keys to their success.

MANUAL SYSTEMS

Most of the manual system operators schedule crews on 12-hour shifts with plenty of opportunity for overtime. It takes a lot of time to transport the crew to the snowmaking building, sometimes high up on the mountain, suit up, get briefed on the shift goals, then head out to where they can start their first gun run. At one resort I audited, it took two hours from arrival in the lower parking lot until crews were adjusting their first gun almost four miles away. Resorts don't want to give those hours away three times a day. Hence longer shifts.
But 60 to 80 hour workweeks can be taxing, which makes it even more important for managers to keep morale high and take care of their crews. How do they manage that?

TELLURIDE
Brandon Green is the director of snowmaking and capital at Telluride Ski Resort, Colo. Telluride's snowmaking system pumps 5,500 gpm and covers 300 acres of terrain—but is spread out among the resort's 2,000 acres. Telluride is tough, manual snowmaking.
Yet, for the past few years, Green has enjoyed a 90 percent staff retention rate for his team of 30 snowmakers.
Respect. "Who told you we didn't have problems?" jokes Green, remembering staffing issues of years past that have since been rectified. Among other things, a management philosophy that "gives credit when credit is due," says Green, has helped solidify his team.
Throughout the Telluride community, both the resort and the town, there is a keen awareness that until the snowmakers have done their work, there's not much work for anybody else—not the hundreds of ski instructors, lift attendants, or even the shops in town. This fosters pride among the snowmaking team. In low snow years, the crews come to be revered.
Telluride may pay a bit better than other resorts, snowmakers included, but Green doesn't think that's a deciding factor for joining the team. Respect is a bigger issue. He has made snow at other resorts, and remembers having to invest $1,000 in equipment for the privilege of taking the snowmaking job. Telluride, on the other hand, outfits its team with absolutely the best of everything: PPE, boots, lights, uniforms, gloves, socks, etc. The crew looks like a SWAT team. This builds esprit de corps.
Decision-making. Palatable compensation and nice gear aren't nearly as important as a great culture, though. At Telluride, the snowmakers—not just upper management—are included in decision-making. Green says that a participatory management style now permeates the company. He credits Telluride CEO Bill Jensen, who Green says is the "best leader I've ever worked for," for establishing that style. It's a strong demonstration that a company's culture begins at the top.
Training. In my experience, high-level snowmaker education and training pays dividends. That rings true at Telluride, where training programs have been expanded. The most successful is a three-day run when all 30 crewmembers make snow together. Green thinks group training minimizes disagreements about snow quality and which shift has the harder job.
Perks. As it is almost everywhere in the West, employee housing is an issue. Telluride is working on making more available, but in the meantime, Green has a contingent of crewmembers that live in campers in the parking lot. To help provide some conveniences of home, the snowmaking locker room has a shower and laundry that the team members are free to use.
After a three- or four-day shift, a lot of the campers head to Moab, Utah, less than three hours away, on their days off. That, too, reinforces the sense of team.
Camper housing works in part because Telluride is almost done with snowmaking by the time the parking lots come under pressure from guests. Clash of cultures avoided.

STEAMBOAT
Steamboat Resort, Colo., has a crew of 53 snowmakers who operate a manual system with more than 200 guns spread out over the resort's vast terrain. Director of slope maintenance Corey Peterson started at Steamboat as a seasonal snowmaker in 2004, and is proud that, as is the case in Telluride, 90 percent of his team returns year after year.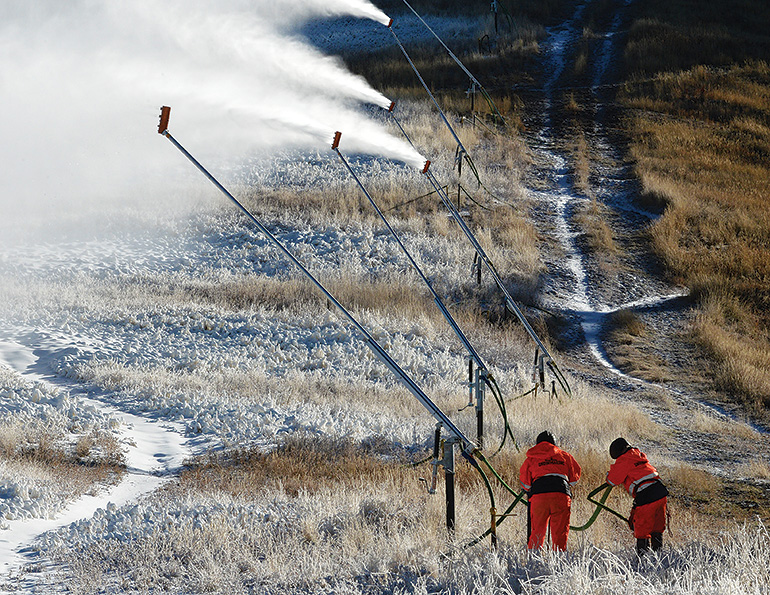 At Steamboat, a combo of morale-boosting perks, respectful management, good training, and commemorative hoodies leads to 90 percent retention, and 100 percent pride. Photo: Larry Pierce
Perks. Positive team morale is a major factor in that success, and relatively small things go a long way in contributing to that, says Peterson. "This crew loves to ski and ride," he notes, so to boost morale, the crew coordinates with patrol and can sometimes get first tracks on a certain trail at the beginning of a storm cycle. Everybody knows "snowmaking" got to track that trail out, says Peterson. That sort of perk would not happen everywhere, but retention does not happen everywhere, either.
Respect. Morale is cultural, too, and again, that starts with management. Peterson says managers are reminded not to be hotheads and to handle situations calmly. Team management philosophy is, "We're all in this together," he says. The brutal nature of the job can be bonding. That's why team leaders don't tolerate "shit talk" about other teams, i.e., day vs. night.
Training. Training is very important at Steamboat and is a major contributor to its high retention rate. At one time, training was limited to just a half day. Now, it spans three days. The crew is trained in basic first aid and CPR, not just snowmaking.
Rewards. At the end of each season, Peterson hands out a commemorative hoodie to every snowmaker. The hoodies are revered, and the team is very proud to wear them. There's also an annual end of the season employee opinion poll where staff can share feedback and give suggestions. Managers make sure the team knows that their voices are being heard and acted upon, and snowmakers' suggestions are often implemented.
A question on the poll asks: "Are you proud of your department?" Snowmaking was the only department in which 100 percent of the staff said "yes." That says a lot.
Referrals. Both Telluride and Steamboat usually get their five new people from referrals by the existing staff. These recruits know what they are getting into and often aspire to join the team. Both resorts feel the potent cocktail of camaraderie, morale, and pride make the team attractive to join and help with retention.

Automated Snowmaking

Automation offers several advantages, including its positive impact on retaining good people. With less physical work and, typically, eight-hour shifts, highly automated resorts can focus much more on strategic planning and training.

HOLIDAY VALLEY
Holiday Valley in New York has a very large system with 750 guns, 93 percent of them fixed location towers, and 50 percent of them automated. It pumps more water each season than Telluride and Steamboat combined. Despite increased automation and more fixed towers, the size of its snowmaking crew hasn't changed over the past 20 years—but production has tripled. The resort retains 95 percent of its 22-person team annually. The resort typically runs crews of seven on eight-hour shifts.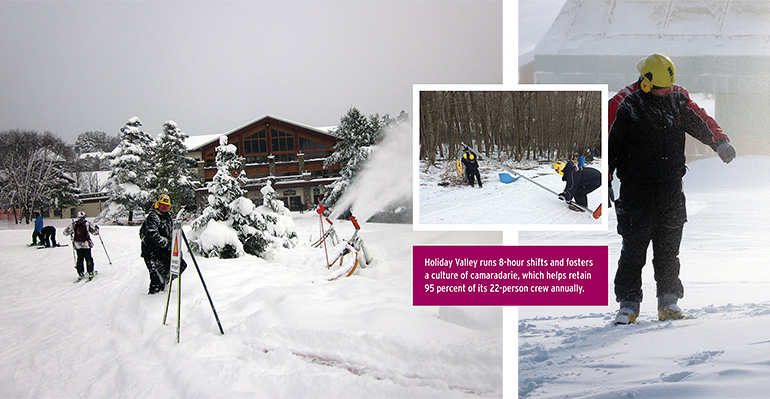 Holiday Valley runs 8-hour shifts and fosters a culture of camaradarie, which helps retain 95 percent of its 22-person crew annually.
Camaraderie. The resort's excellent retention rate is the product of camaraderie, which leads to longevity: Crewmembers average nine years of experience, and one of the crew has been making snow for 26 years. It helps that 95 percent of them live locally.
Culture. Camaraderie is also fostered by their shift-change structure. The snowmaking manager, Jeff Clancy, and all crewmembers from both shifts are all together at shift change. That minimizes misunderstanding between shifts and allows crew input into a constantly changing "battle plan."
Spending time with each other in different environments helps with camaraderie, too. So Clancy organizes a crew trip every year to another ski resort for recreation and some learning.
Training. Speaking of learning: The resort also sends staff to vendor-sponsored training, and invites third parties to conduct on-site training.
Decision-making. Crewmembers, not just management, are invited to meetings when vendors visit. Being involved in decision-making and taking part in important discussions is key to boosting morale, too.
In addition to offsite and third-party training and face time with vendors, bi-weekly safety/training sessions are held during the season. These meetings provide an open forum for crewmembers to offer solutions, and hear management's follow up on ideas that are presented.

Perks. Benefits help with retention as well. Holiday Valley has a generous whole-family season pass policy that encourages experienced staffers to stay for the skiing benefits. Long-tenured staff also have access to friends and family comps.

SUN VALLEY
Sun Valley has one of the largest automated snowmaking systems in the country, with 600 automated guns covering more than 600 of Sun Valley's 2,100 acres. Snowmaking manager Dennis Harper has a total staff of 15, but fields only three per eight-hour shift.
Unlike most mountains with manual systems, Harper's crew skews older and more experienced, with many in their 40s and 50s, and with more than a decade of snowmaking under their belts. There's little turnover in the department.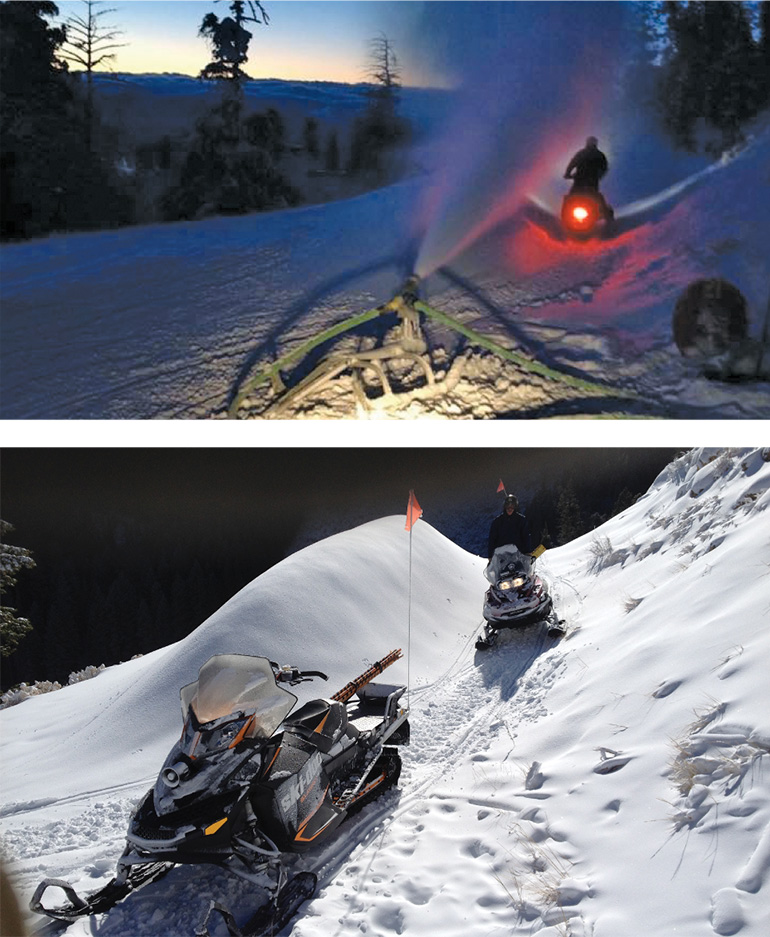 Sun Valley's experienced snowmaking crew operates a vast automated system, but still spends time on the hill with manual guns.
When there is turnover, Harper's challenge is not finding bodies, but finding people who can develop the technical skills needed for automated snowmaking. Once he has them, he does everything in his power to keep them.

CRAIGLEITH
Craigleith, Ontario, has the biggest automated system in Canada: 550 automated guns, 6,000 gpm, 100 percent auto, and a single seat of control. Snowmaking manager Jeff Courtemanche has a crew of six, and runs just two per eight-hour shift. In continuous cold, though, they do get overtime. The crew is obsessive about preventive maintenance, so four of the six crewmembers work year round.
Pay and perks. Because he can operate the system with just one person, Courtemanche can accommodate requests for time off, including Christmas and the first day of deer hunting season. He also pays his few snowmakers better than most resorts. His team enjoys a high quality of work life.
Respect. As for management culture, Courtemanche says, "With all staff, no one cares how much you know, until they know how much you care!"

RECOMMENDATIONS FOR HIRING
• Incentivize referrals from the current staff whose judgment you trust.
• Let them be responsive, independent, and proactive on social media, even on "Snowmakers of the World Unite!" on Facebook, for example.
• Pre-qualify prospects before you hand carry them to HR, but don't totally rely on corporate HR to generate your prospects.
• When you see those requests from a Midwest snowmaker looking for comps, consider it.
• Place a high priority on being local and established.
• Ask leadership for compensation flexibility (pay and benefits) to attract experienced people. In snowmaking, the productivity of an experienced person is exponential.
• Hiring for automation has its own challenges in that you will need specialized skills.
• Network with vendors, consultants, and other resorts to see who has a glass ceiling elsewhere.

Recommendations for Retention

• First off, automate. Retention often ceases to be a problem. But if you are automated, retention is even more critical. Those skill sets are hard to come by.
• In snowmaking, good retention trumps good hiring every day. Bring every resource available to keep the great staff you have. Purge those that don't contribute, psychologically or physically. They contaminate.
• Esprit de corps must be fostered at every opportunity. This is a team game. Camaraderie, morale, and pride can boost retention, even in the toughest of environments.
• Snowmakers don't get paid enough to be managed poorly. Engaging, trustworthy leadership is essential.
• Focus on education and training to instill a sense of value in your crewmembers.
• Field trips are very important; get your crew out of their silos.
• Create a sense of quality of work life. Start by sprucing up the breakroom and control room.
• Allow for scheduling flexibility.
• Snowmaking managers don't need to be the best hose draggers, they need to be strategists. Delegate squad leadership to lieutenants.



Sunapee's Team

The snowmaking team at Mount Sunapee, N.H., earned the "I Am a Snowmaker" award in the SAM/HKD contest last year, and reflects many of the traits identified here.

Kris DuBaere, snowmaking manager for 32 years, says, "The #1 trait I see in most of the snowmaking crew is the dedication. They take a lot of pride in the quality of snow they put out to the public."

It's clear from the "I AM" video recorded by the team that team members take great pride in their work, and being, as one says, "the best." As another says, they take whatever conditions Mother Nature serves up, and do the best they can with it. The team is committed to doing whatever it takes to get the job done.

"The favorite part for team members is seeing how much snow they can produce in 20 or 24 hours," DuBaere says.

Camaraderie is clearly important to the team, too. "I am a snowmaker. We are Sunapee," says DuBaere.

Corporate culture is to reward team members for their work. To show his appreciation for the hard work put in by the team, DuBaere typically buys pizza—or doughnuts, depending on the time of day—after the team has completed a long run of snowmaking. On a larger scale, says DuBaere, "As a company, we have a culture of growth. We recognize leadership potential, and as leaders, we work with staff to achieve their professional goals."

He concludes, "This is a very demanding job, being out there in the middle of the night at sub-zero temps and dealing with all the hazards that exist. But seeing the pride the men and women snowmakers have in the quality of work they do makes it all worth it."