Woods Valley Ski Area, NY

Woods Valley Ski Area has completed the penultimate stage in a multi-year, roughly $1 million snowmaking infrastructure expansion. This summer and fall, the ski area undertook $153,000 in upgrades to its pumphouse, including an extension to the existing structure, a new pump, a pump refurb, and pipe work.

The 128 sq. ft. pumphouse addition makes room for a new 200 hp vertical pump and a refurbished 100 hp vertical pump, both furnished by Ratnik. The pumps increase pumping capacity from 750 gpm to 1,260 gpm. A third pump will be added next fall to bring total capacity to 2,100 gpm. A variable frequency drive and a programmable logic controller were also added to maximize efficiency. The system operates manually but can be automated in the future.

All pipe, from the compressor and pump manifolds to the first set of hydrants on all lines leaving the pumphouse, was upgraded from 6-inch to 8-inch lines to increase capacity.

Other upgrades over the last six years include a 13-million-gallon snowmaking pond, 2,500 feet of 10-inch pipe and conduit from the pond to the pumphouse, and additions of 11,000 feet of snowmaking pipe, 41 new air and water hydrants, and 95 fixed snow guns, including 86 low-e HKDs, eight SMI fans, and one TechnoAlpin fan.

Once the project is complete, Woods Valley will be able to cover 60 percent of its 40 acres of terrain in just 36 hours, according to GM Tim Woods. Financially, the multi-year project has been bolstered by an $8,500 National Grid rebate for the VFD installation and $265,000 in rebates through the ISKINY-NYSERDA snow gun program.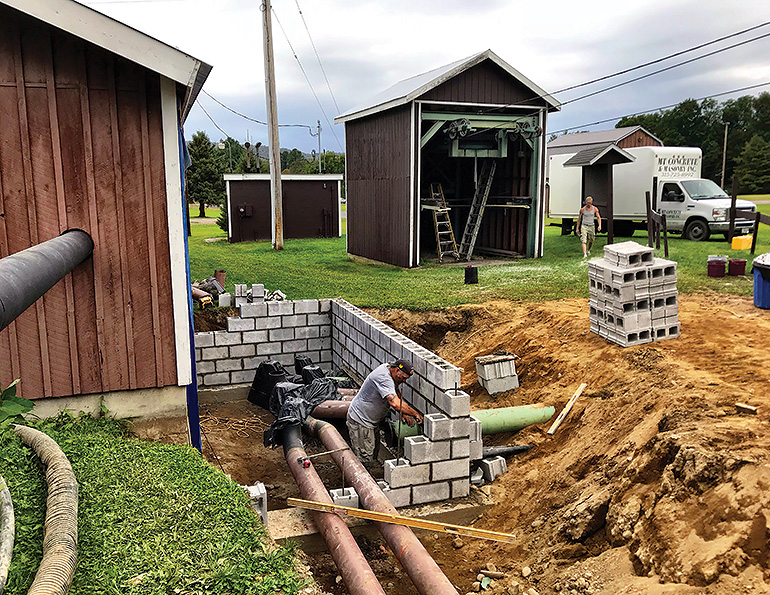 Loon Mountain Resort, NH

This fall, Loon completed building the first of five phases in the resort's new downhill mountain bike park. The park opened in September with five miles of trails; another four miles of trails will be cut next spring. While Loon has other summer offerings, VP of operations Brian Norton believes the bike park "is going to revolutionize our summer business."

The park is primarily on Forest Service land, and Norton says it required careful planning and extensive permitting. "Between USFS, DES, EPA, and wetlands permits, we were almost two years before we broke ground," he says. Highland, a bike park operator and trail building company in New Hampshire, consulted on the master plan and provided staff training, trail building, and retail and rental advice.

Construction began in May with tree felling. Two build teams worked independently to construct sections of trail. Each team had two 305.5 CATs, one for ground breaking and the second fitted with a grading tilt bucket for finish work, and two hand-crew members for clean-up and fine-tuning. An ENGCON—an attachment that gives an excavator bucket a 360-degree range—proved useful for setting rocks on technical trails and cutting tight turns. Per USFS requirements, any felled trees had to remain in the forest, so they were bucked and buried in barrows dug on the sides of trails. The excavated dirt in turn provided most of the material used in the build.

To manage water through the wetlands and provide drainage for the trails, Loon installed roughly 3,000 feet of culverts. The USFS required build teams to re-vegetate any exposed earth daily to mitigate erosion.

To access the bike park, the Seven Brothers triple was outfitted with 36 bike carriers, each with two bike trays. The carriers were fabricated in-house.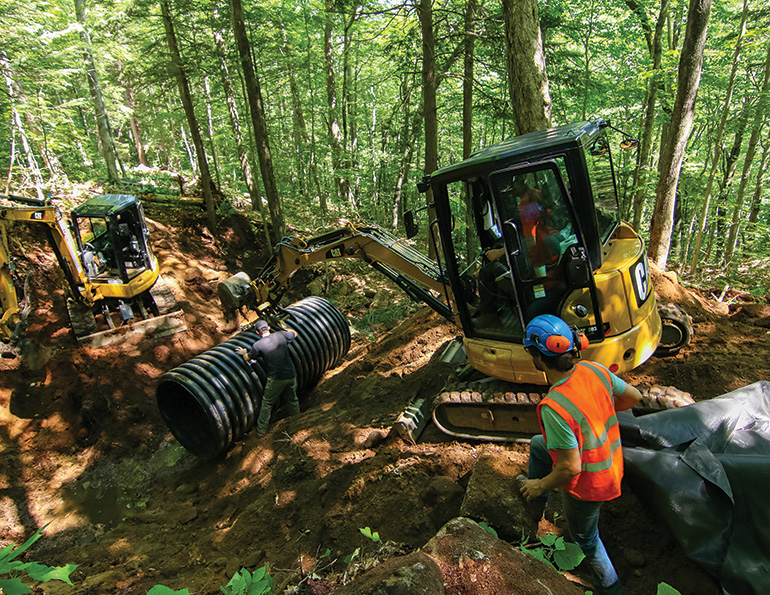 Woodward Park City, UT

Powdr is opening Woodward Park City this winter on the site of the former Gorgoza Park tubing hill. The 125-acre action sports and ski resort boasts an 1,800-foot-long Doppelmayr fixed grip quad, two Star Lifts conveyors, snowmaking infrastructure, a halfpipe, Snow Park Technologies (SPT)-designed terrain parks, mountain bike and BMX parks by Alpine Bike Parks, and three concrete California Skateparks. Indoor facilities include a 66,000 sq. ft. Action Sports Hub and an 11,000 sq. ft. maintenance facility with affordable housing units.

To convert the tubing hill to a snow park, Woodward added 45 acres of skiable terrain to the tubing park's original 10 acres. Snowmaking infrastructure was upgraded and expanded by installing 10,000 feet of pipe and electrical, adding 17 fully automated SMI Super PoleCats, converting three existing Super PoleCats to auto, and investing in SmartSnow automation software. Pumping capacity doubled to 1,600 gpm with the addition of a second pump built by Torrent Engineering. "In a normal year," says Woodward Park City GM Shaydar Edelmann, "We'll be one of the earliest to open on snow in the area." He anticipates adding a third pump to the operation in the near future.

Powdr broke ground on the Hub Sept. 20, 2018. Nearly 40,000 sq. ft. is dedicated to action sports, with SkateLite ramps, bag jumps, a skate park, parkour structures, trampolines, and gym floor space. The Hub also houses resort services such as ticketing, cafeteria, coffee shop, a bar, rental, retail, ski patrol, and lessons.

Environmental concerns drove a number of decisions, says Edelmann. The Hub's roof is fitted with 215 kilowatts of solar panels, F&B outlets were designed for convenient composting, bathrooms use waterless urinals, and most flooring is made from recycled or partially recycled materials. Excavated earth was repurposed on site. For example, the BMX jump park used a custom 60/40 mix of clay and sand from the building and halfpipe excavations for track construction.

The new stick-built maintenance building has three garage bays, office space, and eight one-bedroom affordable housing units.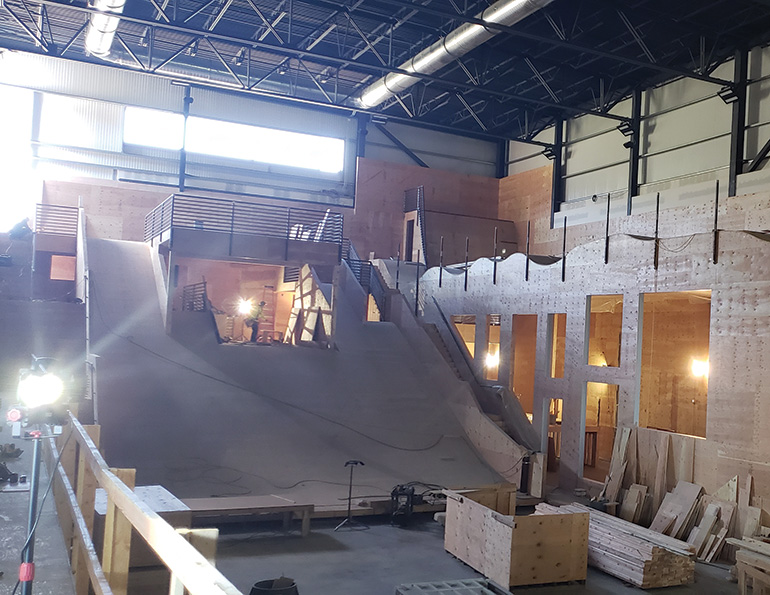 Vail Mountain, CO

Vail Mountain is nearing completion of a significant snowmaking infrastructure expansion project, the largest snowmaking investment in Vail Mountain's history and the largest capital investment project across Vail Resorts for the 2019-20 season.

Vail purchased 421 new snow guns, including 186 SMI Super PoleCat fans and HKD sticks, to cover nearly 200 acres of terrain, primarily beginner and intermediate terrain on the upper mountain. The upgrades help ensure a pre-Thanksgiving opening and provide guests with earlier access to higher elevation terrain, a broader variety of trails, earlier access from all three base areas, and improved early-season ski school terrain.

The new snow guns use advanced automation technology, to allow the resort to manage resources more efficiently and operate more productively in narrow, early-season snowmaking windows. The snow guns can be controlled remotely by computer and adjust automatically to the conditions. The new technology will provide significant water and energy efficiency gains.

Construction took place over the summer. Vail poured concrete for fixed infrastructure such as towers, vaults and fixed guns, installed 19 miles of pipe (14.35 miles of 2" to 24" steel pipe, and 4.86 miles of 6" to 12" HDPE pipe), and made major renovations to the Snow Central and Summit Central stations.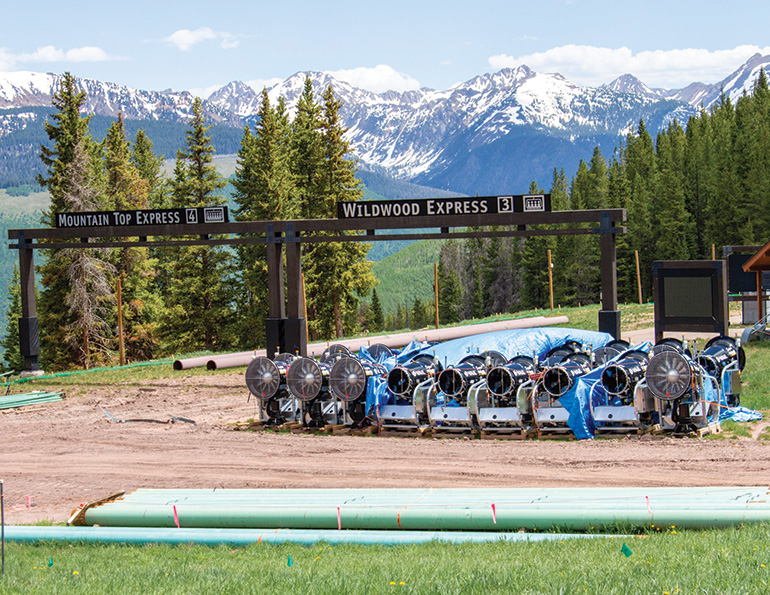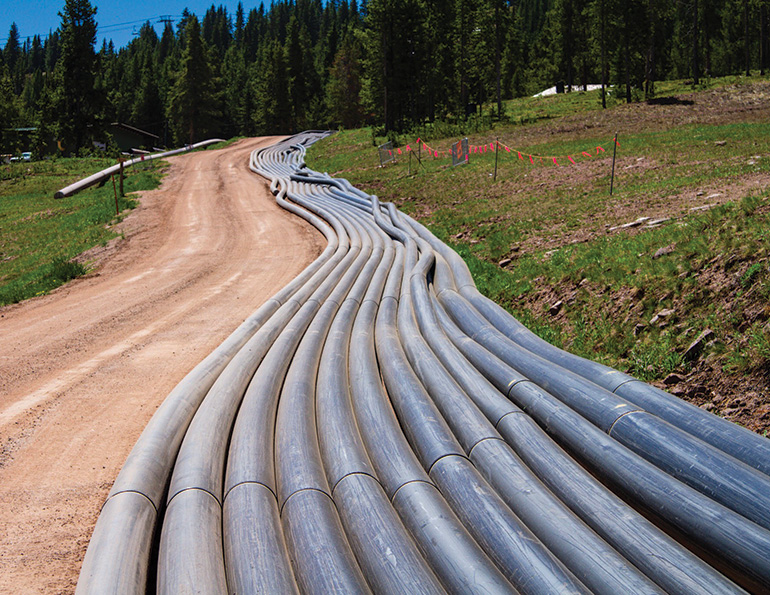 Schweitzer Mountain Resort, ID

Schweitzer broke ground this summer on a new 60,000 sq. ft., 32-unit boutique hotel. The resort also replaced a 47-year-old Riblet double with two new lifts: a Leitner-Poma detachable quad and fixed grip triple from Skytrac, vastly expanding capacity and access to its Outback Bowl.

SkyLab, an architecture firm out of Portland, Ore., designed the hotel, and Walker Construction from Spokane, Wash., was contracted to build it. The yet-to-be-named hotel will abut the existing Selkirk Lodge and accommodate up to 120 people. It will offer sweeping views of Lake Pend Oreille and incorporate natural design elements. Among its key components are a 50-seat restaurant, big fireplace, indoor/outdoor seating, spa facilities, and group meeting area.

This summer Schweitzer began construction on the parking garage that will sit under the hotel. Walker Construction excavated 20,000 cubic yards of dirt and used about 7,500 cubic yards for backfill, laid 1,000 feet of pipe between water, sewer, and storm drains, and poured roughly 3,500 cubic yards of concrete. Once the concrete for the garage cures, construction will pause until spring 2020. Completion is set in time for winter 2020-21.

Schweitzer's Outback Bowl is home to seven new trails and two new chairlifts, for which the resort logged 150 acres. The new lifts improve access to intermediate terrain that was previously challenging to reach. Roughly 250 yards of concrete were poured for tower footings. Towers were flown in late September.

The 5,400-foot Cedar Park Express detachable quad from Leitner Poma will serve primarily intermediate terrain and move 2,400 pph. The bottom-drive lift rises 1,447 vertical feet. The 4,000-foot Colburn Triple, a Skytrac fixed grip, will serve advanced and intermediate terrain. It has a top drive, rises 1,360 vertical feet, and will move 1,800 pph.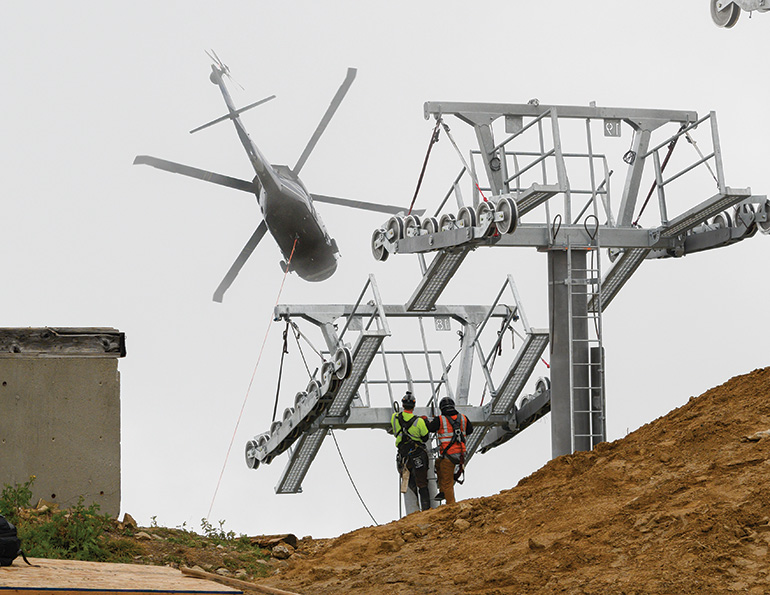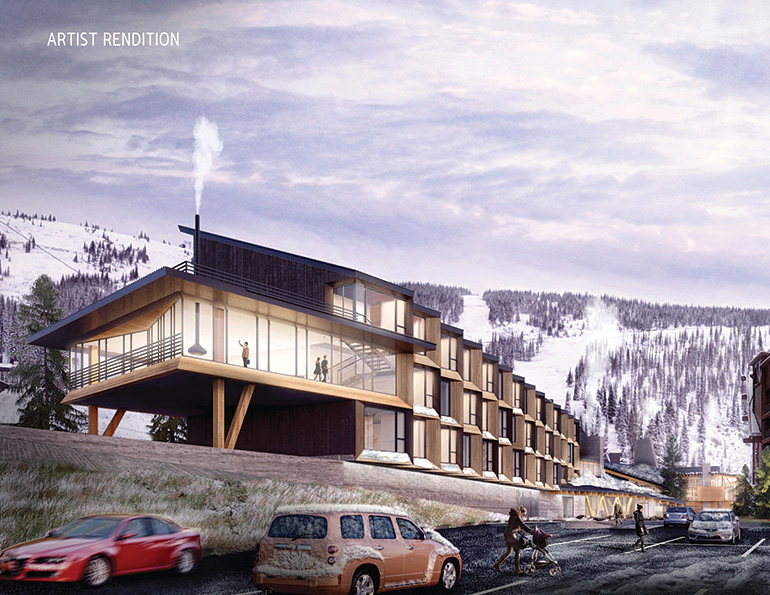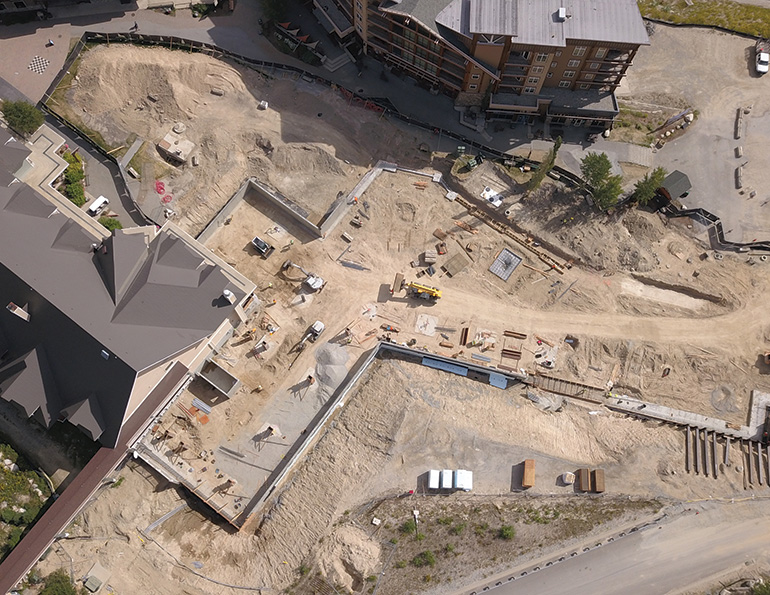 Jackson Hole Mountain Resort, WY

Roughly 10 years ago, co-owner Connie Kemmerer had a vision to build a via ferrata—a permanent climbing route that utilizes steel cables and iron rungs—at Jackson Hole Mountain Resort (JHMR). The USFS had no existing regulations for via ferratas, so JHMR's proposal initiated a long and rigorous process. That culminated, in 2016, in the first via ferrata at JHMR in Casper Bowl.

Traffic has grown continually, so this summer, JHMR added four new routes. These vary in length but climb about 400 vertical feet. They add greater variety and challenge to the existing network of via ferrata trails, says Bill Schreiber, head of engineering and planning for JHMR.

To construct the routes, Adventure Partners, which helped with the initial approval process and completed the original route, installed nearly 500 iron rungs, along with wire rope safety lines with single bolt anchors specially fabricated in Italy.

Adventure Partners also engineered several aerial elements: a 50-foot-long wire rope Burma Bridge with two hand lines, one walkway line, and one overhead safety line; a 25-foot-long Tyrolean Bridge with one walkway line and one overhead safety line; and a nearly 50-foot ladder made of cable and fabricated rungs. The ladder spans a recess in the rock, and is less rigid, more versatile, easier to install, and more interesting to climb than traditional ladders used on routes in Europe, says Adventure Partners chief Mike Friedman.

The installation took a team of six to eight people—all experienced mountaineers—about eight weeks to complete. Materials were flown in by helicopter in May, and work began June 10. The Forest Service commissioned the new route on Aug. 21, and JHMR opened the routes to the public.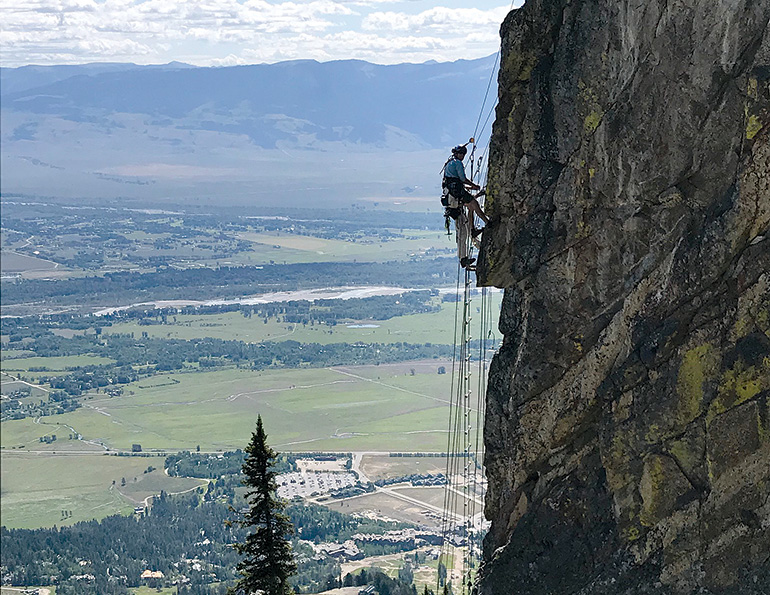 Suicide Six, VT

As part of a plan to modernize and automate its snowmaking system, Suicide Six invested roughly $250,000 in upgrades to its pumphouse, installing new hardware and automation software, and replacing two old pumps. The new 250 hp vertical pumps commissioned by TechnoAlpin have all new VFD drives, and the pumphouse has automated valving, flow meters, data gathering, and ATASS Plus, a proprietary TechnoAlpin software.

The area worked within the confines of its existing permit to increase snowmaking efficiency. The new pumps will work with existing infrastructure and fit within the same footprint and specifications of the previous pumps. Even so, the upgrades increase pressure across the system, and improve both efficiency and snow quality.

"Previously, our system would take three to six hours to charge," says GM Tim Reiter. "Now, we can potentially be online in 20 minutes." Reiter anticipates that the efficiency gains will bring the ski area's cost per acre-foot down and net a 50 percent reduction in production time to open for the season.

This year's upgrades complement others from year ago, when Suicide Six replaced several snow guns with new ones from TechnoAlpin, including one TF10, seven T40s, and two V3s. Reiter expects that the combined upgrades to the guns and pumphouse will result in greater shoulder capacity: "because of our automated guns, we can be producing snow while we charge the other areas, and then shut them down quickly and transfer the capacity to the other areas."

Suicide Six traditionally opens in late December, but Reiter expects the upgrades will allow the ski area to open by Thanksgiving or earlier. Not only will it bring guests in sooner, it will also allow Suicide Six to do more with a small, core snowmaking team. And all that improves the area's finances.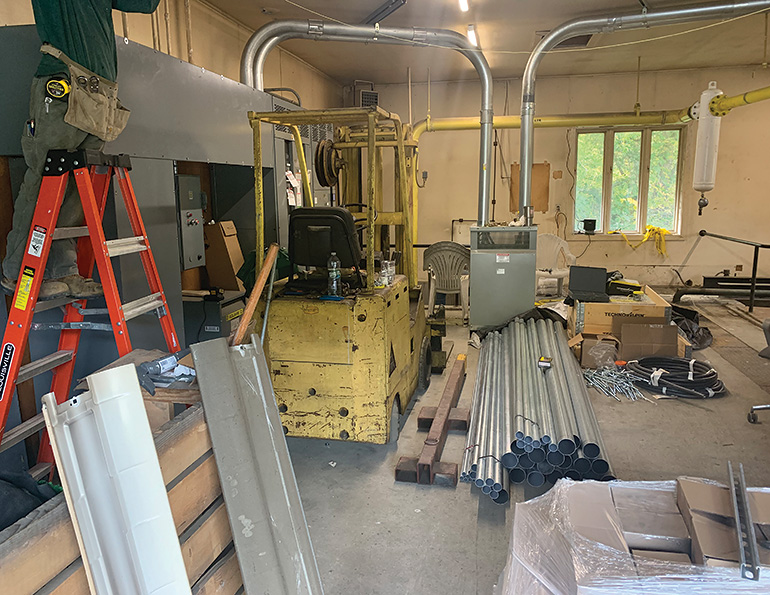 Lee Canyon, NV

Lee Canyon is undertaking its first facilities upgrade since 1969: Hillside Lodge, a $6 million, 10,000 sq. ft., two-story annex to the Main Lodge. This adds outdoor heated terrace and patio dining spaces, a ski-in, ski-out bar, an F&B outlet, and restrooms. The two buildings will be connected by a common courtyard and will utilize a shared receiving dock.

The new lodge has a "modern rustic" look, with wood, exposed board-formed concrete, and patina'ed steel finishes. Designed by Las Vegas-based Carpenter Sellers Del Gatto Architecture, Hillside increases capacity by approximately 300. Efficiency measures include large, south-facing windows and low-flow urinals. Radiant heating for the patios and other spaces aids in snow removal, enhancing the guest experience and saving on labor costs.

Overall, the increased seating, added F&B outlets, higher-capacity bar and restroom capacity will alleviate crowding during peak periods. Hillside also replaces a temporary events pavilion with a permanent, year-round facility.

Construction began in May. July-September is typically "monsoon" season in southern Nevada, so to mitigate the impact of rain and snow melt, the ski area built an ancillary culvert above the base area to divert water away from the potentially vulnerable construction site. The project is scheduled for early December completion, in time for Lee Canyon's projected opening.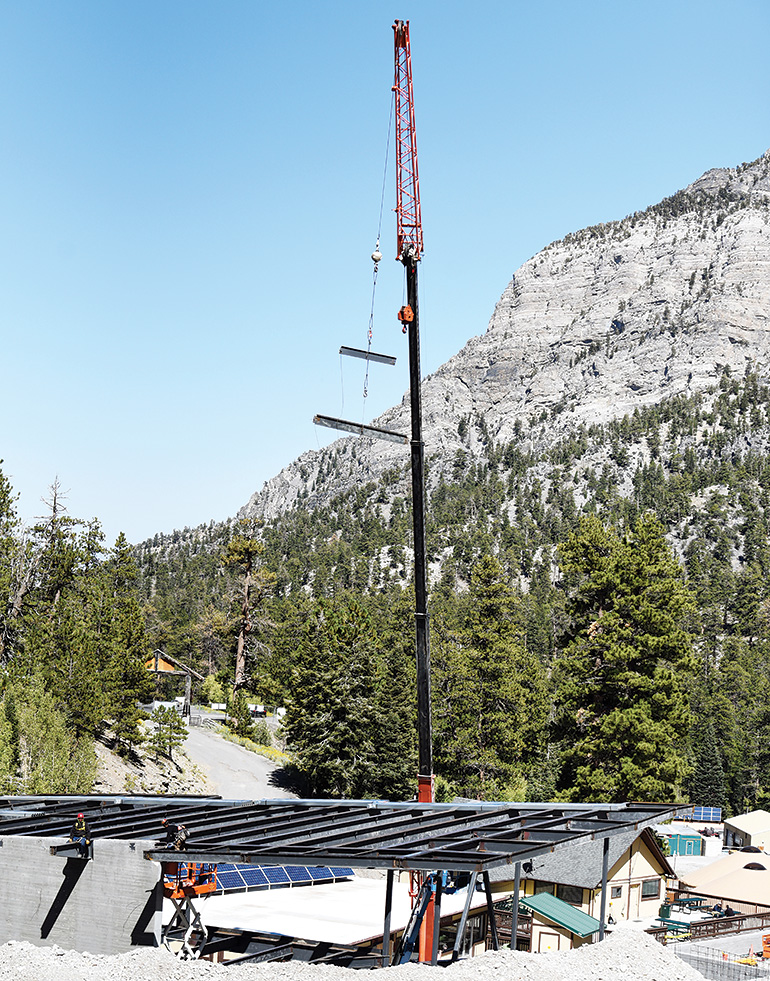 Bromont, QC

Bromont is finishing work on its new Chalet du Sommet, expected to open for winter 2019-20. The lodge is part of Projet Altitude, a C$101 million capital investment plan to revitalize the resort's infrastructure by 2026.

The approximately C$3.5 million Summit Chalet encases the landing deck and terminal of the chondola Bromont installed last year. The Chalet's white cedar siding complements the natural environment, and the interior space was designed to feel like a "living environment" rather than a restaurant. The 12,000 sq. ft. lodge has a full commercial kitchen, cafeteria, large gas fireplace, windows on 80 percent of the wall surface, and a large outdoor terrace. With a combined capacity of roughly 370, the Chalet is intended for year-round use.

Building on the summit of the mountain posed challenges. The rocky site required 20 days of blasting, and the build team moved more than 6,000 cubic meters of material. Ten days of thick fog and heavy wind slowed progress.

Site prep, including blasting, excavation, draining and leveling, and foundation work was all performed in summer 2018. This year, Bromont framed the structure, installed utilities, and completed the finish work. The team ran a 1.5 km connection line up the mountain for municipal services and installed an 110,000 L tank to service the sprinkler system.