In simpler times, ski lodges were, well, just ski lodges. For about the first 60 years of U.S. ski industry history, visitors showed up to the lodge in the morning, bought their lift tickets, changed clothes, and headed out to the slopes. They returned for lunch and a quick warm-up by the fireplace, and at the end of the day, after an après-ski beer at the bar, guests packed up the car and headed home. At season's end, the lodge was put to bed for months, silently awaiting the next wave of winter day trippers.

While some vintage base lodges still primarily—or solely—serve skiers and snowboarders in winter, more and more are forgoing warm-season hibernation. As onetime winter-only recreation areas have evolved into year-round destination resorts, lodges, and how they're used, are evolving dramatically as well.

"Originally, lodges were built for skiing, and to be open 100 days a year," says John Ashworth, principal at Bull Stockwell Allen architects, which has been designing ski lodges since the early 1960s. "These were not destination resorts, so lodges were built for day uses."

Now, says Ashworth, the lodge must work for various activities over four seasons, and lodge design is changing as a result. "Older lodges, often built as one big room, must now accommodate a series of different rooms that can be utilized as needed," he says. "We don't think of them as ski lodges anymore, but as multipurpose halls."

ROOTED IN FOOD

The evolution of the modern lodge began with food and beverage service in the 1980s, says Ashworth, when resorts such as Deer Valley reinvented themselves as high-end destinations and replaced their fast-food cafeterias with scramble-style food courts offering multiple stations and food options.

"This is still evolving with the inclusion of branded menu offerings and market-hall-style outlets," says Jeff Kovel, partner and creative director at Skylab Architecture, which built the Skylodge event center at Powder Mountain in Utah and renovated the day lodge at Timberline in Oregon, among other projects.

An old-school cafeteria could easily enough be converted to a scramble-style facility, but creating sit-down restaurants required more flexibility as well as investments in square footage and style. Ashworth notes that the proliferation of high-speed lifts has helped drive demand for more leisurely midday meals, with skiers needing longer breaks to recover from multiple morning runs that would have been almost impossible to achieve in the days of the double chair.

ALL SEASON, MULTI-USE

Summer outdoor activities being adopted by ski areas also need indoor space and facilities to serve guests. "It's amazing how many pieces of a winter base lodge can be used for summer programs," says Claire Humber, principal and director of resort design and planning at SE Group. Food service, ticketing, guest services, retail and rental operations, for example, can be transitioned smoothly from one season to another. Winter's childcare and ski school facilities can become the headquarters for summer camp.

EVENTS. More ski areas are hosting events such as weddings and conferences, which require even more creative reuse of spaces. Some resorts have repurposed bars as conference breakout rooms, and ski learning centers into pre-function areas. Restaurants and bars with outdoor decks that serve skiers in the winter often become wedding venues in the summer.

WEDDINGS, though, can be tricky. Finding spaces to reuse as a bride's room prior to the ceremony and reception—a standard feature at wedding venues—can be a challenge. Weddings also demand outdoor features such as pergolas and landscaped areas that can provide an attractive backdrop for photos. "You need to improve the environment around the lodge, too, which is covered in snow in the winter," says Humber.

OUTDOOR SPACE. Adding outdoor event space can be a quick and relatively inexpensive solution for ski areas. Humber says that SE Group worked with Blue Mountain Resort, Pa., to create a larger venue. "The first thing we did was to build a patio and outside fire space, which allowed them to get extra space very quickly," says Humber. The resort, which also has two base lodges and a summit lodge, now hosts more than 100 weddings each season.

INDOOR COMFORT. There's more to consider. Most older ski lodges also lack an essential amenity for warm-weather events: air conditioning. The North Lodge at Mt. Hood Meadows, Ore., for example, has the space to host events of up to 300 people, but doesn't have AC. Vents that move air from one floor of the lodge to the other present temperature control and noise issues, says VP of sales and marketing Dave Tragethon. "For summer weddings, it's not very accommodating," he says.

TO RENOVATE OR BUILD?

WHEN TO RENOVATE. In some cases, renovating an existing lodge makes more sense than building new. At Bristol Mountain in upstate New York, for example, Bull Stockwell Allen dissuaded resort operators from tearing down the pavilion-style Rocket day lodge, opting instead to build an addition to increase the kitchen and food service space in a building that evokes Mad Men-era nostalgia, with dramatic peaked ceilings hung with globe pendant lights and an arched wall of windows overlooking the slopes.

Preserving the 1960s vintage lodge, along with upgrading menu options with more local choices, such as wines from the Finger Lakes region, has helped Bristol maintain a unique sense of place, says Ashworth. "People are looking for experiences, so differentiation is very important," he says.

WHEN TO REBUILD. Oftentimes, however, new construction is necessary to create a lodge that meets the needs of all-season resorts. "A lot of old ski lodges are getting to the end of their lifespan, and some are getting past it," says Humber. "We always try to work with what's there, but 'can you afford to keep it?' is the question. Some of these older buildings are super inefficient and also constantly need maintenance and repair."

That was the case at Hyland Hills Ski Area in Minnesota. When the costs of upgrading, plus the sacrifices that would need to be made to work around the existing building were calculated, it was nearly a wash to build new instead, says Humber. The $14-million Hyland Hills Chalet, opened in 2015, replaced a lodge built in 1974. The new chalet's 37,000 square feet of space is used for skier services and dining in winter and weddings and events in the off-season.

"Building is expensive, so you need to get the biggest bang for your buck," says Ashworth. Most new lodges are incorporating features such as nano-walls and sliding door systems that allow enclosed spaces to be opened to fresh air in warm weather. Many also incorporate observation areas overlooking the base area where learn-to-ski and summer programs are held—a nod to multigenerational visitors, which may include parents or grandparents who come to watch their kids or grandkids, not to ski or mountain bike, Ashworth says.

CURRENT PROJECTS

A handful of new base lodges are being built with all season, multi-use in mind from the start. Here are two examples.

SAHALE: MT. HOOD MEADOWS. The South Lodge at Mt. Hood Meadows "was a state-of-the-art facility in 1967, but to a certain extent, it's a bunker," says Tragethon. "It's made of concrete because it sits on the side of a volcano with 438 inches of snow annually."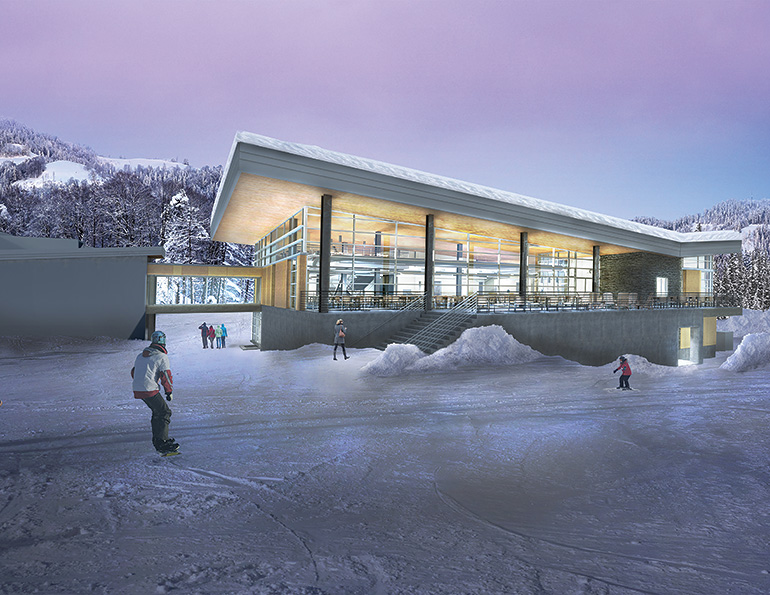 Sahale at Mt. Hood Meadows marries the strength of concrete with contemporary design for a multi- season, multi-function space. It will also increase seating capacity by 60 percent to ease congestion.

The resort's $15-million Sahale Lodge, due to open in summer of 2020, is boldly different, with a contemporary design featuring soaring windows, a second floor, and a 10,000-square-foot restaurant that can be converted to an indoor-outdoor event space. The interior space is, quite literally, flexible: movable walls allow rooms to be resized, and traditionally fixed structures, such as the ski rental counter, are also movable so they can easily be relocated when the need arises.

Adding a total of 23,500 sq. ft. of new dining and resort services space at Sahale will allow the resort to relocate its learning and rental centers to the building and add 230 more seats for dining. The space freed up at the other two lodges will be used to add 670 dining seats, increasing overall capacity by 60 percent and easing chronic congestion on busy days.

As the resort grows its summer offerings, the new lodge will also provide another much-needed venue for revenue-driving events. "Right now we can't book a wedding while we're running our outdoor summer ops," says Tragethon. "When Sahale is here, we can do both."

HILLSIDE: LEE CANYON. The new Hillside Lodge being built at Lee Canyon in the mountains above Las Vegas is a more modest affair, but the $6-million project is a big deal for a resort that hasn't raised a new building since the 1960s, says Jim Seely, Lee Canyon's marketing and technology director.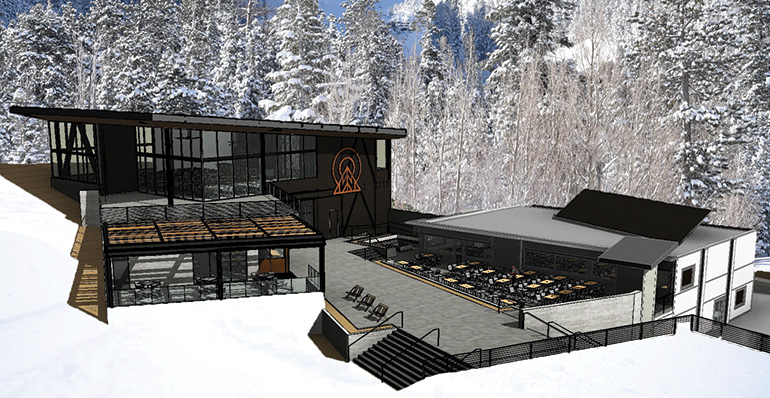 The Hillside Lodge at Lee Canyon is the first new building at the resort since the 1960s. It will extend the resort's event services and summer operations, creating better revenue streams and a unique destination for those seeking refuge from the heat of Las Vegas.

The two-story, 10,000-square-foot lodge will offer indoor and outdoor event space, including a heated outdoor terrace, patio dining area, a ski-in, ski-out bar, new bistro, and much-needed restrooms.

"This is going to be a major transformation of the resort," says Seely, who notes that Lee Canyon currently can only host weddings under a tent—and must shut its summer operations down early on days when weddings are on the schedule.

"We see a good place for us in this market, because we're so different than other venues in Vegas," Seely says, pointing out that the resort is less than an hour from the Strip, but seven cool climate zones away from the desert floor.

Seely adds that the new Hillside Lodge will be a catalyst for expanding Lee Canyon's warm-weather programming, which currently includes such low-key offerings as trail rides and disc golf. The resort is already working with the U.S. Forest Service to seek permission to add mountain biking, for example.

MODERN TOUCHES

Ashworth says that modern lodges are being built with "noble materials" like natural stone and metal that can take a lot of wear and tear, but also look upscale and contemporary.

MORE VIEWS. "People want to feel like they're in the great outdoors, so we are absolutely using a lot more glass," says Ashworth, noting that even in states like California and Vermont, which have strict regulations around energy use, such construction is possible because the technology for glazing and wall systems has improved exponentially.

GREEN BUILDING. And more ski areas are utilizing green building. "New construction should start with a deep look at sustainable solutions, including alternate transportation, renewable energy, water saving fixtures, energy saving features, and green building practices," says Skylab's Kovel. "Green building technologies such as modular building and mass timber can also reduce construction time for projects in remote and limited winter construction environments while sequestering carbon."

EMOTIONAL CONNECTIONS. With a little creativity, any base lodge can, and should, be used to drive revenue in non-winter months. In all seasons, as with other aspects of resort operations, lodges must connect emotionally with guests. "We seek to develop a unique experience for each resort and region," says Kovel. "It's this approach to brand identity that connects with today's audiences."