Boston Ski and Snowboard Expo — Boston, MA — Nov 8-16

Crowds flocked to the Boston Ski and Snowboard Expo in anticipation of the upcoming season. Top left: Vail Resorts' Bonnie MacPherson (L) and Wachusett's Tom Meyers (R) pose with Bernie Weischel at the BEWI Awards Luncheon where the two were honored for their service to the industry. Top center: (L to R) Gus Noffke, Ali Antczak, and Jayme Ayotte hold down the fort at the Loon booth. Top right: Stratton's Alex Malloy shows off her gift from Mount Snow's marketing team. Bottom left: Show-goers play to win at the Ragged Mountain booth. Bottom center left: Jay Peak's JJ Tolland puts up the "For Sale" sign at the Ski Vermont media reception. Bottom center right: The SAM team hangs out with Ski Utah's Caitlin Furin (second from left). Bottom right: Mount Snow's Kim Meeker (R) smiles with Summit Series mentee Meghan Wilcock at the Mount Snow booth.
Denver Ski and Snowboard Expo — Denver, Colo. — Nov. 16-18

The Denver Ski Expo highlighted some innovations and exciting developments for the upcoming season. Left: The ski ramp, staffed by Loveland Ski Area, always had a line of kids waiting their turn. Above: Doggin' it at Big Sky Resort's new Ramcharger chair, the first eight-passenger bubble chair in North America.
FIS Women's World Cup — Killington, VT — Nov.24-26

Killington Mountain Resort, Vt. played host to a World Cup race for the third year in a row. Left: (L to R) Killington's Rob Megnin, Olympian Donna Weinbrecht, Killington founder Preston Smith, Scott Smith, and Leslie Smith cheer on the racers. Above: Ethan Mueller (L) and Leitner-Poma's Daren Cole are all smiles.
Mountain Technology Symposium — Sun Valley, Idaho — Oct. 11-14

The second annual Mountain Technology Symposium took place in Sun Valley, Idaho. Left: Tim Silva, vice president and general manager of Sun Valley Resort, delivered the keynote speech for the event, discussing the technological changes that present challenges and opportunities for resorts. Center: Resort attendees have a little fun. Right: Attendees check out the trade show floor and chat with the suppliers.
IAAPA Expo — Orlando, Fla. — Nov. 13-16
More than 42,000 attendees descended on Orlando, Fla., for the International Association of Amusement Parks and Attractions (IAAPA) Exposition. Top left: Mark Bee from Doppelmayr shows off the new eight-passenger chair and the accompanying bike mounts for lift-served mountain biking. Top right: Vail Resorts' Dan Edwards (L) hangs out with Rachel Lewis of Wiegand Sports GmBh and SAM's Rick Kahl. Bottom left: Virtual reality games were a hot topic at the IAAPA show. Games ranged from virtual motorcycles to virtual water rides and riding virtual skateboards.
Northeast Winter Weather Summit — Stratton, VT — Dec. 2-3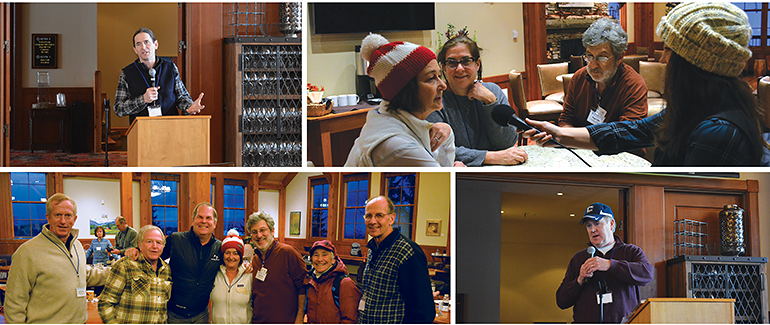 The inaugural Northeast Winter Weather Summit at Stratton Mountain Resort drew nearly 70 meteorologists, resort communicators, industry reps, and media. Top left: Vermont's Lieutenant Gov. David Zuckerman stopped in to speak about the economic impact of weather on the state of Vermont. Top right: SAM's Sarah Borodaeff interviews NASJA president Iseult Devlin (L), Stratton's Myra Foster, and NASJA's Roger Lohr for PodSAM. Bottom left: (L to R) Jeff Crowley, Wachusett; Bernie Weichsel, BEWI; Yves Juneau, Quebec Ski Areas Association; Iseult Devlin, NASJA; Roger Lohr, NASJA, Joan Whalen, NASJA, and Peter Hines, NASJA. Bottom right: Meteorlogist Brad Field speaks about the impact of the digital world and social media on weather reporting.