Janelle Walker laughs when I mention the comparison of electric mountain bikes, aka e-bikes, to motorcycles.
Walker says that even though they are currently classified as motor vehicles by the U.S. Forest Service, anyone who claims e-bikes are one and the same with dirt bikes has clearly never ridden one. Yet the comparison is one commonly echoed by those who oppose allowing the new breed of pedal-assist bikes to have access to non-motorized—and more specifically, mountain bike—trails.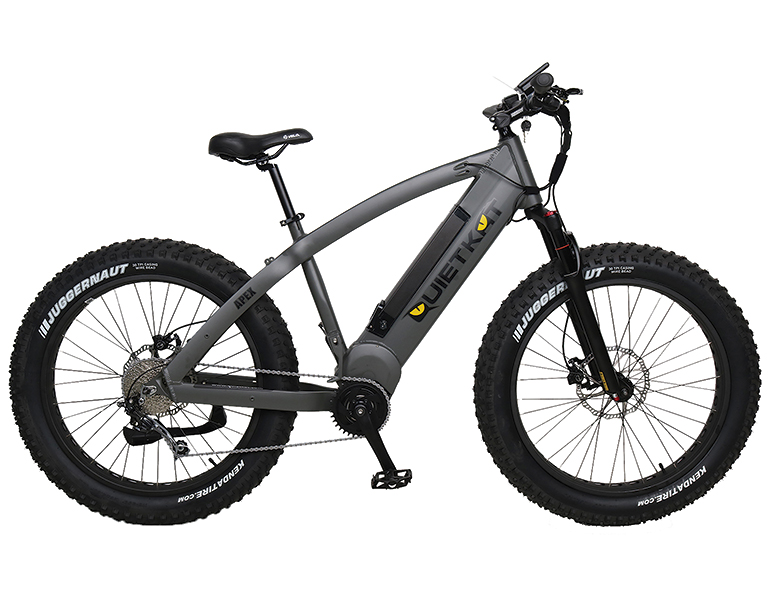 QuietKat's Apex model electric bike.
"It's like a powder day on wheels," she says. "The uphill is as fun as the downhill now."
Walker's opinion carries some weight. She is a mountain resort specialist with the USFS in California's Inyo National Forest, and was instrumental in the introduction of e-bike access to the Mammoth Bike Park for the 2018 summer season. The resort made history when it became one of the first major bike parks in North America to do so (preceded only by Colorado's Steamboat Bike Park in 2017).
The concept, introduced with a new e-bike race during Mammoth's annual Kamikaze Bike Games, also brought the electric bike debate front and center among bike park operators, especially those that operate on public lands—which are largely off limits to motorized vehicles, e-bikes included.

A Major E-xperiment
Mammoth's 3,500 acres are entirely on USFS land, operating via special use permit. Under the Forest Service's Travel Management Rule (TMR), e-bikes fit the definition of a "motor vehicle," in short, because they have a motor and are self-propelled, so they are only permitted on Forest Service roads, trails, and areas that are formally designated for motor vehicle use.
What made it possible for all 80 miles of trail at Mammoth to be open to Class-1 e-bikes (defined as only using pedal-assist, not having a throttle, and with motors limited to speeds up to 20 mph) is Mammoth's trails were not designated as either motorized or non-motorized under the TMR, which Walker says "gave us some latitude in our decision making."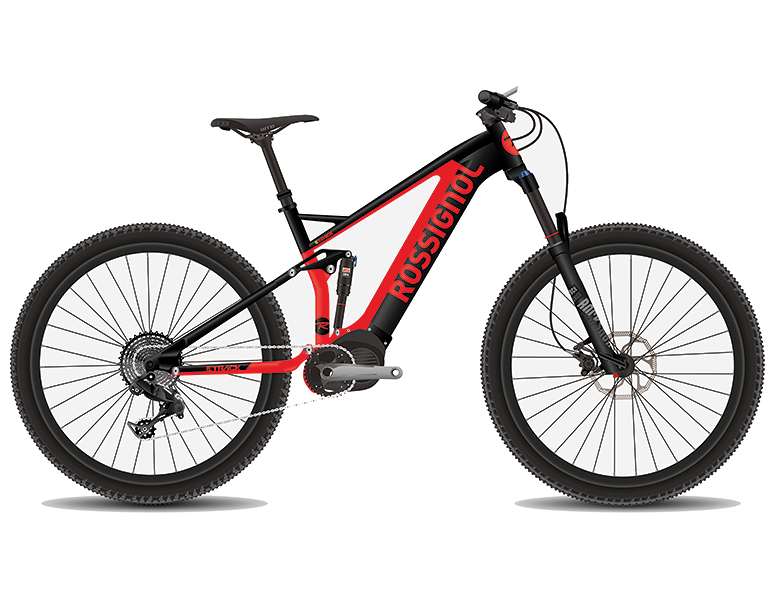 Rossignol's RMH5002 E Track Trail electric bike.
According to Walker, not only was it a way for the resort to keep current with emerging technology, but also for her organization to observe a bit of a controlled experiment. "It took a few years behind the scenes making sure that we were moving forward appropriately," says Walker. "Within the permit boundary was a great way to isolate use, and monitor it."
And after the first season, it appears e-bikers and traditional mountain bikers coexisted peacefully without conflict. But an even more impactful takeaway was the composition of e-bike ridership.

E-xtending the Market
"They [e-bikes] are a great way to equalize ability levels," says Walker. "Since we've done this in Mammoth, you see full families out there. It's kind of a breakthrough. A lot of people come from sea level and all of a sudden they're at 9,000 feet. It's been really transformative for those folks. We didn't see any negative impact on trails, and people had a great time doing it."
On the resort side, Mammoth marketing manager Gabe Taylor echoed that sentiment. And even though the park mainly caters to the gravity crowd, he says any initial opposition from purists quickly subsided.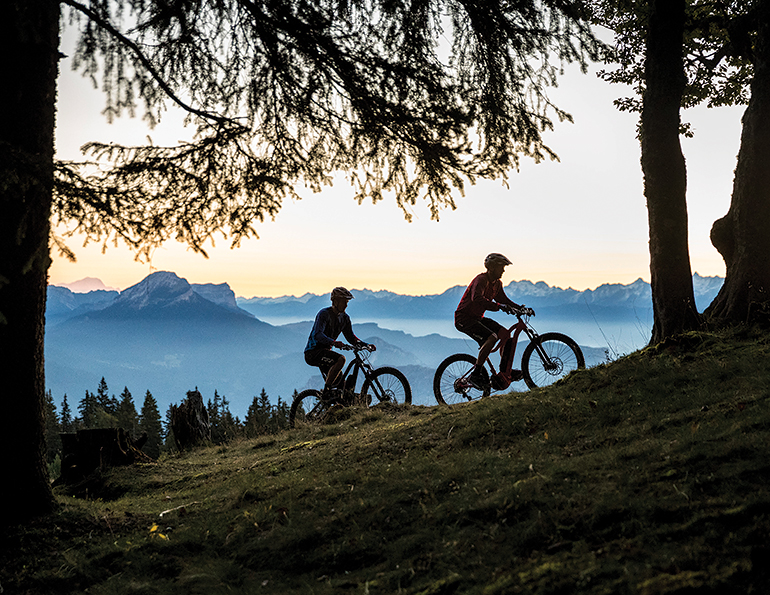 Rossignol Cande twilight ride.
"I think it comes down to allowing more people to enjoy more aspects of the bike park," says Taylor. "We were encouraged by how quickly the conversation changed for the positive once our core rider base had a chance to share the trail system with e-bikers. They saw how little they impacted the overall experience in the park, and came to understand that e-bike riders are just looking to have fun in the mountains, same as the rest of us."
Although they were granted access to all runs, including downhill-only, e-bike riders seemed to gravitate toward the all-mountain and cross-country trails. From an operational standpoint, the resort created a new ticket product—the Discovery Ticket—to give e-bike and uphill riders access. On-hill signage was improved, designating two-way and directional trails, and bike patrol staff was also increased.
But, otherwise, Taylor says, nothing really changed.

E-mending Future Plans
Looking forward, Taylor sees the technology improving and attracting even more two-wheel users in the summer months. So much so that the resort plans on building more trails specifically for uphill travel—the exact opposite of current lift-served downhill mountain bike parks. "It's something we wouldn't have budgeted capital for if it wasn't for e-bikes," he says.
In Colorado, Winter Park director of mountain maintenance Bob Holme also believes that "E-bikes could turn the mountain upside down," and experiences can now be from the bottom up instead of from the top down. "It could be an e-bike tour to the top, you have a sunset dinner at the upper lodge and ride the gondola down," says Holme.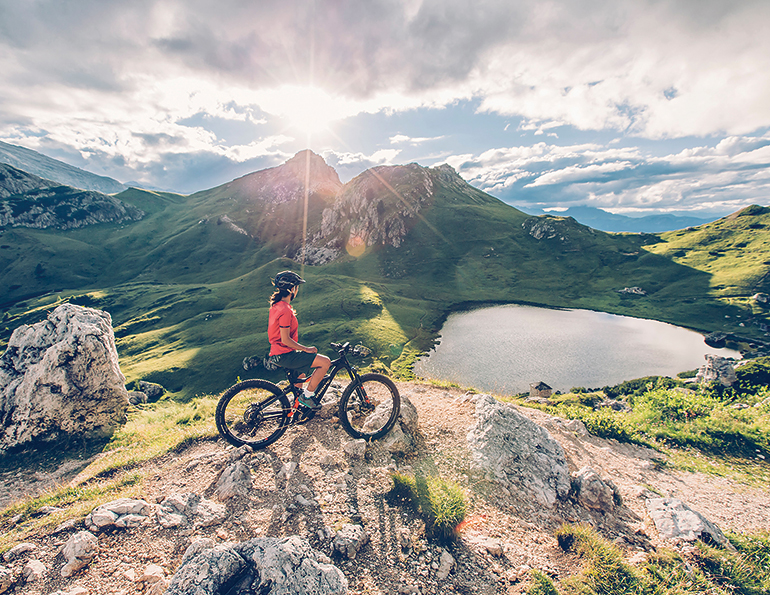 Bosch on top in the Dolomites.
The Trestle Bike Park at Winter Park Resort—located in a town that has dubbed itself "Mountain Bike Capital USA"—is also on USFS land. Per district regulations, Trestle does not allow e-bikes within the bike park. But that hasn't stopped the resort from using the burgeoning segment as a way to attract new user groups in the summer.
Trestle introduced a "Mountain E-Bike Tour" program last summer, offering a three-hour guided experience to guests of all ability and fitness levels, as a way to see more of the mountain—and the town's breweries—with the help of a little electric boost. The tour stayed on Forest Service roads and other routes where motorized use is permitted. The $99 price tag includes e-bike and helmet rental.

E-xcited Suppliers
Nick Castagnoli, brand and communications manager for Rossignol North America—a recent addition in the e-bike market—has another take on Walker's powder day metaphor: "There were so many people who had no idea how to enjoy a powder day until fat, rockered skis came out, and now everyone can go slay it on a pow day," Castagnoli says. "All of a sudden, people who didn't necessarily have the stamina or skillset to ski deep powder could ski bell to bell. It's the same with e-bikes. It opens new doors to more people enjoying the trails."
Bosch eBike Systems North American sales and marketing manager Jonathan Weinert also believes electric bike offerings will attract a more eclectic crowd of families and different age groups in the summer, similar to what ski resorts see in the winter. "EMTBs equalize access to the great outdoors for people of all fitness and skill levels," Weinert says.

E-djusting Operations
"We see a ton of opportunity," says Holme. "But I think what it's challenging us with is the question of what is truly the definition of a bike park?"
He points to the sudden ease of electric-assisted uphill access as something that stands in contrast with the gravity fed nature of traditional downhill mountain bike parks like Trestle. According to Holme, having pedal assist on downhill trails has the potential to turn "gravity fed" into "gravity plus."
The plus stems from an e-bike's geometry differences and additional weight from their batteries and motors—as much as 10 to 20 pounds more than traditional downhill and all-mountain bikes—so the way they behave off jumps, drops, and other trail features is a potential concern. If e-bikes were permitted in the park by USFS, trail and feature design would need to be reconsidered.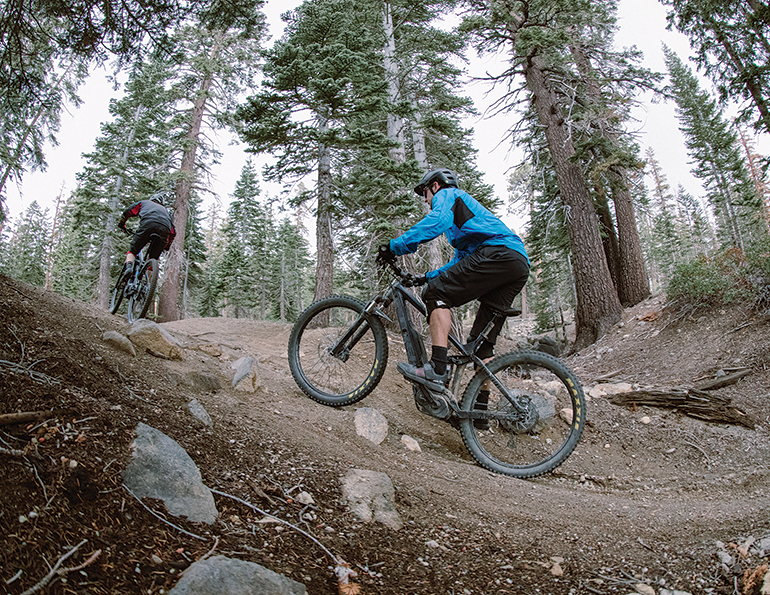 E-bikes at Mammoth's bike park.
"You think about a trail like Rainmaker," says Holme of Trestle's signature black-diamond jump trail. "It's designed for a certain speed. And if someone needs a little more speed and they have to put a pedal stroke in, they can do that. But even a half pedal stroke with pedal-assist might be more than you anticipate, and there's a risk that you can carry more speed into a feature than is actually intended."
Bosch's Weinert thinks resorts will have to tweak operations and expand infrastructure to fully take advantage of the opportunity, adding things like clear directional trail signage and designations, and charging stations throughout the resort.
Holme sees plenty of other places resorts can potentially "plug in" to the growing segment of electric bikes. They could be implemented as an efficient, eco-friendly alternative to gas-powered vehicles as a way to quickly navigate the mountain for trail crews and operational staff. Bike patrol could cover more ground with less effort and respond much faster to medical emergencies and other guest needs. It's a notion that, with brands like QuietKat targeting more utilitarian uses for e-MTBs—and expressing an interest in the resort market—doesn't seem so far fetched.

Rental Opportunit-e
While the majority of enthusiasts who frequent the gravity mountain-bike parks in the summer tend to have their own bikes and equipment, new users enticed by the lower barrier to entry of e-bikes are more likely to rent—a fact that has not gone unnoticed by e-bike manufacturers.
Rossignol, well-known for its skis and other winter sports equipment, recently entered the bike market, bolstered by its recent acquisition of SoCal-based Felt Bicycles.
Instead of a strong launch into the consumer-facing sales market, though, the brand has leveraged its existing relationships with resorts to gain traction as a major supplier of mountain bike rental fleets, specifically e-bikes. Castagnoli says a lot of bike brands either aren't interested or don't have the resources to take on the rental market, so it gives Rossignol a chance to be a one-stop year-round partner for resorts to fill a niche he believes is only going to grow.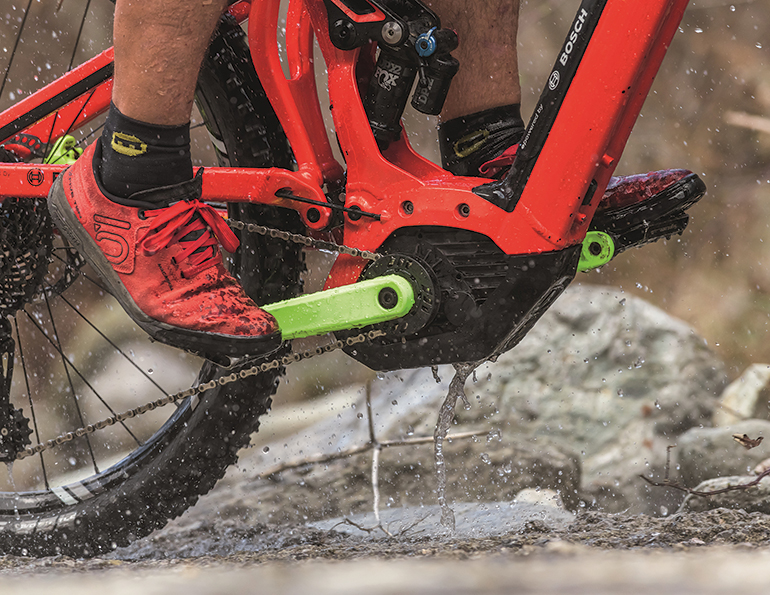 Close up of the Bosch short crank.
Even in North America, Steamboat and Mammoth are gaining company. Northstar, Calif., Killington and Mount Snow, Vt., Angel Fire, N.M., Purgatory, Colo., and Snowbasin, Utah, all allow e-bike access in one form or another.
"All resorts are looking for other ways to diversify their summer offerings," says Castagnoli. "Whether it's mini golf or a climbing wall—I think e-bikes are just another avenue."
It remains to be seen exactly how much e-bikes will change the summer landscape at North American resorts, and what the strategy will be for leveraging them. But it seems clear that despite initial opposition from purists, electric bikes are here to stay.
"You've really got to be a hater if you don't like e-bikes," says Holme. "They're just fun."