Lift construction boomed in 2018 as American and Canadian resorts built 37 new aerial lifts, the most since the 2008 financial crisis. The number of new lift installations has now increased each of the last four years, and 2018 represents the most new vertical transport feet per hour (VTFH) constructed since 2000.
Like last year, the East and Rocky Mountain regions led the pack compared with the Pacific and Midwest. Colorado was most active again in 2018, with two big additions at Copper Mountain and one each at Arapahoe Basin, Loveland, Winter Park, and Wolf Creek.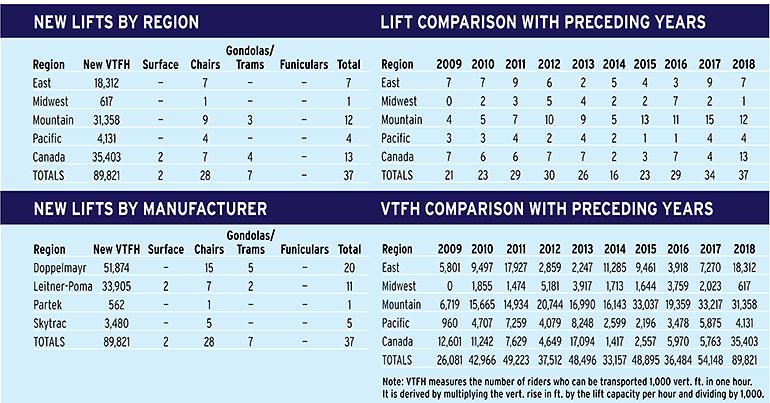 Canadian resorts, though, largely accounted for this year's growth. Canadian areas added 13 new lifts, the most in more than a decade, and the most new VTFH in 29 years. British Columbia saw an impressive six new installations, followed by Quebec with three. Smokey Mountain in Labrador amazingly removed all of its lifts and added three new ones in a complete overhaul.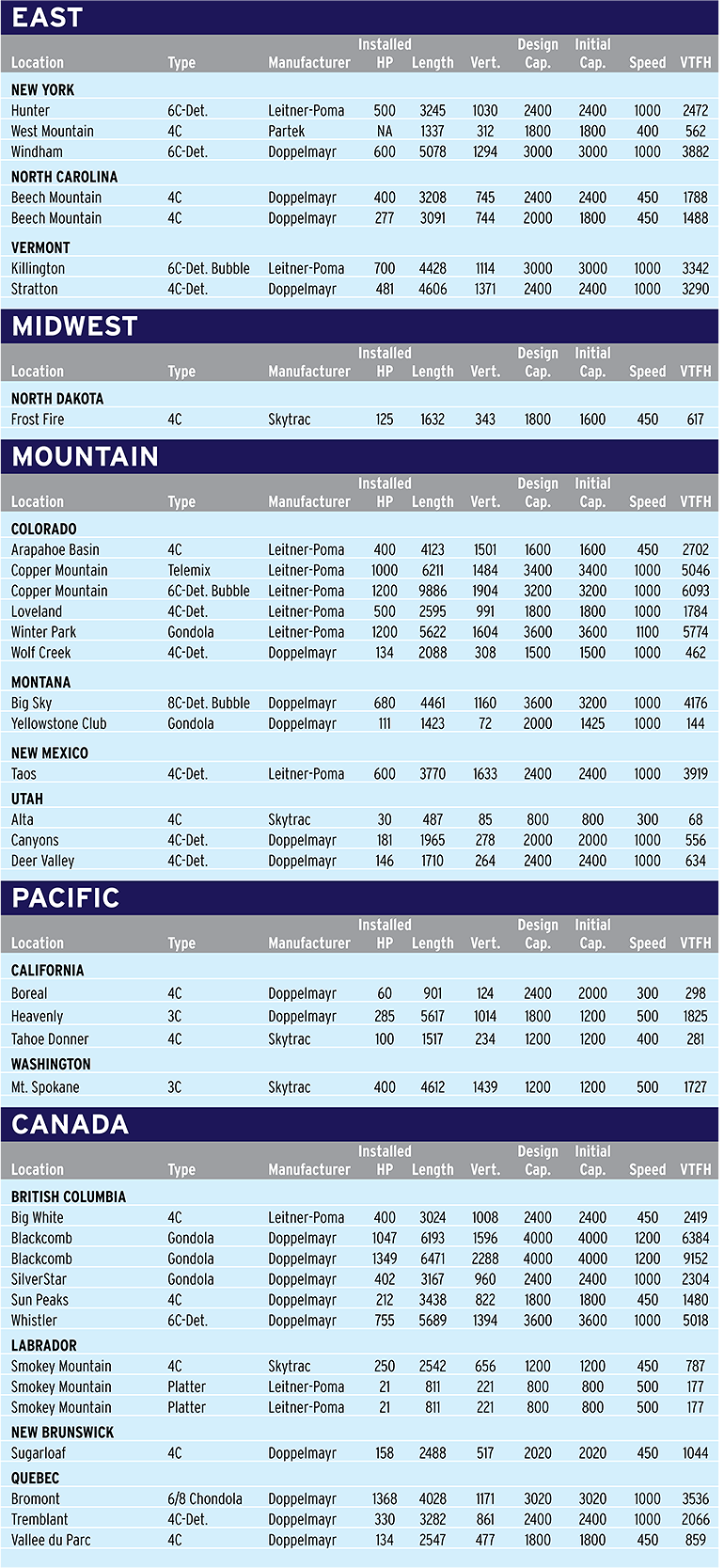 Gondola and combination chair/gondola lifts sprung up coast to coast. Winter Park's new 10-passenger gondola moves 3,600 skiers per hour, and Blackcomb's two stager reaches 4,000 an hour. SilverStar, B.C., and The Yellowstone Club, Mont., each completed new eight-place gondolas to elevate their respective guest experiences. At Bromont, Que., and Copper, Colo., new ropeways feature both six-passenger chairs and eight-passenger gondola cabins. Mark Bee, president of Doppelmayr USA, says while the company used to build a gondola every year or two, now it's more like one or two (or more) every year. "We're seeing more gondolas year in and year out than we used to," says Bee.

BIGGER AND BETTER
A number of lift innovations came to North America for the first time in 2018. Big Sky, Mont., completed the first eight passenger chairlift in the Western Hemisphere to service Andesite Mountain. It is the first American iteration of Doppelmayr's next-generation detachable technology called D-Line. Ramcharger 8 features a height-adjustable loading carpet, locking restraint bars, blue bubbles, and heated seats. The bottom terminal even has a video wall to share content and status updates with guests. "It's an impressive lift," says Bee, noting it remains to be seen how many resorts will opt for D-Line going forward. "There's a price premium for it."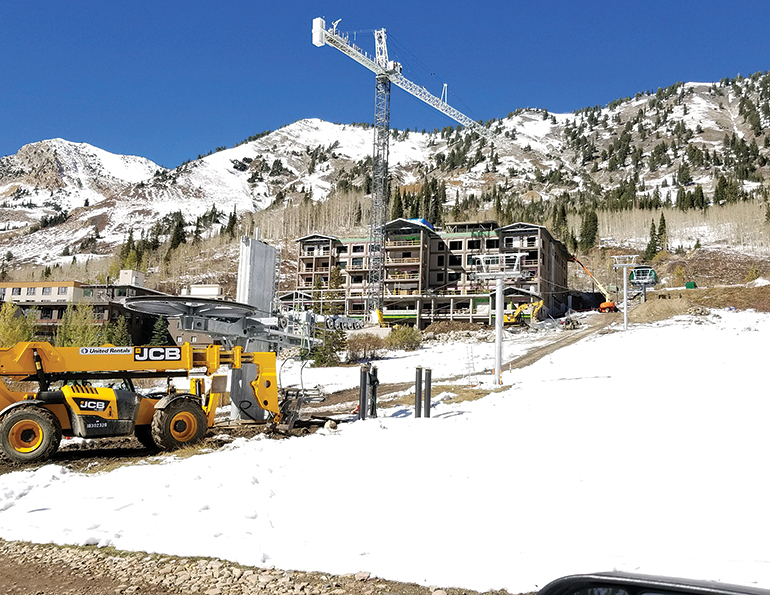 Bottom terminal of new Skytrac quad at Alta, Utah.
Powdr partnered with Leitner-Poma on bubble six-place chairlifts at Killington, Vt., and Copper Mountain. Copper's American Flyer is the biggest new chairlift of the year, nearly 10,000 feet long and with 182 chairs.
A total of three bubble lifts in one year is significant. "People are upgrading for passenger comfort," says Jon Mauch, sales manager at Leitner-Poma. "It's those things that are outside of the normal ski-lift box. Bubble chairs are one of them, but gondolas and telemixes are also."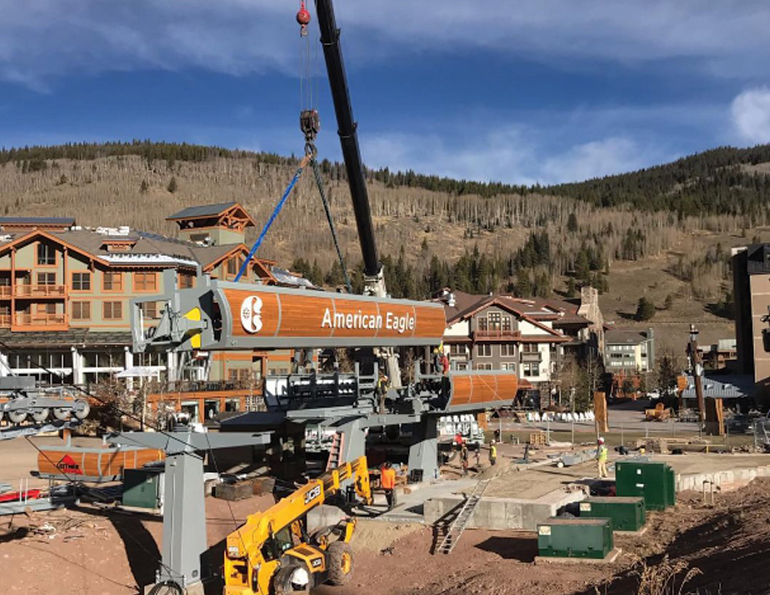 New Leitner-Poma telemix at Copper Mountain, Colo.; New Partek quad at West Mountain, N.Y.
The latest lifts at Copper, Winter Park, and Big Sky all feature direct drives rather than traditional powertrains with gearboxes. Massive synchronous motors mounted directly atop bullwheels increase reliability, minimize noise, and make these lifts more energy efficient than they otherwise would be. Prior to this winter, no North American ski lift utilized this technology. Now, four do.
It was also a big year for six-packs. In the Catskill region of New York, Hunter Mountain added its second, and Windham Mountain installed its first to replace an aging triple chair and high speed quad. In fact, five of the seven six-packs this year replaced detachable quads. "We went through a period in the early 2000s where it seemed like we were transitioning to six-packs," says Bee. "Then that kind of died out, and now it's back the last few years."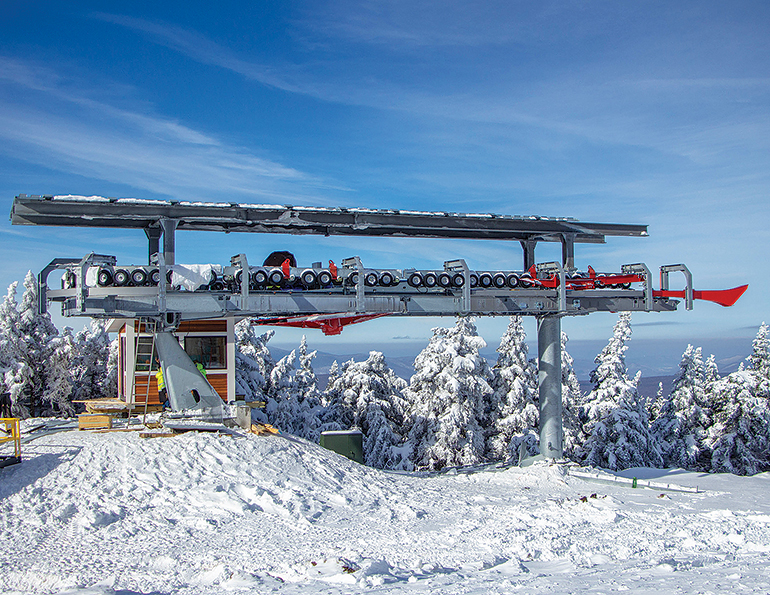 Top terminal of new Doppelmayr detachable quad at Stratton Mountain, Vt.

NEW FRONTIERS
Taos, N.M., and Loveland both added their very first detachable lifts in 2018, both quads from Leitner-Poma. "It's a big deal for both us and our guests," Loveland's John Sellers says in reference to the new Chet's Dream lift.
While 80 percent of the year's new lifts replaced existing ones, Arapahoe Basin's new quad chair serves a 339-acre terrain expansion called The Beavers. Hunter Mountain's new lift anchors the largest terrain expansion in the East in 15 years. A new Skytrac triple chair at Mt. Spokane, Wash., is the culmination of decades of work to offer skiing on the backside of the mountain.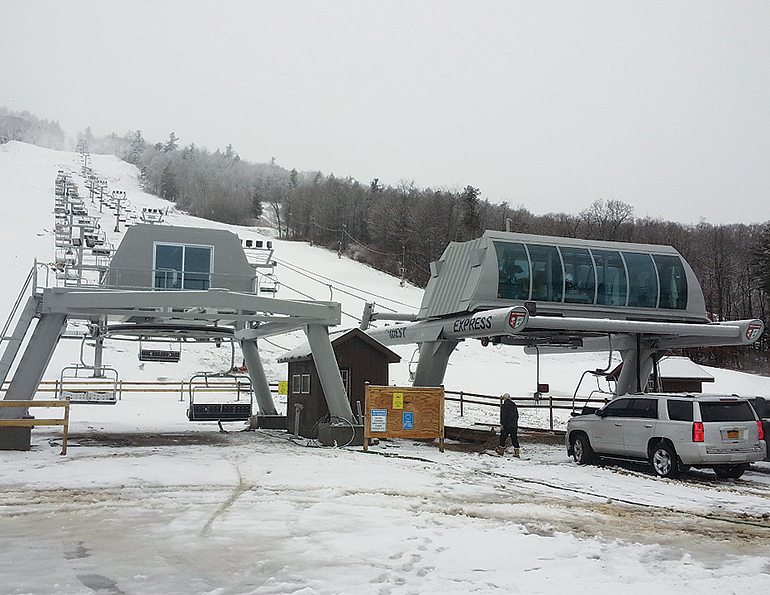 New Partek quad at West Mountain, N.Y.

A SHIFTING LANDSCAPE
Both Doppelmayr and Leitner-Poma saw this year's success coming more from the types and sizes of lifts than the sheer number of projects. "From a dollar standpoint, it was probably better than where we were before the financial crisis, but not as many projects," says Mark Bee of Doppelmayr, which installed the most VTFH across 20 individual lifts.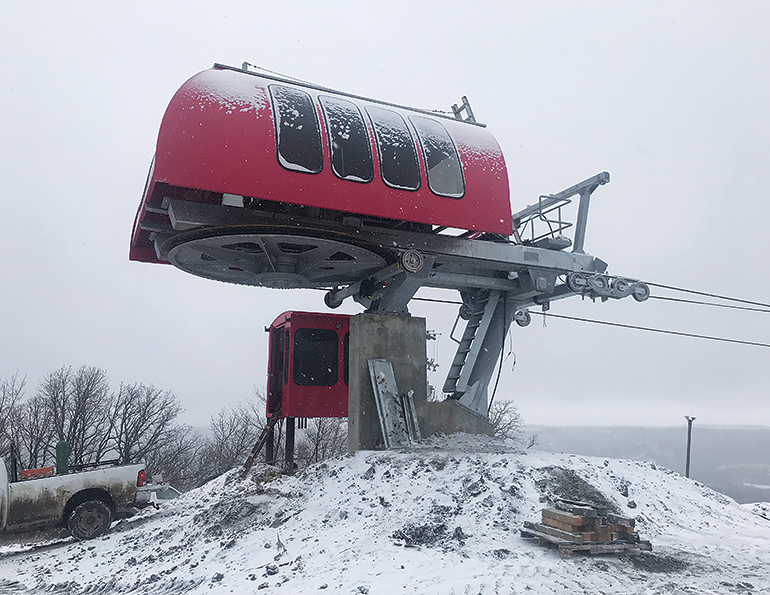 Skytrac's new quad at Frost Fire, N.D.
Leitner-Poma supplied 11 lifts, seven of which are detachable. Skytrac, a subsidiary of Leitner-Poma, picked up much of the group's fixed-grip business, with five complete lift projects. The firm's longest lift to date and first in Canada were milestones for the year.
Skytrac rounded out its construction season reinstalling used Poma chairlifts at Catamount, N.Y., and the first lift-served bike park in Texas. This allowed the Grand Junction Leitner-Poma plant to focus on detachable chairlifts, gondolas, and surface lifts. Carl Skylling of Skytrac notes, "It just works, us supplying more of the fixed-grip lifts and them focusing more about the detachables. There are a lot of synergies."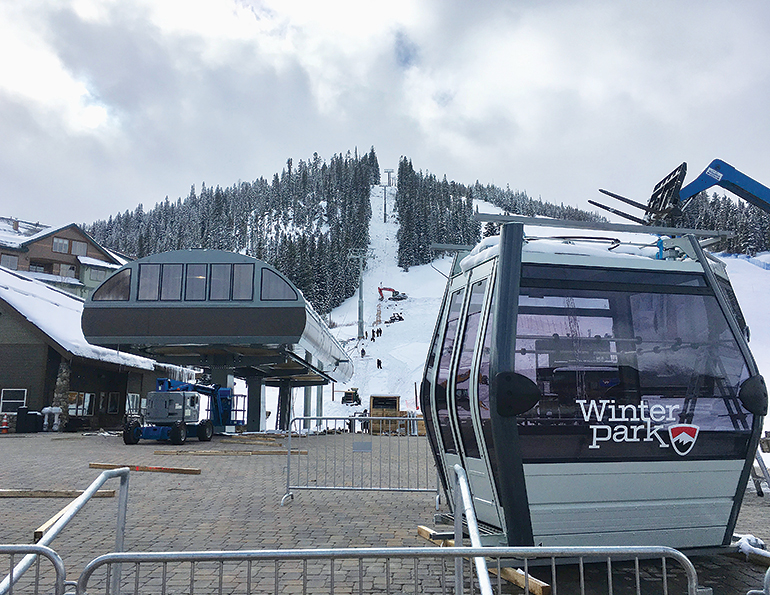 The bottom terminal of the new Leitner-Poma gondola at Winter Park, Colo.
Partek fabricated a new fixed-grip quad for West Mountain, N.Y., and completed a number of upgrade projects.
All manufacturers noted the strength of the service business. "The retrofit and modification side may not have peaked yet," says Skylling. "We continue to do a lot of drives and low-voltage controls. Our electrical department in particular is just slammed with that type of work."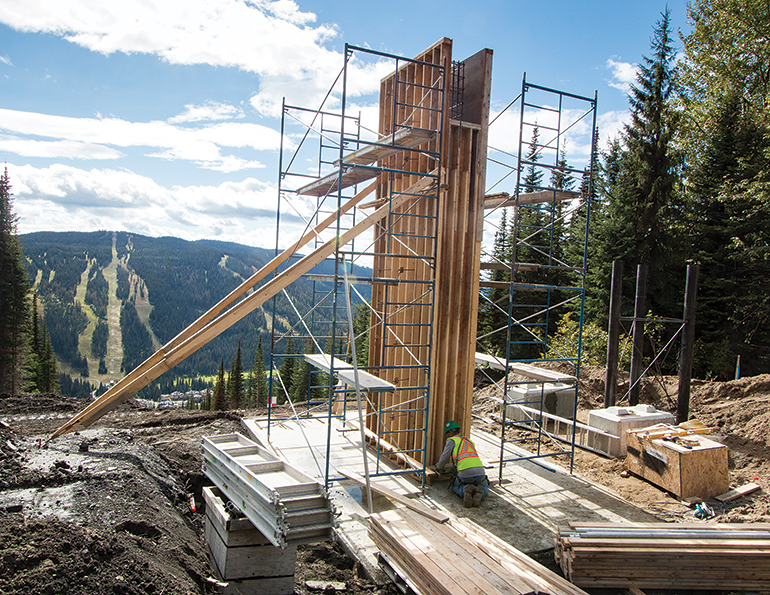 Tower construction on Doppelmayr's new quad at Sun Peaks, B.C.

CONVEYORS OF MANY USES
The carpet business was a mixed bag following 2017's six year high. A total of 41 carpets were installed, down 20 from last year. But here, too, bigger machines and customer comfort played a role.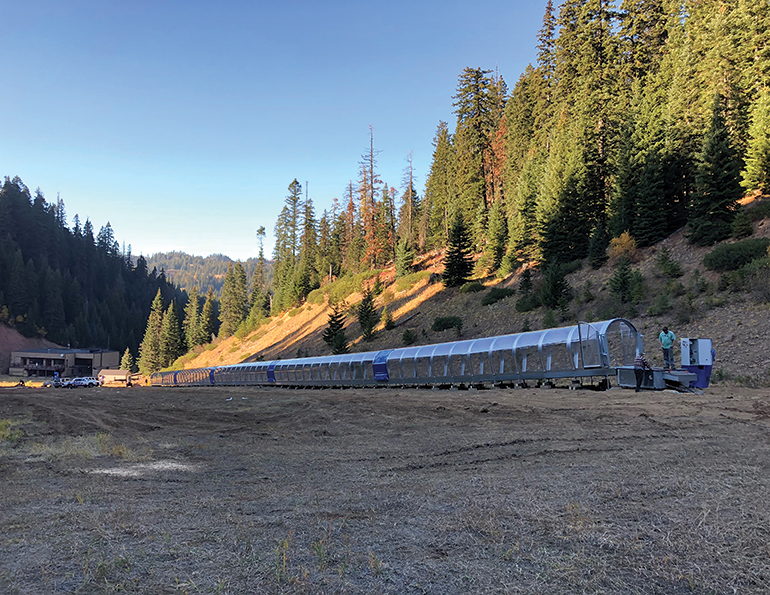 One of two new Star Lift conveyors at Bluewood, Wash."Extremely busy," is how Jennifer Kelly of Magic Carpet Lifts described this year. Magic Carpet supplied a number of conveyors in excess of 500 feet, including one in New York that measures 900 feet. "People are using the conveyor surface lift for a variety of uses," says Kelly. "As summer tubing gains popularity, a lot of these are for year round use. Some of our best customers are existing customers because they continue to see other applications for our equipment." Surface lifts for tubing continued to gain popularity in non-traditional markets such as Tampa, Fla., and Atlanta, Ga.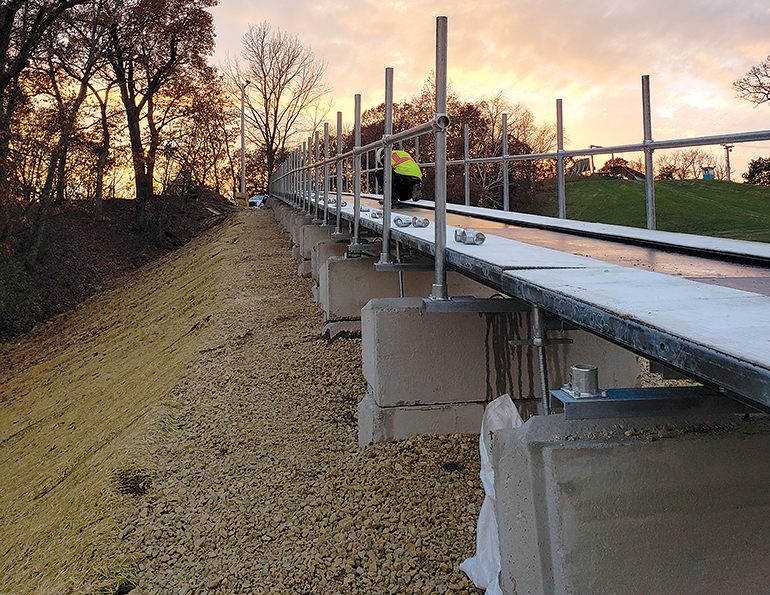 New Magic Carpet being installed at Whitetail Ridge, Fort McCoy, Wis.
Peter Kavanagh of Star Lifts says he sold about the same number of SunKid conveyors as last year, and they tended to be a bit shorter than normal. But as with aerial lifts, many customers weren't just buying base models. "We continue to sell a lot of the gallery enclosures; they seem to be gaining in popularity," he notes. Out of 23 carpets for SunKid, only four were dedicated to tubing this year.
Chairkit supplied five loading conveyors in 2018, including the one for Big Sky's eight-pack. The rest accompanied fixed grip chairlifts with the goal of increasing loading efficiency and speed.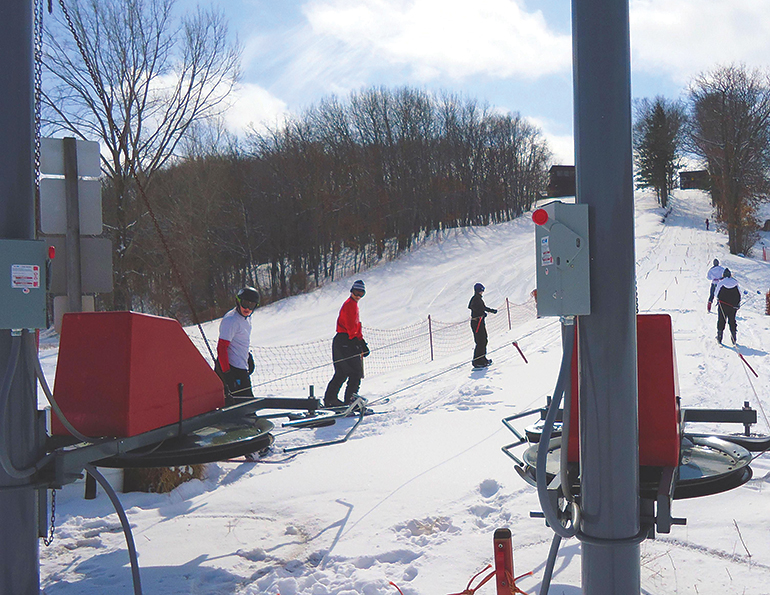 Harusch rope tow at Steven's Point, Wis.

LOOKING FORWARD
What's in store for 2019? One factor that could impact lift sales is rising commodity prices, the result of tariffs that hit many suppliers after contracts were signed last spring.
"They've really, really added a lot of cost," says Hagen Schulz at Partek.
"We've seen some of our steel go up as much as 50 percent," says Jon Mauch.
Jennifer Kelly at Magic Carpet says the tariffs have hit the Denver-based company hard. "We're not happy about it," she laments.
Bee notes it may take a while for the tariffs to fully hit the lift business. "We'll start to see price increases in a lot of components that are made from steel," he expects, pointing to electric motors as an example.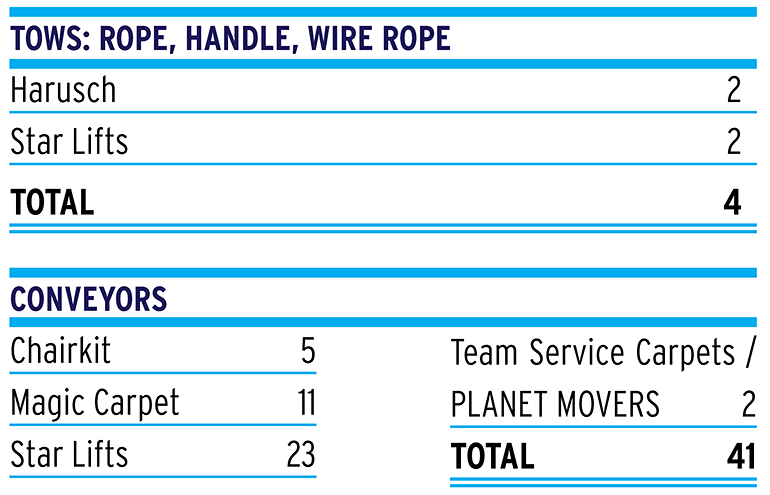 The only manufacturer which hasn't seen a major impact is Star Lifts. "We've been very fortunate," says Kavanagh.
Still, most suppliers are optimistic coming off such an active year.
"We have projects for next year already," says Schulz.
"Looks great!," notes Mauch. "We've got more projects already in line for 2019 than I've seen in my tenure here."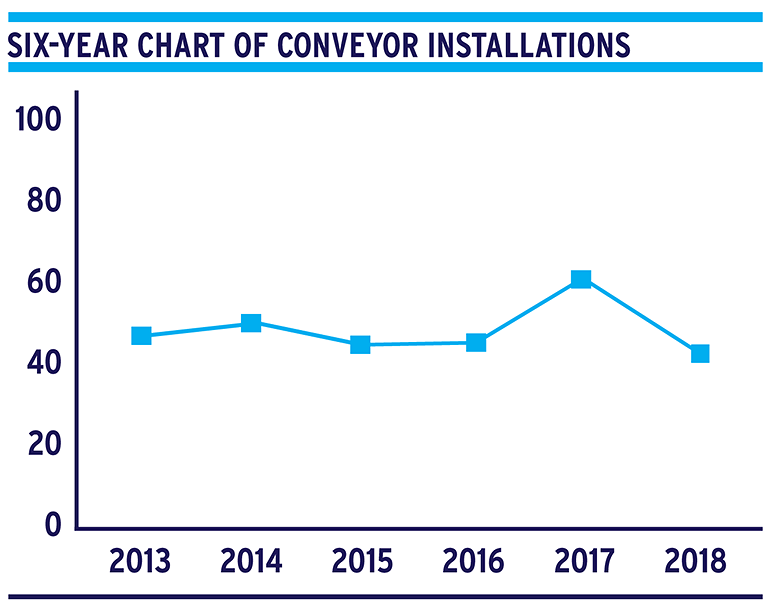 Two factors point toward another big year: industry consolidation and aging infrastructure. "The big projects are coming from the Vails and the Alterras," says Skylling. Vail accounted for five of this year's lifts, and Alterra three. "They are pushing everybody and opening up fixed-grip projects for the medium and small guys as well, giving them some incentive to get that work done."
Skylling also sees an opportunity with the number of older lifts still running. "We're still turning over the inventory in the market of old fixed-grips, and I don't see that slowing down any time in the near future," he says.
Ten years since the Great Recession, some are measured about 2019. "We've got a lot of projects we are discussing with clients," says Bee. "But an awful lot of them wait to see how they get through the holidays before they make commitments."
Kavanagh, on the conveyor side, echoes those thoughts. "I'm pretty optimistic that it will be another good year," he says. "But it always depends on the weather."