Every autumn at ski areas from California to Maine, thousands of young people sign up as lifties, servers, line cooks, and any other job that will give them a free pass and the ability to live their ski bum dreams. The people who fill these (generally low-wage) jobs are the cornerstone of a functioning resort.
Yet, increasingly, resorts can't fill these positions because there's not enough housing to accommodate the amount of staff they need. Even year-round employees are often hard-pressed to find housing. This has become a critical business challenge.

The Housing Challenge
Let's take a step back: Housing has always been an issue in the ski industry. Ski resorts were designed for tourists, not workers, so most of the lodging consists of hotels or resort-owned tourist rentals. Private lodging, such as condos and houses, has been the only option for workers who typically made do with a few roommates, which, frankly, most remember as a rite of passage and where many lifelong friendships are born.
But with the advent of VRBO and Airbnb, private lodging owners can often make more money with short-term rentals than with a seasonal lease. So the already short supply of available housing for workers has shrunk further. And of course, the astronomical prices in places like Aspen, Telluride, and Tahoe have made buying and renting property a laughable proposition for anyone without a seven-figure salary.
In response, seasonal workers have gotten creative to solve their housing woes. Instead of two roommates, they get six, and bring in a few bunk beds. Many seasonal workers are forced to live far from the resort, which means they're up at 4 a.m. to commute to their 7 a.m. shift.
But these options aren't actually good for anyone. Ski areas don't want a sleep-deprived workforce prone to accidents, and those who rent to workers don't want their places to be overcrowded, because that leads to excessive wear and tear and is often unsafe and/or illegal.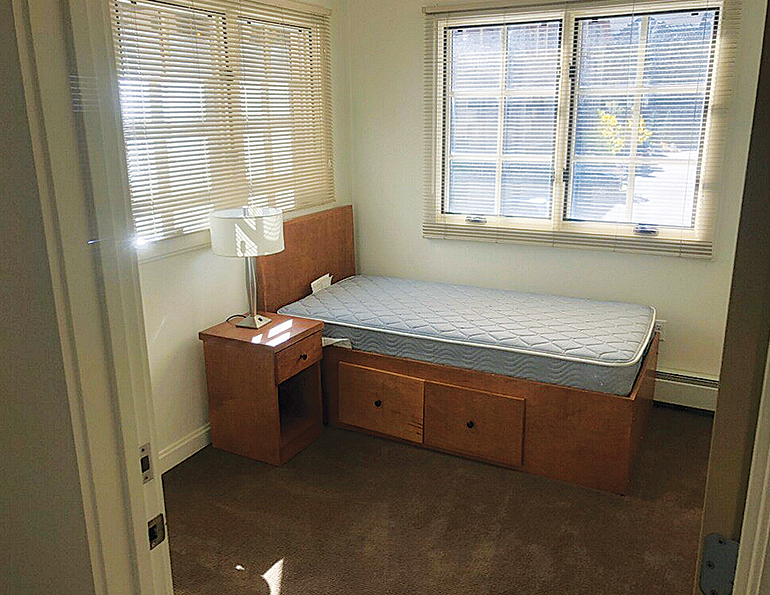 Photo courtesy of Vail Resorts.
Year-round workers in resort communities are experiencing a parallel struggle to find housing options. As corporate office culture has changed, more urban and suburban employees are working remotely and some are choosing to live in the mountains and raise a family. And that is straining the already tight supply of family housing.
The difficulty of living in these ski towns is eroding the reason people choose the resort jobs and the mountain town environment in the first place: so that they can ski and hike and live their outdoor lifestyle. If all their time is spent commuting, or a crowded living situation makes daily life untenable, then what's the point?

What to Do?
In response to these trends, many ski towns are stepping in to help developers with incentives to build community housing. In Colorado's Summit County, for example, both Breckenridge and Keystone have large mixed-income single family and townhome developments— with extensive waiting lists.
As more and more resorts invest in four-season activities to help grow revenue and mitigate the effects of a poor winter, ski areas must start incorporating workforce housing into their long-term master plans. (See "Summer Rising, Part 2," page 68, for more on this.) Not only is it good business, but in some cases, local municipalities are compelling resorts to do so. Providing housing and a sense of community is a huge draw for hiring, and mountain towns with this sense of place are attracting the workforce.
While that prospect sounds expensive and difficult, ski towns and resorts actually can build employee housing affordably, and beautifully, with a bit of forethought. In the end, not only will the resort alleviate the challenge of hiring enough workers, but it can also become the destination of choice for many workers and tourists alike.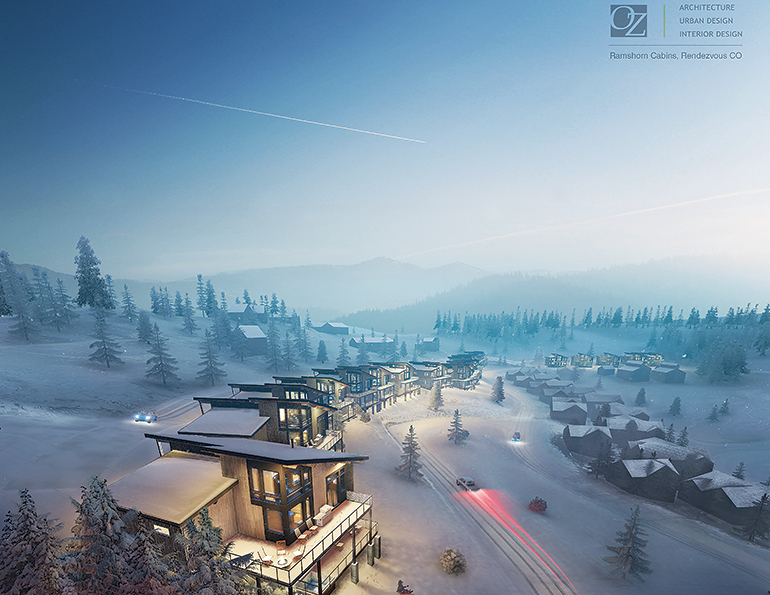 The Ramshorn workforce housing near Winter Park, Colo., uses modular design and pre-fabricated construction to keep costs in line. As a result, Ramshorn offers a modern aesthetic at an affordable cost. Photo courtesy of OZ Architecture.
Here are some important concepts to keep in mind for successfully master planning and building workforce and community housing.

1. Reduce the commute.
Because the small amount of workforce housing that does exist is mostly excluded from the central resort core, just about all ski resort workers commute to their jobs. Some resorts offer an employee shuttle within a certain radius, but many workers drive long distances, which—aside from the carbon impact—significantly increases traffic, causes delays for guests, and cramps area parking.
One solution is to build more centralized and walkable workforce housing. That simplifies life for employees and reduces traffic, making destinations more accessible to tourists. This is especially important for those resorts that rely on regional and weekend visitors. Reducing the commute also reduces worker tardiness and encourages economic activity at the resort center.
Creating a walkable connection to the resort core also brings life and locals to the resort's amenities. Today's resort guests like to mingle with locals. Guests are seeking a more authentic travel experience and want to engage with local culture. They want to eat where the locals eat, drink where the locals drink, and do what the locals do. So resorts should create spaces that welcome tourists and locals alike, and that includes local housing.
The closer the community housing is to the resort core, the more active that core is. This fosters an authentic experience and helps resort amenities remain vibrant through all seasons.

2. Think like an urbanist.
Why do people choose to live in New York City? For the lifestyle, of course. They want to be out at restaurants and museums, see the latest shows, and experience their surroundings—not sit in their apartments.
This same concept compels resort workers. They take low-paying jobs so they can enjoy an outdoor lifestyle, and they are willing to sacrifice square footage to be near the action. Rather than two- or three-bedroom condos, workforce housing can consist of "micro" units, which are more affordable to build and manage, but still offer optimized design aesthetics and maximum livability. Units as compact as 10 feet by 10 feet can offer a place for resort workers to rest their heads comfortably and safely. Micro housing also reduces overcrowding of individual units, since the space literally cannot accommodate extra roommates.
Along with smaller micro units, on-site shared communal kitchens, neighborhood lounges, and outdoor areas offer a great way for the community workforce to socialize and form closer bonds, and to discourage in-room partying. These amenities are especially important for those staff who spend their day outside on the mountain, and need a quiet or mellow place to spend their evenings without sacrificing time with friends. Shared amenities such as access to the local community recreation center and nearby dining options are also a plus.
Finally, storage is a must—these are adventure junkies, after all. Successful micro-units have ample shared storage space for gear, which has an added benefit of keeping things looking tidy (no more bikes stashed on balconies).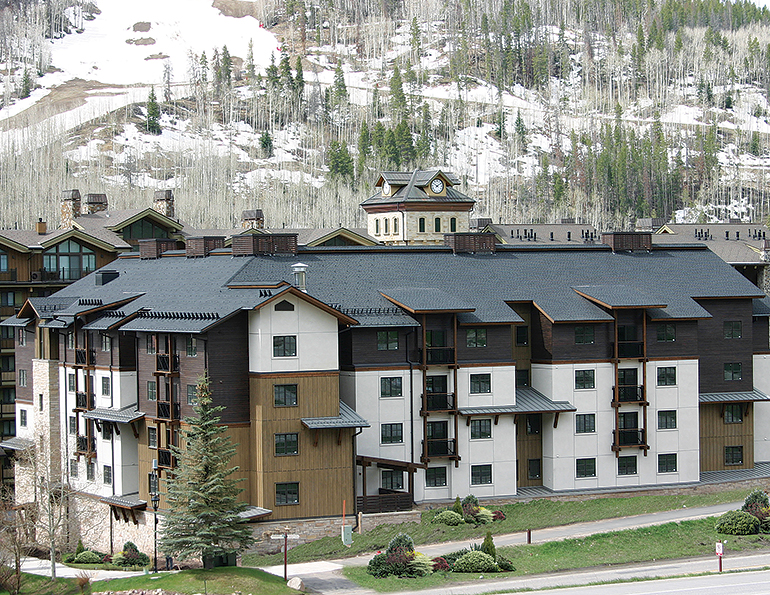 The First Chair workforce housing project in Lionshead at Vail, Colo. has smaller, dorm-like rooms. Its central location helps activate and energize the neighborhood. Photo courtesy of OZ Architecture.

3. Take cues from student housing.
The student-housing model is an effective solution to house lots of people in an efficient structure. By designing smaller bedrooms with communal amenities, developers can often use space more efficiently. The "co-working" style of student housing, such as private or semi-private bedrooms with en-suite bathrooms and shared communal living spaces including kitchen facilities and living rooms, can keep costs down for both developers and residents.
Plus, studies have shown that Millennials prefer housing models like this because they increase community engagement, socialization, and partnerships. Studies also show these models can help reduce depression and anti-social behavior.
Of course, not all resort workers will thrive in spaces designed for students. Like the classic dorm-room RA suite, larger and more private units can be connected to the rest of the housing and reserved for managers and more senior workers, many of whom have families. Affordable options with space that will accommodate a couple or a growing family are in especially high demand for those in their 30s and 40s who want to put down roots. Not only does this offer an affordable housing solution for more experienced managers, but also helps ensure there is some "adult supervision" for younger, rowdier workers.

4. Do it affordably … and beautifully.
Can you provide affordable housing options without building institutionalized tiny houses in the middle of the resort center? Of course. There are all sorts of ways to be efficient and beautiful with workforce housing design. Among the useful strategies:
• Modular design. Modular design is amazingly affordable, because the pieces are fabricated elsewhere and brought in for assembly. This process reduces local labor demands and enables more cost-effective manufacturing. And today's modular design can deliver eye-popping creativity and style. This workforce housing can look cohesive and appealing amid the broader resort community.
• DIY. Another way to keep costs down is to do it in-house rather than hire out. Private developers are getting into the workforce housing game, and that often leads to increased costs and additional red tape. Resorts that commission and own their workforce housing tend to have better ROI than those that outsource it. What's more, most of the time, local communities prefer the resort to build and own the housing, rather than a developer, because it makes the approval and entitlement processes easier.
• Less is more. Taking a less is more mentality (think minimalist or Scandinavian) is another way to keep housing plans within a budget. Simple, sleek, modern urban looks appeal to guests and workers alike, and tend to be less expensive to design and build than the typical Bavarian style many resorts go for. Erecting a clean, modern housing complex in the resort center can help freshen the resort's overall aesthetic.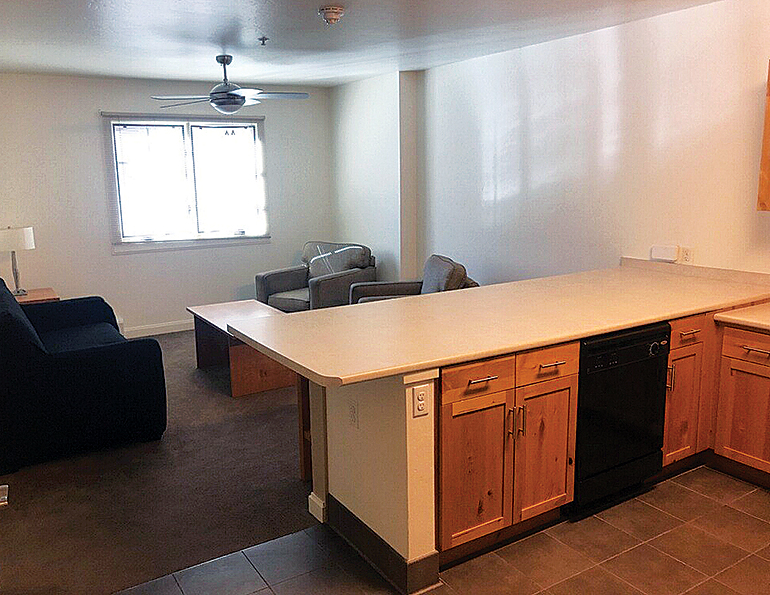 Photo courtesy of Vail Resorts.

Keep It Smart
Consolidation, climate woes, and worker shortages are forcing resorts to adapt. As resort owners work through the next era of the mountain industry, they can involve smart master-planning and experienced, savvy architects in that work. The future of the industry depends on the ability to create livable communities that appeal to tourists while also resolving the workforce-housing crisis.
---
Managing the Big Picture
Resorts don't have to do all the heavy lifting in the housing department themselves, of course. One good example: Vail's Town Council manages the Vail Local Housing Authority (VLHA), an advocacy organization responsible for coordinating affordable housing initiatives. This governmental agency spearheads long-term planning for Vail's workforce and community residents.
One option for those seeking housing through VLHA is First Chair Apartments, which offers affordable, furnished winter housing to Vail Resorts employees. These privately-owned units were developed by Vail Resorts after working with the Town of Vail. Together, the resort and the town agreed to maintain the design standards of the Lionshead Village, in which the apartments are located, so that the employee housing is as attractive as the rest of the community. This is one example of how resort towns can create a welcoming sense of place for workers and residents alike.