NSAA WESTERN WINTER SHOW, SNOWBIRD, UTAH, JAN. 22-24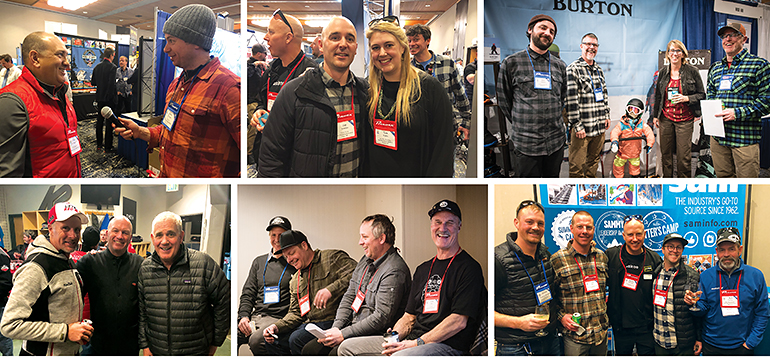 Plentiful snow at Snowbird during the NSAA Western Winter Conference and Tradeshow meant few breaks between skiing and sessions for the 700-plus attendees. Top row, left: SAM's Dave Meeker interviews Vail Resorts' Bill Rock for PodSAM. Top row, center: Summit Series mentor and Loon Mountain GM Jay Scambio catches up with Summit Series mentee Tess Hobbs of Snowbird. Top row, right: NSAA president Kelly Pawlak is all smiles with (L to R) Burton's Billy Johnson and Shaun Cattanach, and Senan Gorman of North Pole Designs. Middle row, left: Stefan Spindler, PistenBully; Jeff Kohnstamm, Timberline Lodge and Resort; and Dennis McGiboney, PistenBully, enjoy the PistenBully dinner. Middle row, center: (L to R) Kevin Laverty, Effective Edge; Michael Schipani, Northstar California; Elia Hamilton, Peak Resorts; and John Rice, Sierra-at-Tahoe, talk terrain parks during a session. Middle row, right: (L to R) Nicholas Vornle von Haagenfels, Axess; Tom Butz and Shaydar Edelman, Woodward Park City; Tucker Norred, Boreal; and Rich Taxwood, Snowbird, hang at the SAM booth.
NSAA EASTERN WINTER SHOW, KILLINGTON, VT., FEB. 5-6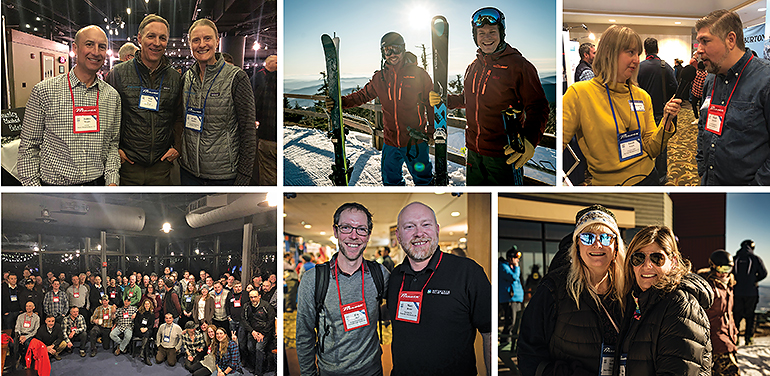 Nearly 700 attendees made their way to Killington, Vt., for the NSAA Eastern Winter Conference and Tradeshow. Top row, left: Bobby Murphy of Stowe Mountain Resort (left) chats with SE Group's Kent Sharp and Claire Humber. Top row, middle: MountainGuard's Jesse Whitcomb and Tim Barnhorst enjoy a bluebird morning on the mountain. Top row, right: SAM's Sarah Wojcik interviews Hugh Reynolds of SNOW Operating about where he learned to ski for #MyFirstMountain. Bottom row, left: A large crowd joined PRINOTH, Leitner-Poma, and DemacLenko to celebrate the long, successful career of Rick Spear. Bottom row, middle: Waterville Valley's Tim Smith and Matt Hesser huddle during the trade show. Bottom row, right: Tahoe Training Partners' Laura Moriarty and Elisa Tauber enjoy the Vermont sunshine.
OUTDOOR RETAILER + SNOW SHOW, DENVER, JAN. 30- FEB. 1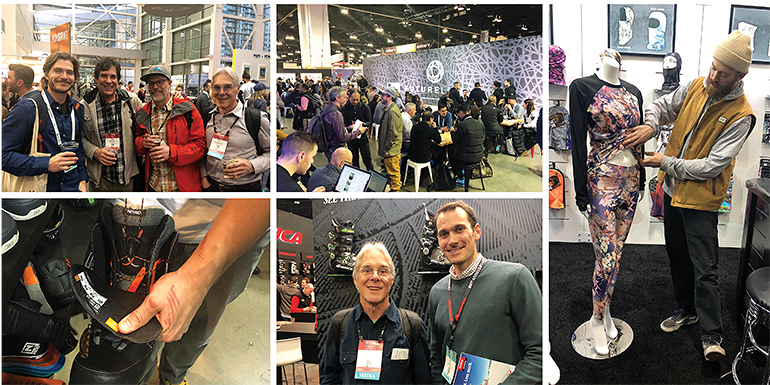 The Outdoor Retailer + Snow Show trimmed its schedule to three days for 2019 following feedback from the attendees, and those three days were lively and well attended. Top row, left: (L to R) Manuel Duermoser, Recco Systems LTD; Tom Winter, freelance writer; Jason Blevins, The Colorado Sun; and SAM editor Rick Kahl chat about show trends over a few brews. Top row, middle: Crowds gathered at The North Face's Future Lab to sit, talk, and make plans for the upcoming year. At right: Thomas Carpenter shows off the latest layering technology from BlackStrap. Bottom row, left: Boots, both ski and snowboard, were a hot topic of discussion throughout the show. Bottom row, middle: SAM's Rick Kahl talks rentals with Sam Beck of Nordica. For more from the OR + Snow Show, check out "New Products" on page 60.
ACCT CONFERENCE AND TRADESHOW, DENVER, FEB. 7-10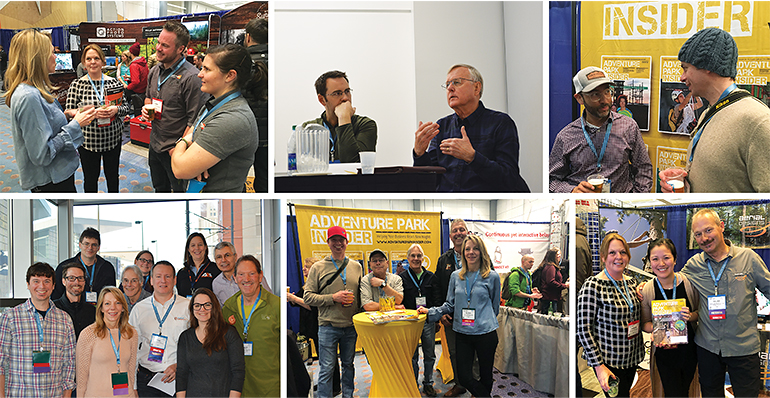 SAM represented sister publication Adventure Park Insider at the Association for Challenge Course Technology Conference. Top row, left: SAM's Olivia Rowan and Sharon Walsh chat with Head Rush Technologies' Chris Koske and Sarah McNichols. Top row, middle: Scott Hannah (R) of Guest Research and Lee Kerfoot of MN Zip Line Adventures share insights during Adventure Park Insider's State of the Industry Report presentation. Top row, right: SAM's Dave Meeker chats with Micah Salazar of Outdoor Ventures. Bottom row, left: The Adventure Park Insider Edit Review Squad! (L to R) Back row: Keith Jacobs, Experiential Systems; Micah Henderson, Bonsai Design; Lori Pingle, Adventure Development Team. Middle row: Jamie Barrow, Vail Resorts; Rick Kahl, SAM; Bahman Azarm, Outdoor Ventures. Bottom row: Dave Meeker and Olivia Rowan, SAM; Paul Cummings, Strategic Adventures; Sarah Borodaeff, SAM; and Bruce Brown, Royal Gorge Zip Line Tours. Bottom row middle: The SAM team hangs with Skip King of Reputation Strategies (middle) and Jason Roe of Revelstoke, B.C. Bottom row, right: Adventure Park Insider's Sharon Walsh with Valdo Lallemand and Emily Hawkins of Aerial Designs.