These are, as the Chinese say, interesting times—especially in the ski industry. We are grappling with issues of growth, diversity, leadership succession, climate change, and pricing, among others. Many of these issues are strangely intertwined, and have been hot topics among skiers and riders and on social media. And all turn up in the pages of this edition of SAM.
Growth is, in fact, at the root of all these topics. Fittingly, the latest installment of the Summit Series, our leadership development program, addresses several aspects of growth. Summit mentors Russ Coloton, Hunter Mountain; Kim Mayhew, Solitude; and Ben Doornbus, Nub's Nob, exchange a variety of opinions and observations.
Inntopia's Tom Foley lays out the path to growth for our summer business and evolution into four-season resorts with activities to match ("Summer Rising, part 2,"). The potential is significant, but there are clear challenges resorts and their communities must confront to reap the rewards.
Our News & Views section reflects a range of growth issues, too. Benjamin Tomczak presents the ski club perspective on growth in a thoughtful Speak-Out, and longtime journalist John Fry addresses the largely overlooked pool of infrequent skiers and riders.
All this comes against the backdrop of strong visits this season, if reports about the increasing crowds at resorts within the Epic and Ikon orbits are true. It seems these passes have grown visits so much that longtime locals at some areas are complaining about the burgeoning crowds. This has already forced resorts to adapt, and will likely lead to more changes ahead of next season.
The diversity issues that have roiled social attitudes across the U.S. have struck outdoor and winter sports organizations, too, as the travails of Camber and the FIS have recently shown.
All that's in News & Views.
On an operations level, snowmaking (pp. 24 and 58) and grooming (pp. 30 and 54) both receive attention in this issue. With all the increased traffic wrought by season's pass sales, these functions have become even more important than they already were. Not surprisingly, resorts of all sizes are adopting automation for snowmaking and increasing the efficiency of their systems. And snow management software is boosting the efficiency of grooming fleets, whether the machines themselves are new or not.
And that's just for starters. Read on, and share your thoughts with us. We look forward to hearing from you!

— Olivia Rowan, Publisher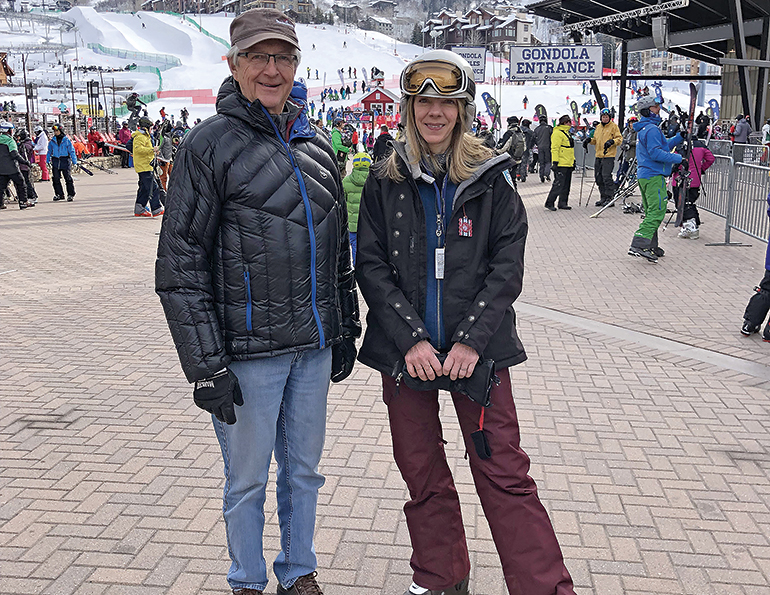 Last month in Steamboat, Colo., Chris Diamond, left, and SAM publisher Olivia Rowan chatted about Diamond's upcoming book on the current state and future of winter resorts. Watch for the book this fall.