The groomer business is facing a conundrum: machines are becoming ever more sophisticated, even as experienced drivers become more difficult to hire and retain. So, as machines and software add new capabilities, PRINOTH and PistenBully are ramping up operator training and, in the case of software, making it ever more user-friendly.
Here's an overview of where the two major suppliers are headed.

PRINOTH
This year, PRINOTH is introducing upgrades and improvements across its fleet in the digital realm, in operator and resort training, and is topping it off with the release of the new HUSKY X.
Husky X. Like the BISON X and LEITWOLF X, the new HUSKY X offers an extended range of motion in the tiller and blade, to allow precision building and shaping. Inclinometer and measurement tools provide the operator with instantaneous data to inform his operation and building.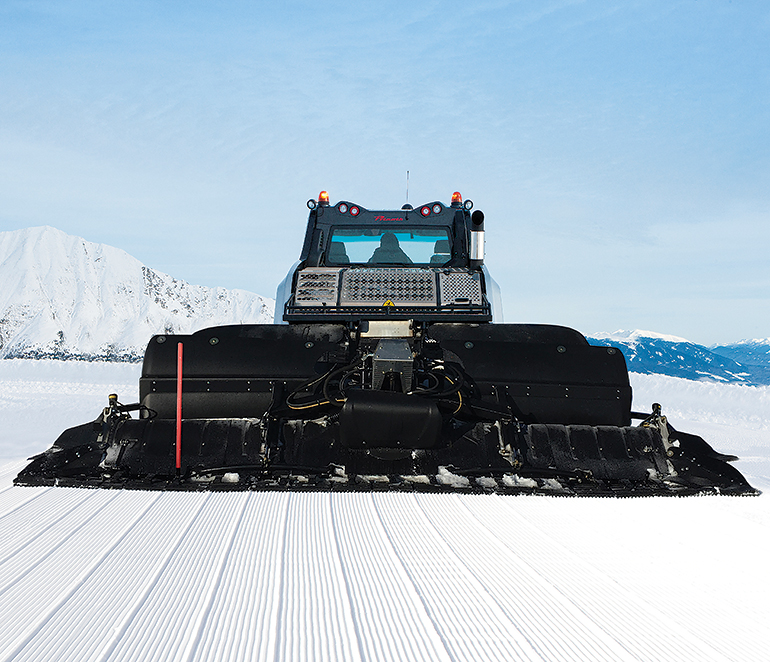 PRINOTH Leitwolf with Posiflex tiller.
What sets the HUSKY X apart from the other park cats in the lineup is its nimble, compact platform. The HUSKY X measures just eight feet wide, so it can fit into even the tightest places to build smaller and more detailed features. The intended application is progression parks and Terrain Based Learning areas.
One can imagine many other uses for such a machine as well: lift ramps, tubing lanes, tight spaces around buildings, indoor ski slopes, etc. And don't let the small footprint fool you: with its 5.1-liter Mercedes OM 934 power plant delivering 228 bhp and more than 650 lb-ft of torque, the HUSKY X is ready and willing to move snow.
Software news. In addition to its SNOW HOW slope management system (see page 56 for details), PRINOTH is working to integrate with Skadii, a platform that promises to be a single access point for critical ski resort management data.
According to Skadii's website, it is an open resort management platform that "combines the operational data of various different software and hardware providers in a single intuitive user interface."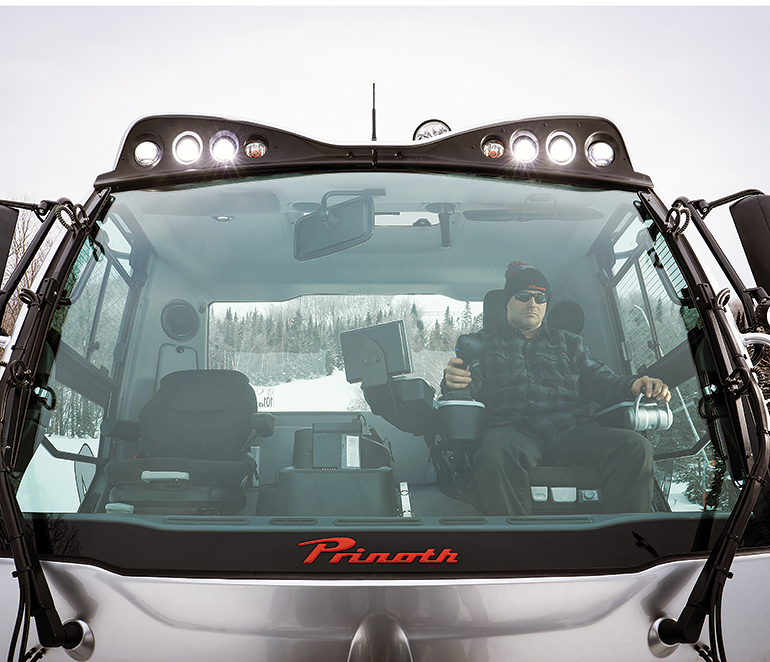 PRINOTH's spacious cab.
Skadii will provide a single dashboard for critical data concerning ropeways, grooming, snowmaking, and resort/administrative management, and PRINOTH is committed to integrating with this resort management-at-a-glance solution.
Mechanical evolution. A new option will be available for the LEITWOLF, still a relatively young release for the North American market: the POSIFLEX tiller. The LEITWOLF, which offers more power, torque, and working width than the BISON (along with a suite of other features such as parallel offset tilling and an adjustable suspension), was previously only available with the POWER tiller, a more aggressive design in use for years in the European market. By adding the POSIFLEX option for the LEITWOLF, PRINOTH is making the transition to this machine even more comfortable for the North American market, which has grown attached to the POSIFLEX over the years.
Under the cab, PRINOTH is staying on top of changes to emissions standards for diesel engines. The entire product line has met EPA Tier 4 emissions standards since 2015. The transition to Euro Stage V standards—a more stringent requirement than EPA Tier 4 standards, with a goal of reducing ultra-fine particulate soot emissions—is already underway. PRINOTH says keeping up with the latest emissions standards and regulations is part of its philosophy of sustainability.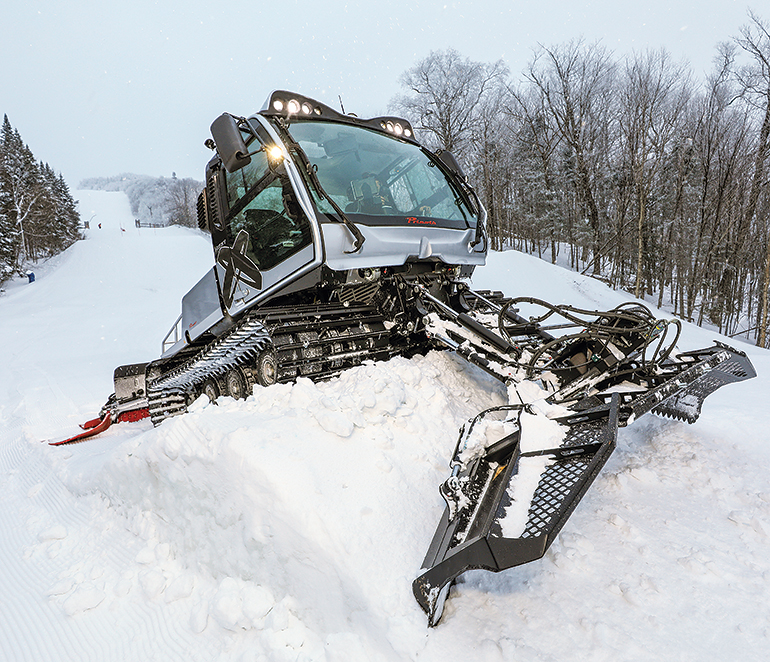 PRINOTH HUSKY X blade (and tiller) has extended range of motion.
Operator training. In addition to the emissions system changes, PRINOTH says the company is committed to increasing operator efficiency by offering operator training, regardless of the vehicles or manufacturers in a resort's fleet. This training will "support an environmentally friendly use of the groomer itself" by "sensitizing the operator to an efficient use without compromising the quality of the slope," says Dr. Andreas Muigg, head of product portfolio management at PRINOTH.
The hallmark of PRINOTH's training is its granular-level customized training programs geared to the individual resort. The program can be tailored to a resort's specific terrain, machines, and operators. Muigg says this is important, since "learning in your own working conditions helps the most."
Muigg also says that training goes beyond just teaching an operator to run the machine well. "A modern ski resort is interconnected between grooming crew, snowmaking, and shop, so all these aspects need to work together like clockwork," he says. To this end, PRINOTH also offers trainings for vehicle mechanics to master the unique elements of snowcat maintenance and repair, and the SNOW HOW platform helps integrate grooming and snowmaking to share information. This data and information sharing allows managers and crews to make the right decisions for efficient snow surface management.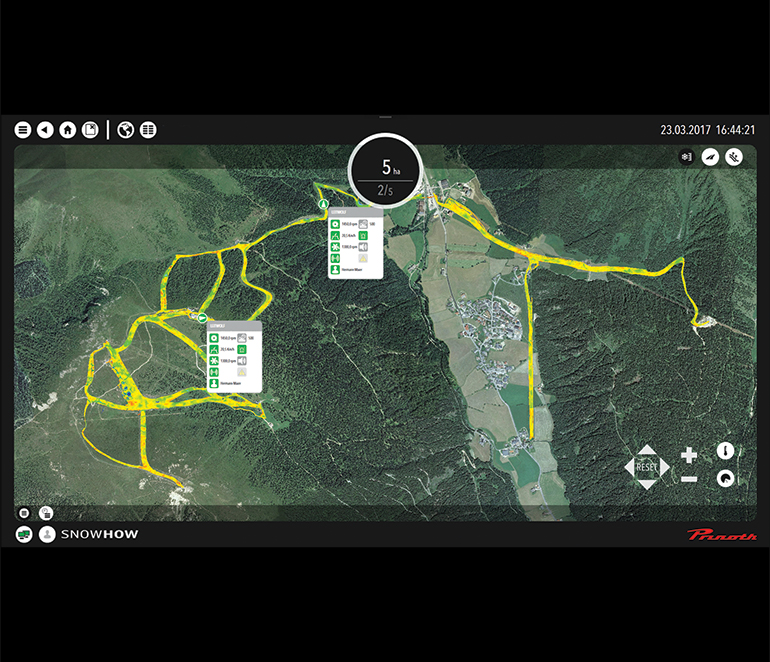 PRINOTH SNOW HOW on-screen map.
The future. Where will PRINOTH be 10 years from now? "We are always, also in this very moment, researching and developing new features in hard- and software to take snow grooming to a new level," Muigg says. He expects continued innovations in efficiency and sustainability, especially with respect to managing snow depth as climatic considerations remain high on the concern list. Technology advances will drive greater computer and digital integration.
Muigg also indulged a bit of speculation: "Maybe the operator only has to push a button, and the blade follows the terrain all by itself. Or maybe a perfectly groomed snow park appears as if by magic... who knows!"

PistenBully
600. PistenBully's new 600, part of the "Level Red: New Generation" of PistenBully machines, debuted last year and is in full swing now. Powered by a Tier 4/Stage V 520 hp Cummins X12, the new 600 is the lightest machine in its horsepower class, PB says, offering improved efficiency and climbing prowess. Features like a larger fuel tank, larger drive pumps, and independent proportional hydraulic controls make the new 600 a powerful and refined machine.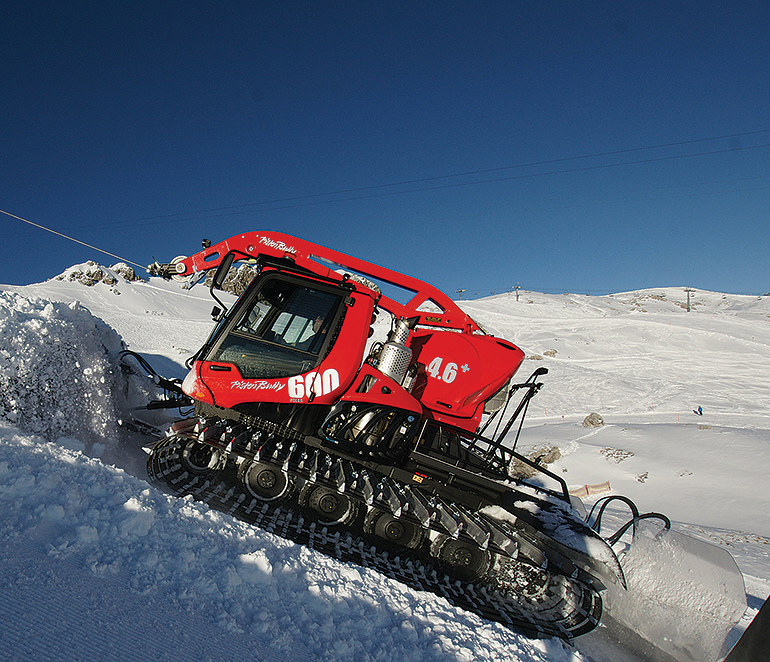 PistenBully 600W winch cat.
For the operator, one of the biggest innovations of the 600 is the 4-axis joystick, which provides intuitive, natural-feeling control movements. The Integrated Operating Concept, a standard design for the cockpit first introduced in the PB 100, is realizing its potential as it makes for a more comfortable and intuitive operating experience, and provides ample customization of controls for the individual operator. For summertime applications, the 600 is available with air conditioning to keep the cab comfortable.
Grooming assistance systems. The new PistenBully 600 is loaded with new tech to help the driver achieve efficient and high quality results. Assistance systems such as AUTOTRACER and SLOPETRACER are a big part of this initiative. These operator assistance systems streamline the process for the experienced operator, and help the neophyte operator produce good results and better production.
AUTOTRACER, when activated, provides intelligent active steering of the stinger, so that the tiller can follow the cat accurately and smoothly around turns. For turns where manual articulation would be difficult and lateral float would lead to jackknifing, with a click of a button on the joystick AUTOTRACER can take over. This system analyzes sensor data related to the steering angle and then calculates a target angle for the tiller, to ensure smooth corduroy and improved turning ability. Counter steering is also available to assist with sidehill grooming.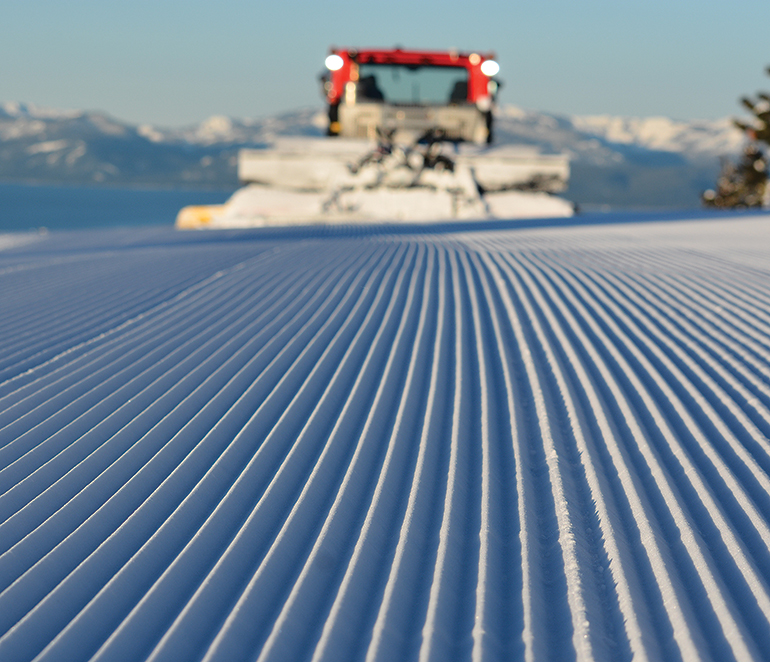 PistenBully-produced corduroy.
Similarly, SLOPETRACER supplies active vertical assistance. It automatically adjusts the position of the tiller as the cat crawls over the varied terrain of a ski slope to keep tiller depth constant. With this automatic uphill and downhill compensation, the tiller accurately follows the contour of the slope. PistenBully's American marketing manager, John Glockhamer, says this results in "a uniformly prepared, better tilled ski slope for the customer."
The behavior of both AUTOTRACER and SLOPETRACER is customizable and adjustable from the touchscreen at the operator's fingertips.
600W. For steep slopes and big pushes, the new 600W with a 4.6 ton (metric) winch offers many advanced winch features, including a new automatic winch pulling force feature—which takes another point of stress off of the operator. This feature, like many other automatic functions, can be overridden if needed (or desired) by the operator for manual control.
The winch itself is an active boom unit for optimum steering capability in difficult snow conditions, with unrestricted 360-degree usability, an icing sensor that monitors the cable roller, and an in-cab display readout of the length of rope on the drum. Up to 4,600 feet of cable length is available.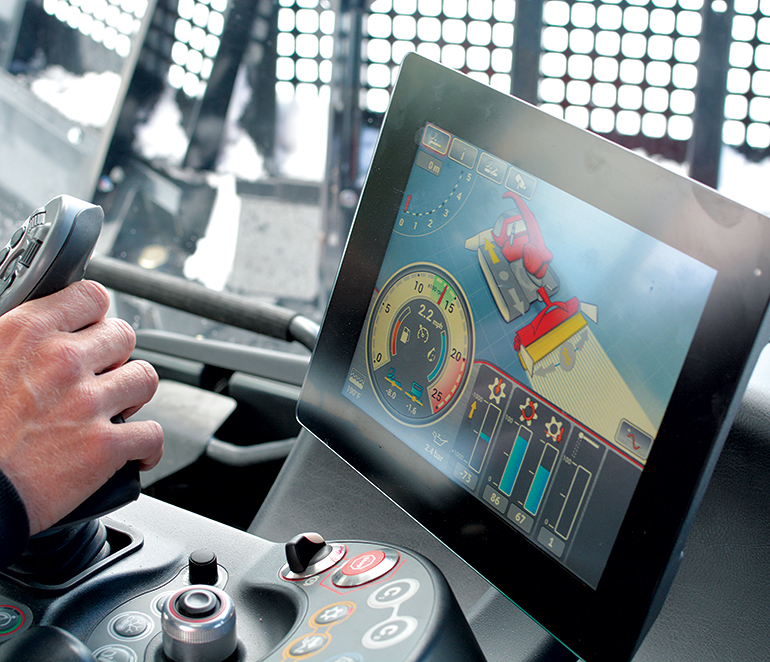 B 4-axis joystick and SNOWsat's new Dashboard screen.
Park Cats. For terrain park work, the 600 Park offers the increased range of motion of both tiller and blade that park builders have come to expect. The blade cylinders are also reinforced for 33 percent greater power than a standard 600, allowing for those big, heavy pushes. Efforts have also been made to reduce the amount of exposed hydraulic hosing. A hydraulic flex lock for the tiller allows easy prep of takeoffs, and LED lights on the tiller and an optional tiller camera provide improved rear visibility for the precision tilling work required in a terrain park.
PistenBully also provides an option for small features and Terrain Based Learning builds in its PB 100 Park. The compact and agile 100 Park, available with either stick steering or a wheel, was the first to sport the Integrated Operating Concept, and offers the same intuitive 4-axis joystick as the 600. A lengthened front push frame gives a working radius of 131 degrees for precision shaping.
Operator training. PistenBully continues to expand its training offerings through the PRO ACADEMY, created to increase the skill set of the professional snowcat operator. Glockhamer rightly points out that the art and science of slope grooming is complex, and that the machines are specialized and sophisticated. The PRO ACADEMY promises manufacturer-independent training to "provide new operators and experienced operators with in-depth information about the vehicle and the art of snow grooming. PRO ACADEMY provides best practices in snow grooming standards for safety, asset utilization, and how to create a world-class skiing surface," he says.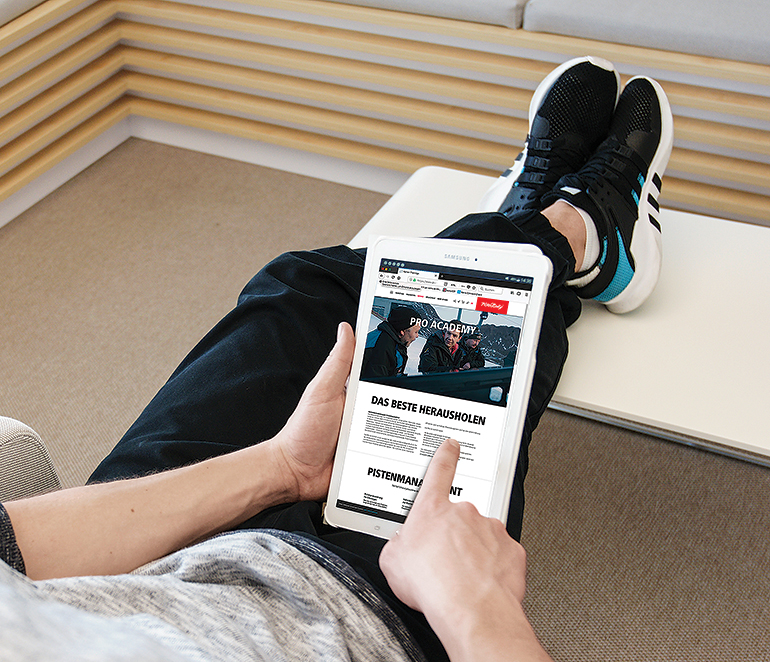 PB Pro Academy online training.
Training is offered in a variety of settings, including classroom training for operators, resort-specific programs for improving snow surface management, and the most recent innovation: online training. Operators can now take a full introductory-level snow grooming course at their own pace online. This training provides a foundation of baseline knowledge of the machines and basic snow grooming techniques. In order to receive a certificate of completion, a series of tests must be passed. This provides an easy way for a new operator to get a leg up, all from the comfort of the computer.
The future. What can we expect to see in 10 years? "Wait and see!" Glockhamer says. "We are constantly pushing the envelope in snowcat technology." He expects the integration of data from across the resort to be a major component of future developments. Improving production and increasing efficiency are two major goals for PistenBully's continued innovations.