Looking for a connection between a rock and a hard place? One way North American ski areas are making that association is with a solution that has been popular in Europe for more than a century: via ferratas. Although the total number of via ferratas in North America is exceedingly small—30 or fewer, according to one via ferrata builder—the last three or four years have seen a spike in interest among ski areas looking for a safe but adventurous and physically challenging activity for summer guests.

A VIA… WHAT?
First, a quick explanation. A via ferrata, literally translated from Italian as "iron way," is a rock-climbing route incorporating metal steps and hand holds anchored in the rock, along with an anchored metal cable to act as a lifeline. Climbers are always attached via harnesses and shock-absorbing lanyards to the lifeline.
The idea is to give a wide range of participants—ages roughly 10 to 70, according to Mike Friedman of Adventure Partners, a leading U.S.-based via ferrata builder—a chance to experience the ascent of a vertical or near-vertical face without having the technical skills of an experienced climber. While the concept may have been hatched as far back as the late 19th century, via ferratas got their first real growth spurt in Italy during World War I as a means of assisting soldiers traveling through mountainous terrain.

COMING TO AMERICA
Since then, via ferratas have become almost as common at European ski resorts as T-bars. Now, North American resorts are starting to jump on the bandwagon, which is why builders like Adventure Partners and Quebec-based Prisme are now focusing on market prospects on this side of the Atlantic.
"The next area we're looking at for via ferratas is ski areas in the U.S.," says Yannick Berger of Prisme. And once building begins, Berger expects a kind of contact high to take effect. "Once people do one, they want to try a different mountain," he says. "It's kind of like skiing."

EARLY ADOPTERS
Adventure Partners installed a seminal via ferrata four years ago at Jackson Hole Mountain Resort on 500 vertical feet of rock above the resort's Bridger gondola and has expanded it since. Several other Western resorts have followed Jackson's lead. Via ferratas of various lengths and difficulties have been or are being installed at Colorado's Arapahoe Basin, Mammoth and Squaw Valley in California, and Taos Ski Valley, N.M., to name a handful.
Yes—via ferratas are principally a Western concept, since at least 100 vertical feet of rock are required in order for an installation to make sense. However, Berger says Prisme has also looked at installing via ferratas in other regions, including Quebec.

POINTS TO CONSIDER
Although popularity might be on the rise, there are reasons for some resorts to consider applying a hand brake. For starters, a via ferrata isn't cheap. Jackson Hole's initial construction cost was $400,000. And though other, less ambitious via ferratas might price out for much less, Berger says installation costs can swell with any difficulty in access for construction equipment to a build site (almost by definition in a challenging location) or any need for specialized labor. Helicopter assistance is a typical expense that can also up the price tag.
In addition, the nature of the activity somewhat limits the number of potential participants compared to other summer activities, such as mountain coasters and zip lines. While Didier Bachaumard of Prisme says, "in North America, via ferratas are for introducing the general public to vertical rock," that may only include members of the general public with a certain degree of physical fitness. Simply put, a via ferrata requires physical exertion.
And because via ferratas are a guided activity, with typically five to six guests per guide, the number of participants at any one time is more limited than many activities. That's why resorts fetch a relatively steep price—typically between $100 and $200 per guest—for a half-day or full-day tour. Considering the experience, though, most participants will say it's well worth the money.

ON-BRAND ATTRACTION
Arapahoe Basin, Colo., embarked on construction of its $500,000 via ferrata this past summer. When completed, the 700-vertical-foot installation, with multiple routes of varying difficulty, will top out above 13,000 feet, making it the highest in North America and perhaps the world, excluding assisted climbing features on Mt. Everest.
The high elevation, says A-Basin's chief operating officer Alan Henceroth, provides the resort a unique selling point. Perhaps more important, says Henceroth, is that the via ferrata fits with A-Basin's brand, which is tagged to adventurous skiing and riding in the winter. Finally, it will be (at least for now) the only via ferrata in a neighborhood that includes numerous other mountain resorts—Breckenridge, Copper Mountain, Keystone, and Vail—that offer a broad variety of summer activities. That gives Arapahoe Basin a unique attraction in an area that draws a large number of summer visitors.
Henceroth says the resort anticipates a return on its initial investment within a few years, despite an abbreviated summer season that typically lasts three months or less at the high-altitude resort. For the time being, he anticipates the via ferrata being open only when the snow is gone. The attraction is scheduled to make its debut in summer 2020.

CATALYST FOR GROWTH
Taos had a somewhat different objective when it began installation of its via ferrata last summer. "We recognized that we needed to grow our summer business," says director of operations John Kelly, who adds the resort was looking for added activities to help fill beds in its recently constructed 80-room hotel, The Blake. "We chose two activities—mountain biking and via ferrata—that would appeal to a more adventurous audience," he says.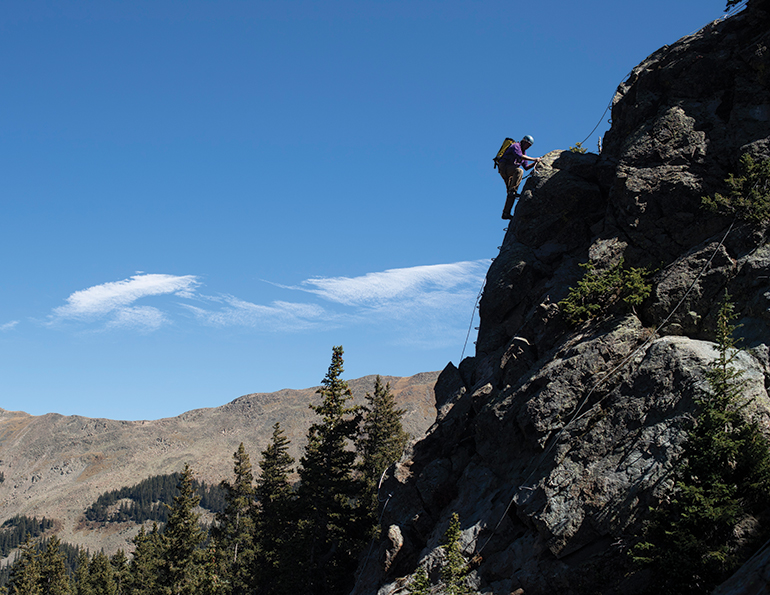 The initial installation at Taos included four beginner-to-intermediate routes on roughly 200 vertical feet of rock near Kachina Peak, along with an approximately 100-foot aerial walkway 80 feet above the ground. The resort is planning a second installation this summer, with another four routes of more advanced difficulty. Kelly sees the via ferratas attracting a wide range of user groups, including families and beginners, "giving them a feeling of what it's like to rock climb." And with Taos targeting group business for a big chunk of its summer revenue, Kelly sees the via ferratas as a terrific teambuilding activity as well.

VALUABLE PARTNERSHIP
If the installation costs of a via ferrata strike some resort operators as daunting, they might follow Squaw Valley's model. Alpenglow Expeditions, a mountain guiding company in the Tahoe area, absorbed the more than $500,000 cost of a 600-vertical-foot via ferrata on the Tram Face near the resort base. Operating on Squaw's privately owned land in partnership with the resort, Alpenglow hosts roughly 30 to 50 climbers a day in the summer, according to co-owner and chief guide Logan Talbott.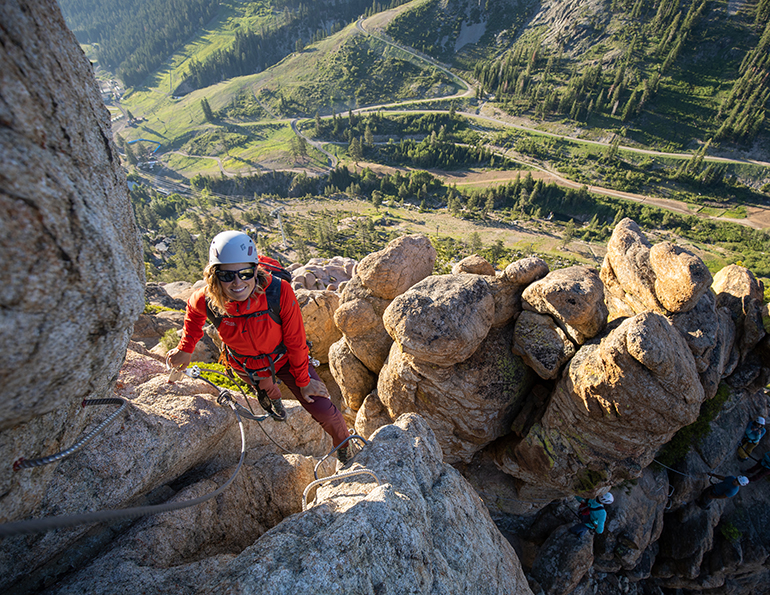 The Tahoe Via Ferrata at Squaw Valley is operated by Alpenglow Expeditions, a local mountain guiding company.
The resort earns no revenue directly from Alpenglow's via ferrata operations. But simply having another summer activity on site draws more visitors to Squaw's base area, which translates to more revenue from food and beverage and retail sales.

VIA VOLUME
For another way to make the numbers work, look to Mammoth Mountain in California, which installed a via ferrata that covers just 180 vertical feet. The abbreviated vertical distance required a lower installation cost compared to those at Jackson Hole or Arapahoe Basin—but there are six separate routes of varying difficulty, which helps spread out climbers. This scale comes with a major benefit, as Adventure Partners' Friedman points out: smaller vertical means "higher throughput," i.e., more paying customers.

IRONING IT OUT?
Friedman says that Adventure Partners currently has two or three other North American ski areas "in the development phase" for via ferratas. So momentum is building. But the appropriateness of a via ferrata is still limited. "It depends on having the technical terrain within the ski area boundary," says Friedman, and not all resorts can claim a sizable hunk of climbable rock. However, if you've got the rock and adventure is integral to your brand, the iron way just might make sense.