Net-based, belay-free aerial adventures are shaking up the summer scene at ski areas and adventure parks. Compared to zip lines, mountain coasters, and bike parks, these unharnessed activities cater to a younger (and sometimes older) demographic, are highly customizable, are high-throughput, can handle large groups, and have few associated staffing costs. All that makes them an appealing option.
Net-based structures can take several forms. Sometimes they are a mix of wooden structures—treehouses and such—connected with netted bridges and other elements. Sometimes the elements are fully enclosed with netting, or made up of it entirely.
Netted aerial adventures can bridge the age and accessibility gap in the summer activities space. "Nature treks are wiggly and jiggly, but not scary, making them a solution not only for the kid who isn't big enough for the other activities, but also for the kid who is a bit apprehensive about high-octane adventures yet still wants in on the fun," says Gerhard Komenda, CEO of East Coast-based adventure park designer Tree-Mendous.
These designs need no belay system, because anytime visitors are off the ground, they are protected by netting, says Mike Stiell, marketing director at Ontario-based Treetop Trekking, which operates 11 zip line adventure parks in Canada.

Partial Enclosures
More and more, designers and builders are appropriating the bridge-and-platform model used in traditional canopy walks for kid-friendly aerial activities that are playful, interactive, and lower risk. Treetop Trekking's Treewalk Village is a great example of an installation that uses netting to enclose some areas. Offered in two of the company's locations, it features a fenced-in area targeting ages 3-7 that centers on a network of brightly colored wooden tree houses connected by net walkways, bridges, tunnels, and ramps, with other non-net features such as slides and wood bridges.
Similarly, North Carolina-based Beanstalk Builders, which constructs zip lines and adventure parks, connects themed platforms with net bridges to create whimsical playgrounds like the one at Anakeesta in Gatlinburg, Tenn. With netted tunnels, plank walks and bridges, and educational elements like a giant American goldfinch nest replica, the Anakeesta Treehouse Village offers the freedom of a traditional playground within an elevated design.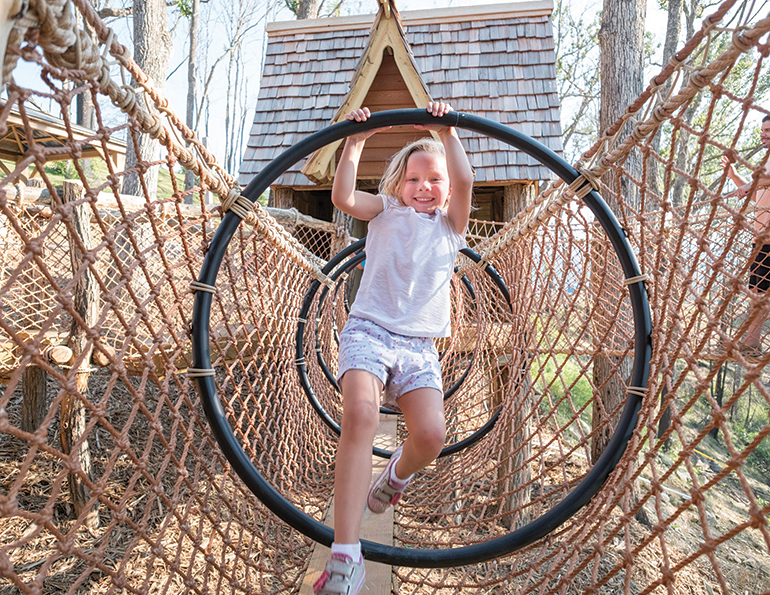 Beanstalk Builder's netted play area at Anakeesta.
At Berkshire East Mountain Resort, Mass., the Tree House Trail, built by Tree-Mendous, has been drawing warm-weather crowds since debuting in 2016. The suspended challenge course features 11 wooden tree houses connected by net-enclosed elements like a mini zip line and a wooden tunnel. Built on black locust posts with a "Swiss Family Robinson" aesthetic, the low risk attraction has "an adventurous feel that kids gravitate toward," says Berkshire East's chief activities officer Gabe Porter-Henry.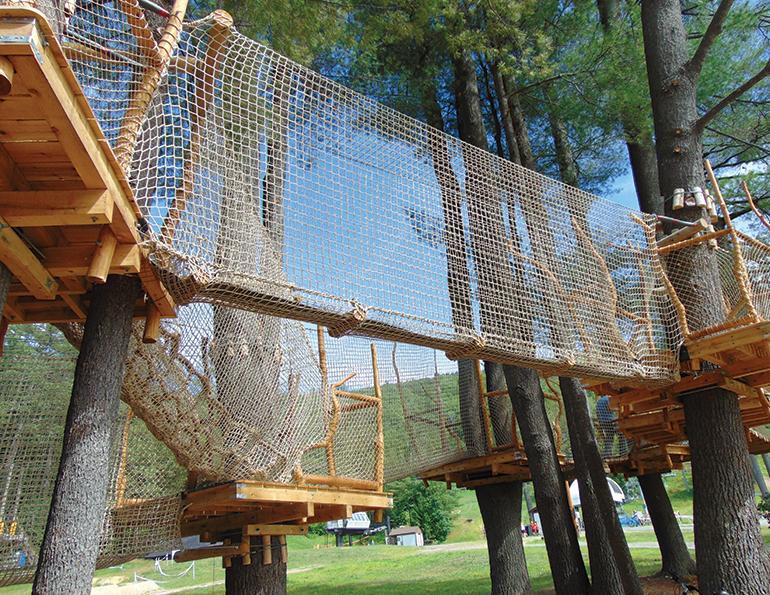 Treehouse Trail at Berkshire East
Indeed, customers seem to be responding to netted courses. The Bronx Zoo Nature Trek, an aerial adventure consisting of walkways, platforms, and huts created by Tree-Mendous, welcomed more than 500,000 visitors in its first year of operation. Thirty percent of all zoo visitors opted for the $6 trek during their visit, a testament to the trek's broad appeal. "Grandma and grandpa can go with the grandkid that is four years old and have a blast in there," says Tree-Mendous CEO Gerhard Komenda.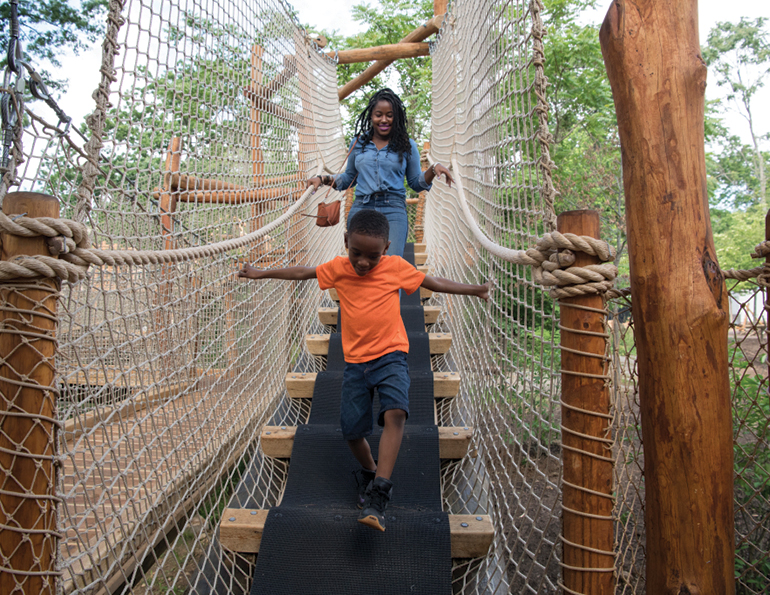 Nature Trek at the Bronx Zoo
At a ski area, netted attractions offer a similar solution to help operators tap into a new demographic and enhance the experience of the existing clientele.
Fully Enclosed
The other trend in this space, according to Robin Ritz of net supplier Incord, is the fully netted adventure system, in which netting serves as both the safety and challenge element.
Treetop Quest, which operates three East Coast adventure parks, has developed several such types of fully netted systems: an obstacle-free net trampoline for amped-up versions of games like dodge ball; Spider Quest, a non-linear obstacle/challenge course with a giant safety net underneath; and the Hobbit Village, also built above a giant safety net, with tree houses and net bridges for bouncing and exploring.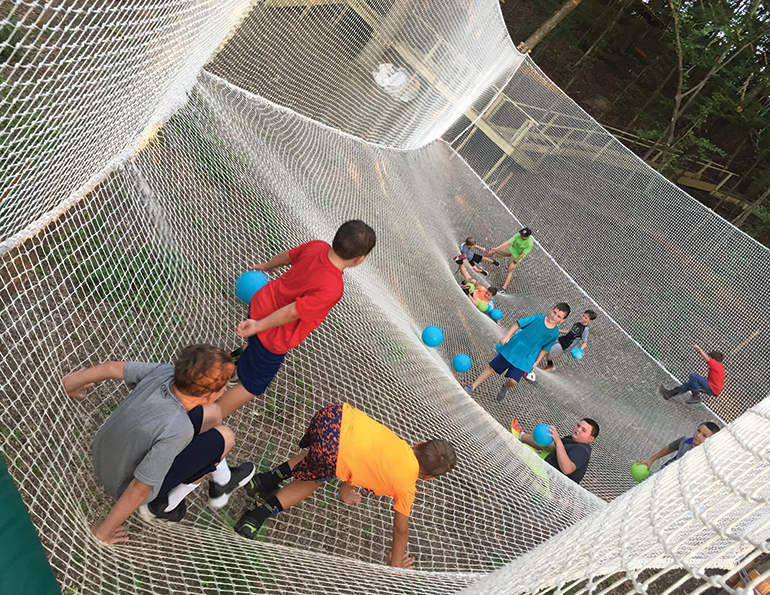 Children play on Treetop Quest's trampoline.
Treetop Trekking has also developed fully netted designs. The company has partnered with French park design firm Parcabout Chien Noir to bring the WonderNet to North America. The WonderNet is one example of a structure made entirely of net, using little to no other materials. The modular, multi-story structures target all ages and are fully customizable, says Didier Bachaumard, Treetop Trekking's head of sales, and feature fully netted elements like trampoline rooms, spiral staircases, slides, bridges and even sleeping pods for adventurous overnight guests.
Greg Allen, director of design and installation for North Carolina-based Challenge Towers, says fully netted designs can take many forms. The company's Skynet Play System is a fully enclosed space that features net bridges, net tunnels, and multiple netted rooms and platforms. "Our first build was modeled after a pirate ship," says Allen, "with a crow's nest that was mounted outside the ship and a net-covered bridge to gain access."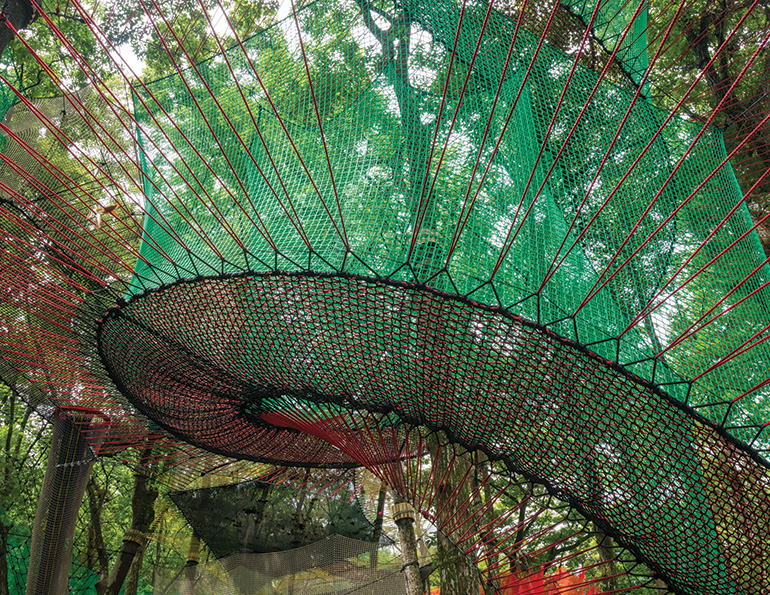 Colorful netted spiral by Treetop Trekking.

Hybrids
These all-net products can often be meshed (no pun intended) with other non-net elements and materials. For example, Treetop Trekking has incorporated a scaled-down version of the WonderNet into its TreeWalk Village to provide the fully enclosed netted area where kids can run, bounce, and roll within the open air bridges and platforms. Tree-Mendous has a similar offering: The Squirrel's Nest, a fully netted area that's usually located in the unused space between bridges and platforms, where, says Komenda, kids will spend upwards of 45 minutes playing.

Why Netting?
There are many reasons to consider a partial or fully netted system to enhance summer operations.
Broad audience. Net-based aerial adventures have largely been designed to serve young kids who are excluded from other aerial attractions due to age, weight, and other equipment-use restrictions. Eliminating the need for harness and belay broadens the range of access. "From a design standpoint," says Ritz, "the objective is to get ages 2 to 99."
Communal experience. Netted attractions offer guests a more communal experience than traditional ropes courses, since they're more mazelike, not linear, versus a belay system activity where you're stuck to the cable. As Treetop Quest development manager Julien Hatton says, "When you do the net course, you share things, because you do them together."
Freedom to explore. On the flip side, for the more independent minded, a netted attraction can offer a guest "the absolute freedom to explore at one's will," says Challenge Towers' Allen. Like the Berkshire East Tree House Trail, which loops back on itself so kids can explore different routes through the attraction.
Location. When building the Tree House Trail, Porter-Henry says it was important to not only add more activities for families, but to add more activities within Berkshire's base area. While lots of Berkshire East's other summer activities happen up on the hill, the Tree House Trail sits in a stand of trees right near the resort entrance, adding atmosphere and energy to the base.
Design versatility. Netted attractions have universal design potential. Certain types can be made ADA compliant, like the Bronx Zoo Nature Trek, which has split levels and an ADA-accessible route. And operators see a lot of possibilities for net systems to cater to kids with disabilities. "Net-based attractions make a great activity for guests with special needs who may not be able to manipulate a traditional belay system," says Treetop Trekking's Stiell. And Allen envisions netted installations being used as a therapeutic tool.
Expandable. Some companies design their netted attractions with future expansion in mind. With Treetop Trekking for example, a resort could minimize its initial capital investment by starting with a just handful of platforms and bridges, then grow the attraction incrementally. "Instead of spending $400k or $500k up front, you can have a progressive investment, adding a few treehouses to your village each year," says Bachaumard.
High throughput; immediate access. Perhaps the most significant advantage net systems have over other summer offerings is high throughput. Some netted attractions can accommodate as many as a 100 guests at one time, and guests can get into the attraction quickly. "It takes too long to put 150 people in the trees at the same time with a belay system," says Hatton. "But with a gear-free netted attraction, guests can start climbing right away; there's no need for lengthy ground schools and gear-ups."
Easier staffing. If you have a netted course, you don't need specialized staff. An attraction that can be run without specialized staff reduces operating costs. And many operators note that their netted systems can be run at ultra lean ratios—one staffer to 60 guests, for example.
Quick ROI. High customer throughput and low operating costs equal a quick return on investment for many operators. For example, Hatton says that Treetop Quest's net course starts at $90,000 and can serve 10,000 to 15,000 people a year. Depending on the admission fee, operators could see a return on investment in the first year.
Customer satisfaction. Because you aren't working with harnesses and belays, there are no fixed start times. "It doesn't cost you more to let kids go twice," says Komenda. And, because the attractions are high throughput, lines move fast.

Net Worth?
As with any aerial adventure, netted installations come with their own set of challenges that should be considered.
Complex installation. A lot of operators agree that netted enclosures can be more complicated to install than, say, traditional ropes courses. "Working with these structures takes a very large design and installation effort, and may cost more when compared to the modern aerial course," says Allen.
Dealing with trees. Komenda notes that working directly with trees instead of poles can present unique engineering challenges as well. "There is no chart to tell you how much a tree holds," he says, which is why he's been working with the same engineer since day one. The two have accumulated data sets to support their tree work. When planning a tree-based installation, it's vital to consult with experts—arborists, engineers, etc.—who have specific knowledge in this area.
Maintenance. Nets can be expensive to buy and expensive to replace, especially when heavy, wet snow is present with nets that stay up winter-long.
Higher environmental impacts. According to Komenda, netted systems have higher environmental impacts than traditional challenge courses. Net courses often require a lot of bracing and side loading and an extra level of cribbing that ropes courses do not, which means more individually impacted trees. Still, adds Komenda, installing any type of tree-based activity instead of clearing the area is a boon for tree conservation.

Netting a New Audience
While there are logistical concerns when considering a net-based attraction, the potential to operate year-round is a plus. While Berkshire East doesn't currently operate its Tree House Trail in the winter, Porter-Henry sees the possibility. "Depending on where you are located, the attraction could provide a nice additional activity in the winter for children's programs," he says.
Families have lots of choices in the summer, so kid-friendly netted installations can help a resort stand out in a competitive field. Hatton says Treetop Quest's fully enclosed net trampoline attractions were developed for precisely that reason—to help diversify the company's offerings in a saturated European adventure market, not as a replacement for the traditional challenge course, but rather "a brand new adventure in the trees."