With sustained low unemployment and young Americans increasingly focused on academics during school breaks, many ski areas are newly interested in hiring internationally to support seasonal staffing. While the J-1 visa Summer Work Travel (SWT) program and H-2B visa program for Temporary Non-Agriculture Workers both allow American businesses to hire internationally for seasonal positions, they are fundamentally different programs. Understanding the difference matters for both recruitment and policy.

The J-1 Visa Summer Work Travel Program
The J-1 visa Summer Work Travel (SWT) program is a cultural exchange program that stems from the Fulbright-Hayes Mutual Education and Cultural Exchange Act of 1961. It is administered by the U.S. Department of State, which is the same government agency that staffs U.S. Embassies and engages in diplomacy with other countries' governments.

The core mission of all J-1 visa exchange programs—including intern, teacher, research scholar, in addition to SWT—according to the U.S. Department of State's Bureau of Educational and Cultural Affairs, is to build a foundation for peaceful dialogue and collaboration through first-hand experiences of American people and culture.

Of course, U.S. ski areas and other businesses benefit from the work component of the SWT program. The work also enables participating students to defray the costs of their cultural exchange. Supporting seasonal businesses is a great side effect, but the primary goal is to foster mutual understanding via people-to-people diplomacy.

By contrast, the H-2B visa program is centrally a work program, administered by the U.S. Department of Labor (DOL) with the goal of staffing temporary positions that would otherwise remain unfilled. Employers directly sponsor guest workers on the H-2B and must demonstrate that they cannot hire Americans for open positions using DOL criteria.

To ensure a robust cultural exchange and the health, safety, and wellbeing of J-1 visa exchange visitors, the State Department designates SWT sponsors. Among other things, sponsors help to match participants with appropriate positions and provide resources that help them make the most of their cultural exchange program, such as guides for dealing with culture shock or volunteer opportunities in their host community.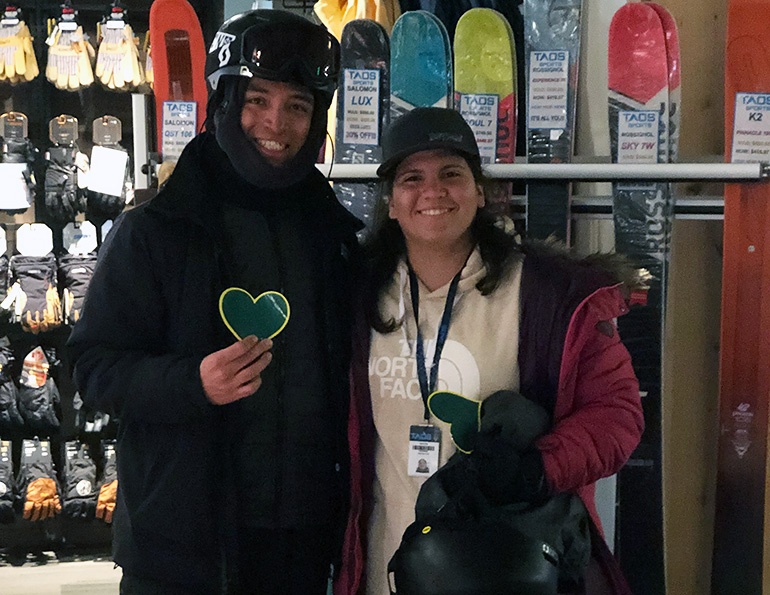 SWT participant placed with New Mexico ski area host company.

J-1 SWT vs. H-2B: Jobs and Participants
The differences between the J-1 visa SWT and H-2B visa programs are reflected in the types of positions participants are eligible to fill, as well as participant demographics.

Cultural interaction. State Department regulations require that SWT participants routinely interact with American coworkers and customers in order to get to know the people and the culture. This is why participants are oftentimes placed in positions such as ski lift operator, cashier, or rental attendant at ski areas.

The H-2B visa program has no requirement for routine interactions with Americans and most H-2B jobs are manual work intensive. Groundskeeper is the most common H-2B job title.

Job movement. Because work is not the fundamental purpose of the SWT program, participants are free to take a new, qualifying position. For example, a cashier who excels at customer satisfaction might become a guest services agent.

Conversely, since the H-2B visa is tied to a specific vacant position, guest workers are not able to change roles.

Students vs. workers. SWT participants are college students in their home countries. They're typically young (ages 18-25) and are looking to further improve their English, gain work experience abroad, and meet friends from around the world. Because SWT exchange participants come to the U.S. during their lengthier college breaks (roughly four months), those from South America are often a great fit for ski areas during the winter season. Growth in U.S. ski area summer operations presents opportunities to host participants from nations in the northern hemisphere, such as China, Ghana and Romania.

The picture is again different for H-2B guest workers. They are older, with an average age of 32. More than 70 percent come to the U.S. from Mexico. And visa program dates for those on the H-2B are not tied to a university calendar.

Many SWT participants will go on to work for, or create, a business where international experience matters or become leaders in their home countries. In fact, 1 in 3 world leaders participated in a cultural exchange program.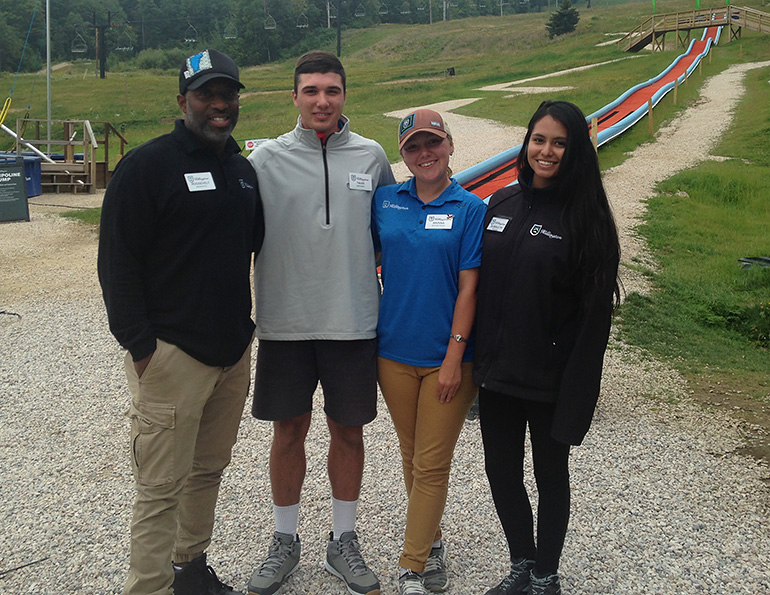 Vermont host employer with SWT participants for Summer Ops.

Hosting Summer Work Travel Participants
Contrary to some recent news reports, there is no political reason or new policy that makes it more difficult for eligible host employers to hire SWT participants. The total number of SWT participants that come to the U.S. each year is limited to about 109,000 and has been since 2012. This limit was established so that the Department of State could ensure the program's growth best supported the public diplomacy aims of the program.

More than a job. Eligible host employers that have trouble attracting SWT participants might consider how they can improve the opportunities they offer. SWT visitors are self-starters who are looking for a meaningful experience. In order to attract participants, host employers must not only provide a job, but also provide an overall cultural experience. Those that support cross-cultural learning with potlucks, group trips, and "Exchange Day" celebrations are especially appealing.

"If you're going to be competitive to get these kids, you really have to do it well," says Sugarbush Resort president Win Smith. Sugarbush takes its SWT employees on trips to Burlington, Boston, and Montreal. "They're not just here as laborers," adds Smith.

Culture at the workplace. While it takes some extra work to develop cultural programming in order to attract SWT participants, it also brings unique rewards: More than 92 percent of host employers report that participating in the program contributes to a positive workplace culture and brings an international flair to their establishment. Andrew Graham, general manager of CinéBistro at Solaris theater in Vail, says SWT participants "help with bi-lingual guests, speak of their homes and customs and, in general, became an integral part of day to day operations."

In addition, many host employers gain something less tangible: lasting friendships and the reward of seeing young people from around the world thrive and experience American culture. Trent Thibaudeau, assistant director of HR at Viceroy Snowmass in Colorado, says, "Just to give these participants the opportunity to experience life is amazing. When they succeed, I know I've done my job."

The SWT Policy Landscape
Some may wonder if it's safe to rely on the SWT program for staffing, given concerns about the 2017 "Buy American Hire American" executive order (BAHA). BAHA took aim at visa programs that enable businesses to hire abroad—especially the H-1B skilled worker visa program—with the goal of improving employment conditions for Americans.

While J-1 visa programs were not mentioned in BAHA, several sources reported that senior White House staff had proposed cutting the SWT program and four other exchange visitor programs. This proposal never came to fruition, thanks in large part to the host employers who helped to set the record straight about how the J-1 visa programs benefit American businesses and host communities.

Since 2017, supporters of J-1 visa programs have continued to communicate this critical message to Congress. As a result, the fiscal year (FY) 2018 through 2020 appropriation bills that fund the State Department have included a special provision protecting the SWT program from being changed or cut before Congress and the public have an opportunity to weigh in.

It's worth noting that, while the provision is attached to an appropriation or funding bill, the SWT program is one of several exchange visitor programs that are privately funded and operate at no cost to U.S. taxpayers.

How to Show Support
Returning to the question of whether it's safe to rely on the SWT, the answer is yes, but it's still important to share how the program supports your business and community. For one thing, we need to ensure that the same special provision protecting the SWT program is included in the FY 2021 appropriation bill. Supporters can ask their members of Congress to retain the provision and share how the SWT program supports their business and community, as well as public diplomacy.

Those interested in voicing support for the SWT program can also join Americans for Cultural Exchange (americansforculturalexchange.org), a grassroots coalition of more than 1,000 businesses, chambers of commerce, and trade associations that support the J-1 visa SWT and other exchange programs. Joining is a free and easy way to demonstrate what host employers know firsthand: international exchange programs support American businesses, contribute to our local economies, and bring a valuable intercultural dimension to our communities. Supporters can also find state-specific factsheets and sign-up for news about the program and advocacy opportunities.

As we become more connected globally, it's no surprise that programs like the J-1 visa Summer Work Travel program have grown in popularity. While the program helps ski area businesses thrive during busy seasons and supports U.S. foreign policy, its success is ultimately tied to simpler things, like the positive workplace cultures and international friendships that it fosters.

Greenheart Exchange is a nonprofit organization that offers cultural exchange programs in the United States for people from all around the world. It is a U.S. State Department-designated sponsor of the Summer Work Travel exchange visitor program.
About the authors: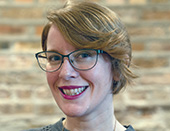 Bonnie Washick, Ph.D. manages government relations, advocacy, and public awareness initiatives for Greenheart Exchange. Previously, she worked in U.S. immigration law. She has only ever been skiing in Japan while on an exchange program, but hopes to correct that oversight soon.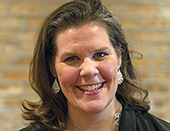 Renee Clarke has been with Greenheart for six years, connecting with various industries, including ski resorts all over the U.S. Renee focuses on onboarding qualified host organizations that are committed to cultural exchange. As a Chicago native, Renee has explored more gondolas as a tourist, usually in the off-season; however, she has braved the slopes twice, and hopes to do it much more.