NSAA Western Winter Show Squaw Valley, Calif., Jan. 14-16NSAA Western Winter Show Squaw Valley, Calif., Jan. 14-16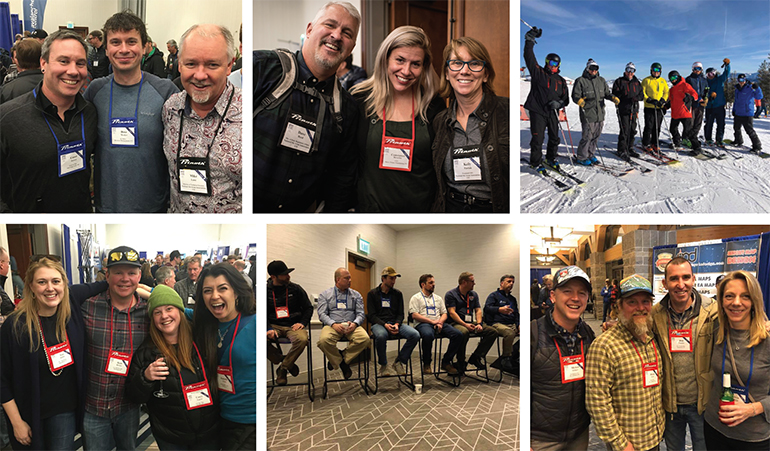 Nearly 700 ski area operators, suppliers, and industry experts descended on Squaw Valley, Calif., for the NSAA Western Winter Conference and Trade Show. Top left: SAM senior editor Dave Meeker (middle) talks lifts with Conor Rowan (left) of Star Lifts USA and NSAA's Mike Lane. Top center: Share Winter CEO Constance Beverley (middle) with Dave Byrd and Kelly Pawlak of NSAA. Top right: A little networking before dropping in for some excellent turns at Squaw. Bottom left: (L to R) Snowbird's Tess Hobbs and Kent Bernier are all smiles with Woodward Park City's Casey Fauver and Dani Waite. Bottom center: Suppliers and operators sit on a panel about operational integration. Bottom right: (L to R) Michael Stringer and Summit Series mentor Hiram Towle of Mt. Ashland Ski Area; Snowbird's Dan Crooker; and SAM publisher Olivia Rowan enjoying the trade show.
NSAA Eastern Winter Show Killington, Vt., Feb. 4-5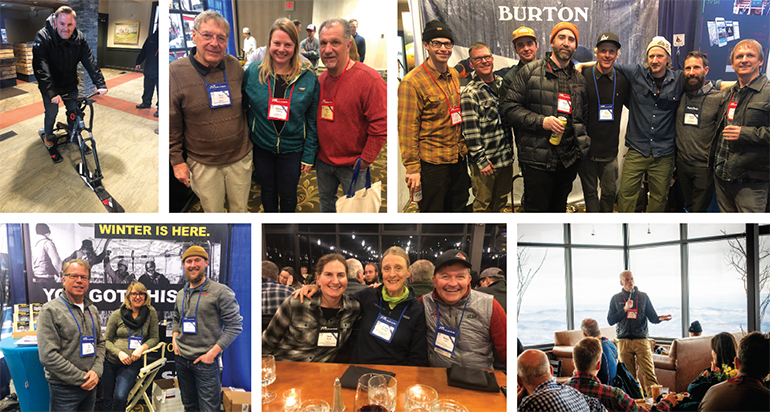 The NSAA Eastern Winter Conference drew a big crowd to Killington Resort, Vt. Top left: SNOW Operating CEO Joe Hession tests out the SNOGO bike. Top center: Sam Geise (left) chats with Rebecca Kullberg and Robert Gallo of Mount Peter. Top right: (L to R) Jared Minassian, Loon Mountain; Shaun Cattanach, Burton; Kevin Bell and Brian Norton, Loon Mountain; Kevin Laverty, Effective Edge; Matt Jaggerman, Burton; Mike Bettera, Effective Edge; Jeremy Cooper, Boyne Resorts. Bottom left: Jay Paul and Nick Green of Buddy stopped by the SAM booth and said hello to SAM's Sarah Wojcik. Bottom center: Ski Vermont's Molly Mahar (left) with Claire Humber of SE Group and Daren Cole of Leitner-Poma. Bottom right: Killington GM Mike Solimano speaks to attendees about the latest at Killington.
Outdoor Retailer + Snow Show Denver, Jan. 29-31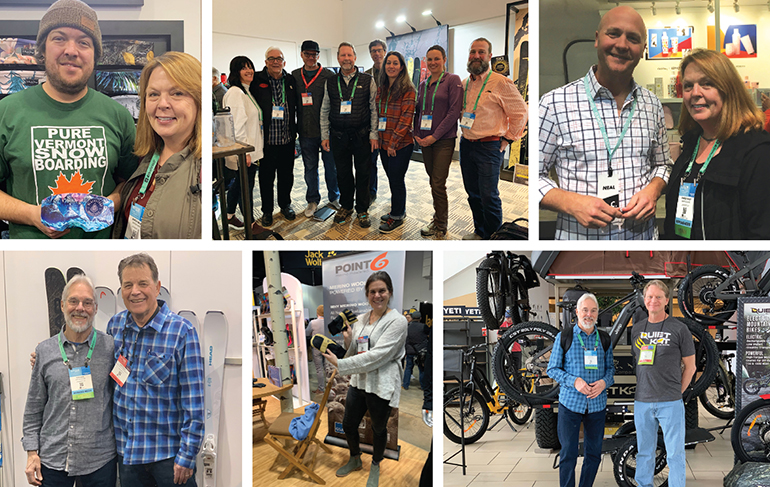 The annual Outdoor Retailer + Snow Show brought the outdoor and snowsports industries to the Denver Convention Center where the latest in winter gear and equipment was on display, and discussions focused on the industry's role in combating climate change. Top left: BlackStrap Industries' Jim Sanco shows SAM's Sharon Walsh the company's new goggle cover. Top center: The rental buying group from Alterra Mountain Company visits the Rossignol showroom. Top right: Sharon Walsh stops by to chat with Neal Klein from Corkcicle (deluxe canteens and accessories). Bottom left: SAM editor Rick Kahl says hello to Mike Poole at HEAD. Bottom center: Lib Diamond of Point6 shows off the company's new all-natural glove line, made with Merino wool and leather. Bottom right: SAM's Rick Kahl catches up with Brian Walton to learn more about the newest e-bikes from QuietKat.
ACCT Conference and Trade Show Raleigh, N.C., Feb. 5-8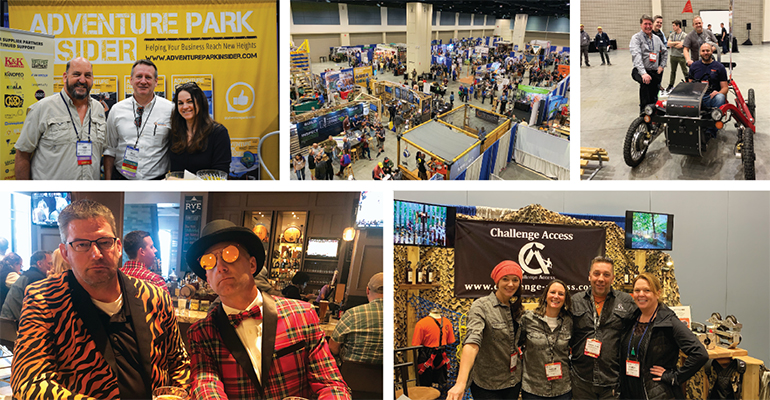 SAM represented sister publication Adventure Park Insider at the 30th annual Association for Challenge Course Technology Conference and Trade Show, which brought more than 1,100 aerial adventure operators and suppliers to Raleigh, N.C. Top left: Wildwood Adventure Partners' John Hines (left) with Paul Cummings, Strategic Adventures, and SAM's Sarah Borodaeff. Top center: The trade show hall was a happening place. Top right: The CLIMB Works Design team checks out the Swincar from Adventure Sports Innovation. Bottom left: Josh Tod and Erik Marter prep for their ACCT Olympics emcee duties. Bottom right: SAM's Sharon Walsh (right) hangs with the team from Challenge Access.