No Lift, No Grooming, No Kidding
The crowdfunding effort raised more than $100,000. Opening weekend saw more than 150 skiers. The backstory is promising: sales of backcountry gear (skis, boots, bindings and skins) grew 6.1 percent in 2018, and 9.1 percent in 2017. Bluebird Backcountry's hike-to-ski concept in Colorado could prove that you don't need lifts or grooming to sell day passes, and might change the way people think about ski areas.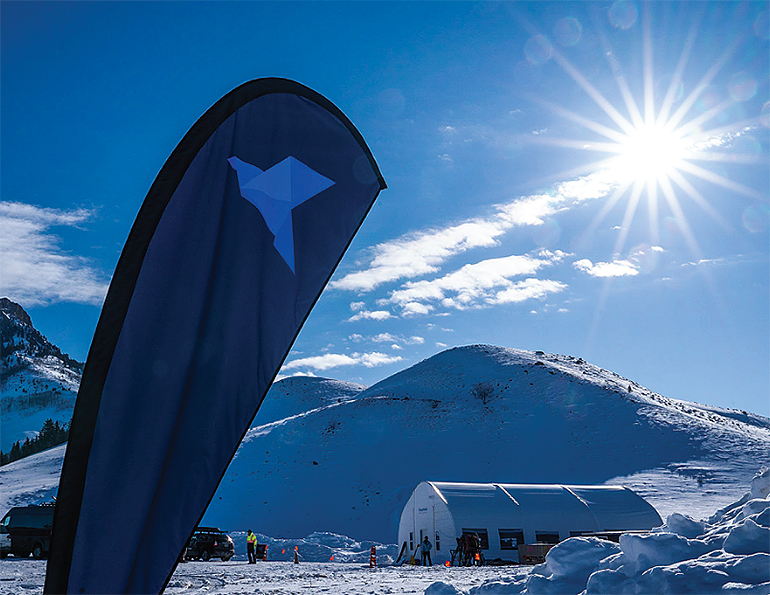 Bluebird Backcountry, Colo., opened Feb. 15.

The area, 40 miles south of Steamboat Springs outside Kremmling, Colo., opened on Feb. 15. It has 1,500 acres of skiable terrain and 2,200 feet of vertical. Three hundred acres of the terrain is freely accessible to the general public for a $50 daily rate, with the additional terrain reserved for guided-only access.

Bluebird offers most of the services found at traditional ski areas, including avalanche mitigation (excluding explosives), boundaries, ski patrol services, an on-mountain warming hut, and a base facility featuring backcountry gear rentals, along with guides and instruction. The idea is to offer a low-cost, user- friendly experience that appeals to skiers just getting into earning their turns as well as families and mixed ability groups.

Some observers and experts say this may change how ski areas do business.

"I think this will be an amendment to services that are offered at ski areas," says former Alaskan Heli guide turned PR guru Eric Henderson, whose Meteorite agency has worked for Bluebird founders Erik Lambert and Jeff Woodward.

Learning Grounds
With backcountry and sidecountry use exploding and many participants lacking proper knowledge or gear, the Bluebird model is worth paying attention to.

"We actually can be more of the top of the funnel to usher people into avalanche courses and learning how to go into the backcountry," says Lambert.

"For learning to skin and learning to travel in the backcountry, Bluebird offers a great feeder," Henderson says.

The Bluebird concept has resort planner Chris Cushing of SE Group excited, too. Cushing, a regular backcountry skier in Utah's Wasatch Mountains, says he has watched the number of backcountry users rapidly increase.

"Some of these guys do not look like your typical users," Cushing says. "But if people from New York City or Chicago want to go to Utah or Colorado to go touring, that's great." Bluebird, he says, gives these folks "a way that they can ease into it," making the experience safer and "helping them to understand how to protect themselves [in the backcountry] and introducing them to the sport."

Different Kind of Operation
The slate of services at Bluebird, says Lambert, differentiates it from a guiding operation. "People can show up and go out on their own," he says. "We have a ski patrol doing avalanche control, ski cutting, and assessing stability. We have a boundary that is well marked, and people don't need to stay with a guide.

"It's an enhanced backcountry service. The structure of a guide service doesn't scale. We are trying to swap out the variable costs of hiring a guide with the fixed costs and amenities of a ski area."

Cushing is bullish on the concept for ski areas across North America. He feels that the concept is actually more powerful if included in the menu of products that a ski area already offers. For a fee, of course. "I think actually that people would be more likely to use this service at an existing resort," says Cushing. "Like cat skiing at Grand Targhee, you could try if for a half day or a full day."

The idea isn't limited to the Rockies, he adds. Bolton Valley, Vt., already has a robust backcountry touring operation. Plus, "Stowe has areas they can develop, and I could see that someone could go to Stowe and do a touring trip if it is guided or on your own," he says. "Developing this terrain would not be a huge expense to the resort."

Critical Mass
While Lambert feels that Bluebird's concept is replicable, he's uncertain that he'll see an influx of visitors from Chicago soon.

"We don't know yet if people are willing to travel," says Lambert, though Bluebird hosted four East Coast skiers during opening weekend. "Right now we are testing our terrain. Is the location the right location from a distance-to-people perspective?"

It's an apt question. While Colorado sees enthusiastic participation in backcountry skiing and riding, the overall number of backcountry participants remains small. According to Snowsports Industries America, there were only 704,000 alpine touring and 680,000 splitboarding participants in North America during the 2017-18 season.

Still, Bluebird only needs 1,500 skier days this winter to be viable, and seems poised for success. It had sold more than half that number a week after opening.

"We have created a differentiated offering," says Lambert. "Nothing we are doing is entirely new, we're just putting a lot of conveniences in one spot." That could be a winning formula. —Tom Winter
Big Snow: Operational Nitty Gritty
North America's first indoor ski dome (see full story, page 56) has several unique operational aspects:

SNOWMAKING
• It took five months to make enough snow to open.
• The system has 12 snowguns mounted on gantry platforms 30 feet off the ground. Each gun has a single nozzle about the size of a 5-Hour Energy bottle.
• The guns can pan 180 degrees.
• Every night, operators drop the temperature to 22 degrees, and the snowmaking system runs for four hours, making about a half-inch of fresh snow.
• Each snow gun uses 1.5 gpm, for a total of 43,200 gallons of water each night.

CHAIRLIFT
• Fixed-grip Doppelmayr quad with no towers—crossarm assemblies are attached to the ceiling of the dome.
• Speed: 360 fpm
• Vertical rise: 120 feet
• Length: 650 feet
• Capacity: 2,407 passengers per hour
• Chairs: 39
• Two conveyors serve the learning area, and a platter lift parallels the chairlift for additional capacity when needed.

COOLING AND INSULATION
• Walls: insulated with two feet of polyisocyanurate with a vapor-proof membrane on either side, sandwiched between two insulated metal sheets.
• Floor: six-inch concrete slab with a vapor membrane on top, then six inches of molded eps insulating board. On top of that is a two-inch steel board-deck.
• Channels in the deck every six inches house a one-inch poly line filled with glycol from the cooling system. Covering/protecting the lines is metallic concrete that holds the cold efficiently and cools the snow from the bottom.
• The main air-cooling system is 13 recirculating coolers mounted 40 feet off the ground.
• An air-handling unit brings in fresh air and cools it before it enters the facility.

GROOMING
• PRINOTH Husky X snowcat with Stage IV final engine, which burns clean enough to run indoors. (Previous owners planned to use a propane fueled snowcat.)
• The snowcat garage has a melt pit covered with a metal grate. "Used" snow is pushed onto it and sprayed with hot water to quicken melting, then reintroduced into the snowmaking system.
SUPPLIER NEWS
Taylor Ogilvie was appointed CEO of TECHNOALPIN USA at the start of the new year. He is based out of the company's U.S. headquarters in Denver.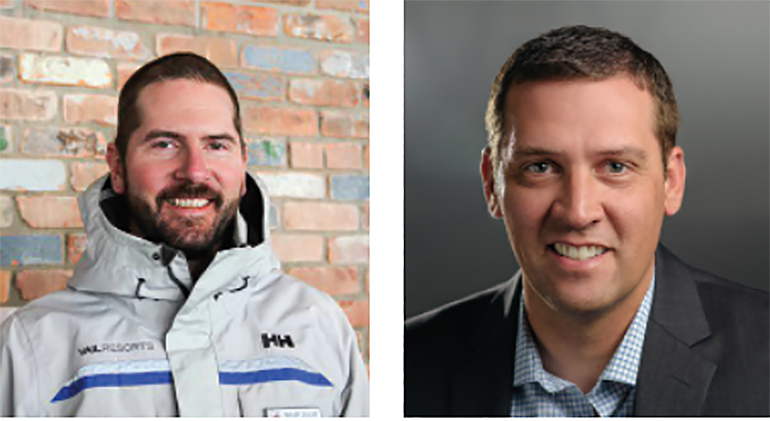 Taylor Ogilvie, CEO TechnoAlpin USA, and Justin Holmgren of PRINOTH.

Snow grooming equipment company PRINOTH has made Justin Holmgren the sales representative for its Intermountain USA region, to be supported by PRINOTH's Salt Lake City office.

INNTOPIA has received ISO 27001 security certification, signifying a level of data protection typically reserved for Fortune 500 companies. Inntopia's ISO 27001 certification places Inntopia's security efforts at a level few other travel vendors have achieved. Certification applies to Inntopia's technology as well as its infrastructure and employee operations.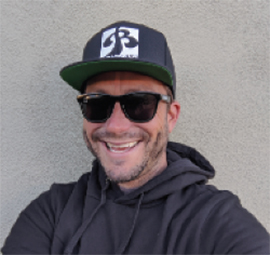 Tim Baker, BigAirBag's new North American general manager, is helping lead the company's new San Diego office.BIGAIRBAG is expanding its reach in the North American market by opening an office in San Diego, Calif. Leading this change are Jake Walker as chief operating officer and Tim Baker as North American general manager.

MARKIT! FORESTRY MANAGEMENT has appointed Brad Christiansen as its vice president of operations.

PHOCUSWRIGHT named Charuta Fadnis as senior vice president, research and product strategy.

ACCESSO TECHNOLOGY GROUP's Steve Brown, founder of the company's namesake business, has returned to the helm as chief executive officer.

Ropeway manufacturer BARTHOLET and the MND GROUP have extended their collaboration agreement by combining their sales, operational and R&D forces, industrial tools, product catalogs, and technologies. The companies aim to strengthen their collective position in the global ropeway industry.

THE OUTDOOR GROUP, a brand of Active Interest Media, has made several promotions within its leadership. Fiachra "Fig" Stokes assumed the position of general manager; John Haskins, longtime producer, took on a broader role as managing director of content for Warren Miller Entertainment, SKI Magazine, and Fly Fishing Film Tour. Ginna Larson has been named managing director of partnerships, and Jessica McGee is the new managing director of marketing.
PEOPLE
In the West, industry veteran and former SAMMY winner Chris Jarnot has accepted a consulting role with Extell Development Company (EDC), focusing on Extell's new Mayflower Mountain Resort project in Utah.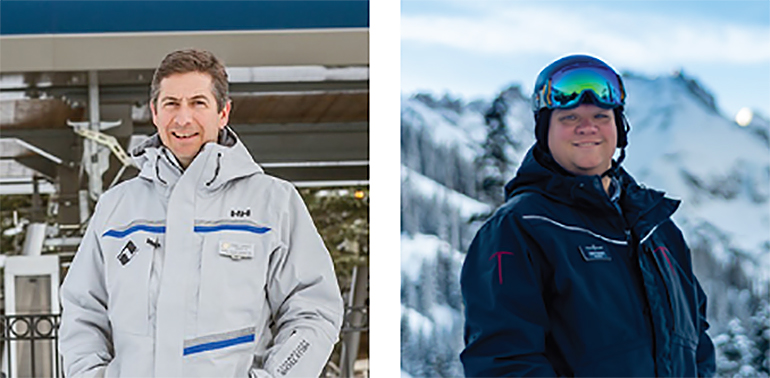 Chris Jarnot is consulting for Extell Development Company; Matt Thomas joins the team at Telluride.

Telluride Ski and Golf Resort, Colo., has hired Matt Thomas as its new director of risk management. … Steamboat Resort, Colo., promoted James (Jimmy) Schneider to ticket office director for the resort. … Ski Santa Fe, N.M., appointed Josh Faber as mountain manager and Tommy Long as operations manager.

In the East, Boyne Resorts named Brendan Ryan as VP of snow surface management and design, and hired Thad Quimby as its new VP of CRM and marketing automation.

The Gunstock Area Commission (GAC) has hired former Waterville Valley general manager Tom Day as the new president and general manager of Gunstock Mountain Resort, N.H. He succeeds longtime GM Greg Goddard, who ended his successful tenure at the resort Jan. 21. ... Jeff Harvey Sr., operations manager at Ski Butternut, Mass., officially retired in September 2019 after more than two decades at the ski area.

In the Southeast, SAM Summit Series mentee Tom Royther has been named marketing manager at Ober Gatlinburg, and Corrina Gilliam is sales and office manager. These appointments follow the departure of former marketing and sales director Kate Barido.

The Outdoor Industry Association (OIA) has named Lise Aangeenbrug as its new executive director, effective in March. … Nodin de Saillan is joining the National Ski Patrol as its education programs manager.

Ron Bonneau will retire at the end of this season after 30 years as head coach of the College of Idaho ski teams, and 20 years as the Northwest Collegiate Ski and Snowboard Conference coordinator.

360 Adventure Collective (360 AC) will say goodbye to longtime executive director Debbie Motz, and has appointed current 360 AC regional director Stacey Gellert to succeed her.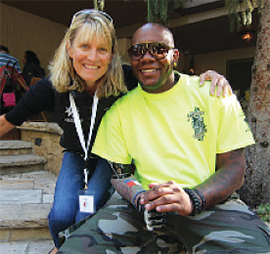 Cheryl Jensen was honored by U.S. Ski and Snowboard for her work with combat veterans in Vail.The U.S. Ski and Snowboard Hall of Fame honored Cheryl Jensen with the Women in Industry Award for her work with combat veterans as founder and board chair of the Vail Veterans Program (VVP).
OBITUARIES
Ski pioneer and industry legend Dave McCoy died Feb. 8 at the age of 104. McCoy founded Mammoth Mountain Ski Area in 1942 and raised the resort—then just a portable rope-tow in a remote mountain town—into one of the world's premier ski destinations.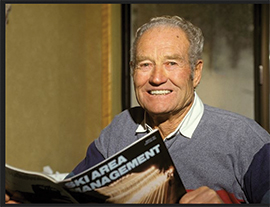 Dave McCoy, ski industry pioneer and founder of Mammoth Mountain. Photo: Rick Godin.McCoy built Mammoth with great vision, persistence, and a knack for machinery. From rigging its first rope tow in 1937 using his Ford Model A as the drive, and charging 50 cents to ride it, to building a 3,400-foot-long diesel-driven double chair in 1955, all the way through the decades to follow, McCoy laid out what became an ingenious lift system on an enormous mountain. The town of Mammoth Lakes grew as the resort did, and McCoy and his team launched a water district, volunteer fire department, regional hospital, and more in the community.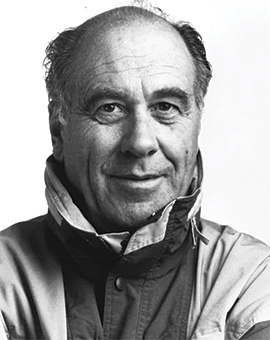 John Fry, legendary ski journalist, founder of NASTAR, and U.S. Ski and Snowbard Hall of Fame inductee.The mountain resort industry lost another pioneer with the death of John Fry on Jan. 24, two days after his 90th birthday. Fry devoted much of his life to ski journalism, serving on the staffs of SKI LIFE, SKI, Snow Country, Skiing Heritage (now Skiing History), and SAM magazine. Fry edited America's Ski Book (1973); co-authored, with Phil and Steve Mahre, their autobiography No Hill Too Fast (1985); and authored the award-winning The Story of Modern Skiing (2006).Fry was a U.S. Ski and Snowboard Hall of Fame inductee in 1995. He also founded the national recreational race program, NASTAR, in 1969.

Founder of Bristol Mountain, N.Y., Lawrence "Larry" Demarse, died Jan. 3 at age 82. He was a businessman, entrepreneur, and engineer who opened Bristol Mountain in 1964. He had partnered with Ron Ratnik and was backed by investor Fred Sarkis to design, build, and open the resort.

Longtime ropeway engineer Charles F. Dwyer died Jan. 9. He was 98. Dwyer was a Registered Professional Engineer and passenger ropeway specialist from 1946 to 1987, working in the ski industry and then for the U.S. Forest Service. He served as technical advisor to The Colorado Passenger Tramway Safety Board, and was a member of the ANSI B77.1 Committee.

Jeff Shiffrin, father of Olympic gold medalist Mikaela Shiffrin, died unexpectedly on Feb. 2 at his home in Edwards, Colo. He was 65. A former Dartmouth College ski racer, Shiffrin enjoyed a successful career in anesthesiology.

Dave Goode, 64, founder and president of GOODE Skis, died in January.