In the last three years or so, electric bikes—or e-bikes—have gained significant traction in both use and acceptance across the outdoor world. Technological innovations have advanced the e-bike state of the art. E-bikes, especially electric mountain bikes, or e-MTBs, are here to stay, which means it may be time to consider your resort's stance.

While e-bikes are still a small piece of the overall mountain biking pie at resorts, accommodations are being made to help e-bikers, downhillers, and cross-country bikers safely coexist.

Growing Fast
The U.S. bicycle market is a $6 billion industry, and mountain bikes account for almost $600 million of this total. E-bike sales numbers are still small compared to the overall market, but the growth from 2016 to 2018 is staggering: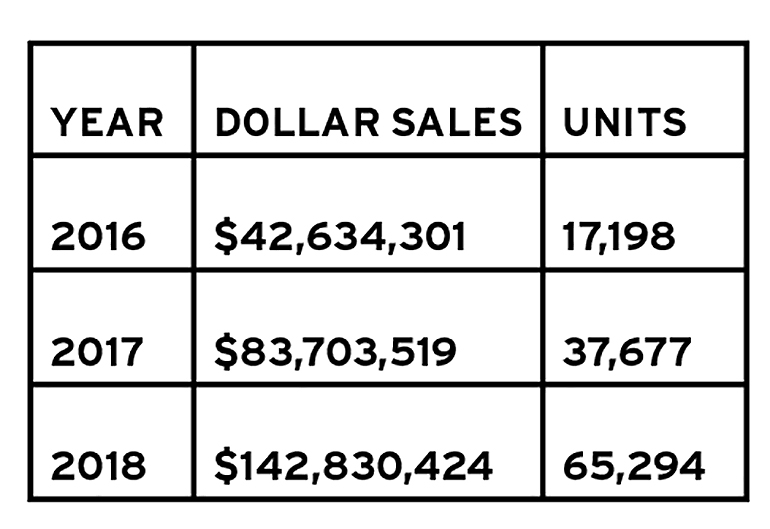 The number of units sold has seen a compound annual growth rate of nearly 95 percent, while the annual growth in sales dollars is 83 percent.

City dwellers account for a large share of this growth as more people are using e-bikes to commute, but specialized e-MTBs are becoming more popular as a way for an aging population, as well as newcomers, to get out and enjoy the outdoors without struggling.

Breaking Down the e-MTB
When users first started to take their e-MTBs on trails, they were met with restrictions about the use of "motorized vehicles," which prompted peopleforbikes.org to take action. This advocacy group for all things cycling aims to create a world where bikes can be enjoyed safely by anyone wishing to get out and ride.

When it came to e-bikes, peopleforbikes.org worked with manufacturers to create a three-class system to distinguish e-bikes from motorized vehicles. The following classification system has been adopted by 22 states:

CLASS 1: Bicycle equipped with a motor that provides assistance only when the rider is pedaling, and that ceases to provide assistance when the e-bike reaches 20 mph.

CLASS 2: Bicycle equipped with a throttle-actuated motor, that ceases to provide assistance when the e-bike reaches 20 mph.

CLASS 3: Bicycle equipped with a motor that provides assistance only when the rider is pedaling, and that ceases to provide assistance when the e-bike reaches 28 mph.

"We really had four goals in creating this system," says Morgan Lommele, director of state and local policy for peopleforbikes.org. "The first was to separate e-bikes from motorcycles. The second was to follow the European model, where e-bikes are far more integrated. The third was to help manufacturers better define their product at the state and federal level. Lastly, we wanted to clarify e-bikes for consumers."

Feds On Board
While states continue to adopt the three-class system, the feds are getting on board, too. In August 2019, the U.S. Secretary of the Interior signed Secretary's Order 3376, Increasing Recreational Opportunities Through the Use of Electric Bikes, which will allow the use of low-speed e-bikes (pedal-assist only) at DOI-managed public lands where traditional biking occurs. This includes lands managed by the National Parks Service, Fish and Wildlife Service, U.S. Bureau of Reclamation, and the Bureau of Land Management.

The order doesn't open the doors to e-bike use immediately, though. According to FAQs on peopleforbikes.org, "The Secretarial Order creates a process by which each agency within the Department that manages public lands will create new policies for e-bikes that are specific to that agency." In other words, they're working on it. E-bike use on these lands is inevitable, there just may be different rules from one site to another.

Within days of the Order, the National Park Service said it would begin to allow Class 1 e-bikes on most bike paths within the park system. NPS left the exact rules up to the local superintendents, and encouraged them to follow their local communities' best practices.

Resorts Coming On Board
While federal lands are jumping on board, resorts have been slower to embrace the trend, outside of a few exceptions.

As an example, Aspen Snowmass, Colo., arguably one of the premiere cycling destinations in North America, only allows e-bikes on paved paths. Peter Santini, director of business development at SkiCo, says, "Currently, Pitkin County and the Town of Snowmass Village prohibit e-bikes on all soft-surface trails. They are only allowed on paved paths."

Santini says the topic is gathering steam, but that the resort is waiting for municipal and agency direction before moving forward. Even so, Snowmass rents e-bikes for visitors who wish to explore the area on paved paths and roads.

At Red River, N.M., which is no stranger to the bike scene, GM Linton Judycki reports, "We haven't seen a huge uptick in e-bikes, yet. None of the shops are renting them, which I'm sure has a lot to do with it."

Still, seeing the potential on the horizon, Judycki says, "I am looking at doing a rental/guided ride in the future."

A few resorts are going all-in, none more so than Mammoth Mountain, Calif., which allows Class 1 e-bikes on its entire 80-mile trail system. Marketing manager Gabe Taylor says it's off to a great start. "Guests have been receptive to the addition [of e-bikers], and those that ride e-MTBs have been ecstatic.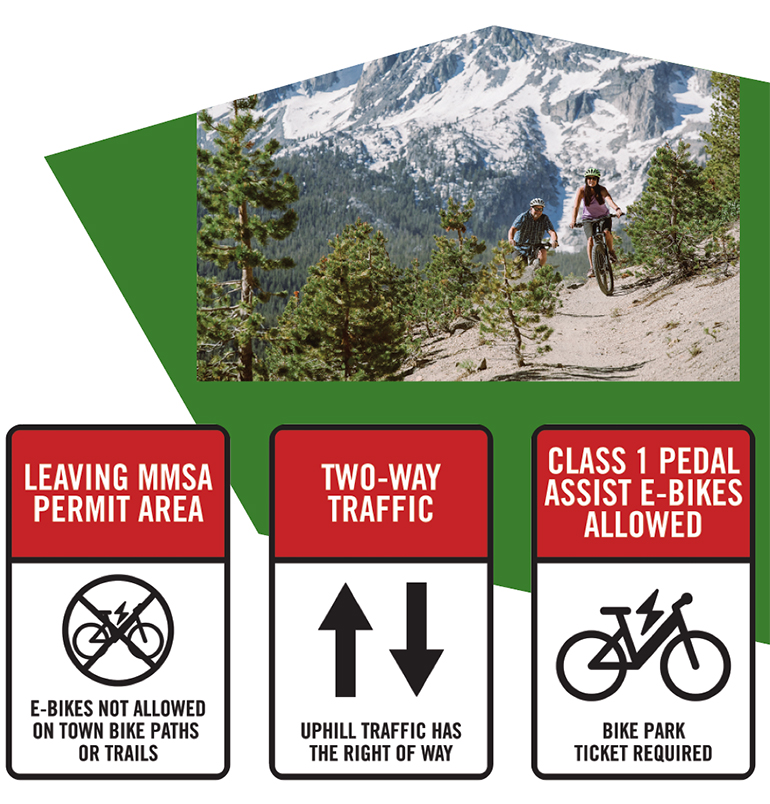 Since welcoming e-bikes on all of its 80 miles of mountain biking trails, Mammoth Mountain, Calif., has expanded its signage to help manage and educate all riders.

"There was some pushback from a few local riders initially," Taylor recalls, "but after they saw others simply having fun on the e-MTBs, that animosity seemed to fade away."

The resort has expanded its signage to keep newcomers to its trails informed. "We have added wayfinding signage and 'downhill traffic only' signage where needed," says Taylor. "We've also added two-way signage where applicable." Otherwise, he adds, "e-MTB users follow the same signage as 'normal' mountain bikes."

Mammoth upped the ante by building a permanent e-MTB flow trail in front of the main lodge, which features uphill and downhill berms, rollers, and some small jumps.

Building for e-MTBs
The idea of building e-bike-specific terrain is only beginning to gain steam. Dave Kelly of bike park designer/builder Gravity Logic says, "As a builder, we have had to take e-bikes into consideration, but we have not really changed much in the downhill world."

Kelly says Gravity Logic has built e-bike trails for private clients, and that there are some unique design considerations. "In general, all the transitions [whether they're for jumps, berms, or rollers] are looser, with bigger radiuses.

"Uphill trails are where you find the biggest design differences. Typical climbing trails are between 4- and 10-percent grade, where with e-bikes they can be almost twice that," he says.

Gravity Logic's Robert Cocquyt adds, "At this point in the evolution of e-bikes, it doesn't make sense to design and build e-bike-specific downhill trails." That said, Cocquyt—who is an e-MTB enthusiast himself—adds, "e-bikes are changing very fast both in terms of weight and performance. There very well may be good reasons for resorts to look at building up trails for e-bikes."

Acceptance and Education
Outside of logistical concerns, some resorts are hesitant to embrace e-bikes for fear of blowback from existing customers. Most everyone who was interviewed for this article agrees that any problems that may arise between e-MTB users and the existing biking community are largely based on misconceptions and misinformation.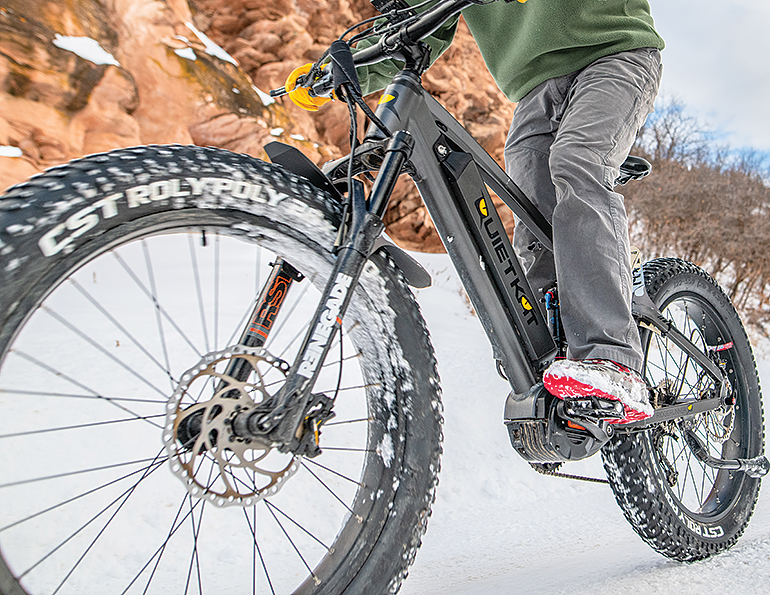 Introducing e-bikes into summertime operations is a step some mountain resorts have already taken, but their utility and ease of use means e-bikes can span the seasons and be a popular option in winter, too. No matter the season, though, e-bikes have high potential. Photo courtesy of QuietKat.

As Cocquyt points out, "How can someone who just took a chairlift up point fingers at an e-bike? In the last two years, I have seen a quantum shift in people's opinions as I ride by, from disgust to envy," he adds.

Environmental worries also appear overblown, if not completely debunked. Peopleforbikes.org's Lommele says, "The science is clear that adding Class 1 e-bikes to trails doesn't damage the system."
Gravity Logic's Brian Firestone took the science a step further, joking, "My 16-year-old son does more to slash berms than any e-bike rider could," which confirms what most resorts already know—it's not the equipment, but the user.

"This shouldn't be an 'us-versus- them' scenario. We are 'them,'" concludes Firestone.
Adding E-Bikes to Rental and Retail

Adding e-bikes to the rental fleet may be a great way to introduce visitors to your resort. As Ryan Spinks from e-bike manufacturer QuietKat says, "Ski areas can offer the optimal experience and introduction, as well as become a great point-of-purchase for e-bikes."


While adding e-bikes to the resort rental fleet has all sorts of promise, Paul Mutch from Gravity Logic cautions that e-bike rentals require more maintenance work than resorts might assume. "Fleet maintenance issues can be addressed with planning and proactive discussions with suppliers," Mutch says. "Without a plan, fleet downtime can have a significantly negative impact on rental operations."


While maintenance may be an issue, Mutch points out that instead of renting a cruiser bike for $10 per hour, resorts can get into a much higher price point with e-bikes, perhaps $30 to $40.