There's always excitement around the launch of a new snow grooming vehicle. But there's also something to be said for taking a solid existing platform and tweaking it to perfection with constant improvements and upgrades. With that in mind, let's start with a quick roundup of recent updates to some of the current models we've come to know and love from each manufacturer. Then we'll move on to updates on the current state of sustainability, digitization, and training.

This grooming report continues to evolve, right along with the machines and the systems to manage them. It's no longer just about the cats' grooming capabilities, impressive as these are. It's also about the way they do their jobs with efficiency and in a sustainable, earth-friendly way. It's about their software and the increasing digitization of grooming. And it's about how operators get trained. All these aspects of grooming aim to save resorts time and money while enhancing performance and extending it into new realms.

The Machines: Short Takes

It all starts with the machines, of course. Here's a look at noteworthy features of some key models.

PISTENBULLY
PistenBully 600 Now in its second full year of the new generation, developments continue in the software systems and operator assists, especially SlopeTracer and AutoTracer. Improvements have been made to reaction speed and sensitivity. In the 600 Winch 4.6+, the winch auto-pull function has been further developed. The operator can now adjust traction sensitivity depending on the type of grooming work being done, i.e. slower reaction time when "mowing the lawn" or faster when pushing large amounts of snow. Auto pull restores traction, keeping steep operations smooth. Adjustment is set via touchscreen and can be done on the fly. Bottom line: long-time workhorse in a new generation, more intuitive, more operator assists.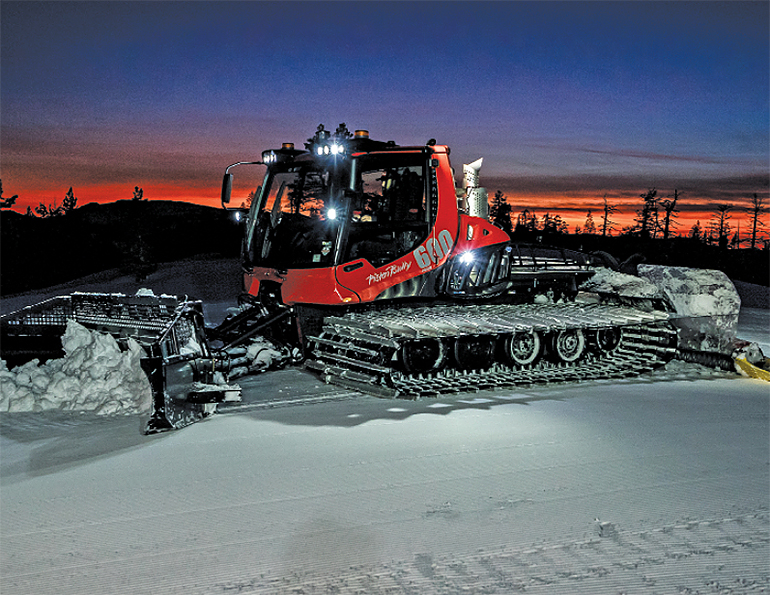 The PistenBully 6oo, now in the second year of its current generation, showcases advances in software systems and operator assists.

PistenBully 600 E+ The 600 E+ has the new-generation controls, just like the standard PB 600 and 100. It offers more torque with its electric drive motors when compared to hydrostats. The EU Stage V Cummins X12 produces 520 hp to power the electric drive, which offers downhill recuperation when the electric motors act as generators to help power the hydraulic pumps. Bottom line: more work, less fuel, quieter operation, lower emissions.

PistenBully 100 The compact PB 100 continues to gain traction in the world of progression parks and terrain- based learning. The footprint is small, but the 253 hp engine means it packs a punch. Bottom line: agile, sporting big power in a small package.

PRINOTH
PRINOTH LEITWOLF PRINOTH's most powerful and efficient vehicle offers adaptation to customer preferences with three track options and a choice of either the familiar POSIFLEX tiller or the powerful POWERtiller. The 4.5-ton AUTOMATIC winch provides automatic control, and includes an "eco mode," which restricts pulling force to 3.5 tons. Bottom line: powerful, versatile, adaptable, and efficient.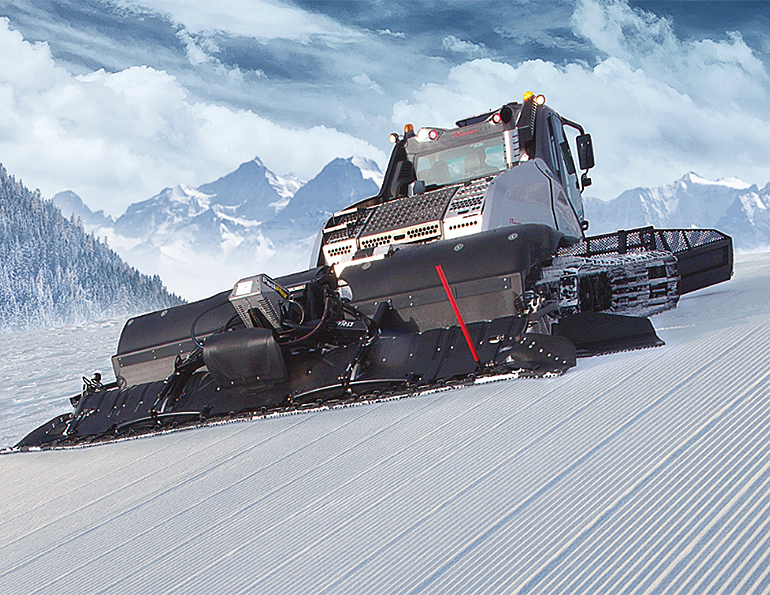 The PRINOTH LEITWOLF will be moving to EU Stage V emissions standards. Customers can choose between three track and two tiller options.

PRINOTH BISON The next iteration of the BISON will feature a new EU Stage V engine offering 4 percent more power and an 8 percent increase in torque, all while reducing emissions. Other changes will include improvements in hydraulics, cabin upgrades, and an updated interface. Bottom line: long-time fleet favorite now with more power, lower emissions, and improvements for the operator.

PRINOTH HUSKY The HUSKY features a new automatic track tensioning system, and sports a Stage V engine offering improved torque. The park version, the HUSKY X, provides excellent versatility for small features and spaces. Bottom line: versatile and nimble, lower emissions, greater ease of use.

Sustainability

Both PistenBully and PRINOTH have identified sustainability as one of their top areas of focus, consistent with NSAA's Sustainable Slopes program, which among other things encourages the industry to "implement energy efficiency measures, increase the use of renewable energy, and support decarbonization of the grid to reduce greenhouse gas emissions."

PISTENBULLY
PistenBully's latest exploration in sustainability is the 100 E concept vehicle, billed as "0% emissions—100% PistenBully." This electric snowcat is powered by a 126-kWh battery with a rated voltage of 400V, capable of reaching full charge in about 6.5 hours. The full charge delivers 2.5 to 3 hours of working time.

While this concept vehicle is still a ways away from market production, PistenBully reports that the 100 E has already been successful in on-snow testing. It marks a new chapter of snowcat innovation for the German manufacturer, which is excited at the "prospect of completely clean slope grooming." Advances in battery technology for longer run time will be a major determining factor for when the technology will be ready for market.

PistenBully continues to explore the marriage of diesel and electric, even as it develops the fully electric sphere.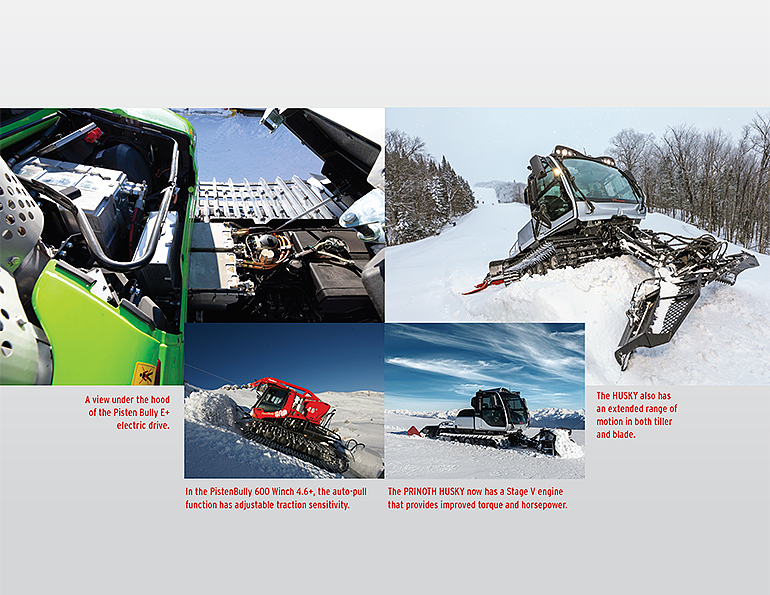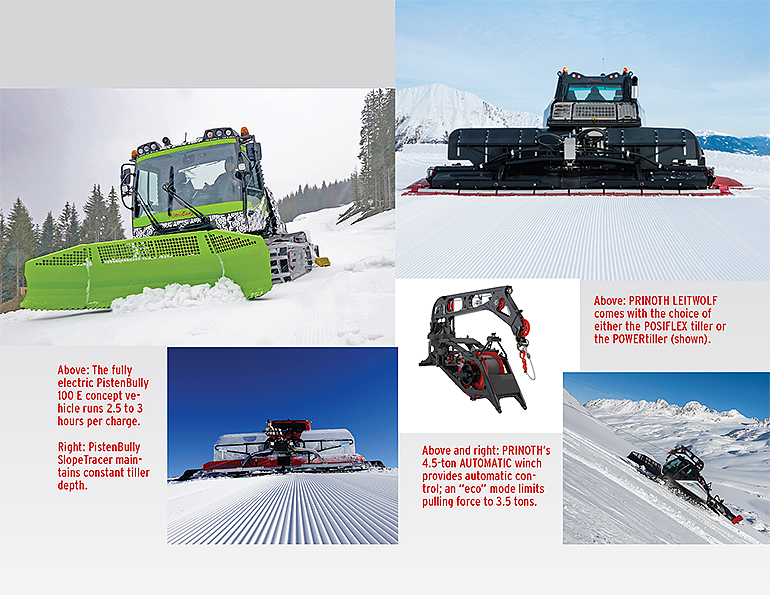 PRINOTH
PRINOTH's focus is a full embrace of EU Stage V diesel emissions standards (which are even more stringent than the EPA's Tier 4 Final standards). PRINOTH is transitioning its entire lineup to EU Stage V standards, which limit particulate matter emissions for snowcat-sized non-road diesel engines to 0.015 g/kWh (compared with the EPA Tier 4 Final limit of 0.02g/kWh) and reduces the overall quantity of those soot particles. This means cleaner air and less environmental and health impact. The Stage V version of the PRINOTH HUSKY is already present this season in North America. Implementation of the BISON and LEITWOLF in Stage V has started already in Europe and will soon follow in North America.


Digitization Update

We've detailed the ongoing efforts by both major snowcat manufacturers to supply groomers, mechanics, and ski area managers with more and more information through increasingly powerful digital platforms. This year is no different, bringing us a host of new features. Both manufacturers continue to expand the functionality and scope of their digital platforms, which now also track all vehicles across the resort, including snowmobiles, ATVs, trucks, and more.

PISTENBULLY
PistenBully seeks to support the entire ski area team, "on the slope, in the workshop, in the office" by connecting all with readily available information. SNOWsat has been expanded to include several additional features and packages beyond snow depth measurement (the software also shows locations of snow guns and winch anchor points, and allows information sharing with snowmaking).

SNOWsat Fleet is a web-based fleet management system able to graphically display vehicle data, position data, and geodata. The SNOWsat ToDo task management package can record, schedule, track, and manage snow surface tasks across the resort. Managers can input tasks and notes, and assign them to specific operators and vehicles. Tasks then appear in the cab on the operator's screen.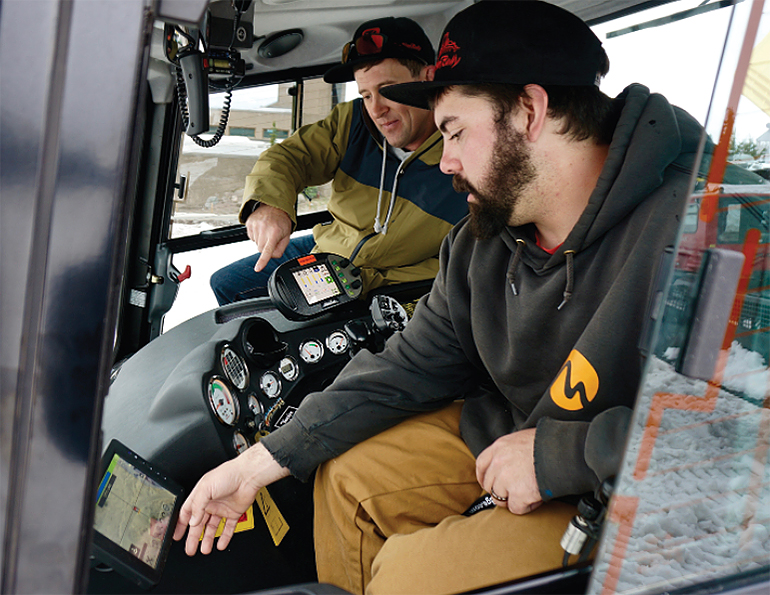 PistenBully SNOWsat has been expanded to include several additional features and packages, such as fleet management and a maintenance dashboard.

SNOWsat GIS Data Manager now allows ski area personnel to update GIS data themselves, rather than relying on a surveying company. The data—terrain profile, buildings, slope edges, snow guns, snowmaking zones, anchor points, and more—are the basis for the SNOWsat vehicle view, as well as the calculations and statistics produced by SNOWsat.

SNOWsat Analytics presents data from fleet management, snow depth, and snowmaking in useful reports, such as operating hours and fuel consumption for each slope, cost breakdowns of each slope or section of slope, snow depth targets, and more.

SNOWsat Maintain is a new cloud-based maintenance dashboard, designed specifically for ski resort vehicle maintenance and developed with the input of PistenBully customers. It provides real-time equipment status as well as daily maintenance/repair tasks and status. It stores service records and can generate maintenance checklists based on stored maintenance plans and intervals, and can manage parts inventory. All this can be viewed in the office or via a phone app. Management can track service costs, repairs, downtime, and more to inform future fleet decisions.

PRINOTH
At PRINOTH, the name of the game is to give the ski area "total knowledge" of its snow grooming activities through its SNOW HOW platform.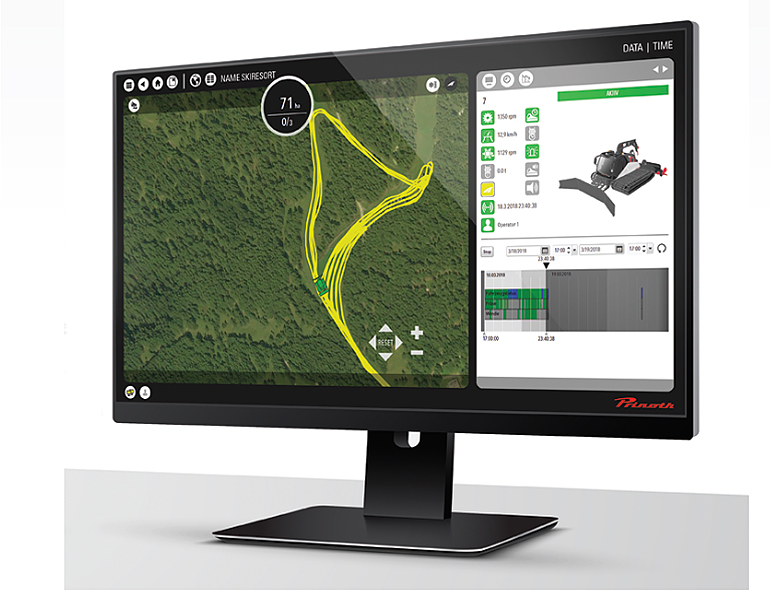 PRINOTH SNOW HOW offers a suite of modules for fleet management and snow depth measurement, plus a task manager.

The Fleet Management module provides powerful monitoring of the whole fleet, empowering operators, management, and vehicle maintenance to make informed decisions. Pattern efficiency, fuel consumption, and maintenance needs are all tracked and available for analysis, which helps to cut costs and improve the finished product.

The Snow Measurement module jumps in with Leica Geosystems technology to give operators instant and accurate snow depth information, allowing efficient use of snow, especially during the marginal snow times early and late season. For terrain park construction and maintenance, accuracy can be assured with 3D CAD models transferred directly to the in-cab monitor for the operator to reference.

The SNOW HOW modules are available on a single platform, meaning greater ease of use and more intuitive operation in a seamless user experience. Access via a responsive web application provides easy access on the go.

Training

No matter how advanced the machines or the software, there's still a human operator sitting in the cab, and that means training is a crucial component of a successful grooming team. Some ski areas are very successful with in-house training programs. Others—especially smaller areas and areas with high operator turnover—may find great value in the training programs offered by both PistenBully and PRINOTH.

PISTENBULLY
PistenBully's PRO ACADEMY provides manufacturer-independent online training for operators, familiarizing them with key grooming concepts and techniques that will set them up for success when they get in the machine. The online format also provides great flexibility and ease of use. Three levels of modules are tailored to beginners, advanced, and expert operators, and each module builds on the other. A new module will debut at the SAM Cutter's Camp at Timberline, Ore., in May.

If you want more one-on-one training, the PRO ACADEMY can also arrange special training sessions at your resort. Further, for your management team, bespoke consulting and management services are available and customizable based on your needs. Additionally, PistenBully offers training courses for snowcat mechanics and technicians.

PRINOTH
PRINOTH's 10-person training team provides customized, tailor-made training, boasting that its methods have been "field tested for years in resort operations and at the Olympic, World Championships, and World Cup level." PRINOTH's individual training is designed and adapted to the specific operator, resort, and priorities. As PRINOTH puts it: "We will come to you and train your operators in your area, on your slopes, with your vehicles. It can't get more effective for resorts than that!"

PRINOTH also offers full training programs for snowcat mechanics, including fault simulations. These courses are available in Italy, France, Canada, and the U.S.

For management, PRINOTH provides custom-tailored Mountain Consulting to help maximize efficiency and reduce costs. This consultation program mirrors the season: In fall, topics include dealing with manmade snow and early natural snow and fall cat maintenance; winter sessions focus on efficient operation, maintenance of worn-out slopes, and managing snow depth; spring sessions address the challenges of variable snow conditions, conserving snow, and closing preparations; summer discussions include summer slope maintenance and positioning of winch anchors.

In short, the snow grooming industry's two manufacturers are working constantly to improve not only the machines and their functionality, but also data gathering and analytic tools. Plus, their training services ensure that your grooming department is well integrated with the rest of the operation and functions as smoothly, efficiently, and productively as possible. What will they come up with next? Check back in March 2021 for the next installment!