Imagine that you've never seen the ocean. One day, you make the journey and you marvel at how the sand feels under your feet and the vastness of the water. Then someone thrusts a surfboard into your hands and tells you to get out into the intimidating waves because that's the ONLY way to enjoy the beach.
That very same thing may be happening at our mountains, as we tell newcomers who simply want to experience a little taste of winter that the only way to do so is to get on skis or a snowboard. Fact is, the experience of playing in the snow is unique to a lot of people—and it has value. That realization inspired Mountain High Resort in SoCal to break the mold and offer a pay-to-play snow experience to guests who have no interest in skiing or riding—and it's been wildly successful.
The resort is in a good position to do so, located only a couple hours' drive from 20+ million southern Californians who have little experience with snow. "A tiny percentage ski or snowboard, but if you open up to guests just coming out for snow play, that expands your pool of customers exponentially," says Mountain High VP of sales and marketing John McColly.
SAM spoke with McColly and resort president and CEO Karl Kapuscinski about the evolution of Mountain High's innovative approach to luring new guests to the mountains.

Times Have Changed
The idea for dedicated snow play areas evolved as management at Mountain High came to terms with a changing market. To begin with, the decline in snowboarding and the explosion in mega pass sales have changed the competitive landscape for operations like Mountain High.
"It's about calling a duck a duck and how we can't pretend that things are not changing," says Kapuscinski. "We're not trying to compete with Ikon or Epic, we're looking for ways to reinvent ourselves in order to remain relevant."
Since the peak of snowboarding in the late 2000s, when Mountain High was routinely logging half a million visits, the resort has seen a drop-off in visitation due to the national decline in snowboarding and a seven-year drought in Southern California.
As the resort cast about for solutions to make up the difference, Kapuscinski found the answer on the side of the road.

A Visible Invitation
When it snowed in the mountains, Kapuscinski often drove past scores of people parked on the side of Highway 2, the main access route to the resort, who had driven up from lower elevations just to play in the snow. It was not an ideal location for snow play, of course, but it got Kapuscinski thinking: If people were willing to drive from the city just to frolic in a bit of roadside snow, they'd probably enjoy a broader, more organized experience—and would likely be willing to pay for it.
So, when the team evaluated potential new markets, it found it only had to look a few miles down the road—and not scare guests off by insisting they ski or snowboard.
The resort had some experience with alternatives to skiing and riding, especially through its North Pole Tubing Park, introduced in 2006. The park, though, is located at the North Resort area, which is off the beaten track and not readily visible from the highway. Tubing is a terrific activity for non-skiers and -riders, of course, but it took some effort for roadside snow players to find the tubing park at the North Resort area.
Mountain High tackled this problem by introducing Yeti's Snow Parks in November 2018 at the highly visible East Resort, which is located directly on Highway 2, in plain view of anyone driving by. Previously, East Resort was only used when Mountain High enjoyed natural snowfall, which was happening less frequently due to the long drought. Now, instead of driving by a brown patch of earth, visitors encounter a snowy scene buzzing with activity, which sets the perfect tone for winter fun resort-wide.
And the gamble paid off. Yeti's Snow Parks—there's a second one located at North Resort with expanded activities—were more profitable in their first season than the best winter ever at the tubing park (more on the numbers later).

From Concept to Reality
From Kapuscinski's initial vision in the spring of 2017, the resort's team, which includes McColly, COO Paul Bauer, VP of mountain ops Ben Smith, and snow operations manager Mike Childress, came together with a can-do attitude and coordinated the necessary components in time for the 2018-19 season.
To start, they reconfigured a 150-foot-long conveyor lift at East Resort to serve a new tubing hill there, supplementing the one at North Resort. In addition to tubing, the resort opened Yeti's Snow Parks with:

• piles of snow for snow play
• sledding
• snow biking
• photo opportunities and meet-and-greets with Yeti, the resort's mascot
• music events
• the Snowshoe Saloon
One of the notable benefits of this new setup is it took very little capital investment to produce huge returns.
Getting the three-acre East Resort snow park ready takes about 20 hours of snowmaking, which means Mountain High can offer snow play as soon as temps are right. The one big expense was the purchase of a PistenBully 100 with an eight-foot tiller to groom the tubing lanes. Outside of these expenditures, though, the investment has been minimal.
The snow play areas at Mountain High were so successful in their first season, the resort expanded the concept for 2019-20 to the top of East Resort, adding scenic chairlift rides, snowshoeing, and dining in the lodge at the 8,200-foot summit to the activity mix. This has the added benefit of providing adults something to do while their children toss snowballs and make snow angels. Snowshoeing was also added as an activity at North Resort.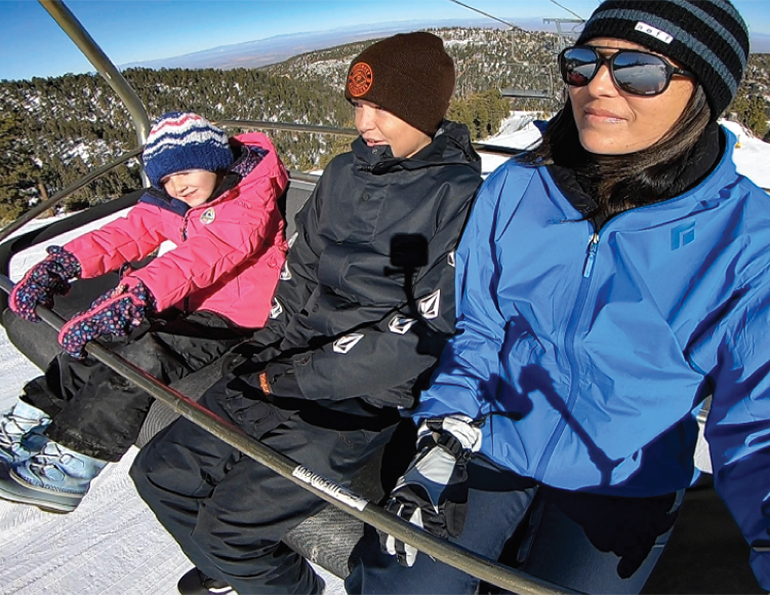 Scenic chairlift rides were added for the 2019-20 season.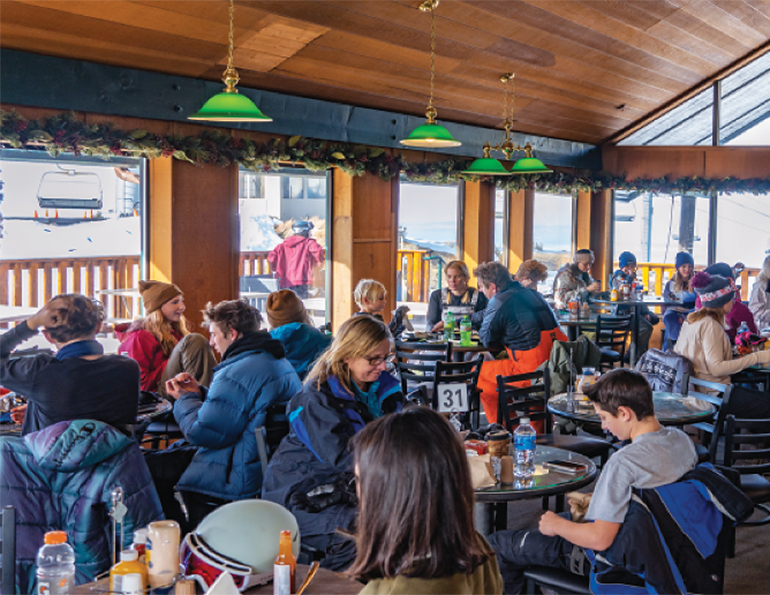 Up to 2,500 snow play guests on busy days also means an uptick in food and beverage revenue at the resort.
Snowshoeing was added to the activity mix in 2019 when the resort expanded snow play to the summit.

Snow Play by the Numbers
The resort charges à la carte for access to various activities that are part of Yeti's Snow Parks, with prices ranging from $20 for simple snow play—frolicking on snow piles, building snow people, etc.—to $79 for a full-access pass that includes tubing and a scenic chairlift ride. The resort also now charges $20 for parking on weekends, which applies to skiers and snowboarders as well. Not to mention the food and beverage and retail revenue that snow play visitors generate.
In its first year at the East Resort, snow play yield was up 577 percent over the previous season, when the only snow play was the tubing park at North Resort. Snow play visits alone exceeded the North Resort's best year by 21 percent.
On busy days, Mountain High sees as many as 2,500 guests in Yeti's Snow Parks. Snow play visits now account for 25 to 30 percent of the resort's overall visitation. Looking forward, Kapuscinski thinks that number will grow to 30-40 percent of total visitation.
Multi-generational families comprise a majority of these visits. The most impressive demographic statistic, though, is snow play guests are 60 to 70 percent non-Caucasian—consistent with the guest makeup of Mountain High's learn to ski and ride programs.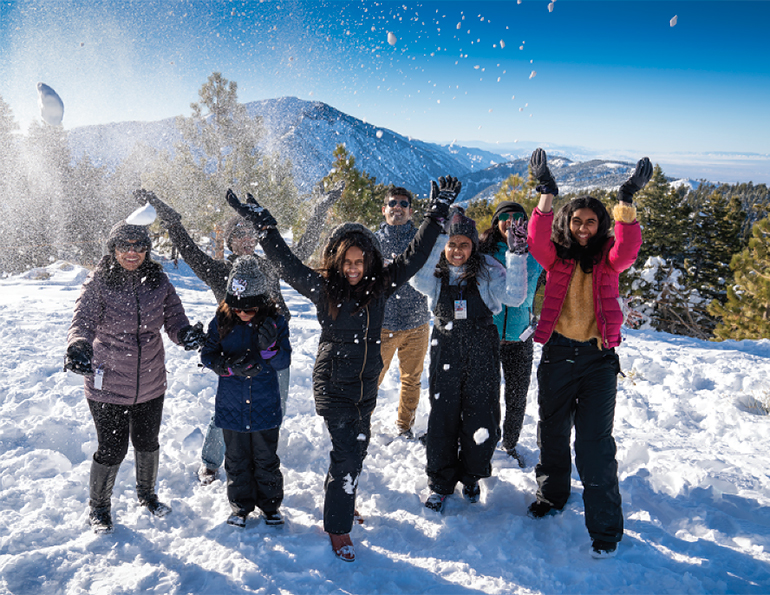 Snow play guests at Mountain High are 60 to 70 percent non-Caucasian—a major departure from national ski and snowboard demographics—and they are comprised primarily of multi-generational families.
When it comes to bottom-line results, Mountain High's pre-coronavirus estimate for revenue from snow play tickets this past season was $2.5 to $3 million—no small potatoes. And, again, the investment to reap this benefit is minimal.
On the marketing front, McColly reports that due to the high visibility and accessibility of the snow play areas, as well as great word-of-mouth, the resort achieved its visit totals while devoting only 5 to 10 percent of the resort's marketing budget to promoting Yeti's Snow Parks.
Lessons Learned
Kapuscinski and McColly agree that the biggest takeaway from all they've learned since introducing Yeti's Snow Parks two winters ago is that snow play is not a means for conversion. During the first season, the team experimented with lesson promotions and offered snow-play guests bounce-backs to take ski or snowboard lessons, but there was little interest.
"The real disconnect was this thought of converting snow players to skiers and snowboarders," says Kapuscinski. The snow play crowd is a separate crowd. The good news there? It's all newly found revenue. Kapuscinski concludes that the resort "quickly increased our dollar per acre by converting that space [potential beginner areas] into more profitable snow operations."
Now, Mountain High touts its position as "Southern California's Gateway to Winter."
"We sell snow experiences versus the sports of skiing and snowboarding," says Kapuscinski. And the best part? "It's more weather-proof, since conditions don't have to be perfect."
When it comes to blending it all together, the team reports, "We've found that skiing/riding and snow play operations can co-exist—decoratively, in fact—and the imposition of base-area leisure is of little consequence compared to what can be gained."
One hard-earned lesson came at the price of success. "We've learned that crowd management is everything," says McColly. "If you don't monitor your participation levels, things can quickly get overcrowded. Either everyone is having a good time or no one is having a good time—and the line between the two is smaller than you'd think!"
To address this, the resort sells two-hour snow-play blocks, with sales caps during busy times.

Future Plans
Yeti's Snow Parks were so successful in their first two years of operation that Mountain High is planning on adding new activities in the future. The wish list includes:

• climbing wall
• playground elements, including
lots of snow slides
• snow forts—pre-built plastic forts
to climb on
• merry-go-round with snow tubes
• a snowball tree
• Yeti horns ("call the Yeti")
• ice cave, dubbed as the Yeti's home
• ice tunnels
• ice maze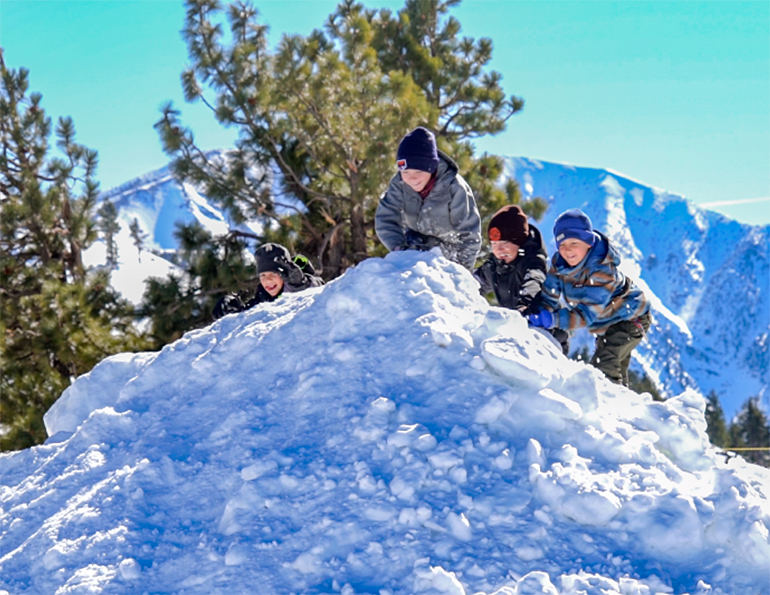 Snow piles to play on are a simple, incredibly popular feature for kids.

When costs are stacked up against those for maintaining a superpipe, for example, a snow play area may be one of the soundest financial decisions Mountain High has made.
Mountain High has unlocked a new market—the millions of folks who just want to experience what it's like to play in the snow, no skis or snowboards required. That's something other resorts can consider, too. If this past season has taught the mountain resort industry anything, it's that being nimble and adapting to change are critical to survival.