When the nation ground to a halt in March because of the growing COVID-19 crisis, the process was painful, but relatively easy for mountain resorts. The industry simply shuttered its doors to wait it out and plan, as best it could, for a very uncertain future.
As stay-at-home orders began to lift in May, however, and greeting guests again became possible, recreational outlets and restaurants around the world quickly put plans in place to try to safeguard the health of employees and guests.
SAM took a deep dive into the world of food & beverage (F&B), both within the industry and outside it, to cull best practices as of late May. Please note that this situation is ever-evolving, so what we outline here may be superseded—many times—depending upon the trajectory of the COVID-19 pandemic.
Capacity Conundrum
One of the primary hurdles when it comes to reopening F&B operations is increasing physical distance, which boils down to a capacity issue. This conundrum is made all the more difficult for resorts that have limited indoor space and inclement weather to contend with.
SE Group's Claire Humber and John Ashworth from BSA Architects shared several ideas for how resorts can tackle capacity issues. First, it was clear that the problem hinges first on state and local regulations. At the time of writing, states were putting forth different rules on capacity—some allowing 25 percent while others bumped it to 50 percent. The bottom line is that in order to comply with physical distancing measures, getting creative with dining spaces is key. This includes pressing unused spaces into the dining mix, which some operators are already planning out.
Scott Harrison, the director of food and beverage at Killington, Vt., is eyeing different locations within the lodge.
"When it's cold or raining outside," Harrison says, "we can't send guests outdoors, so we're looking at different areas within our lodge that we can use, such as our boot-up area."
In fact, most restaurant operations we researched are meticulously diagramming their dining areas and slashing 50 percent of seating to comply with distancing, which also eliminates the need for partitions. Controlling entrance points is also important, and restaurants and resorts are limiting the points of entry and exit to better control numbers.
When it comes to bar areas, many operations are doing away with bar stools altogether and providing ground markings instead—if they even choose to open the bar.
Both Humber and Ashworth say they're concerned with lines. "Standing in any line is scary for people," says Humber. "The key is going to be to use technology for pre-ordering and providing pick-up locations, which will also help to spread out the lunchtime rush guests."
Read more from Humber and Ashworth in "Moving Forward,"
The Employee Equation
All operators agree that keeping both guests and employees safe within F&B operations is paramount.
"We will be judged on what we are doing to keep both these groups safe," says Harrison, "so we're implementing measures designed to protect our staff."
Killington is safeguarding staff in a variety of ways, including turning its commissary into a dispensary for personal protective equipment, conducting pre-shift symptom checks with infrared thermometers, and staggering start times for employee shifts. This also means that employees are now asked to bring their own lunch, for the time being.
Blue Mountain, Pa., has done a fantastic job of communicating with employees about the steps the resort is taking to protect them, including:
• staggering shifts;
• clocking in and out using a mobile app;
• temperature checks;
• supplying two reusable masks and hand sanitizer.
These steps aren't necessarily groundbreaking, but the resort's level of supportive communication is worth highlighting. Early on, Blue Mountain sent out a 31-page information "packet" to all employees that outlines safety measures, COVID-19 details, informational resources, and a reminder that the human resources department is available for any questions or concerns.
Minimizing Contact
Across the board, F&B operations are viewing pre-packaging and pre-ordering as the best ways to safely deliver food to guests, and many are paring down menu choices to top sellers only.
"Our summit Meister Hut serves a wider range of menu options, but the most popular items are beer and ice cream," says Ben Wilcox, president and GM of Cranmore Resort, N.H. "So, we're opening up the hut this summer and only selling beer and ice cream."
At the base lodge, Wilcox says that guests can order their food by phone, come to a pre-designated station on the deck to pick it up, then go find an area to eat on the deck or lawn. Wilcox is also toying with the idea of offering food trucks in the parking lots.
In May, Timberline Lodge, Ore., opened up its slopes for limited operations and tackled F&B by only offering a limited selection of pre-packaged, to-go food at its cafe. After one week of operation, the resort reported that the system was working well.
Killington's Harrison echoes these moves. "We're opening slowly and starting with our golf course," he says. "While we're not opening the clubhouse, we are offering grab-and-go food. Guests can phone in from the eighth hole and pick up their food at the caddy shack."
Other tweaks could make food operations look a lot different moving forward. During a webinar presented by the International Association of Amusement Parks and Attractions (IAAPA) on F&B operations, Doug Hemphill, corporate director of culinary services and operational excellence for Six Flags theme parks, said, "We are eliminating all self-service stations, and all food will be delivered fully enclosed."
Killington is also removing all condiment and cutlery stations and supplying pre-packaged condiments with food, as well as individually wrapped cutlery and napkin packages. Disposable paper menus will be used, too.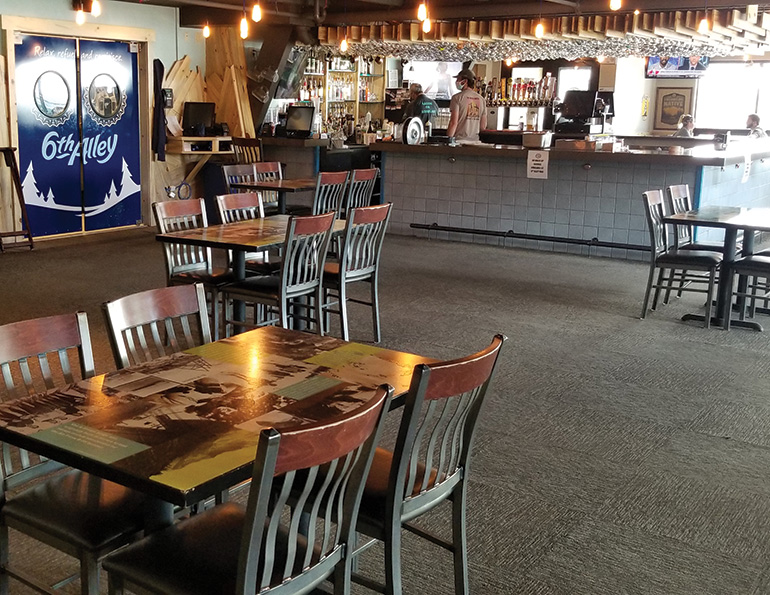 6th Alley bar at Arapahoe Basin, Colo., reopened in June with appropriately distanced seating.
handling Supply Chains
Another piece of the puzzle is the available food supply. For now, Killington has at least some of it figured out. "Our freezers were full when we had to suddenly shut down," says Harrison. "So we are starting there first."
Moving forward, Harrison concedes that menus will be dictated by supply chains, and the resort will remain nimble and make the best of it. Six Flags' Hemphill emphasized the importance of locking in menu items as early as possible with suppliers, but acknowledged that the amusement park operator will be agile with its menus moving forward.
Keeping It Clean
When it comes to sanitization, there's no shortage of great guidelines being put forth by the Centers for Disease Control and Prevention (CDC), the U.S. Food and Drug Administration (FDA), and the National Restaurant Association, to name just a few.
According to the National Restaurant Association, there's renewed emphasis on regulations that were already in place for F&B operations, including:
prohibiting sick employees in the workplace;
strict handwashing practices that include how and when to wash hands;
strong procedures and practices to clean and sanitize surfaces;
ensuring the person in charge of a foodservice facility is a certified food safety manager and on site at all times during operating hours.
For its part, the FDA has outlined the following key points for both employers and employees:
Employers: pre-screen employees (e.g., taking temperature and assessing symptoms prior to starting work), disinfect and clean work spaces and equipment, and consider more frequent cleaning of high-touch surfaces.
Employees: self-monitor regularly; wear a mask or face covering; practice social distancing of at least six feet whenever possible.
Operators are all turning to these guidelines, as well as any state and local guidelines that may be different.
To make life just a little easier, organizations such as the CDC and FDA offer great signage that resorts can adapt for their own use to better educate both employees and guests around the resort. Search for the CDC's "Interim Guidance for Restaurants and Bars"; or the FDA's "Best Practices for Re-Opening Retail Food Establishments During the COVID-19 Pandemic."
Baby Steps
As F&B operations take their first tentative steps toward reopening, it is clearly far from business as usual. Uncertainty prevails, as things can change from one day to the next while the COVID-19 situation evolves. What all this means is that mountain resorts will have to quickly adapt, pivot where necessary, and implement changes as needed—a mindset that a weather-based industry is fairly adept at already.