THE STATE OF MARKETING DURING THE PANDEMIC
By Christian Knapp,
former CMO of Aspen Snowmass
Following the abrupt closure of many North American ski resorts on that fateful Saturday last March, the pandemic and all its permutations ravaged country after country, industry after industry, and accelerated societal change like never before. The ski industry was no exception, and is likely to feel the reverberations of Covid-19 for generations to come. But that's OK.
Ski resorts have long been in the enviable position of having unlimited supply, strong pricing power, and an unmatched experience that encourages repeat visitation and lifelong enthusiasm. Core skiers and riders are increasingly willing to commit in advance by purchasing season pass products that allow access to multiple far-flung destinations, and resort owners have been rewarded handsomely.
Even so, impediments to participation continue to limit overall growth. Weather, snow, cost, travel, lack of diversity, and other barriers to entry have proven difficult to overcome. Despite these challenges, the industry has kept the total number of participants relatively flat, while simultaneously driving strong revenue growth and capital reinvestment. At least until the pandemic, that is.
Pandemic Pivot
Now, resort operators and marketing teams have had to pivot and get hyper-focused on advance purchase, the digital ecosystem, to-go food ordering, contactless commerce, safety precautions, mask adherence, and special events with less than 50 participants. Season pass strategy has gone from bumping the price annually to offering flexible credits, worry-free refunds, low deposits, and volume caps.
Gone are the days of long-lead brand-building efforts, influencer hosting, large-scale music festivals, and maximizing the total number of people on the hill. Instead of courting new customers and encouraging trial, the focus is on limiting access, reservation systems, parking notifications, midweek incentives, and mobile app enhancements to relay these complex communications to the connected guest, all while hoping the resort is able to operate uninterrupted.
Look no further than the state of endemic publishing—Powder, Snowboarder, Skiing, Transworld Snowboarding, and Mountain News—to see the impact of a shifting media landscape and reduced marketing spends. Mountain News recently got a new lease on life. Perhaps the other brands will live to see another day, too, but documenting the unique culture of our sport for the next generation will require entrepreneurship and reinvention.
Communicating the Joy of Downhilling
In a world with less endemic media and increasingly powerful owned channels, resort marketers must do more than just promote. Brands have become producers able to generate significant impressions using in-house resources.
Creative teams have adapted to this heightened level of communication. Their intensity should lead to more efficient and targeted communications.However, their efforts are often hijacked by shifting deadlines, an evolving narrative, and lack of analytics. Marketers' burden will ease when things return to a less reactive, more strategic cadence.
Domestic Demand
With long-haul travel and international segments diminished, there's opportunity to unlock new domestic markets. The return of the road trip has skiers and riders romanticizing powder quests and planning to drive long distances to partake in the sport they love. And since Americans can't travel internationally, for any entertainment or recreation, resorts will see great demand for lessons and rentals from lapsed participants and newcomers to the sport that might surprise even the most hawkish CFO. It's easy to envision a new high-water mark for domestic skier visitation.
This demand, along with managing a resort's portfolio of access products plus partner passes like Epic, Ikon, Mountain Collective, and Indy, will be a delicate balancing act. On the plus side, capacity restrictions and reservations will result in less crowding at peak times and deliver an improved customer experience at high volume resorts (for those guests willing to plan ahead, anyway). A desire to avoid crowds altogether will drive meaningful growth at small resorts. Get ready for the tailgaters, brown baggers, uphillers, and everyone in between.
Staying open this season will require a partnership between resort operators, local communities, and customers like no time before. Recognizing it's not business as usual and being flexible, relaxed even, will be critical for a successful and safe winter season. The lifts will spin, smiles will be abundant (albeit under buffs), and powder turns will be had.
Covid-19 has taken so much from us and accelerated change in ways never thought possible. This season won't look quite like any other, but the pandemic will never take away the sport we love, and we're all going to be better for it.
TREND WATCH: DON'T BLINK
With data and trends changing so quickly, it can be difficult to keep track of consumer sentiment. However, it's possible to spot opportunities. Gather your business intelligence and put it into two buckets—short-term and long-term impacts. Be ready to shift items from one bucket to the other.
The good news, according to a large survey (30,000+ respondents) of past ski and snowboard guests conducted by RRC Associates in September, is a strong desire to get on snow: 85 percent say they are "very likely" to ski/snowboard this winter.
There are several other trends we can count on heading into this season, according to the team from the Insights Collective and Dave Belin at RRC. Some preliminary results and analysis from the aforementioned survey and other data:
• Half of skiers/snowboarders do not anticipate changing their travel behavior this winter. Of the rest, the most common response was "uncertain/don't know yet." "More day trips" was a notable choice.
• The drive market has expanded, according to Belin. Many resorts will need to rethink their "competitive" set, said Tom Foley of Inntopia and Insights Collective, as the drive market moves from 550 miles out to almost 1,000 miles. That could mean some "local" consumers head to larger resorts further afield.
• Before, weekends were reaching max capacity. Now, lodging data from Inntopia suggests a shift to a steadier stream across the week, and longer stays. COVID is dispersing guests "into a pattern we have hoped for," said Foley.
These data impact more than just lodging. If skiers and riders change when they travel (i.e., midweek) and their length of stay, this will have real operational and fiscal consequences within the greater community if those changes are sustained. The chance to make a long-hoped-for shift toward midweek and non-peak stays is a bright spot resorts and destinations can build on.
Visit saminfo.com for more resort-related COVID news from the Insights Collective.
NOBODY PUTS BABY IN THE CORNER
Operators of small ski areas are having a moment: Drive-to local ski areas will see a lot of the demand to get outside this winter. They will have to cater to their faithful local customers and also welcome new outdoor enthusiasts.
Several factors are feeding this notion. There is a reluctance to travel far from home, due to perceived safety, familiarity, and economic uncertainty.

In a mid-October SAM Huddle, we dove into the opportunities and challenges facing the small but mighty operators who will play a big role this winter. Here are some excerpts from the Huddle, which assembled almost 300 operators.
"One of the things we really struggled with ... were the advanced announcements from a lot of the larger ski areas. [These have] really affected the view of how we [small ski areas] should operate by our local and state authorities and regulators. A small ski area is much different than the large or mega resorts that are in our ski industry family." —Scott Brandi, Ski Areas of New York
"Tubing represents significant revenue to many of our small ski areas in New York. A few areas are moving dirt and expanding the staging areas and making room for social distancing. Beyond that it's a question of capacity management, enforcing masks—which we are recommending for all guests who make a transaction at our ski areas—and contact tracing." —Scott Brandi, SANY
"Most of us small ski areas have a lot of fixed-grip chairlifts, we're able to distribute our skiers across the hill pretty easily. ... What we're not comfortable with is the inside space, so we thought it was really important to try and unmarry those two things." —Ben Doornbos, Nub's Nob
"Our rental has been where we've put the most focus, since it's a big revenue producer for us. We landed on a pod system where each family or social bubble is assigned to one of four pods and we will bring their gear to them and then they exit out one door. We are trying to create a calm process that keeps staff and guests safe and allows for some contact tracing if someone presents positive." —Ben Doornbos, Nub's Nob
"One of my biggest concerns is with my younger staff. I need them to take wearing the mask seriously, and we all know that these younger 20-somethings feel invincible. ... They could bring me down operationally if we have a COVID outbreak." —Aaron Maddox, Snowy Range
"We really leaned into continuing with our IT upgrades. It's something we've been talking about doing and we moved it up to the front of our capital improvements list." —Lindsay DesLauriers, Bolton Valley
"This year has given us such a different perspective and let us think outside of the box and do some crazy things. It's so easy to be afraid to make big and radical changes, and this year is an opportunity to make some of those changes and have people feel like it makes sense and it's OK." —Lindsay DesLauriers, Bolton Valley
"We're going to have to be pretty dynamic and nimble. If you're going to write a plan, you should have another 13 different options on the other side of it. It really helps that this year we are working with Aspenware to fully bring our rental and ticketing to online reservations only and hopefully connect to improve the pre-arrival customer experience." —Robert McClendon, Tahoe Donner
Catch the entire Small Area Huddle at saminfo.com/huddle.
DRUIDIA, MICH.
Planet Spaceball's president Skroob is likely to keep a close eye on the indoor air quality at Crystal Mountain, Mich., this winter, and envy the "four-pronged approach" the resort has instituted to ensure the air in its indoor spaces is as clean and safe as possible during the pandemic.
Owner Jim MacInnes, a longtime electrical engineer, researched solutions to improve indoor air quality and reduce the risk of aerosol transmission of COVID-19. The resulting package: air scrubbers that use NASA technology in the heating and cooling systems in the main lodge, spa, fitness center, and other public indoor spaces; upgraded filters in the air-handling system; portable air filters placed in several key spaces; and increased fresh-air flow into public spaces.
The effort is one of the many facets of the "Crystal Clean" program, a commitment by the resort to cleanliness, safety, and health. Crystal Clean's unofficial motto is, "When in doubt: Mask on. Wash up. Spread out. Be kind."
Watch out for Mega Maid, Crystal.
LETTER TO THE EDITOR
Hello SAM readers,
I've been skiing for 55 years and, like all of us, don't want to see this season become a total loss to COVID-19. As an aerospace engineer, a good part of my job involves diving into the working details of components and systems to identify potential failure modes.
COVID-19 transmission hazards associated with lodge buildings, food service, and being shoulder-to-shoulder on lifts are obvious enough. Going a level deeper, a skier is exercising in the cold, breathing hard, exhalation often coalescing into droplets of condensation and nose dripping. Dripping noses are often blotted by the backs of one's gloves, or at best by Kleenex or face coverings that are handled by those gloves, before they touch safety bars, door handles, etc. Cold temperatures potentially extend survival time for virus particles on surfaces. Perfect storm for a surfing respiratory virus.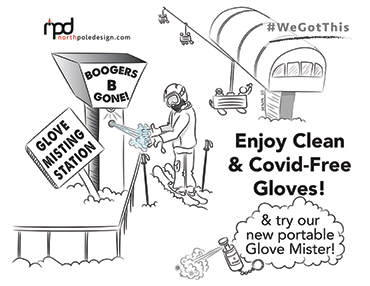 Staying open this season will depend on demonstrating low transmission rates. To mitigate the on-slope transmission risks, we need to consider more than just spacing lift passengers and skiers apart. Here are a few ideas I, as a ski area customer, would like to see considered:
• Make skiers more conscious of small habits like wiping noses on gloves, drying eyes with those gloves, handling balaclavas iced with condensed breath, etc.
• Establish simple protocols for how to handle/dispose of soaked face coverings and tissues. For example, handle with your gloves off, then apply hand sanitizer before putting the gloves back on.
• Install disinfectant spray stations for gloves at the tops of lifts and entrances to buildings.
• Put waste receptacles with no-touch tops at the top and bottom of each lift.
• Lift attendants wipe or mist chairlift touch points and seat tops (or touch points on surface lifts) with isopropyl alcohol as they go around the top station.
• Close down during particularly severe weather when some of the above practices aren't workable.
And, when all else fails, push Nordic skiing! A lot easier for skiers to keep safe while areas avoid bankruptcy operating high speed quads with one person on each chair.
Jesse Brumberger
Tehachapi, CA
Ed. Note: Mr. Brumberger is a longtime SAM reader. He sent this letter in mid-August, well before ski areas had made their operating plans public. His letter was the inspiration for the Friday Cartoon "Boogers B Gone" (Sept. 11) by Senan Gorman of North Pole Designs. We made light of it in the cartoon, but his observations ring true. Awkward to talk about? Sure. But so was wearing masks back in March.
SUPPLIER NEWS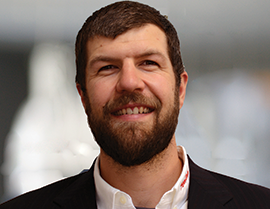 Emil MaddenPISTENBULLY has hired Emil Madden for the position of SNOWsat and Pro Academy Manager. Emil brings 12 years of ski industry experience to the position.
MND ROPEWAYS unveiled its "Succeed Together 2024" strategic plan with ambitious goals that rely on a synergy between MND teams and their partners for a robust and efficient organization that effectively serves customers.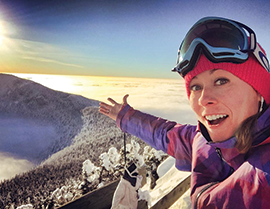 Halley O'BrienA partnership between HALLEY O'BRIEN PRODUCTIONS and SNOCOUNTRY, INC., will bring "The Snow Report-TV presented by SnoCountry" to nearly 40 major markets, including NBC4 New York and NBC Boston. The series will run for 12 weeks beginning in December.
Most of the assets of MOUNTAIN NEWS CORPORATION were acquired from Vail Resorts by an investment group led by MNC veteran Chad Dyer and Jon Brelig.
Media conglomerate AMERICAN MEDIA INC. (AMI) is closing four of its sports publications: Powder Magazine, Snowboarder, Bike, and Surfer.
4FRNT SKI COMPANY has been acquired from Jason Levinthal by Charlie Johnson, Will Armenta, and Ebi Lange.
TECNICA GROUP NORTH AMERICA is now using the NuORDER collaborative buying platform for Blizzard, Nordica, and Tecnica to streamline product research, buying, and the order management process for outdoor specialty retailers.
PEOPLE
SNOW Operating hired Pat Morgan as its newly appointed marketing and brand manager for Mountain Creek, N.J., and Big SNOW American Dream … Magic Mountain, Vt., named Robert "Bobby" Johnson, Jr. as director of its Snowsports Learning Center.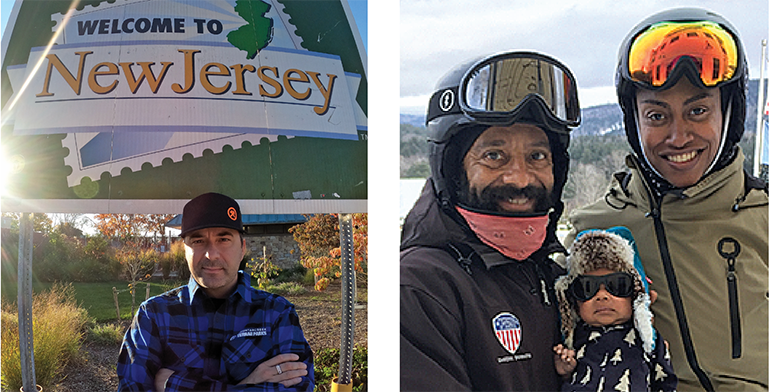 Left: Pat Morgan. Right: Bobby Johnson, Jr. & family
Chris "Gunny" Gunnarson was named general manager of Woodward Park City in Utah. … Maren Siu started as the new public relations manager for Whitefish Mountain Resort, Mont. … Jonathan Wood was appointed to the newly created role of director of culinary operations for Steamboat Ski & Resort Corporation, Colo. … Owner of Lookout Pass Ski & Recreation Area and Route of the Hiawatha Scenic Bike Trail R. Phil Edholm retired as chief executive officer and president of Lookout Associates.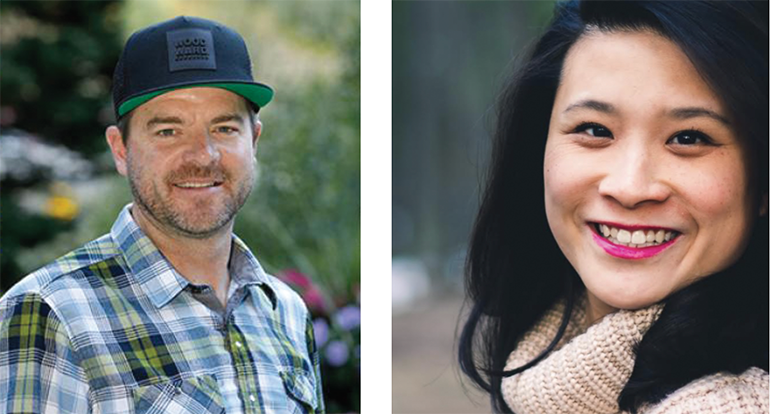 Left: Chris Gunnarson. Right: Maren Siu.
Alterra Mountain Company created new hospitality and real estate divisions in the company. Todd Shallan was named chief operating officer, hospitality division, leaving his role as president and COO of Deer Valley Resort. Jeremy Levitt, president and COO of CMH Heli-Skiing & Summer Adventures, succeeded Shallan at Deer Valley, and will continue to oversee CMH. Rob Rohn, CMH's long-tenured GM and director of mountain operations, will manage daily operations at CMH through the 2020-21 winter season. Bryan Elliott has been named president of the real estate division in addition to his current responsibilities as chief development officer of Alterra.
AWARDS
The U.S. Ski and Snowboard Hall of Fame Class of 2020 includes eight ski and snowboard athletes and industry professionals. Among them: ski area mastermind Brian Fairbank; Olympic downhill racer Holly Flanders; two-time Olympic snowboard champion Seth Wescott; longtime International Ski Federation and U.S. Ski Team leader Hank Tauber; the late Howard Peterson, former leader of the U.S. Ski Team; FIS Cross Country World Cup winner Alison Owen; inventor of THE Ski, Bobby Burns; and U.S. Ski Team Freestyle aerialist Kristean Porter.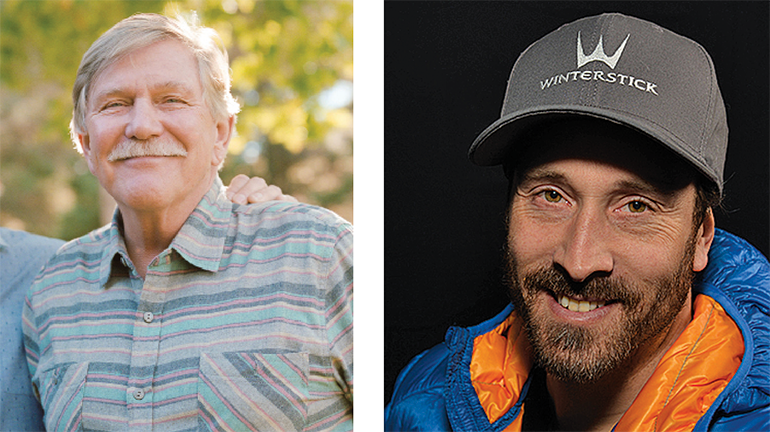 Left: Brian Fairbank. Right: Seth Wescott.
The North American Snowsports Journalists Association (NASJA) named several award recipients. The Harold S. Hirsch Award for Excellence in Snowsports Journalism for Words went to Eric Smith, former business reporter for SGB Media and now founder of Snowsports Business Report. The Hirsch Award for Images went to co-winners Dino Vournas, a five-time recipient, and filmmakers Ray and Alicia Alba of Alba Adventures.
U.S. Ski & Snowboard Ski Slopestyle Team member Maggie Voisin won the NASJA Paul Robbins Outstanding Competitor Award. The Bob Gillen Memorial Award went to longtime media relations pro John Wagnon; The Mitch Kaplan Award went to Greg Sweetser, former director of the Ski Maine Association.
Alterra Mountain Company won its second silver Telly Award in the promotional campaign category for the Ikon Pass video series, "It's Not Winter," produced by Stept Studios.
OBITUARIES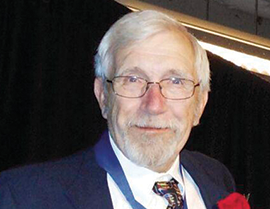 Phil GravinkRetired ski industry icon Phil Gravink, former CEO of both Loon Mountain and Attitash N.H., and a 2011 inductee into the U.S. Ski Hall of Fame, died at age 85.
After founding Peak'n Peak, Gravink served as general manager at Gore Mountain. Former New Hampshire Gov. Sherman Adams then recruited him to be CEO and president of Loon Mountain, where he led the resort 1977-91. He became a senior associate with Sno-Engineering, and his consulting services at Attitash led him to the CEO role there until 1999.
As an industry leader, he served as president and treasurer of the National Ski Areas Association Board and, at varioius times, oversaw Ski New Hampshire, Ski the White Mountains, and the New Hampshire Alpine Racing Association.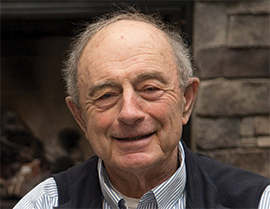 Clyde Allen PerfectClyde Allen Perfect, one of the founding members and owners of Perfect North Slopes, died Aug. 26 at age 87. In 1980, Clyde and his family opened Perfect North Slopes ski area on their 200-acre farm. The area has become one of the most successful ski areas in the Midwest.
David Mark Doman, age 69, died in July. Doman built snowmaking systems for Alta and the 1988 Calgary Olympics, and founded a snowmaking company. He later designed ski lifts for Leitner Poma and ran his own engineering firm.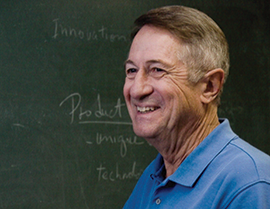 Robert W. GoreRobert W. Gore, founder and president of Gore-Tex, died at age 83. His invention revolutionized outdoor wear and found uses in numerous other fields.