DON'T MIND US, WE'RE JUST LISTENING
SAM partnered with customer insight and analytics firm Metric Centric to conduct a social listening study to learn what ski consumers are thinking and talking about online. The study "listened" to skier conversations across all social media platforms and forums, looking for key words and phrases, and the contexts in which they're said. The eavesdropping will produce a series of snapshots, one of which—from November 2019 through November 2020—is described here. The next snapshot will be from November 2020 through April 2021. We'll report on that in the spring.
The first snapshot provides useful takeaways and recommendations that apply as we enter the peak winter months of this pandemic winter. Among them:
Over communicate and eliminate ambiguity. Consumers showed a greatly increased need for control. They want to be armed with information. Continually clarify policies and set expectations. Given rapidly changing restrictions, is there a chance for people to see real-time availability? Communicating parking inventory, lift ticket inventory, and/or chairlift wait times is transparency that will build trust equity. Some resorts are using text messaging to effectively communicate late-breaking information.
For frequent skiers, forums matter. Love them or hate them, ski and snowboard forums are fertile bastions of core skier/rider sentiment. It's possible to sift through the petty complaints and distill useful insights. If you have the patience and manpower, hop on and engage with transparency and authenticity, again building trust equity that will pay dividends in the short- and long-term.
The most active and influential in talking about skiing on social media are male, not female. Yes, women are the household planners and travel decision-makers, but the study found males are more influential in the online ski space. To reach the female decision-makers, engage with outdoors-oriented women influencers and perhaps collaborate with female-skewing fitness and lifestyle brands.
Email olivia@saminfo.com if you would like the full report.
GUNSTOCK RADIO
The first sign guests see when arriving at Gunstock Mountain Resort, N.H., says, "Tune into 90.3 Gunstock Radio." When they do, guests receive important information about what they need to do and
what they can expect during their visit.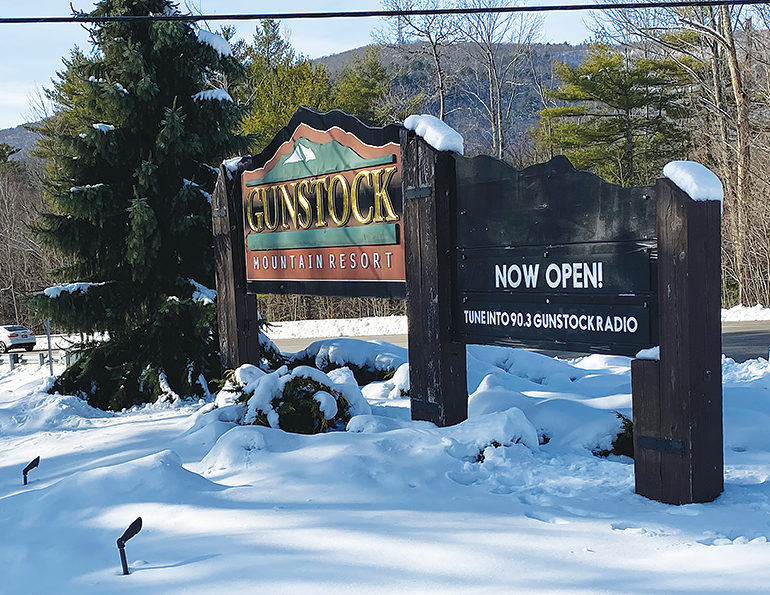 "The goal was to inform skiers and riders of important information and special updates for their visit immediately upon arrival," says marketing director Kristen Lodge.
Broadcasting over the radio is quite easy and affordable, she says: "The cost for all the hardware was less than $500."
Gunstock bought an FCC Part 15 transmitter—like those used at drive-in movie theaters—and a ground plane antenna, specially tuned to 90.3 mhz. The compact setup is located in an office in the Main Base Lodge. Its low-power signal has a coverage range from the resort entrance to the main parking lot.
"Our radio content primarily lets everyone know how to navigate the resort and plan their day in accordance with the new winter operating plan," says Lodge. This includes instructing them to boot up in their car, leave their gear there, and go directly to the chairlift with their pre-purchased lift ticket, plus reminders about wearing a mask, social distancing, and to ride the chairlift with the people they arrived with.
"We also give them directions on how to order take-out food online or make reservations to eat in our lodges. We will switch out content regularly throughout the season with dining options, events, and specials," says Lodge. The content runs no longer than 7 minutes.
The FCC doesn't require a license to broadcast using a Part 15 transmitter, but the chosen frequency cannot interfere with other licensed broadcasters in the area, neighbors' radio or television signals, or aircraft or public safety.
Gunstock uses Adobe Audition to record the radio content. The mp3 is saved to a USB drive, which is plugged into the back of the transmitter and broadcast in a loop to the parking lot.
Terrestrial radio is an inexpensive and efficient option to deliver important messages to guests upon arrival. Plus, it doesn't need to be a lecture—you can probably have some fun with it, too.
A LETTER TO THE INDUSTRY
One of the good things that happened in an otherwise tumultuous 2020 was that our society—including the ski industry—became more aware of inequity and unconscious bias, and as a result began making real progress toward combating it. The NSAA Growth Committee, for example, switched from developing traditional ways to grow participation in skiing and riding to taking part in diversity, equity, and inclusivity training.
But our industry still has a long way to go. One example of bias appeared in the pages of the Fall issue of Ski Patrol Magazine. In his "Chatting with the Chair" column, National Ski Patrol board chair Brian Rull describes the coronavirus concerns he had on his flight home from the January NSP board meeting "when I was unfortunate enough to sit next to an Asian woman who coughed the entire flight and postured as if she suffered from emphysema."
Rull later apologized in an open letter to NSP members, but not before reactions to his troubling comments poured in ranging from frustration to anger to support. One of the reactions came from Annie T. Kao, a longtime ski industry employee and more recently, founder of Ascent Inclusion Consulting, LLC. She personally reached out to NSP with her story, and also shared it with SAM.
Here are excerpts from her letter:
Dear NSP Board of Directors, Staff, and Editorial Staff:
I worked in the ski industry in the late 1990s and again from 2010-2020, most recently as an assistant general counsel in the Vail Resorts legal department. I am part of a three-generation family of Coloradans with ancestry in Taiwan. We are also proud to have Asian features and skin.
Over this past 4th of July, my family was in Avon, Colo., at the park when my parents and young kids were confronted by a man and woman who yelled at them, "Don't bring coronavirus here!" and "Go back to where you came from!" laced repeatedly and aggressively with the F-bomb. By the time I caught up with my family, both of my kids were sobbing and scared, and I have rarely seen my dad so angry. I drove us directly to the nearby Avon Police Department to file a report, and the responding police officer was amazing. The officer looked my kids in the eyes and delivered the critical, reinforcing message that they are every bit as American as anyone else, they have every right to be where they were in the park, and what those people said was wrong, race-based speech.
On that day, I felt very fortunate to have allies in the Avon Police Department who tried to repair and counterbalance the impact of race-based harassment against my family.
My question now is: Would NSP leaders encourage their members to be the same type of ally to me and my Asian American family, if similar race-based harassment occurred on the mountain and I called Patrol for help? I have always confidently thought yes—until I read the recent article by Brian Rull, the NSP Board Chair, in the Fall 2020 issue of Ski Patrol Magazine. Mr. Rull describes his unsubstantiated assumption that he may (or may not) have contracted coronavirus in January from an Asian woman of unspecified origin whom he assumes had Covid as she sat next to him on a plane.
I am sure Mr. Rull did not consider this description to have any unfair race-based undertones. But from my lens, this perpetuation of an automatic and highly overbroad correlation between coronavirus and the entire Asian race is deeply flawed. The use of a person's race in an attempt to bolster an accusation of wrongdoing in this manner is highly damaging, by perpetuating harmful race-based assumptions, fears, and mindsets contributing to exactly what happened to my family this summer.
I am sure Mr. Rull has positive intentions and means no harm. Unfortunately, the harm exists whether intended or not, and I sincerely hope that Mr. Rull and NSP are willing to acknowledge and address it through a published correction, retraction, apology, Board training, education, and/or any number of other appropriate options to show that NSP and its leaders understand the seriousness of this issue."
Thank you,
Annie T. Kao, J.D.
CLIMATE INITIATIVES ABOUND
Climate change is a hot topic, literally, especially for the weather-dependent outdoor industry. Trade organizations are taking a more active role in climate advocacy and encouraging members to reduce their carbon footprint.
In 2019, the National Ski Areas Association (NSAA), Outdoor Industry Association (OIA), and Snowsports Industries Association (SIA) launched the Outdoor Business Climate Partnership (OBCP), a collective effort to amplify the voice of the outdoor industry on climate issues. In December, the OBCP signed on to the "We Are All In" National Climate Statement in support of the Paris Climate Agreement.
In addition, each organization has introduced its own climate-change initiative for members to participate in. NSAA's Climate Challenge, started in 2012, helps ski areas inventory, target, and reduce their carbon emissions. The growing number of participating resorts receive assistance in conducting a greenhouse-gas inventory and identifying opportunities to reduce their carbon footprint in an economical manner.
SIA's ClimateUnited is the newest effort. Launched in October 2020, it aims to unite the winter outdoor industry around meaningful climate action. The pact asks participating winter outdoor businesses to:
• make addressing climate change a top priority;
• leverage influence to advocate for state, federal, and international policy;
• align business strategy with climate science;
• work with supply chain partners to
meaningfully reduce emissions;
• reduce emissions 50 percent by 2030,
and become net-zero before 2050.
A plan to achieve these goals must be submitted to SIA within 12 months of signing onto the pact.
OIA launched its similar Climate Action Corps in January 2020. It, too, requires accountability, in addition to providing guidance, training, and tools for participants, who are asked to:
• measure their carbon footprint and all greenhouse gas emissions that occur in making, selling, and moving product;
• set a greenhouse gas reduction target and build a plan to achieve it;
• take immediate steps to reduce carbon emissions, even while measurement and planning are in progress;
• provide an annual report to OIA for benchmarking.
All three associations highlight the financial benefits of conservation: OIA and NSAA emphasize the potential economic savings, while SIA points to the potential losses if action is not taken.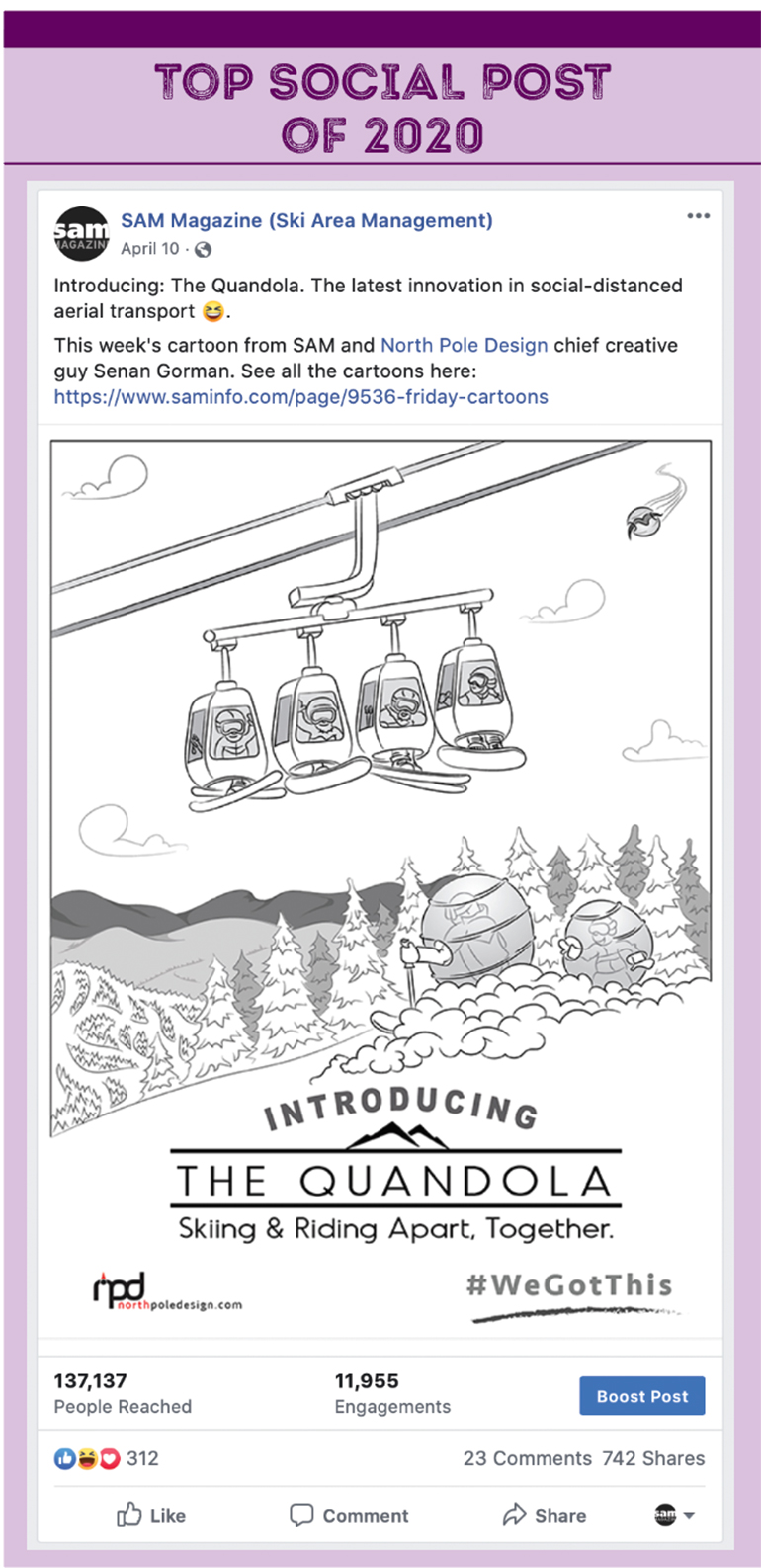 SUPPLIER NEWS
Industry veterans Mark Petrozzi (AlpenRisk Safety Advisors) and Michael Bettera (Effective Edge) have launched LVL UP ACADEMY, a new interactive digital learning platform that aims to make employee training more effective, efficient, and consistent. It provides e-learning courses that deliver the latest in mountain resort industry best practices as well as online, on-demand education and training for resort employees, particularly for risk-heavy operations.
SKI BUTLERS is partnering with GIVEGO, a subscription-based service that offers coaching from professionals in a variety of sports—including skiing and snowboarding—via mobile app. As part of the partnership, Ski Butlers customers will receive two free coaching
sessions with Givego.
ADG MOUNTAINSIDES opened its latest mountain coaster at the US Olympic Venue in Lake Placid, N.Y., on Oct. 11.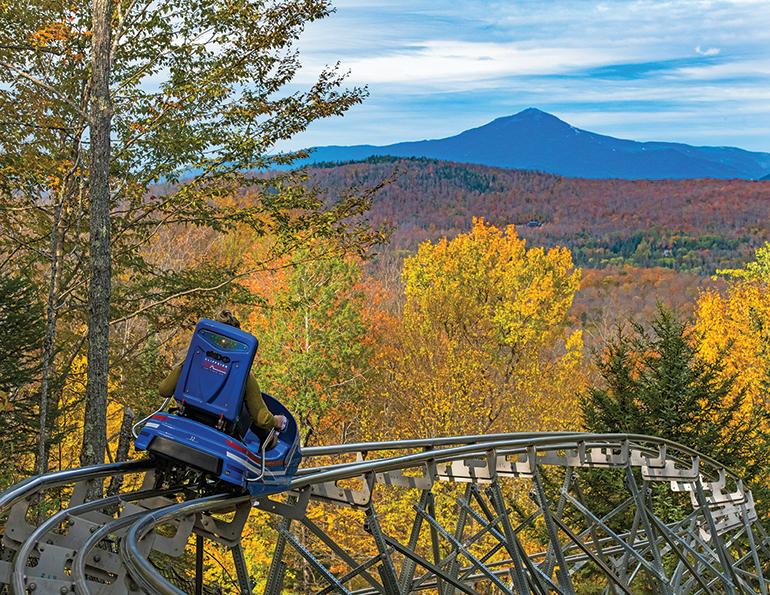 At 7,000 feet long, it is the longest mountain coaster in North America and travels alongside the 1980 Olympic bobsled track.
SQUARE commerce platform has partnered with POWDR to power payments, e-commerce, and point of sale at POWDR ski resorts across the U.S. and Canada.
LIFTOPIA INC. entered an "assignment for the benefit of creditors," or ABC, to liquidate its assets, through which Norwegian-Spanish holding company Skitude has acquired the assets of Liftopia Inc.
Elia Hamilton has joined MOHAWK INDUSTRIAL WERKS and INDUSTRIAL WERKS CANADA as sales representative for Ontario, Nova Scotia, PEI, and Labrador, where he will represent PISTENBULLY snow grooming equipment.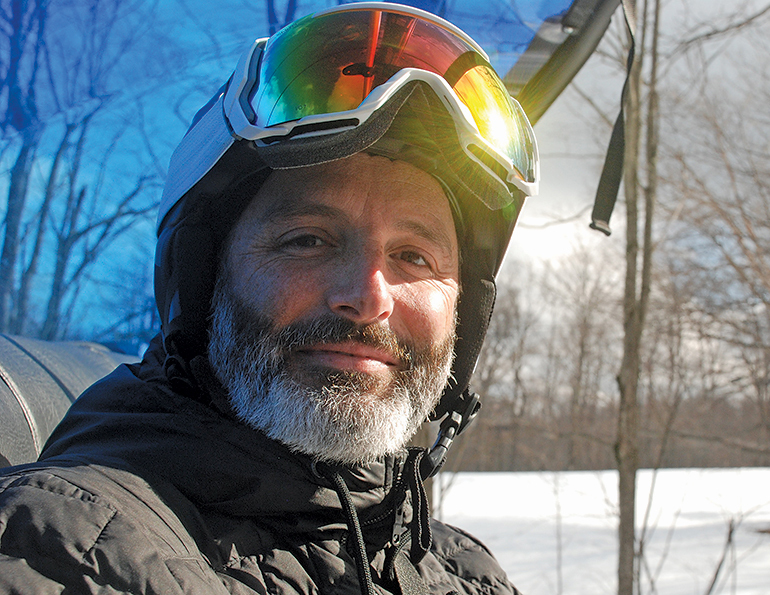 Ryan Lavoie2018 SAMMY Award winner Ryan Lavoie has joined the MOUNTAINGUARD insurance team as assistant director of risk and education. He will work closely with Mary Bozack on a national level to provide risk management advice for clients in the U.S. and Canada, and also help build out MountainGuard's growing workers' compensation offering.
BURTON welcomed new senior vice president of global marketing Kelly Murnaghan, and new executive creative director Adrian Josef Margelist.
TECNICA GROUP has hired Rob Phillips in the newly created role of North American business unit director – Tecnica Footwear.
Mike Poole, HEAD/TYROLIA national sales manager for rental products, is retiring effective Jan. 15, 2021. Poole has been a member of the Head Wintersports leadership team for 20 years.
HEAD/TYROLIA, USA has named Rob Mignon vice president of sales, a new position for the company, effective Jan. 1, 2021. Mignon will manage sales for all Head Wintersports products for the USA.
PEOPLE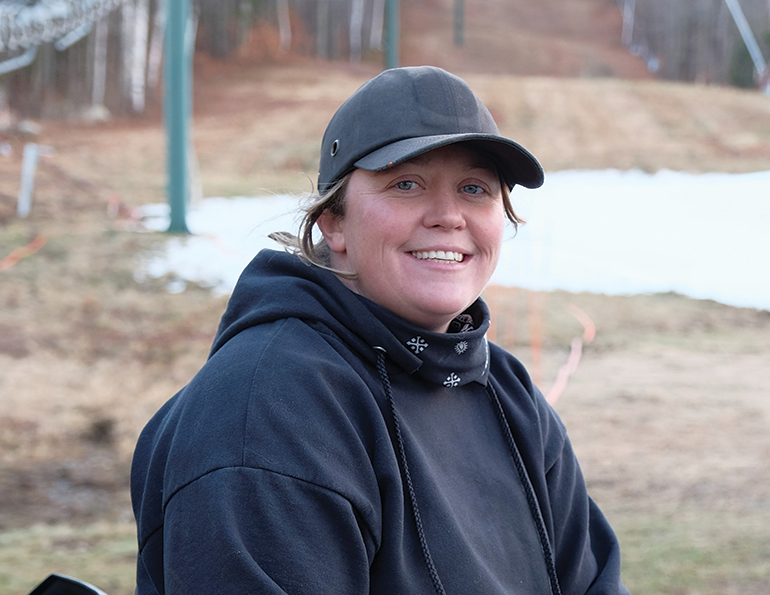 Candace EganIn the East, Ragged Mountain, N.H., hired Candace Egan as lift maintenance manager. … Greg Gavrilets was named general manager of Attitash, N.H., succeeding John Lowell, who recently retired. … Josh Klevans was named general manager of Wildcat, N.H. … Sugarbush, Vt., welcomed Patrick Konvicka as its new VP of mountain operations and recreational services.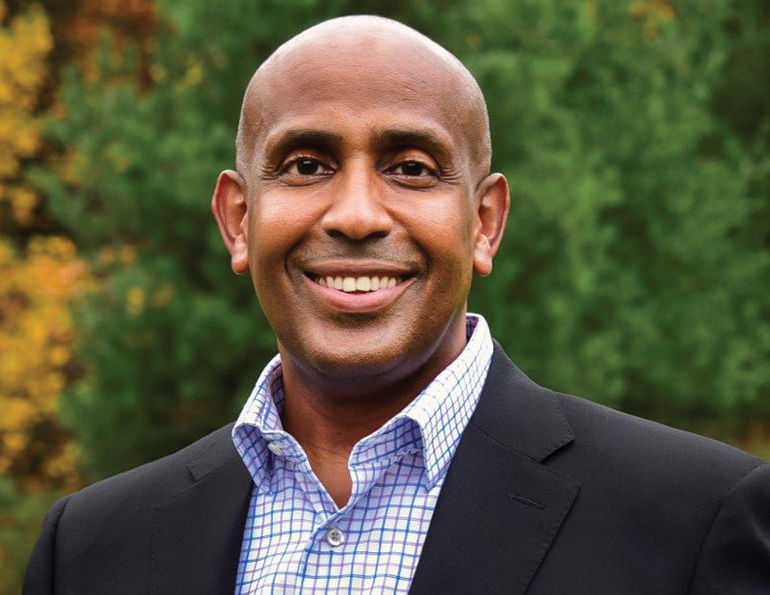 Gaman GuadagniGaman Guadagni has been appointed as vice president of operations at Camelback Resort, Pa. … Sugar Mountain, N.C., welcomed Kaylee Mayberry as director of group sales, and Charlie Peters as director of ice skating and tubing.
In the Midwest, Leonard Payne was named mountain manager at Mad River Mountain, Ohio. … Crystal Mountain, Mich., welcomed Everett Leonard as its new vice president of accounting, and promoted Sammie Lukaskiewicz to vice president of marketing and communications.
In the West, Schweitzer Mountain, Idaho, hired Lance Badger to fill the newly-established chief development officer role. … Sarah Sherman is the new communications manager at Snowbird, Utah.
The U.S Ski and Snowboard Hall of Fame added Christine Donovan and Michael J. Krongel to its board of directors. … Diamond Peak Ski Education Foundation named DeeDee Cole Driller to be ski team program director.
AWARDS
SKI released its annual resort guide, which ranks the best 50 resorts across North America based on its 2020 reader survey. In the West, Sun Valley, Idaho, took top honors, while Smugglers' Notch, Vt., was named number one in the East.
OBITUARIES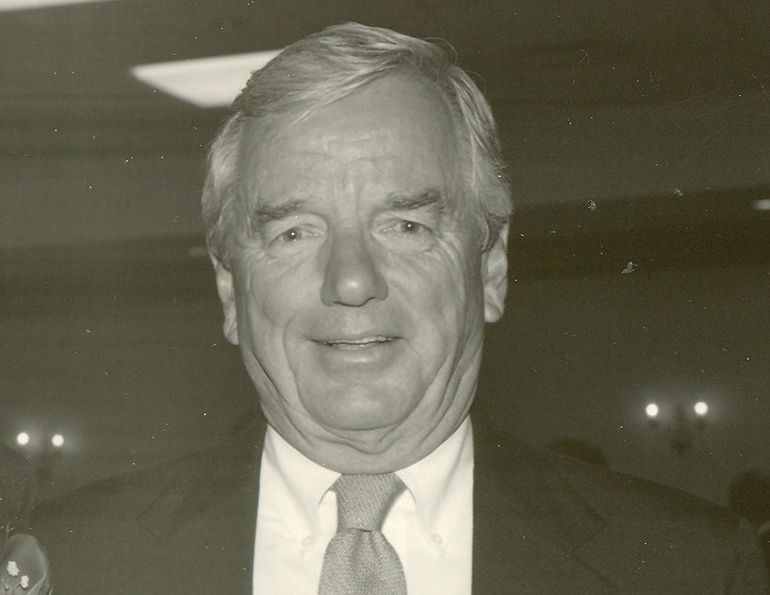 Bob MaynardBob Maynard, who ran Aspen Skiing Co. during an era of great changes between 1988 and 1996, died in November at age 93. Maynard served as president and CEO of Keystone Resort for 13 years, when it was a division of the Ralston Purina Co. Under his guidance, Keystone went from 50,000 skier visits to more than 1 million per season. He left to be president and CEO of Sundance Enterprises at Sundance, Utah. From there, he went on to lead SkiCo, where he shepherded the acquisition of Aspen Highlands and oversaw the construction of The Little Nell Hotel. Maynard was inducted into the Colorado Ski and Snowboard Hall of Fame in 1993.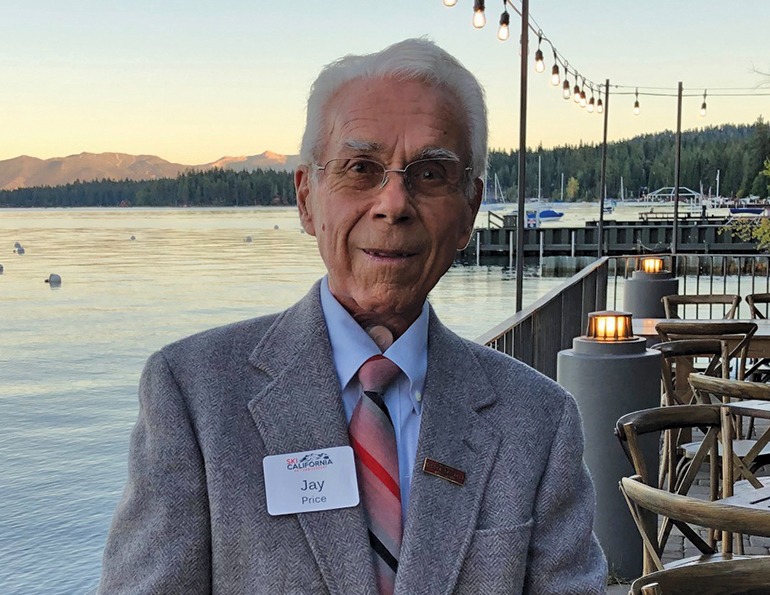 Jay PriceJay Price, a pioneer and legend in the California ski industry, died Oct. 30. He was 88. He got his start in the industry at a small ski resort in Provo Canyon, Utah, called Timp Haven (now Sundance). There, he directed the ski school and started the first busing program (SCERA Ski Program) to bring school-aged children to the slopes to learn to ski.
In 1965 he helped build Boreal Ridge on Donner Summit, Calif. During 20-plus years as GM of Boreal, he implemented the Alpine Junior Skiers Program for children, the Winterset Ski Program for women, and the California Ski Teachers Clinics (CSTC). He was also the first to bring night skiing and snowmaking to Northern California. Price served as NSAA president and was also a founder of the Sierra Ski Areas Association.
Jean Marie Mayer founded the ski school at Taos Ski Valley, N.M., in 1957 and served as technical director until his death on Oct. 10 at age 85. He also built and ran the Hotel St. Bernard at the Ski Valley for more than 60 years. A lifelong ambassador for French alpine ski culture, he was widely considered the patron saint of skiers at Taos Ski Valley. He was inducted into the New Mexico Ski Hall of Fame in 2008.