Covid has changed just about everything, including trends in rental equipment. As a result, we've expanded this year's Rental Buyer's Guide to include backcountry alpine touring and cross-country in addition to alpine and snowboard. This is the first time we've ever covered alpine touring equipment in the RBG, and the first time since 2014 for cross-country.
The additions are in response to growing demand at retail, which is expected to continue. Both alpine touring and cross-country present a good opportunity for rental shops at resorts that have the terrain for these exploits.
Brands and resorts alike expect that interest in spending time outside will bring new consumers to the mountains this winter. "The outdoor industry has experienced a lot of growth in first timers trying and buying when it comes to surfing, skateboarding, and golf over the past few months," says Billy Johnson, Americas sales manager for Burton Resorts and Anon. "We believe we'll continue to see, this season in particular, demand for consumers getting outdoors and trying new activities."
That demand could fuel a strong rental market for the next few years. Read on to see how you can stock up for 2021-22 and beyond.
—The Editors
ALPINE RENTAL 2021-22
BY PETER OLIVER
After Covid-19 essentially shut down the ski business in mid-March, many resorts started trimming expenses for the 2020-21 season, unsure of what to expect. Manufacturers were forced to cut production.
Big players like Vail Resorts and Alterra made draconian cuts in their annual rental buys, and smaller resorts followed suit. Geoff Curtis of Marker-Dalbello-Völkl bemoans "the limited number of opportunities out there" in the rental market.
At the same time, many new products were already in the final stages of development when the pandemic hit. So manufacturers carefully tracked the uneven demand and calibrated their factory output accordingly.
PRODUCT DEVELOPMENT IN COVID TIMES
The result is decidedly scattershot. No manufacturer has gone all in with a completely revised rental line, but most are debuting some new products.
Head's Mike Poole says, "We made a conscious decision, given the coronavirus, to change virtually nothing in the line." In contrast, given the strong retail climate this past fall, Elan's Rob McCutcheon says that now might be "a good opportunity to push even harder" on new-product development.
Indeed, the number of new products companies are bringing to market really depends on where they stand—or stood last March—in their product-development progression. Rossignol followed through on numerous changes to its rental-ski lineup that had already been in the works before the pandemic struck. Chris McKearin of Salomon says, "For the most part, we weren't impacted at all. We didn't have to cancel any [R&D] projects brought forward for 2021." Sam Beck of Nordica says, "Some things we pulled back on; some things we moved forward."
So there it is—a mixed bag. The result is a handful of new products, even from Head.
The long-term outlook. Looking beyond the immediate horizon, suppliers anticipate a post-Covid-19 rebound. They figure that many resorts are destined to make a wholesale turnover after extending, or overextending, existing rental fleets for an extra year this season.
THE 2021-22 MARKETPLACE
Changes for the 2021 buying season focus mostly on refinements of existing products rather than completely new designs. Companies are still evaluating how effectively products introduced in the last year or two are meeting the demands of their rental clients. "The way the season ended, we didn't get enough feedback," says Elan's McCutcheon. But several trends are clear nonetheless.
Sintered bases have been gaining momentum over the last year or two. Sintered bases, of course, hold wax better, glide better, and generally perform better than extruded bases. But they are also more expensive. Some companies offer a choice; Elan, for example, includes in its rental-ski lineup a price-sensitive extruded-base Element 76 as well as a sintered-base upgrade, the Element 76RS.
Rossignol, on the other hand, produces 95 percent of its rental skis with sintered bases. According to alpine product manager Kurt Hoefler, the only extruded holdovers are a few models among its junior skis.
Anyone looking for sintered-base junior skis should then look to Head, which offers an all-new softer-flexing junior model with a sintered base. Poole says the company recognized "a need to improve glideability" for kids' skis.
Rossignol has been most active among the major rental suppliers in introducing new rental products. It completely redesigned its Experience ski lineup with new sidecuts and rocker profiles and more durable top sheets for the Experience 76, 78, and 80. Their so-called "drive tip," a modified early-rise design, "drives energy through the length of the ski," Hoefler says. Also of note are the new Hardtop top sheets on Experience models.
Salomon is introducing the Stance 84 and Stance 80 as performance step-ups from basic fleet rental, although the Stance 80 is not a significant departure from the Distance 80, which it replaces.
Elan continues to ride the success of its Element 76. The Explore 80 is available as a performance upgrade.
Performance demos. This category could be especially strong this winter, as MDV's Curtis sees potential in season leases. Most of the skis in this category are in-line models with reinforced top sheets to improve durability for rental.
Among the models that stand out are Elan's Ripstick 88 and Wingman 82 Ti, Rossignol's Stargazer and Escaper in its Black Ops collection, and Nordica's Enforcer 94 and Enforcer 100 ("reinvented," says Beck). Typically with wider footprints than standard rental models, these skis perform best in softer snow.
GripWalk gains momentum. GripWalk, pushed most aggressively by Marker-Dalbello-Völkl, is now either standard on many rental boots or available as an add-on option. Rossignol, for example, ships its rental boots without GripWalk soles but offers GripWalk as an aftermarket add-on. Ditto Salomon, which offers the option of pre-mounted GripWalk soles at no extra cost.
Much of the growth in GripWalk has been enabled by the growth in rental bindings that are GripWalk-compatible, in some cases bindings that self-adjust depending on what type of boot sole is involved.
Rear-entry boot revival. Nearly extinct a few years ago, the rear-entry boot seems to be making a comeback, at least in rental. Nordica is going all in with an adult rear-entry model, the HF. It has a buckle over the forefoot to tighten the fit and a new liner that "keeps the heel pocket intact," as Beck puts it. Elan is dabbling in the concept with the Eon, a kids' rear-entry boot. The appeal remains the same as ever: the design makes boots easy to get on and off, an issue that Beck says is especially important at the never-ever level.
Reduced-sole-lengths systems. Four of these systems continue to be strongly in play for high-volume rental operations. Head's pioneering BYS system remains popular. Elan-Alpina's DSS system, successor to the Dalbello 4Factor system, "keeps getting better and better and better," says McCutcheon. Rossignol updated its four-sole-length Flash IRS system with a reengineered Flash IRS boot. And Marker's Quick Six preset sole technology is designed to work with the FXR rental boot the company introduced last year.
Transition year. That's the alpine rental market in a nutshell: a bit of innovation, a bit of continuity. Equipment manufacturers see rental sales proceeding on a piecemeal basis, with rental outlets filling in holes in fleets on an as-needed basis rather than completely replenishing full fleets. The suppliers' 2021-22 rental offerings seem tailored to that reality.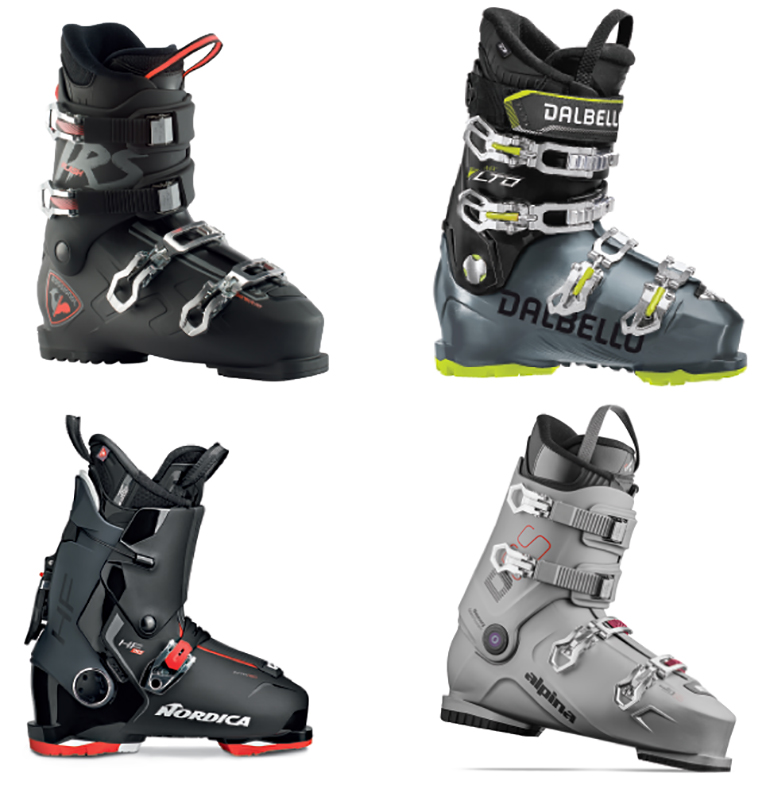 Boots from left to right, top to bottom: Rossignol Flash IRS system boot; Dalbello DS MX LTD with pre-installed GripWalk soles; Nordica HF 110 rear-entry model; Alpina DSS, compatible with Elan-Alpina's limited-sole-length system.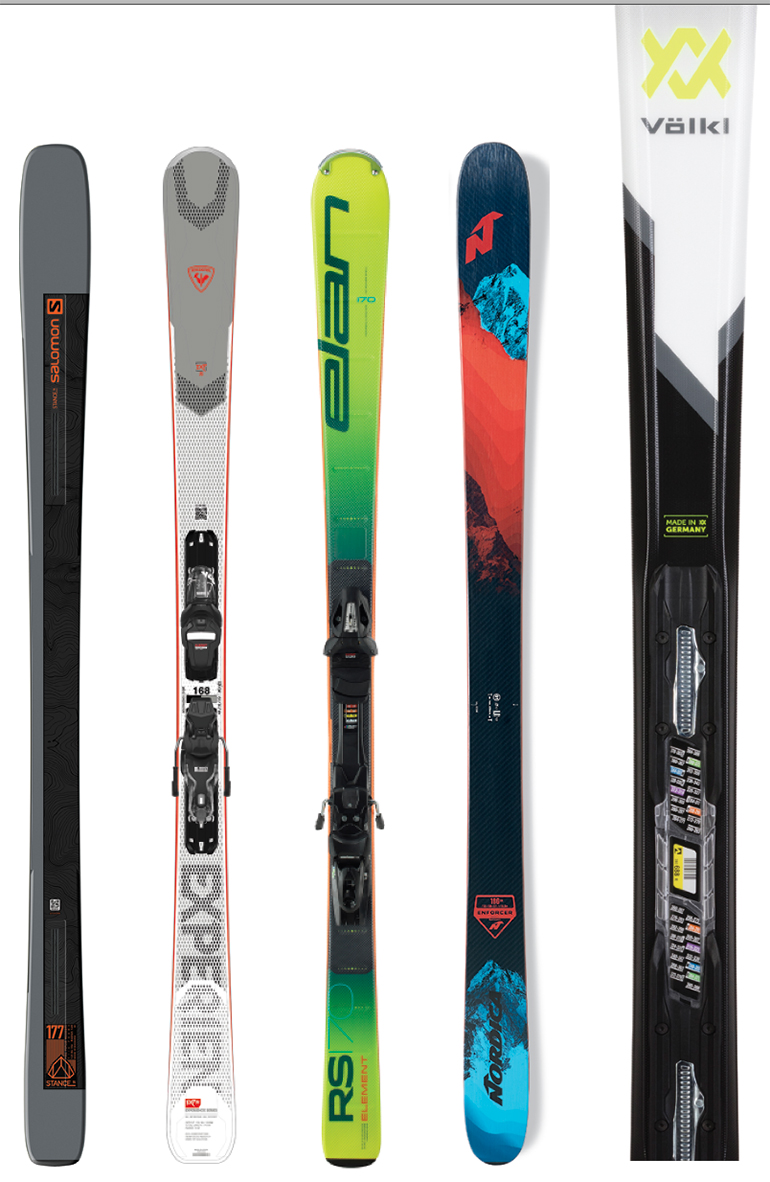 Skis from left to right: Salomon Stance 84; Rossignol Experience 76; Elan Element 76 RS Track; Nordica Enforcer 100, available as a performance rental; Quick 6 preset sole tech on the Völkl Deacon 8.
SNOWBOARDS 2021-22
BY MARY WALSH
Heading into 2021-22, snowboard manufacturers are poised to facilitate entry for new riders while making the entire rental process as smooth as can be for resorts. Additionally, brands see potential for growth in the market by catering to the equipment needs of more seasoned riders as they seek out performance snowboards and backcountry-specific gear.
MEETING LONG TERM NEEDS
Snowboard companies see the lifespan of rental fleets as key to meeting resort needs. "Rental buyers are looking for longevity in product," says Megan Stark, global product line manager at K2 Snowboarding. "Uncertainty in participation, resort access, and market stability have a profound effect on the rental business, so having a product offering that will outlast market volatility is more important than in the past." To this end, the K2 line focuses on "durability, fit, and aesthetics," Stark explains.
Billy Johnson of Burton and ANON agrees. "We think buyers are looking for durable product to last a long time for an uncertain future due to Covid-19," he says.
Gear for kids. Johnson also notes a continued demand in youth equipment. "We pride ourselves on starting kids sideways, and fully commit to providing the products to allow families to do so," he adds. "We have boots and bindings fitting down to a youth 7c. We offer a 'handlebar' that mounts to youth boards (80 cm-110 cm), providing kids a welcoming initial feel to sliding sideways. We've seen 18- to 24-month-olds on a snowboard."
ELAN's U-Flex kids' board has small grooves that run horizontally across the board, to soften flex and reduce weight for lighter riders, says product manager Ben Fresco.
HEAD SNOWBOARDS debuts a new 620 BOA boot. Made of rubber, it has an injected heel and reinforced toe. Head's Comfort Cut and Cuff Cut provide an easier flex. Head's new-for-2020 Flex rental line remains unchanged.
Rossignol Snowboards' EXP Fleet of snowboards and tool-free Rail System-compatible boots and bindings debuted in the 2018-19 season. For 2021-22, Rossignol has updated the system, enhancing the comfort and durability of its boots and bindings, and adding details, like color-coded release tabs on binding rachets to make things easier for new learners.
Rossi has also introduced a print-at-home sheet that determines a renter's boot size. "This year with Covid, most rental shops are probably going to have consumers order online, so we wanted to provide assets to make this really easy," says Kurt Hoefler, VP of sales and marketing at Rossignol. This idea could outlast the pandemic.
Salomon Snowboards also focuses on quick setup and easy adjustments. "Our Unite rental system centers around our Unite binding and disc, which allows the rental operator to quickly mount and adjust the binding to the board faster and easier," says Jeff Fox, commercial manager at Salomon Snowboards. "This system also requires less space between boards during storage."
Elan's Explore line includes the Plus R board, a step-up option for experienced riders. It has all-terrain rocker and is available in both standard and wide widths.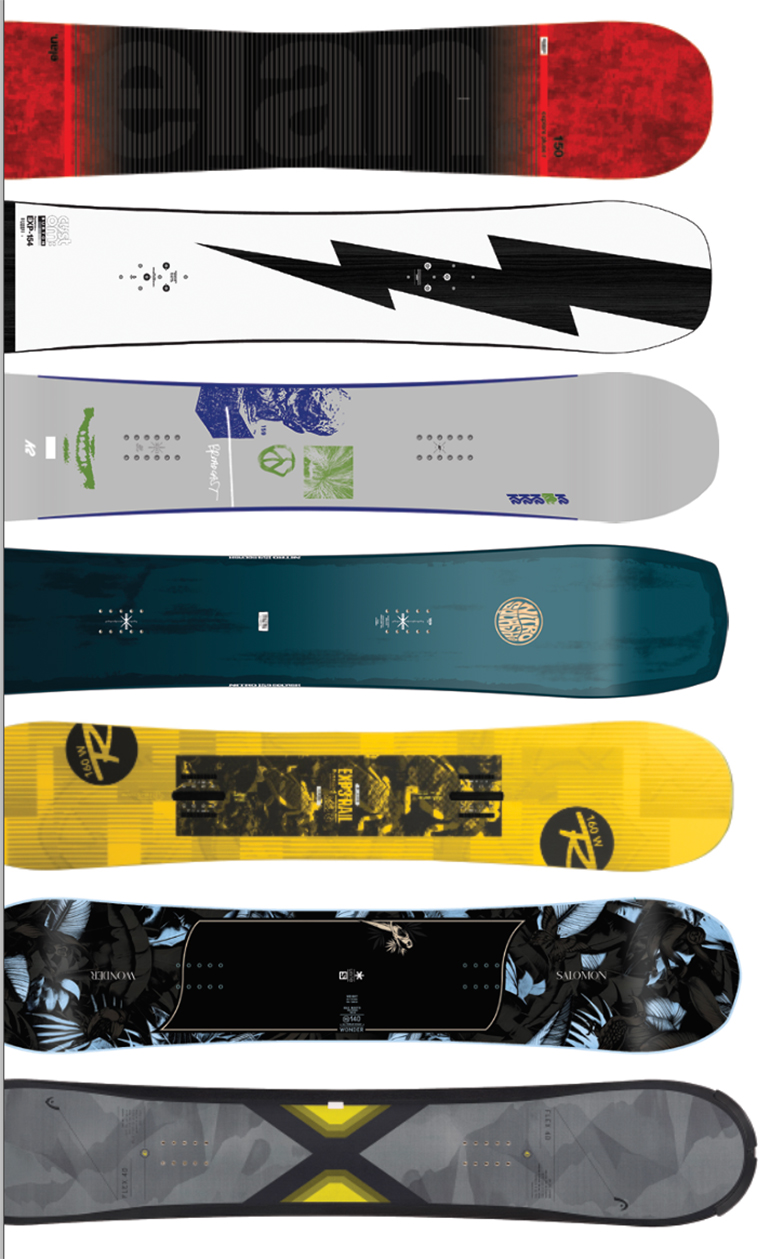 Top to bottom: Elan Explore Plus R; Burton Custom EXP; K2 Broadcast for rental; Nitro Rental Squash; Rossignol EXP 3; Salomon Wonder; Head Flex Jr.
INLINE ENHANCEMENTS
Many brands are infusing their rental options with inline products and features.
"Our rental program is set up to offer both inline products and dedicated rental products to cover all aspects of the market," says K2's Stark. "Our inline rental offering includes the Broadcast, Raygun, and Dreamsicle, with added durability features including scratch-resistant topsheets and easy to maintain extruded bases. Our dedicated rental line is on a three-year cycle that offers tunable P-tex topsheets and extruded bases for performance and product longevity."
Salomon has updated the liners of all of its rental boots. "We have adapted them to our Fit To Ride program that is featured in our inline boots. This provides the renter a better fit and more comfort," says Fox.
Nitro offers a literal quiver of rental versions of inline models, including all-mountain boards, Quiver powder boards, and splitboards. All have maintenance-friendly black bases, scratch-free, self-healing, soft-touch topsheets, Railkiller edges that are said to be twice as thick and strong as standard edges, and integrated barcode stickers. "We believe that everyone should enjoy the latest technologies and performance," says Nitro director of marketing Knut Eliassen.
Nitro is also introducing a new Team Rental Pro binding for 2021-22. "The Team has the look of a regular snowboard binding with the classic rental quick-release system, plus Nitro's cable-reinforced ladders and Vibram Übergrip toe strap for added durability," Eliassen says.
Helmet rentals have been growing along with the rest of the snowboard rental market, and that has spurred upgrades. Case in point: Anon has overhauled its popular Progression helmet for 2021-22, reducing the overall helmet size by 23 percent. The Progression also has a new, reinforced earpad design and an anti-scratch outer material to help avoid scuffs when storing. "To complement this new helmet, we're offering a three-year indemnity," adds Johnson.
Head is launching the new Charter rental helmet, a sleek matte finished modern design. Product manager Mike Poole says it offers precise initial fit and a unique "self-adjusting" internal sizing device, Spherefit Auto, which adapts to different head shapes within a given size. A "macro" adjustment allows changes up to +/- 2 cm. The Charter also has a new ratchet type closure on the chin strap.

Left to right: Anon Progression helmet; Rossignol Impact rental helmet; Head's new Charter rental helmet.
GROWTH OF PERFORMANCE, BACKCOUNTRY
Shapes and other trends. Shaped and terrain-specific boards, as well as splitboards, could become impactful as consumers seek specialty gear or to step outside of the resort and into the backcountry.
Salomon is offering the men's Super 8 and women's Wonder freeride boards as part of its performance fleet. For more experienced customers, "We are able to adapt our easy-to-use fleet rental platform to all of our boards and bindings," says Fox.
Similarly, Burton is offering a new Custom EXP, "Our highest-end offering of a true rental snowboard," says Johnson. "We took the shape and graphics of one of our best inline sellers and beefed it up to withstand additional wear and tear in a rental atmosphere. If your rental customer is asking for a more premium snowboard experience, this is it." The Custom EXP joins Burton's tried and true fleet offerings—the first-timer LTR board and step-up Radius, which Johnson refers to as a rental board "quiver killer."
Splitboards. Rossignol has seen a huge jump in splitboard sales this season, and Hoefler sees it as a growing part of the snowboarding ecosystem. "I think resorts will eventually look at this as another activity people can do at the resort, while also introducing new people to splitboarding," he says.
As we navigate the coming seasons, brands will continue to adapt and evolve product offerings to ensure riders of all stripes—including groms, families, weekend warriors, discerning veterans, and more—can find the gear they need.
BACKCOUNTRY AND CROSS-COUNTRY 2021-22
BY PETER OLIVER
For the last couple of years, perhaps the fastest-growing segment of the hardgoods industry has been backcountry gear, alpine touring gear in particular. "We can't keep it in stock," says Elan's Rob McCutcheon. And this year, interest in XC skiing has skyrocketed along with the rise in social distancing. Can resort rental operations tap into all this interest?
BACKCOUNTRY RENTAL MARKET
Backcountry equipment represents a very small percentage of the overall hardgoods market, but it has clearly found a niche, especially when people are trying to get away from crowds. Growing retail sales indicate a spurt of interest in alpine touring, and there should be a corresponding interest in renting AT gear. That's apt to be especially true at larger Western areas that might offer backcountry guiding services.
"There's a lot of action and interest [in AT]," says Marker-Dalbello-Völkl's Geoff Curtis, "and we assume some people are going to want to try it first." That means renting gear before buying.
Rossignol's Kurt Hoefler sees "a huge potential in the next three years" in AT rental business, with "outdoor shops renting out everything."
What do potential backcountry rental shops need to know? A few key things.
AT rental binding options. At least three companies make AT bindings with the broad adjustment ranges appropriate for rental. Marker's newly revamped Kingpin binding comes in two demo versions, and a version of Salomon's MTN Tour binding comes with a heel track with 50 mm of adjustability. Rossignol's HM Demo binding comes with a 90-mm adjustment range.
AT rental boots. Salomon is introducing a new, soft-flexing version (90 flex for men, 80 for women) of its Shift Pro boots that should be especially appealing to newcomers to AT. Nordica's Strider series of boots aims to maximize downhill performance, with "a lot of Speedmachine fit" built into its design, according to Sam Beck. Similarly, Rossignol's Alltrack Pro LT 110 and Alltrack W Elite LT 90 feature performance-oriented lasts of 100 and 98, respectively. Other good AT boot options are Head's Kore 2 and Tecnica's Cochise models.
AT rental skis. There are no rental-specific AT skis, although some alpine models suitable for backcountry—e.g., Rossi's Black Ops category—come with durable top sheets. A typical choice for an AT rental fleet would be something like Head's Kore series, which, says Head's Mike Poole, "checks all the boxes for a backcountry ski—it's light [for easier uphill travel] and with good dimensions [on the wide side, ranging from 93 mm to 117 mm underfoot]."
All major manufacturers, of course, make wide-and-light models, so resorts might look to their current rental suppliers about their options—and discounts. AT gear comes with a high price compared to alpine rentals.

Backcountry skis run wide and light. Top: Head Kore 117. Bottom: Rossignol BlackOps Alpineer.
XC RENTAL MARKET
Resorts with cross-country trails or with the capability of grooming a few cross-country kilometers might find an expanded rental audience this year, including newcomers and those who couldn't find any gear to purchase. And this new interest could continue to swell for years into the future.
As with backcountry gear, the major players in groomed-track cross-country gear—Rossignol, Salomon, Fischer, and others—do not make rental-specific models. Instead, they combine inline skis, bindings, boots, and poles for rental packages, typically offering substantial volume discounts.
Binding consolidation. Salomon is finally abandoning its SNS boot-binding system, which is not compatible with the much more widely used NNN system, and adopting NNN. This applies to sister company Atomic, too. And that enables rental-fleet managers to mix and match a wider range of brands in the future. Salomon will continue to provide customer support for SNS gear, says product manager Robert Lazzaroni.
For skis, keep in mind that classic tracks are 70 millimeters wide, so classic rental skis need to be no more than 65 mm wide to fit comfortably in the tracks.
Toward that end, the FISCHER Cruiser Crown and slightly higher performance Twin Skin Cruiser—both about 50 mm wide—are shorter, more manageable skis for classic skiing. The Cruiser's IFP (integrated flex plate) binding allows the skier to adjust the bindings forward for more grip or back for more glide. For skate skis, Fischer offers the Aerolite 60 and 70.
The Evo XT55 and Evo XT60 are Rossignol's most popular rental choices for classic skiing. Both have a Positrack waxless base. For an entry-level skate ski suitable for rental, Rossignol's honeycomb-core Delta Sport model replaces the heavier, all wood-core Zymax.
Salomon's go-to classic rental models are the 55-mm-wide Snowscape 7 (for men) and Snowscape 7 Vitane (for women) with waxless Posigrip bases. They can be delivered with Salomon's Prolink auto bindings (Salomon's proprietary name for its NNN bindings). For an entry-level skate ski rental, Lazzaroni recommends Salomon's RS 7 model.
For boots, first-price-point models include Rossignol's X1 touring boot or Salomon's Escape model. Higher-end boots like the Fischer Comfort Pro, Rossi X5 or the Salomon Escape Plus add higher cuffs to provide extra ankle stability that is much appreciated by inexperienced skiers.
Entry-level skate boots include Salomon's Prolink RS 8. Rossignol's X8 SC has a stiff skating cuff and a flexible sole for classic skiing, so it can do double duty as both a classic and a skate boot. Fischer's RC3 Skate provides performance with daylong comfort features. New skaters will appreciate the Easy Entry Loops and supportive ankle cuff.

Top to bottom: Fischer Twin Skin Cruiser; Rossignol EVO Glade XT60; Salomon women's Snowscape 7 Vitane; Rossignol Force 3 pole.
GROWTH MARKET FOR RESORTS?
Backcountry and cross-country skiing have momentum entering 2021. "Is this an anomaly because of Covid or is this a trend?" asks Salomon's Lazzaroni. The robust retail indicates a level of commitment by skiers, and committed skiers tend to recruit friends and family who need rentals. The hunch here is that these growth trends will continue, and resorts can participate in that growth.