Sick of it. We're all damned well sick of all of it—the masks, handwashing vigorous enough to remove fingerprints, the sanitizer (which stings because of all the handwashing). We're sick of the distancing, the shortages, the inability to share nachos and a beer with friends. We're sick of the fear that someone we love will test positive and be forced to quarantine. Or worse.
And in the ski business? We're sick of dancing on a tilted floor, to a harsh melody with an unpredictable beat. We're sick of creating and communicating plans and seeing them rendered obsolete within days. As one veteran resort marketer sighed, "This is the hardest thing I've had to do in my career."
With things changing constantly, can one maintain—even enhance—brand identity? More importantly, is there something special about your brand that can, and should, inform the way you manage this mess? Can your brand solidify, leaving you stronger on the other side?
THE COVID LANDSCAPE
We spoke with GMs and marketers across the country in mid-November, just as news broke that vaccines showed signs of safety and 90+ percent effectiveness. Back then, New Mexico had just shut down, and there were ominous signs that Vermont might tighten things up still further. Resorts nationwide were adapting on the fly, and will probably do so for the rest of the season.
Gaining approval. When we spoke with Dave Rathbun, GM of Purgatory in Colorado, he said he was ready to open. But his operating plan still needed approval from the state, which couldn't happen until the county health department signed off. So Rathbun was holding back the details of Purgatory's policies until he had approval.
"I've been down that road," said Rathbun. "If you set guest expectations and can't deliver, it's a problem. All we've released is stuff about wearing masks, hygiene, distancing, limits in the lodges—things you'd at least hope people understand by now. We'll communicate the rest once we're cleared to run, then see how it goes."
Other resorts were releasing more detailed projections, reminding guests that the unreliable dance floor and nasty music could change things.
Industry-wide effort. The pandemic has produced broad cooperation between rival resorts and operating companies, thanks in part to leadership by NSAA, SAM, and state ski associations. That has led to certain commonalities across the industry: reduced capacity in every aspect of operations, especially indoors; offering season passholders priority over limited day-ticket inventories; and online purchase of lift tickets and services. Walkups will be rare; cash is no longer king.
Every state for itself. Part of the challenge, though, is that regulations shift dramatically state to state. Maine and Vermont, at time of writing, had highly restrictive visitation requirements; New Hampshire, between them, was more relaxed—such that state-owned Cannon Mountain shut-off season pass sales on Nov. 1 after selling 800 more passes than last season's record. Director of marketing Greg Keeler assumes that people who normally ski in neighboring states looked at those states' restrictions and determined that a two-week quarantine before coming up every weekend was mathematically impossible.
While grateful for the windfall, Keeler was concerned. Regulars, he said, have mostly proven understanding about Cannon's operating changes. But, "we've got a whole new clientele to educate." That apprehension was based in part on what he saw during summer operations, when Cannon turned thousands of people away from its aerial tramway, which was shuttered for the summer.
"We had people who drove four hours to get here—four months into a pandemic, and they never even checked," he said. "We did everything we could to get the word out that options were limited. The [Franconia Notch State] Park was the busiest I've seen. I don't know if that ferocity to get outside is going to translate to winter, but I think it might."
STOP, LOOK, AND LISTEN
It's one thing to deal with regulations in Colorado, but quite another in New England—six states (all with ski areas), which combined total only 70 percent of Colorado's land area. Tyler Fairbank, CEO of The Fairbank Group, runs resorts in three of them. "Vermont has said to the world, 'We're concerned, and we're going to the limit on this,'" Fairbank said. "New Hampshire is at the other end of the spectrum—you know, 'Live Free or Die.' Massachusetts is somewhere in the middle."
Balancing the different policies is daunting. Fairbank said that from an overall branding standpoint, all three resorts will still be positioned in the "softer, family-oriented way" that has worked well for them in the past, each through its own unique voice.
Asked if the messaging about the pandemic this year reflected traditional resort branding, or was a one-off for this winter, Fairbank thought for a moment. "Probably a bit of both," he said. "Part of the brand is that we've always been very focused on what's important to our guests. This year, Covid and guest safety are really important to them—they've told us, loud and clear. I know some resorts are saying, 'This is an anomaly; we're going to pay less attention to guest feedback this year.' But I think that listening is more important now than ever."
STAYING ON-BRAND
When Oregon's Mt. Hood Meadows ended its season on March 22, it had already assembled a Covid task force and determined policies regarding season pass credits and carry-forwards, pushing all deadlines from summer to November.
"That may have meant more to our guests than anything," said VP of marketing, sales, and communications Dave Tragethon. By giving them time, he said, "we didn't force them to make any decisions last spring."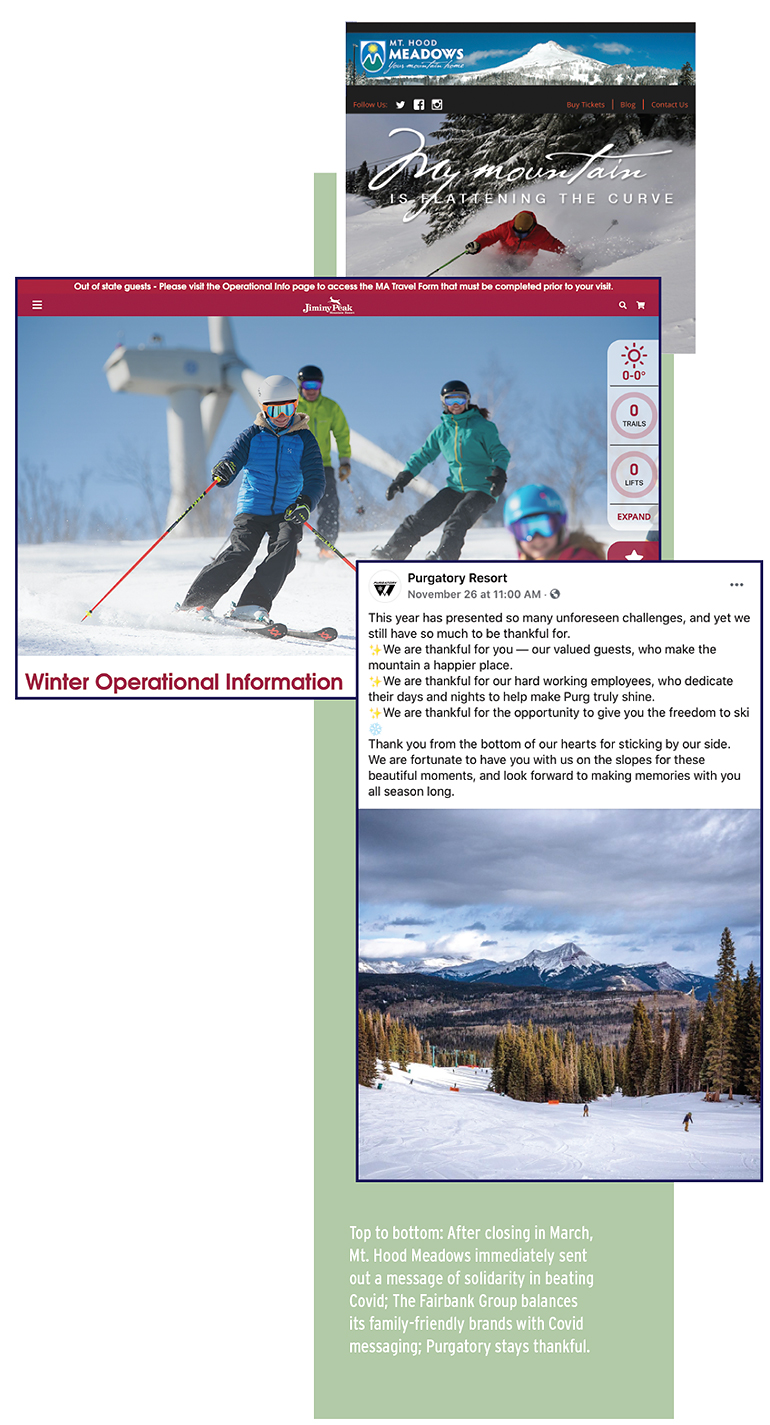 Using tech creatively. The resort will rely heavily on technology this winter. Nearly all transactions will be online, even if by phone from the parking lot. Day tickets provide access based on four assigned start times between 9:00 a.m. and 5:00 p.m. Years of highly specific season pass and lift usage data help calculate day-ticket inventory. MHM also used pricing incentives to push passholders into lower-priced products with later start times, intentionally moving a significant number of "all-access" (any time you want) passholders into lower-priced "value passes," with a 2 p.m. start.
All of this is consistent with MHM's brand—which, Tragethon said, "first and foremost, is about terrain and variety, and our ability to get people to the terrain they want. We'll be evaluated based on how well we move people around the mountain. Not so much about the restrooms. Yes, there will be porta-potties. I don't think people will hold that against us."
Being transparent. Brand identity is also partially based on transparency, and the resort "has continued informing guests of this season's operating plans," Tragethon said. "We felt it was critically important to get this information out before the pass deadlines, so people could make an informed decision. We're actually up in pass units—if not revenue, due to the carryover credits from last year. We've reached our cap on the all-access passes, which means we can manage the rest based on visitation forecasting."
Tragethon said that the #1 mission is to keep resort employees safe. The area's been upfront in communicating that both externally and internally. Staff is coached on how to avoid infection, and work flows changed accordingly. MHM also added 40 hours pre-accrued sick time for full-timers. "We want our team to know that if they're potentially exposed, they can stay home and not worry about a paycheck," Tragethon said. "We don't want them to have to make that choice."
Branding in Purgatory. Purgatory put a similar, brand-focused emphasis on dynamic pricing and employee health. Purgatory has been using dynamic ticket pricing for years, so the approach likely won't shock regulars. Even so, demand and capacity limits could produce ticket price swings of as much as $100.
"It's during a crisis that your brand identity—and your commitment to it—becomes most important," Rathbun said. "In tough times, people go back to what makes them feel good. Our job is to give them an opportunity to come up and slide on snow. It's about keeping employees healthy so guests can do that.
"These are the parts of our brand position that we want to protect. We need customers and staff alike to buy in to our operating restrictions so that we can give people the freedom to ski. If we had to shut everything down but the lifts, we'd do it. Everything else is just noise."
FACING THE MUSIC
Early on in the pandemic, Michigan issued a slew of executive orders to combat Covid. Boyne Highlands GM Mike Chumbler had plans in place, but knew they might change. So, Highlands' guest communications efforts emphasized pre-arrival emails and regular updates on its website and social, with constant reminders of how fluid things were. "We feel like we can't over-message," Chumbler said. "We got into a groove with it this summer and got some practice."
Mostly, he said, people had been tolerant—so far. But the resort doesn't know the level to which people read those emails, or even understand them, or how willing they'll be to adapt to the changes in outdoor operations.
Organic and consistent. Highlands' approach in consideration of brand was largely organic, though Chumbler said it's consistent: "We actually didn't realize it until we were doing it," he said. "Our brand, our legacy, has always been about family, coming home, welcome back. To some extent, guests overlook our sins because of the way we make them feel when they're here. These days, our message is, 'We're all going through a tough time, but we're glad you're here. It may be different, but it's going to be OK.'"
MAINTAINING IDENTITY
Jay Peak was the first full-scale resort in the U.S. to shutter last spring, on March 15—six days after Vermont's first case.
Jay has one of the strongest brand identities in the industry. It's not quite American, not quite Canadian, solidly Vermont. Nearly every action since the shutdown announcement can be seen through the prism of Jay's brand values.
"As we were talking about closing," GM Steve Wright said, "several team members said, 'We've got people who will be hurting right away—they're expecting another six weeks of paychecks before seasonal layoffs.' So, we started thinking about ways to support our staff and our community. Those are two pillars in our mission statement. We could only focus on a few things; we were facing a big financial hit, too. It had to be community and staff."
Prioritizing staff and community. One of the first things Jay did was start providing staff members and the community with food (there was plenty in the walk-ins). It housed and fed foreign staffers who couldn't get home until midsummer. And it started doing free meal deliveries to area seniors, posting images of that on its website and social media.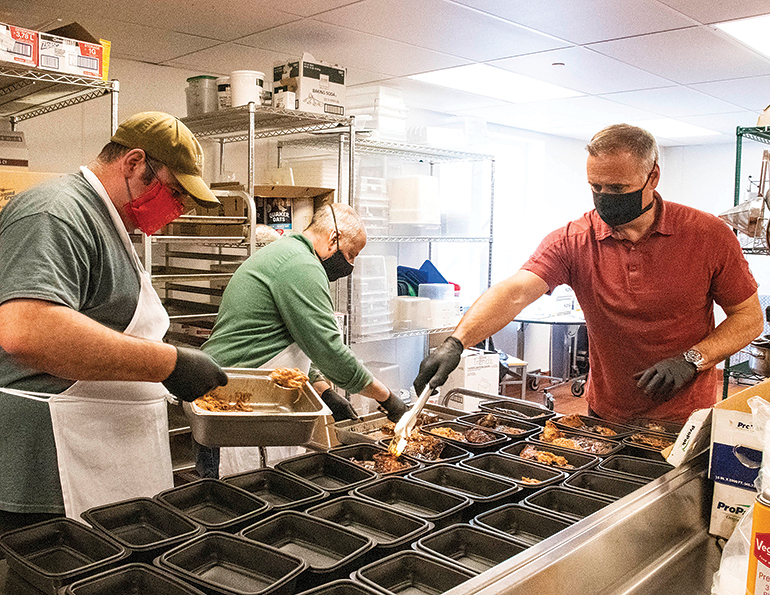 Jay Peak GM Steve Wright (right) and F&B employees prepared meals to be delivered by the Vermont National Guard.
"When we showed those images, we certainly wanted to make sure people knew about it," said Wright. "Besides, for six weeks after St. Patrick's day, we were hunkered down. We still wanted to communicate, but we didn't have anything else to say."
Staying constant. That meal delivery program expanded. Jay continued to deliver hundreds of meals a week to area seniors—and it's not just the basics, either. Wright gave his culinary team license to craft a wide variety of entrées, including Thai and Indian options (Wright said recipients often comment that they had no idea what they just ate, but they sure did like it). "This kept two people employed," he said, "and gave them the security and freedom to do what they love, which is to cook great food. Those guys would go into any battle with us now. That program serves the community and built staff loyalty."
Festivals are key components of Jay's summer branding, so it used festival concepts for its summer reopen. "We were more conscious in building the marketing campaign about re-opening—which we called 'The Return,'" Wright said. "We had several 'stages'—like a music festival does—and announced them in the same way, right down to on-site signage. We went out with it on Memorial Day to give guests something to hope for."
Once things started to pick up, Jay created a "Relocation Vacation" package: a condo and golf season passes for around $2,000 per month. It started as a PR play, but the area sold more than 130 packages—creating a base audience every day of the summer, and the need for more amenities and more staff. Several guests ultimately bought condos.
Wright extended that concept to this winter to fill the void from having no hockey camps or tournaments (Vermont banned hockey after an outbreak was traced to a rink), and losing roughly half of Jay's regular clientele due to the closed Canadian border. So, packages including seasonal rental of a two-bedroom condo and season passes for four were created. All 80 available units promptly sold out.
Jay uses email lists and its own website to inform its clientele of what's going on. It also aggressively uses social media—both its own, and groups run by others—to keep people in the loop. And its voice has been consistent. "We never discussed making sure communications were authentic to our brand," Wright said. "We didn't have to. The more you talk about authenticity, the less authentic you actually are. This place hasn't changed. It's who we've always been."
In other words: If your brand is rock solid, if you understand who you are and your clientele approves, keep doing what you're doing. And do plenty of it.
KEY TAKEAWAYS
Experience counts. Resorts that operated this summer, even under constrained circumstances, had a higher degree of confidence going into winter. They had learned to adapt on the fly, becoming quite good at it.
Staff matters. Resorts that most strongly considered employees as core elements of their identity seemed to have the greatest awareness of how the pandemic is likely to impact brand; this informed efforts to communicate through the pre-season.
You are your brand. Could you consider this year's changes a one-off? Sure. But whether you're doing so with brand awareness or not, the way you operate (and communicate) this winter will impact your brand identity going forward.
True, we were dealt lousy hands this winter. But even lousy hands can be played with skill.