Winter 2020-21 has invited revisions to the way snowsports schools operate on a heretofore unprecedented scale. From expansive digital adoption to significant changes in the product lineup, snowsports schools look very different this season.
The question is: To what extent are we looking at a snowsports instruction revolution rather than a Covid-necessitated band-aid? That remains to be seen, but it's hard to imagine resorts saying out with the new and in with the old once we move beyond this pandemic-shaded moment.
LET'S GET DIGITAL
On the backend of snowsports school operations, there has been a noticeable investment in refining digital tools. At Squaw Valley Alpine Meadows, Calif., for example, new functions in FLAIK snowsports management software are simultaneously accommodating new Covid protocols and inviting operational efficiencies.
"With Covid, we are trying to eliminate as much paper passing as possible," says El Furtney, managing director of the Squaw Alpine ski and snowboard schools. A new timekeeping aspect in FLAIK allowed the schools to implement a digital instructor check-out—no more timecards. And now Squaw Alpine instructors can also use FLAIK to send virtual progress cards to guests.
Additionally, Furtney was looking at ways to use FLAIK to pre-assign groups. That particular function requires some change to how and what data is collected through Squaw Alpine's e-commerce platform, but the advantages are clear: Guests spend less time gathering in busy meeting areas and get into the lesson faster.
Squaw Alpine is also using ezWaiver this year to collect on-site release of liability (ROL) forms. Guests are able to scan a QR code at the meeting area and sign the form on their phones, allowing the resort to gather and store ROLs digitally. Squaw Alpine has also done away with paper lesson vouchers, giving everyone one less thing to collect.
These changes could become permanent. "I don't see any reason we'd go back to paper if all of these things work this year," Furtney says.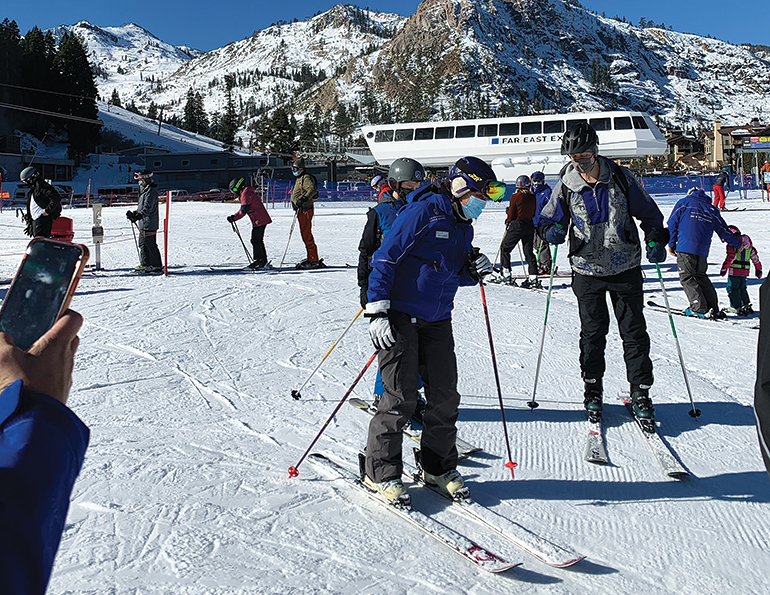 An early-season lesson at Squaw Valley Alpine Meadows, Calif.
Boreal Mountain Resort, Calif., also focused on contactless technology for this winter. Guests are now able to purchase products on their mobile devices, pick them up at Axess Pick-Up Box kiosks, and use RFID technology to head direct-to-lift. Guests looking for lessons or lodge access will need to pass through scan points, which is particularly valuable this season when contact tracing and capacity management are keys to safely operating. In addition, Boreal, which also uses FLAIK, worked to further minimize hand-to-hand contact for guests by digitizing lesson follow-up.
The decision to expand contactless service was only nominally related to Covid-19, notes Matt Peterson, VP of marketing and branding for Boreal, Woodward Tahoe, and Soda Springs, Calif. Going contactless allows for quality data capture and increases opportunities for guest communication and follow up. And, perhaps more importantly, it's what the contemporary consumer expects. "Pre-purchase and contactless tech are so prevalent in modern life," he says.
ON THE SNOW
That same perception of consumer expectation is what drove SNOW Operating to release new instructional videos this season. Accessed via QR codes on signage posted at the top of each of the company's Terrain Based Learning features, the videos allow on-resort guests to self-guide their learning experience.
Videos for DIYers. "The signage with the QR codes is based on market data that told us more people that try snowsports for the first time opt out of lessons. That pivotal information prompted us to say, 'they are guests of the resort too; we want a product for them,'" says SNOW Operating COO Eric Lipton. "For the guest that doesn't want a structured experience with a pro, we give them the support to learn when and how they want it."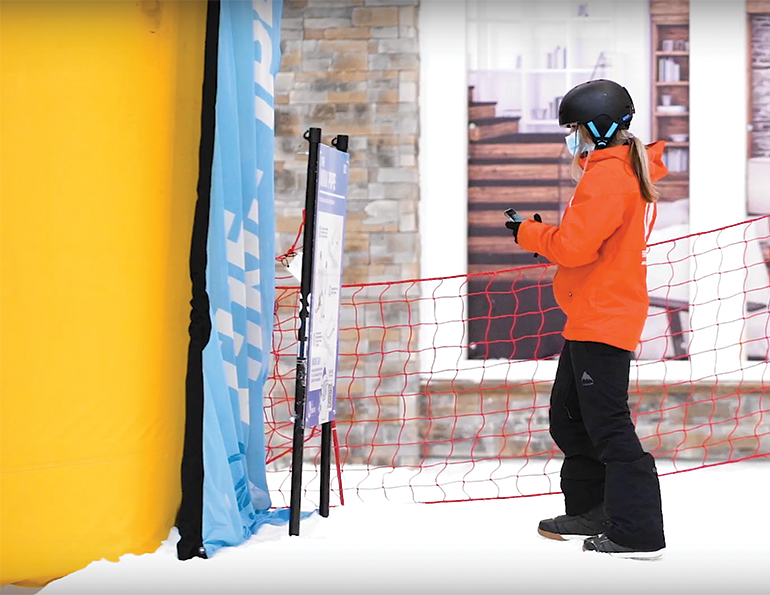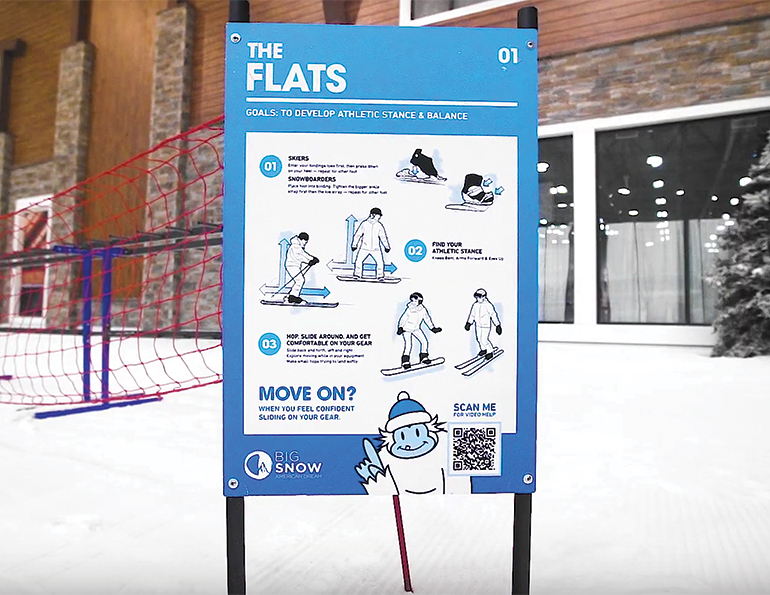 Each Terrain Based Learning feature sign includes illustrated instruction, as well as a QR code that links to an instructional video, shown here at Big Snow American Dream, N.J.
That flexibility is a boon as resorts and guests grapple with Covid. "It's scalable," notes Lipton. "There is no capacity limit on those videos." It's also contactless, which is a major consideration when it comes to on-snow delivery this year. That's why SNOW Operating also spent time over the summer developing no-touch lesson progressions, particularly for snowboarding, which is historically hands-on.
Snowboarding for DIYers. For years, Burton's Riglet program has been developing low-touch snowboarding tools like the Riglet reel. Its latest product is the Handlebar, an attachment on the toe side of the board that helps kids stack up and support themselves while sliding.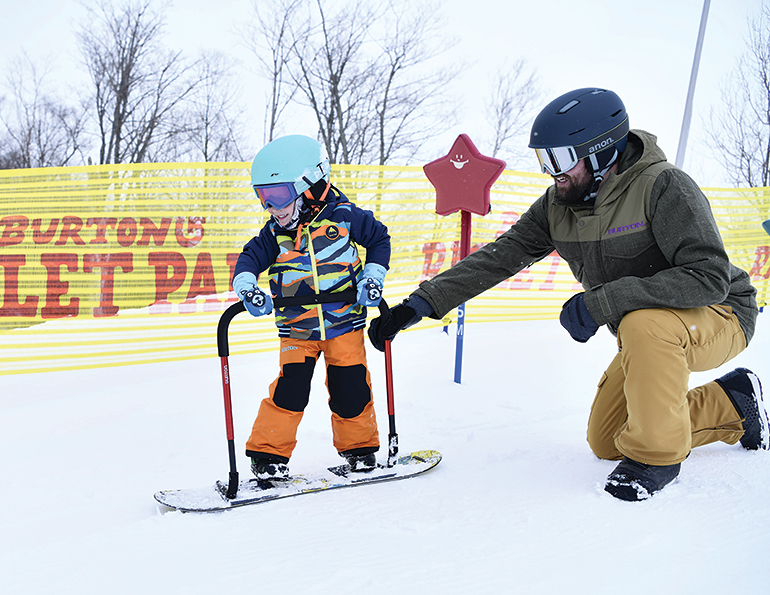 Burton's Handlebar is available in the Woodward Start Park at Soda Springs and the Smuggs' Riglet Park this season for families to simply pick up and try when they book sessions.
Burton prototyped the Handlebar in France, rolling it out as a kid-friendly activity during après, and at Soda Springs, where it has taken off in the Woodward Start Park. "I knew if the tools were visual and intuitive enough, kids would just migrate toward it," says Burton VP of sport and participation Jeff Boliba.
That's been the experience at Soda Springs, where access to the Woodward Start Park is included in the Mountain Adventure Ticket, a $34-$54 theme park style ticket that enables guests to cycle through a wide variety of activities in Planet Kids.
The Start Park has no age minimum and is outfitted with a selection of Handlebar boards that guests can just grab and slide on. Since its inception in 2017, thousands of visitors have tried snowboarding without ever having to rent gear, says Peterson. Soda Springs has also seen an exponential increase in lessons since bringing the Handlebar boards into Planet Kids.
Parents as DIYers. This year, the Riglet Park at Smugglers' Notch, Vt., is operating on a similar principle to the Soda Springs Start Park, with a more structured learning environment. Guests are able to sign up for a time slot to enter the Riglet Park, and the Handlebar boards are waiting out on snow. Kids and parents are encouraged to explore and use the Riglet tools, while coaches float around the park offering nuggets of wisdom.
"What we've seen, especially in snowboarding, is that younger parents are a lot more invested in getting their kids to try the sport," says Mike Chait, public relations director at Smugglers' Notch. "That excitement we see from parents made us think we needed to adjust our model."
The Riglet Park model combines elements from some of Smuggs' most successful programming: Night School, an adult beginner snowboard program with floating instructors, and Mom-Dad-and-Me lessons, in which parents are taught how to coach their beginner children.
This season, to best facilitate kids' lessons, Smuggs' actually expanded its Mom-Dad-and-Me program to include all ages and levels. "We recognize that a lot of parents are uncomfortable dropping kids off this season," says Chait.
Family privates, the big trend. Parent-kid lessons are different from family privates (multi-age, multi-level, and sometimes multi-discipline), which are possibly the biggest on-snow trend to emerge in snowsports programming this year. Many resorts are offering some variation of the product. At Boreal, which is only offering private lessons this season, it's called a cohort private.
Like all Boreal products, cohort privates must be booked in advance and are available according to ticket start time. Yes, start time, because this season Boreal launched a new elastic ticketing model: Go Time tickets. Go Time tickets allow guests to choose the start time that works for them, and pricing is dynamic—the later the start time, the lower the price, mitigating the 9 a.m. crush through phased arrivals.
Half-day lessons. Another product trend catalyzed by Covid is the shift away from full-day lessons. Squaw Alpine has moved entirely to half-day lessons for both privates and groups this season. Subsequently, the resort also created new "upgrade" products to sell directly from its e-store. Using QR codes provided by their morning-session instructor, guests can directly purchase an afternoon-session upgrade without having to go into resort services, says Furtney.
The simplified digital purchasing process Squaw Alpine adopted seems likely to stick, but there may be a more significant growth opportunity to be found for the whole industry in the elimination of full-day products, particularly for kids.
"The full-day program has been a limiting factor for lots of resorts, because they don't have enough space to handle all the students indoors at drop off and lunch,"
bserves Lipton. "Now, by having kids get dropped off on-snow and picked up before lunch, resorts can drastically increase the number of students they can handle."
In years past, Furtney notes, half-day lessons, particularly p.m. sessions, haven't had high demand at Squaw Alpine. "So, this will be an interesting opportunity to find out if there is a market for those half-day products."
ON-DEMAND
In terms of the lesson market, on-demand virtual learning may be the next frontier. "People go on YouTube and get terrible instruction," Boliba points out. To change that, he pushed to create a Burton e-learning platform that is free to parents, teachers, and instructors.
PSIA-AASI CEO Nick Herrin has also been an advocate for consumer-facing instructional videos. The organization continues to partner with companies like SNOW Operating, SKI, and REI to create direct-to-consumer content.
Custom lessons on demand. PSIA-AASI also just partnered with new instruction app Givego. The app allows users to upload 20 seconds of footage of themselves, and then either pick their pro and wait to receive frame-by-frame video analysis, or go "first come, first served" and receive the feedback in real time.
The app also accumulates data that allows users to build a virtual record of their learning experiences and feedback. That feedback is bite sized and targeted to the user's stated goals, and users get to engage with learning when and where they want.
Givego offers coaching across multiple sports—wakeboarding, lacrosse, golf, etc.—and has a number of professional snowsports athletes on the roster, including Olympian Julia Ford, who happens to be CEO Willie Ford's sister.
Encouraging formal lessons. The partnership with PSIA-AASI will bring professional snowsports coaches onto the platform, starting with the PSIA-AASI National Team. The app aims to capture the 50 percent of new snowsports participants who don't take lessons versus guests that are repeat resort visitors.
"This tool will help our industry engage with guests who haven't taken a lesson before and help them understand that the best way to learn to ski and ride is through professional instruction," says Herrin, noting that any instructors coaching on the platform will list their snowsports school affiliation.
"We don't see ourselves as a competitor to resorts," agrees Willie Ford. "We are looking to enhance their businesses. We know that if we can convince the skiers and riders out there that an experienced eye can help them significantly through a virtual experience, they will then go and book that person in a real life, in-person experience."
Going forward, Ford also sees tremendous potential in the prospect of Givego partnering directly with resorts. As geotagging technology continues to improve, connecting virtual learners with available educators in-person and on-demand is just one of many possibilities.
Continuing ed for instructors. On-demand, online education is also rapidly becoming de rigueur for instructors. "When last season abruptly ended, our members still wanted to learn, and we quickly pivoted from offering on-snow education events to online learning through our webinar platform," which has now become quite popular, says Herrin.
PSIA-AASI has been growing its library of online courses, both as a service to members and as a tool for member schools to utilize in staff training. "Our core product revolves around our snowsports education tools, and we've been developing webinars for all five disciplines and for all levels of learners," says Herrin. He expects the digital education library to continue growing.

PSIA-AASI partnered with Givego and its instructional app (below) to help reach the 50 percent of new snowsports participants who don't take lessons.
He's not the only one thinking that way. "We've always had a library of resources online, but we wanted to take that to the next level," says Lipton, regarding the new e-learning platform SNOW Operating rolled out this year.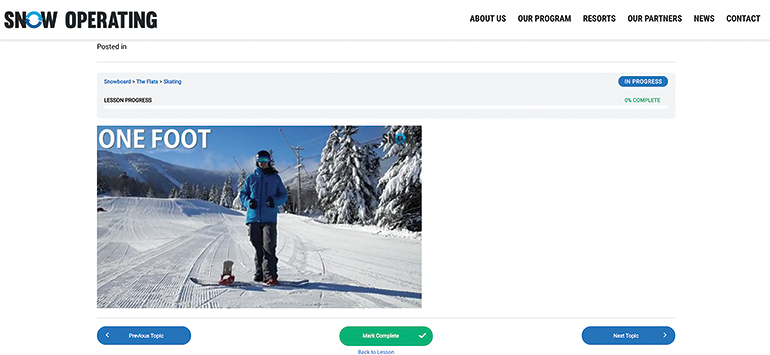 SNOW Operating rolled out a new e-learning platform (right) for snowsports instructor training.
"Resorts will have enough training to do with their staff regarding safety and Covid. Where we can serve resorts as a vendor is in offering snowsports training," says Lipton, who also sees long-term efficiency gains to be had from the flipped classroom model, which allows staff to familiarize themselves with content online ahead of time so that trainers and trainees can make the most of in-person meetings.
Lipton likens it to the classic "this could have been an email" conundrum. "No one wants to sit in meetings and discuss items that could be discussed via email. In our meetings, we want to focus on the stuff that can't be handled remotely. Our learning management system is just an evolution of that."
"Our core education product will always be our in-person and on-snow events," says Herrin, "but every company needs to invest in technology." That feels like a truism across the board, with digital adoption shifting how snowsports school operates behind the scenes and on the snow.