After a tumultuous five-year closure, Maine's Saddleback Mountain is reopening in a big way this winter. New ownership has invested a staggering $18 million in maintenance and capital improvements since it acquired the resort in January 2020, and a dedicated team has worked tirelessly to get the mountain back on its feet. It's a story we all need right now.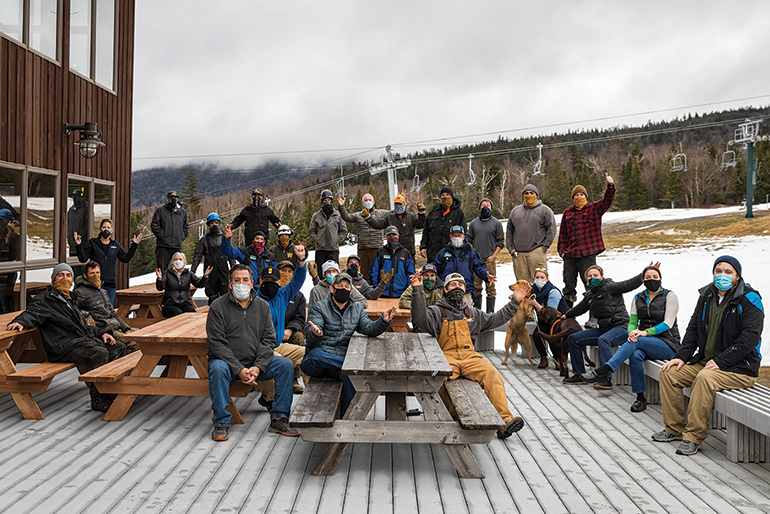 The Saddleback crew brought the mountain back to life in just 10 months, all during a pandemic.
Saddleback's renaissance is a boon for the mountain community of Rangeley that has endured decades of high hopes followed by gut punches. To truly appreciate where the mountain is now, it helps to look at how it got here.
BIG MOUNTAIN, BIG PLANS
Since it first opened in 1960, Saddleback's various owners have had grand plans for expansion and improvements that never fully came to fruition.
For example, Donald Breen, who owned the mountain from 1978 to 2003, invested heavily in terrain expansion, new lifts, and snowmaking during his first few years of ownership. He acquired 12,000 acres of land encompassing the ski area and surrounding property in 1984, and drew up a multi-million-dollar master plan that included developing terrain on the backside of the mountain.
One problem: The Appalachian Trail (AT), managed in part by the National Park Service (NPS), runs along the ridge of Saddleback Mountain. Breen wanted the right to cross the AT to access the backside terrain, but the NPS would not allow it, and threatened to take a reported 3,000 acres of Breen's land by eminent domain.
Thus began a legal battle that lasted through the turn of the century and cost Breen millions of dollars, straining his resources. A deal was finally reached in November 2000, which included Breen selling 600 acres on the backside he'd hoped to develop.
With Saddleback on the brink of closure, Breen sold the ski area and the surrounding 8,000 acres to the Berry family in 2003. Like Breen, the Berrys had big plans, gaining preliminary approval for a 10-year, $150 million master plan that included hundreds of condos, a hotel, vast terrain expansion, and much more.
By 2012, they had invested $40 million into a new base lodge, lifts, and terrain. Skier visits jumped from about 15,000 in 2003 to more than 100,000, and the number of people employed at the mountain more than tripled.
Despite the apparent success, funding dried up once again, and the ski area was put up for sale in 2012. Without a suitor or the financing to replace the primary lift out of the base area—a 1963 double chair—the Berrys closed Saddleback ahead of the 2015-16 season.
FALSE STARTS
Hope remained strong within the Rangeley community that a new owner would tap Saddleback's potential. That hope was put to the test many times during the resort's five-year dormancy.
Mountain operations director Jim Quimby, whose grandfather and father helped build some of the first lifts at Saddleback, was one of the only staff members on the payroll. His job was to "keep the wheels on the bus," he said, ensuring infrastructure didn't fall into serious disrepair, and provide information to potential buyers. "I was one of the only ones with institutional knowledge of the resort—how the lifts work, the snowmaking, fresh water, sewer—so I had to help present that," said Quimby.
Every time he worked with a prospective buyer on their due diligence, his hopes for a sale were dashed. The biggest gut punch came when the Majella Group—a self-described "full-service property company" based in Brisbane, Australia—agreed to acquire Saddleback in June 2017. But the deal fell through the following summer when Majella's CEO was arrested in Australia for fraud.
MAKING AN IMPACT
While devastating at the time, the Majella fiasco opened the door for Boston-based Arctaris Impact Fund to acquire the ski area and 6,000 undeveloped acres of property for $6.5 million. The deal closed Jan. 31, 2020.
Impact funds invest capital dollars that result in measurable social and/or environmental good, as well as financial return. "Impact funds bring with them the requirement to invest in distressed communities," said Saddleback general manager Andy Shepard.
Saddleback checked all the boxes for Arctaris. When the resort closed, the Rangeley area had lost its primary employer and major economic engine. Saddleback also has a rare combination of irreplaceable assets—2,000 vertical feet, abundant snowfall, passionate community—so its potential for success is high. The only thing the resort needed to reach its potential was money, and lots of it.
Arctaris plans to invest a total of $38 million in the resort over the next seven years, including the $18 million invested already. That's a remarkable commitment considering the resort's longtime financial underperformance. "But Arctaris understood the unique cornerstone nature of Saddleback to the economy and culture of this part of Maine, and are all in as a result," said Shepard.
FIXING THE PAST
"In the 55 years that the mountain operated, I was only able to find three years that it was profitable," said Shepard. "So, the first thing we did as a team was figure out how to change the financial trajectory of the mountain. What were the things structurally and operationally that kept it from being successful in the past?"
The Rangeley double chair was tops on the list. It had an uphill capacity of 600 pph, and it was an 11-minute ride to the top. On busy days, wait times could be 30 minutes or more. "Coming down the mountain, the skiing, has always been exquisite. It was getting up the mountain that was always a challenge," said Shepard.
The base lodge was another impediment. Built in 2004, it's a spacious, attractive building, but wasn't designed for efficient guest service, and didn't maximize use of space.
The restaurant on the third floor, for example, only used 45 percent of the available square footage. There were no bathrooms. The kitchen had no ice, refrigeration, or dishwasher. "It could take up to two hours to get a meal up there, which is terrible," said Shepard. "It was like asking our guests to suffer through the experience of loving Saddleback."
GAME-CHANGING CHAIRLIFT
Removal of the Rangeley double began in March, making way for a new $7-million-plus Doppelmayr high-speed detachable quad that follows the same line. It cuts the ride to just 4 minutes and moves 2,400 pph.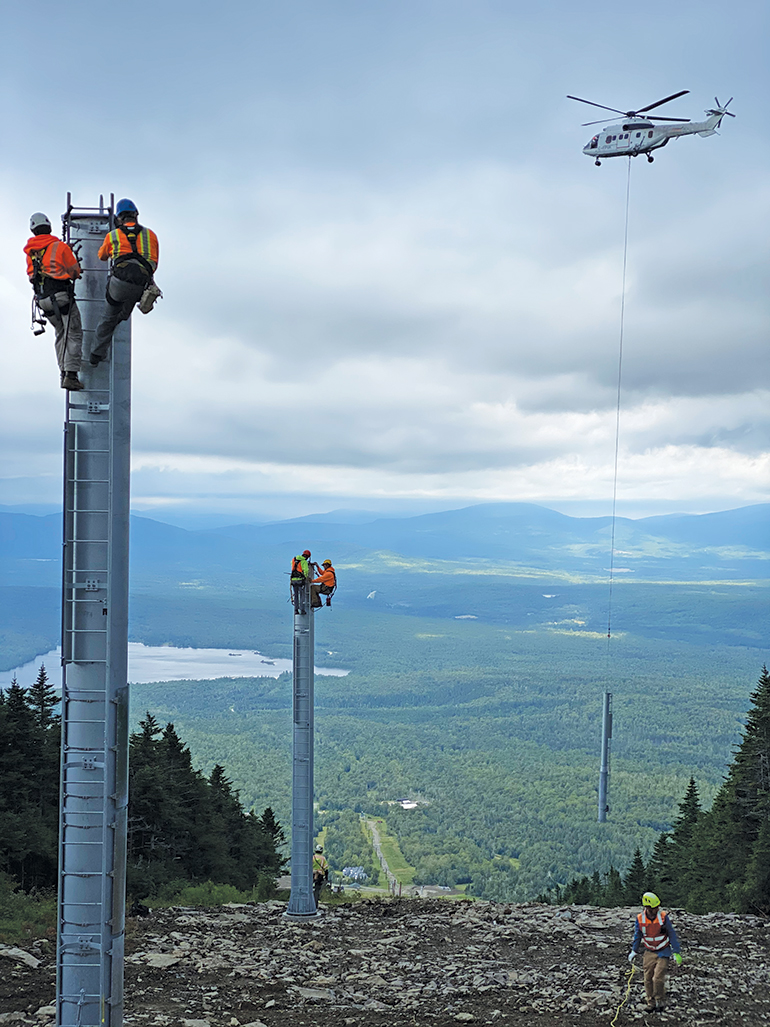 One high-speed quad, coming right up. Photo: Jared Emerson
Quimby never expected to see a detachable lift at Saddleback. "We're old school. We're Carhartt. We're telemark. But the detach won't change that. We have plenty of terrain to spread out the additional people going up the hill," he said.
Unlike most things in 2020, lift construction went smoothly. "This is going to sound really strange, but the coronavirus situation actually helped us a lot," admitted Quimby. "Several other Doppelmayr projects were postponed because of the pandemic, so we got their superstars here to build our lift."
The hardest part, said Quimby, was building a work road up the mountain that could handle a cement truck. "We had a work road, but you could only get a four-wheeler up it," he said.
It took about 10 weeks, 12,000 yards of gravel, and $50,000 in blasting to build the road up to the new quad's top terminal site. Mountain manager Jared Emerson and heavy equipment supervisor John Tulloss spearheaded the effort, which included replacing two on-mountain bridges that weren't designed to support heavy vehicles.
Two other lifts were removed over the summer: an old Hopkins double that served the terrain park in front of the lodge, and an old Hall T-bar that Quimby's grandfather helped build.
The lifts that remain, though, are sound—and well connected. Saddleback is introducing RFID gates from Axess this winter, so crews installed fiber top-to-bottom across the mountain. All lift shacks are lit up with fiber now, and it will also connect the unique, eco-friendly mid-mountain lodge that will be built in the coming years.
A BETTER BASE LODGE
The third floor of the lodge was completely remodeled to dramatically improve capacity—both in seating and service—so hours-long wait times for food will be a thing of the past.
The floor was extended all the way out to the windows, adding nearly 2,000 square feet of space and finally taking advantage of the views. Restaurant seating capacity went from 126 to about 400, and bar area seating doubled. There's also a new satellite bar and pizza oven, and the kitchen is now triple the size, with proper refrigeration and fixtures.
There's a big correlation between the lodge improvements and the introduction of Saddleback's first high-speed lift. "It may take guests less than two hours to do 10-12 runs now, whereas before it took an entire day to log that many laps," said Quimby. As a result, people will spend more time in the lodge eating and drinking—post-Covid, of course. The lodge improvements will give staff a "fighting chance," he said, to efficiently serve an influx of guests that are able to ski a day's worth of vertical before lunch.
The four new bathrooms are environmentally friendly and Covid-safe, with touchless flush, sinks, and soap and towel dispensers. Also a Covid consideration, a new HVAC system in the lodge will turn over the air three times faster than the previous system.
A new roof and new exterior siding round out more than $1 million in renovations to the lodge.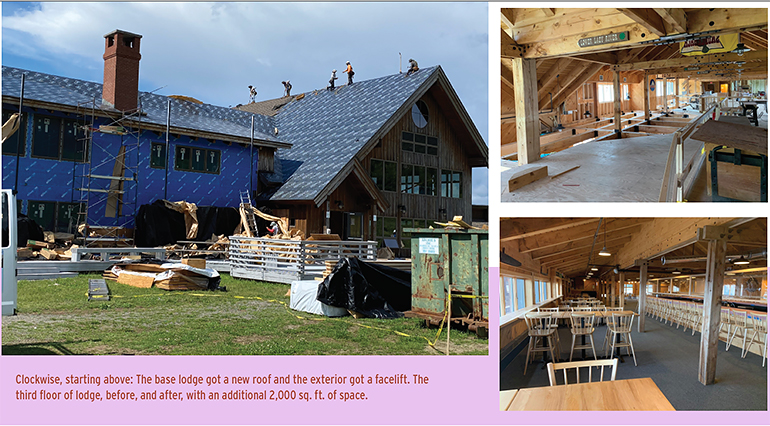 SNOWMAKING OVERHAUL
When asked how much work went into fixing up the snowmaking system this summer, Quimby replied: "Every nut, bolt, and washer."
Torrent Engineering provided Saddleback's pumping equipment when the system was upgraded in 2004. This time, Torrent supplied new custom control panels for the resort's two snowmaking pump stations. Saddleback mountain-operations manager Jasen Bellomy has an electronic engineering background, so he led the control panel installation—including new PLCs, new displays, and much more.
John Allen of DAF Services visited on behalf of Torrent in the fall to make sure everything was running as it should. Control panel installations are complicated, Allen said, but he verified that Bellomy had everything hooked up properly, and the system ran without a hitch. "Sharp guys up there," said Allen.
Seven Weir Floway pumps and three vertical motors were pulled and rebuilt. All the check valves were replaced, too. The system will now reliably pump the original capacity of 2,000 gpm.
Up on the hill, the team installed 2,800 feet of new snowmaking pipe, 10,000 feet of electrical line, and more than 60 power boxes to plug snow guns into. Saddleback's system has no on-hill air, so all of its snow guns have onboard compressors.
Fixed guns were added to three upper mountain trails, which will allow the resort to open top-to-bottom for the first time ever. The upgraded snow-gun fleet includes 30 new SMI Grizzly sticks (20 are fixed), two new SMI Kid fan guns on carriages, 35 new HKD SV14 Volt sticks (25 are fixed), and one new 10-foot mobile HKD Phazer. DemacLenko also provided a Titan fan gun and an Evo fan gun as demos.
"Ian Jarrett [of HKD] and Joe VanderKelen [of SMI] are both friends and terrific business partners who helped us get this new equipment," said Quimby. "We went with both, honestly, because we didn't have a way to test guns side by side, but we know both will work well."
TRAIL WORK
The sexy, high-dollar projects take the spotlight, but Quimby said the summer's trail maintenance was equally important. "This is the first time in more than 20 years that I've seen all of the trails mowed, brush cut back, and all of the glades cleaned out," he said.
Saddleback hired a trail-cutting team from Honduras to clear trails while a team of patrollers cleared Saddleback's legendary glades of all the blowdown that had accumulated. Both groups worked extremely hard, and the terrain has never been so clear, Quimby said.
Top to bottom: Reclaiming overgrown trails and clearing glades were major projects; Every snowmaking pump was rebuilt, including the four here in the lake pump house; Saddleback has no on-mountain air, so all snow guns have on-board compressors, like this new HKD Volt; A new SMI Kid fan gun piling it up before opening day. Photos: Jared Emerson.
SUSTAINABLE FUTURE
Arctaris' investment in Saddleback and the Rangeley community is about the long game, so no corners are being cut. "Being owned by an impact fund, opening the mountain successfully isn't the whole story," said Shepard. "Opening is the part of the story that allows us to tell the rest of the story, which is that we have to build Saddleback in a way that allows us to create a sustainable model for the entire region."
Shepard compares the current Saddleback model with Sundance, Utah, which Robert Redford established as "… a community of people who appreciate the beauty of nature and feel the responsibility to preserve it."
That means doing what's right, and doing it the right way. Task forces have been formed to explore community issues such as affordable housing, affordable child care, expanding healthcare and wellness care for people in the region, as well as getting seasonal workers health benefits.
Plans are in the works to develop a 35-acre solar farm on the property that will generate twice the energy needed to run the resort, and will significantly reduce energy costs—helping make Saddleback more environmentally and financially sustainable.
For future development, Saddleback is working with the Appalachian Trail Club, Maine Audubon, and Trust in Public Lands—"three constituencies that would typically be apprehensive about a ski resort's development plans," said Shepard—and bringing them on as partners "to make sure what we're doing works for everybody."
Case in point: Plans for the eco-friendly mid-mountain lodge call for it to be built on pedestals to minimize disturbance of the watershed, sided primarily with triple-paned insulated glass designed to limit or eliminate bird strikes, and have an undulated sod roof with native low-bush blueberries growing on it so the building will be unseen from the AT above and provide bird habitat. Saddleback has secured a donor to build it.
TRIPLE BOTTOM LINE
Of course, Saddleback isn't a philanthropic venture for Arctaris. Financial return is part of the deal, perhaps through selling the resort a decade from now when it and the community are firmly reestablished and firing on all cylinders. In the meantime, Shepard said, the people at Arctaris have been exemplary partners who offer critical support in various areas, not just with their checkbook.
"Sustainability means a lot of different things to a lot of different people," said Shepard, "and I can say that sustainability means all of those things to us."