Editor's note: We turned to Dave Kelly of bike park design and consulting firm Gravity Logic to give us an overview of the state of mountain biking during Covid. He called around to bike parks across North America to add to his own considerable knowledge on the market. We then asked Steph Nitsch, a writer with a love for mountain biking, to organize Kelly's research and insights, along with her own perspective, into this article.
At the close of the 2019-20 ski season, there was no way to predict the incredible acceleration of bike park popularity that was to blossom just a few months later. As the world experienced an unprecedented cycling boom, supply chains were broken, and resorts saw an influx of new customers with new behaviors. Operators had to rapidly evolve, often without a road map for proven success. They're now facing summer 2021 with clearer expectations and greater confidence.
"Every bike park that I spoke to agreed that they were nervous going into the 2020 summer, didn't know what to expect, and were counting on having a worse summer than previous years," says Dave Kelly, director of bike park design and consulting firm Gravity Logic, who conducted extensive market research found throughout this article. "But without exception, every one of those parks had an increase in business."
As summer 2021 looms, it's useful to reflect on last year's victories and lessons that helped and, in some cases, hindered bike park operations in North America.
TO OPEN OR CLOSE?
The 2020 bike season hinged on a pivotal question that determined every new strategy and decision going forward: Will you open? It was a tough call.
While resorts including Crested Butte, Colo., and a number of other Vail Resorts properties made the tough decision to not run their summer operations— for a variety of reasons, including not wanting to strain the local hospitals—a dozen or more other bike parks, including some at winter resorts, opted to shut indefinitely.
"Covid was the straw that broke the camel's back…or was just a really convenient excuse," says Kelly.
The core issue? For many of these areas, Covid—and the new riders it attracted—exposed fundamental holes in their bike park development plans: too many advanced trails and not enough beginner terrain. It's a problem that inevitably turns away the large, revenue-generating customer base of beginner and intermediate riders.
"First-time riders would have a very negative experience, and not only would they never consider going to a downhill park again, they would be sure to discourage everyone they speak to by sharing those negative stories," says Kelly. "Trail diversity is important for a positive guest experience as well as financial sustainability and longevity."
SHORT BUT STRONG SEASON
Of those bike parks that chose to open, many delayed opening day and limited their operational schedule. But what they lacked in total days, they made up for in total visits. The sheer uptick of bikers contributed to some resort operators meeting, or even exceeding, their pre-Covid projections.
At Sugarloaf Park, in Canada's New Brunswick province, the first month—starting in mid-June—was a complete write-off. But the resort ended its season on par with 2019 in visits and revenue, even with border closures—notably with Quebec, which supplies nearly 50 percent of Sugarloaf's business—that prevented out-of-province customers from visiting. "As summer progressed and restrictions eased, the Atlantic 'bubble' was created, and we saw our numbers increase," says Sugarloaf general manager Greg Dion.
Though Quebec never opened its borders, Dion says that Sugarloaf had a 25 percent increase in ticket sales and rentals in September over the previous year, proving that Atlantic Canada has a fairly healthy mountain bike community and revealing the collective strength of smaller markets.
LATE-SEASON MOMENTUM
As the season progressed, restrictions eased, and late-season operations provided an eleventh-hour revenue bump for resorts. Ongoing bans on indoor gyms motivated people to continue recreating outside, even as the weather turned cool and wet. Resort visitation remained strong well past the traditional Labor Day finish.
Bryce Resort, Va., leveraged the late-season surge by remaining open five days a week through Thanksgiving. The resort equaled its entire volume of 2019 business in November alone. Bryce general manager Ryan Locher attributes this, in part, to the fact that almost all other bike parks on the East Coast were closed by then. But he also acknowledges a few agile decisions that contributed to the park's 300-percent growth from the previous year.
Chief among these was a bike park expansion on the backside of the property, which was already in the works when Covid struck. "When Covid was shutting everything down, a crew from Gravity Logic was already on site to begin trail development at Bryce, and that was key to getting to the next level," says Locher.
Other changes also helped. The area shifted its marketing emphasis from family adventure and "focused strictly on bike," Locher says. The resort also moved aggressively to push reservations online, and curtailed walk-up business. "This has changed the way we do business for the better," Locher says. "The old way is no longer the right way."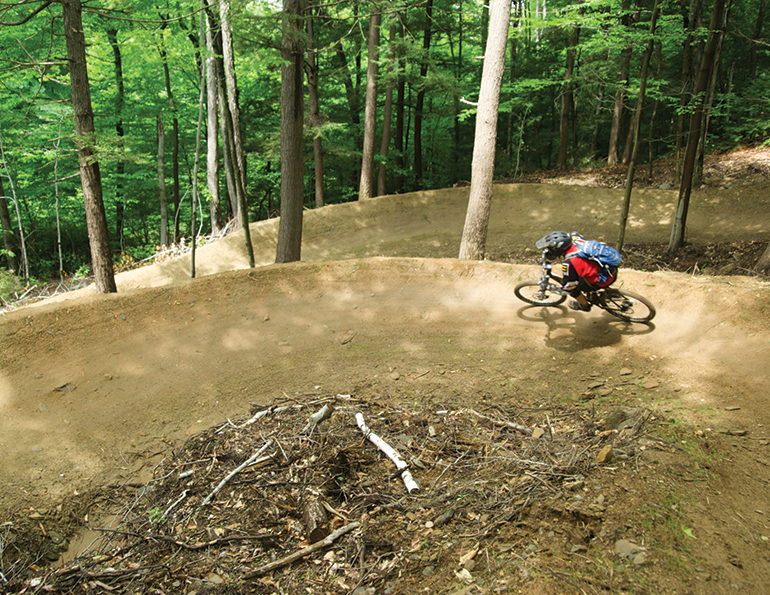 Thunder Mountain's substantial investments into its bike park have paid off with increased revenue and visits.
ONLINE > WAITING IN LINE
That was a common theme. Long before Covid, resorts were offering online reservations for lift tickets and lodging. But the pandemic forced resorts (and guests) to move exclusively online, and to look into other touchpoints or services that could move online as well.
Resorts quickly adopted online bike rentals, completing the trifecta of touchless trip planning. But the benefits turned out to be more than just a Covid safety precaution, says Kelly. "Resorts agreed that it made their entire rental business much smoother, much more predictable, and, ultimately, a better user experience."
Online rental reservations decreased pickup wait times, reduced stress for guests and staff, increased the efficiency of rental maintenance, and even helped manage staffing schedules.
"Previously, showing up in the morning to rent a bike was a bit of a laborious process. It took a good amount of time," says Kelly. "At times, guests even arrived only to discover all the bikes were rented. With the mandatory reservation system, resorts knew in advance exactly how many bikes were required for the next day, and had them set up for the individual rider's specifics the night before."
MIDWEEK MAGIC
Covid concerns about weekend crowds and social distancing gave downhill bike parks a solid reason to implement sales caps on lift tickets, and most resorts sold out every weekend. As a result, more traffic was pushed to midweek, and, according to Kelly, "every resort agreed that smoothing the visitation curve was really advantageous and something they are going to focus on in the future."
Dynamic ticket pricing strategies and higher weekend rates to better spread visits over the week will, ultimately, raise the quality of the guest experience regardless of the day, Kelly adds.
EVOLUTION OF E-BIKES
The pandemic gave the electric bike category the push it needed to grow sales, popularity, and technology. According to research firm NPD, e-bike sales rose 130 percent in units in 2020 (and 145 percent in dollar volume). And to be sure, this category is only getting started. Pre-pandemic, e-bike sales were expected to nearly double globally, from $23 billion to $40 billion. That prediction could now turn out to be too low.
Though e-bikes aren't particularly designed for lift-served gravity parks, they are a conduit for better resort-wide and cross-country trail accessibility, particularly for underserved markets, like an aging Baby Boomer generation or visitors with mobility limitations. The demand is certainly there.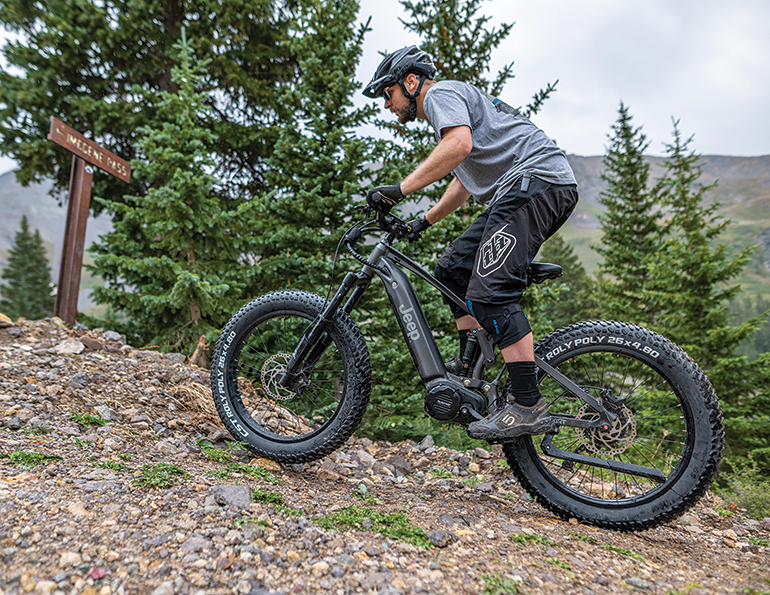 E-bikes, like those from QuietKat, are on the rise.
Suppliers are helping to fuel adoption. Ryan Spinks, product manager for e-bike manufacturer QuietKat, says the company is "developing a range of technologies including online rental reservation management software, bike-share integration, and self-service rental applications." For resorts and rental operations, QuietKat offers custom component options, spare parts, tools, and training to maximize the customer's experience.
"For an organization looking to capitalize in the e-bike shift, building a long-term, deep partnership with a bike brand will be essential," says Paul Mutch, owner of multiple Pedego Electric Bike stores around the U.S. "While the downhill industry catches up to the e-bike shift, use this time to vary your offers to include all customers, not just downhill."
Mutch says that with an e-bike, everyone can be a cyclist. "What can you offer families, retirees, groups—the non-downhillers? Have a plan when your customer asks, 'Where can I ride?'"
BENEFITS OF LIMITED CAPACITY
From mask enforcement to longer-than-normal lines, limited chairlift capacity came with its share of challenges. But socially distanced lift rides also had an upside: better trail flow and improved on-mountain experiences.
It's not uncommon, in normal times, to find many riders with varying degrees of skill and speed on the same trail. That can cause tension, bad vibes, and, at worst, accidents. And for the novice bike-park rider, a negative learning environment increases the likelihood that they won't return to the sport—and certainly not to that particular resort. Luckily, that type of crowding was the exception this past year, not the rule.
"A-Line [in Whistler Bike Park] is the most-ridden trail in the world, and was pleasantly quiet this summer," says Kelly. "Most years, it's a non-stop train of people, with riders sometimes getting in arguments about trail speed or other riders in the way. This year, that anxiety was gone. Most days, you could ride top to bottom without encountering other people or groups, which was refreshing."
INSTRUCTION PROGRAMS TREND UP
It wasn't just bikes that were in high demand and limited supply, but the knowledge and skills to ride them. New users drove up interest in beginner instruction programs, even as many resorts grappled with the choice between canceling lessons to reduce staff-guest interactions or proceeding with lessons under new safety protocols.
Those that chose the latter option saw a "significant" increase in group program attendance. Winter Park, Colo., doubled the size of its kids' bike programs from the previous year; Thunder Mountain Bike Park, Mass., increased its lift-lesson-rental beginner packages; and Sugarloaf Park created an entirely new program to fill a demand too great to ignore: a women's group ride.
"Sugarloaf specifically started a Wednesday women's ride group, which was its biggest success and sold out every week," says Kelly. "They believe that success is because they have the terrain available to introduce new people to the sport without it being intimidating."
Another perspective is that women put a premium on social connections and peer support when learning new sports, and Covid simply provided the playground for women's programs to thrive. That logic can be applied to new riders across the spectrum, regardless of age or gender: Group programs provide a framework for skill, safety, and enjoyment, and build a foundation for social inclusivity. That, in turn, has the potential to convert last year's beginners into this year's loyalists.
STOCKING RENTAL FLEETS
With bike manufacturers already reporting orders for 80-100 percent of their 2021 preorder capacity by late January, the inventory and supply chain issues that appeared in 2020 will continue for years. The essential solutions for rental shops are earlier orders and agile planning.
When Covid began disrupting the winter season in March 2020, Whistler Bike Park immediately took action. "They started talking with everyone internally to determine what they were going to do [about rental bikes]," says Mike Marro, senior global brand manager for GT, which supplies Whistler with its 400-unit bike fleet annually. "Typically they flip their rental inventory and bring in a new fleet the next year, but they made the decision to keep them for 2020." Operators may well find they need to keep their existing fleets running for yet another year, and add to them as they can.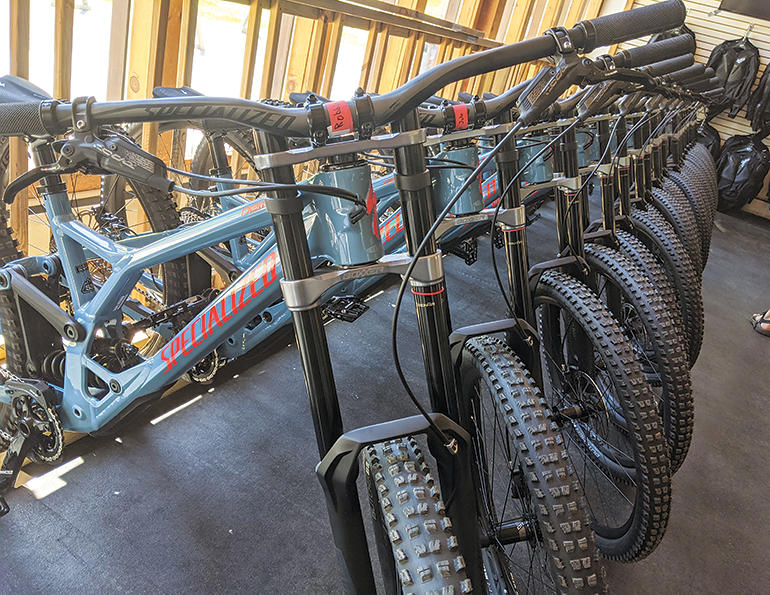 The rental fleet at Thunder Mountain Bike Park.
In the event a rental fleet order still needs to happen, Marro stresses the importance of getting an early start on planning: "We encourage bike parks to work with their suppliers and sponsors as soon as possible and begin their forecasting process earlier than previous years."
TRAIL MAINTENANCE IMPERATIVE
Last year's increased number of bike park visitors added more wear and tear to trails, thus adding more maintenance needs throughout the season. But with staffs often cut back, as resorts sought to keep costs down during the pandemic, maintenance became more difficult to manage.
At Deer Valley, Utah, for example, the trail maintenance crew was understaffed due to early-Covid projections that estimated visitation at 75 percent of normal summer business. On top of that, Mother Nature added her own challenge: drought.
"In order to do maintenance properly, a resort requires a good amount of moisture in the soil, otherwise any work done in hot, dry conditions essentially just blows up in a dust cloud," says Kelly. Which is precisely what happened when Deer Valley experienced its hottest and driest summer on record.
"We got creative in trying to maintain the trails as best we could," says Steve Graff, director of mountain operations. "We had a number of 400-gallon water storage containers, placed them around the trails, filled them with water from our snowmaking system, and attached them to sprinklers."
That creativity carried the optimism forward. "The locals understood it was an exceptionally dry year, on top of Covid, and saw that we were making an effort. The positivity far outweighed the negativity," says Graff.
COMMITMENT IS KEY
Making a simple proclamation to grow a bike park does not guarantee a trail to profitability, but commitment to the bike community may. Taos Ski Valley, N.M., Thunder Mountain, Bryce, and Sugarloaf Park all spent "substantial" capital on their bike infrastructure in recent years, which in all cases paid off with increased visits, revenue, and marketing exposure in 2020.
It might be daunting to double down when budgets overall are stretched, but as Thunder Mountain's owners, the Schaefer family, explained to Kelly, "Biking is now a very important part of our year-round business, and we can't afford to not invest in the [bike] product and stay ahead of the competition."
Or even just keep up with demand.