Multi-use trails form the baseline of any outdoor recreation offering, whether that is at your local park, at Yellowstone National Park, or at your mountain resort. No matter what draws folks to the outdoors—a big summer vacation, a quick escape to walk the dog, or a pandemic—everyone uses trails. They are the glue that brings everything together. Resorts have always been wise to offer at least some form of trails on their property, but now is the time to make them a priority.
Why? Because getting outside was one of the few things people could actually do in 2020. For many, this exposure to the outdoors inspired a newfound love for the trails and natural areas in their community. In fact, trail counters and state park welcome stations across North America have recorded increases of as much as 400 percent in the use of trails and natural areas. Historically busy parks have largely stayed busy, while formally sleepy parks and trails have seen exponential growth in their use.
Plus, while travel restrictions have severely altered traditional travel dynamics, many regions and destinations that focus on outdoor recreation have still seen strong visitation.
Enormous opportunity. All of this points to the fact that millions of Americans discovered—or rediscovered—the joys of being in the outdoors amid the pandemic. As ideal "base camps" for outdoor recreation, mountain resorts are perfectly positioned to capitalize on this emerging market opportunity.
There is one summer offering critical to realizing this potential: high-quality multi-use trails on the property. Multi-use trail activities have continually grown in popularity across the breadth of the outdoor recreation sector. They have become a vital component to four-season operations at ski areas and to their continued relevance in the North American recreation market.
RESORTS AS GATEWAYS
Mountain resorts are excellent venues for providing gateway recreational experiences—those that bring new people into trail sports and provide an increased appreciation for nature and outdoor recreation. As a result, trail systems at ski areas tend to be in high demand with guests of all fitness and ability levels.
High expectations. Part of this appeal is that the recreational environment at mountain resorts is generally more controlled than that of more primitive recreation areas, which may have nothing more than a simple trailhead and kiosk. There is an expectation of a more developed and controlled experience at mountain resorts, and trails there are expected to be built and maintained to a higher standard.
Generally, trail systems are often easy to overlook, or worse yet, neglect. It's a mistake to do so. Quality makes a tremendous difference.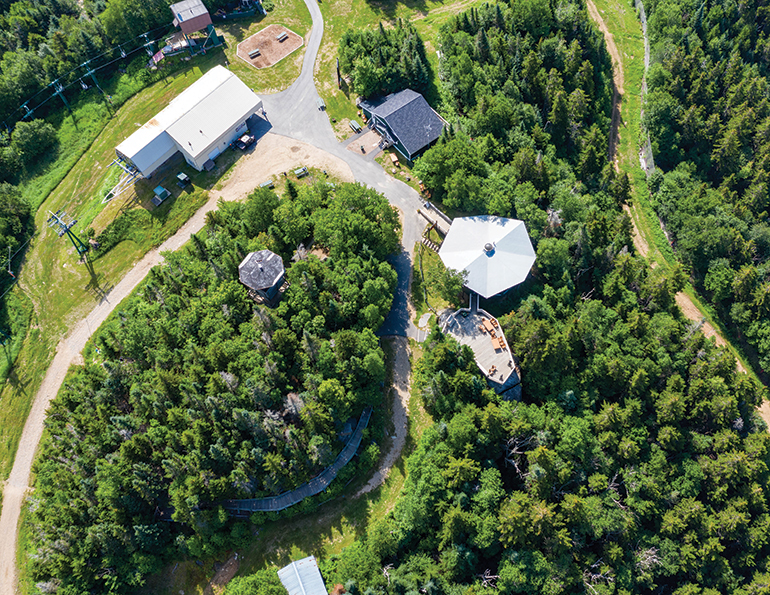 Loon's trail system connects the resort's hubs to the surrounding National Forest. Credit: A. Malloy
Signage, maps, and wayfinding on summer trails at mountain resorts are expected to be more on par with what is provided in the winter. Your resort is not the same as a U.S. Forest Service trailhead at the end of three dirt roads, which can be daunting for some folks. Instead, your trails should reflect the same relative level of development and comfort as your other recreational offerings. A simple footpath in the woods with little to no trail marking or signage is not going to cut it at a mountain resort anymore.
EXISTING ASSETS
In addition to the ability to provide enhanced signage and wayfinding, many other aspects of trail systems at mountain resorts are enticing to the new folks who will be getting outdoors this summer. For example, the lifts and roads at mountain resorts tend to make trails more accessible to a wide range of users who want to experience the spectacular mountain environment. These assets could be the reason they visit your resort instead of the state or national park down the road.
Additionally, mountain resort staff have an opportunity to engage with trail guests, recommend specific trails and activities for their skill level, and provide programming and instruction. Resorts also provide ample parking and restrooms for convenience. Plus, resorts may also offer additional outdoor activities and/or the opportunity for a meal or refreshments after guests hit the trail (read: additional revenue opportunities).
Each of these qualities make mountain resorts the perfect venues to provide gateway recreational experiences for guests that will leave them eager to come back for more.
These qualities also make mountain resorts ideal destinations for the most experienced of trail users—from competitive trail runners seeking challenging elevation gains to downhill mountain bikers seeking more developed trail features and lift access.
VARIETY AND ACCESSIBILITY
To accommodate effective programming and a wide range of user types and experiences, trail systems at mountain resorts should provide the full spectrum of ability level and learning progression—from beginner to expert trails and every step in between.
Focus on newcomers. While some longer, steeper, and more remote trail offerings are desirable and potentially easier to provide, your focus should start at the other end of the spectrum. The most important trails to get right—and to promote—are shorter, flatter routes with quick access to summit views and other scenic environments like wetlands, waterfalls, and mature forests.
For the users, these are what you'd call "low commitment, high payoff" trails. Trails that provide a big reward for only a little bit of hiking. Resorts that can offer a variety of experiences within this category are even better off.
For example, an accessible path from your lift or gondola that provides high alpine access to everyone, including folks with physical disabilities, is a major asset. More rugged, but still flat, footpaths that take guests further out along the ridge offer a little more adventure, sans physical demands. You should also highly consider adding yet another flat, scenic trail in the base area, too.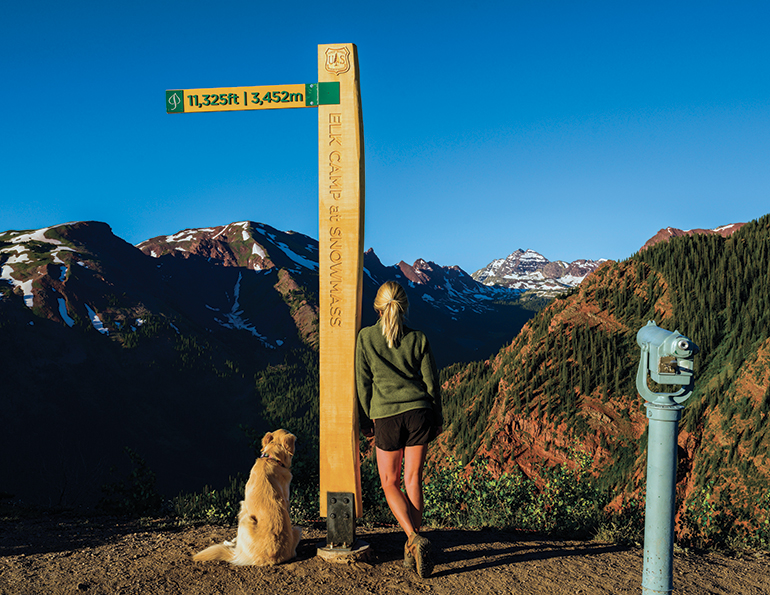 Signage at Snowmass is consistent with trail signage throughout the Roaring Fork Valley. Credit: Daniel Bayer
DOING IT RIGHT
Two resorts that deliver an excellent trail experience for guests of all abilities are Snowmass, Colo., and Loon Mountain Resort, N.H.
Snowmass has a wide variety of interconnected trails in the resort village, in the base area, on the mountain, and at the summit. At the top of the Elk Camp Gondola—locus of Snowmass' Lost Forest area, with its wide range of summer activities—several hiking trails provide access to fields of wildflowers and pine forests, summit views that usually take a grueling hike to achieve, and all the beauty that the Rocky Mountains are known for.
Trails also weave through the Lost Forest area, which is home to a climbing wall, fishing pond, challenge course, canopy tour, and mountain coaster. Guests can take the Elk Camp Gondola back down or they can hike down the mountain into town.
One of the most elegant aspects of the trail experience at Snowmass is the seamless integration of the trails on the mountain with those in the village, in the surrounding National Forest, and in the broader county and region. It isn't just the physical connections that are easy and intuitive, though. Trail maps, signage, and branding are consistent across all trails in the Roaring Fork Valley, with a "nested brand identity" for the various landowners and trail managers making for a truly world-class trail experience.
Loon has an extensive trail system on the mountain that connects the surrounding National Forest and the base area to all other areas of the resort, with an incredible diversity of offerings. From the base of the mountain to the summits of Loon Peak and North Peak, the resort's trail system rewards hikers with spectacular views of the White Mountains—from the iconic, 6,288-foot Mount Washington to Mount Moosilauke near the Vermont border.
Loon also provides options for those not looking for a big workout, including the scenic Summit Loop off the Gondola Skyride. At Loon and other resorts, these short summit loops with great views tend to drive business to the scenic lift rides, as well as the often-adjacent food and beverage offerings. Again, making summit loops accessible for people of all abilities will drive even more business.
TAKE CARE OF YOUR TRAILS
Importantly, the trails at both Snowmass and Loon are beautifully designed, well-marked and signed, and well maintained. Which brings us to the less fun, but critically important, topic of maintenance and upkeep.
Routine maintenance and assessment of the entire trail network on a seasonal basis will keep trails clean, safe, and maintained to a high standard in both the short and long term. Maintenance can include removing downed trees, installing drainage structures, and building or repairing steps or bridges. It also includes the upkeep of trail signage and parking, removing trash, and assessing trail conditions.
Occasionally, maintenance partnerships with local trail groups can pay off. More often, though, resorts are better off utilizing paid staff to maintain trails, or at least bolstering the volunteers with significant staff support. Regardless, upkeep of trails is essential for maintaining the high-quality experience your guests will expect. As such, trail maintenance costs should be factored into all new trail construction decisions.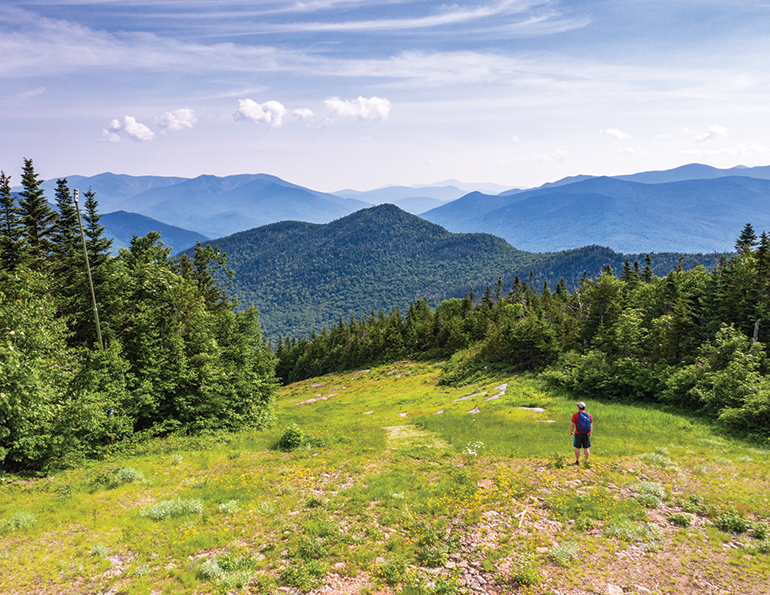 Loon's trail system crosses wide open ski trails, rewarding travelers with incredible views.
IT'S TIME FOR TRAILS
The pandemic has thrown a lot of changes and challenges at us over the past year, but it has also created new opportunities. According to the Outdoor Industry Association, 8.1 million more Americans hiked in 2020 versus 2019, and total outdoor participation saw its largest annual increase ever. There is a whole new world of customers out there. Now is the time to welcome these new recreationalists, and introduce them to the joys mountain resorts of all sizes have to offer.
For long-term success, we need to make it easy for them to become resort loyalists. High-quality trail systems are the pathway to doing just that.