Last summer, the Outdoor Industry Association (OIA) shared preliminary data confirming what many anecdotally suspected—outdoor recreation was up amid the pandemic. That's a reversal from OIA's 2018 data—the most recent available as of press time—which found that participation in outdoor recreation was declining. 
The pandemic has brought hardship and challenges, but here's the silver lining: Americans are getting outside again. 
Those new and returning recreators will be looking for outdoor spaces to enjoy this summer. To help resorts keep people engaged and active, we talked with outdoor industry suppliers and operators about the trends they are forecasting, the products they're offering, and the ways resorts can implement them.
FAMILY FUN
Activities suited for the whole family are on the rise, for a number of reasons. At the top of that list is the high-throughput, low-skill nature of many of them, which makes these activities accessible and easy to staff, thus uniquely appealing when it comes to capturing families new to the outdoors. 
One example: gemstone mining, which many resorts have found surprisingly popular, with kids and adults alike. It's a simple pleasure, and easy to offer.
"Our product doesn't require an attendant all the time," notes Justin Woodruff of Sandy Creek Mining Company. "Once the guest has made their purchase, they can do everything themselves." 
Profitable geology. To enjoy one of Sandy Creek's customizable sluices, which are often installed outside and have Covid-safe treated water, guests simply buy a bag of mining rough (dirt, rocks, and gemstones) and get sifting. A 3-pound bag typically takes a child about 10 minutes to sift through, while a 20-pound "megastrike" bag of rough can keep the whole family entertained for half an hour or more, depending on the participants.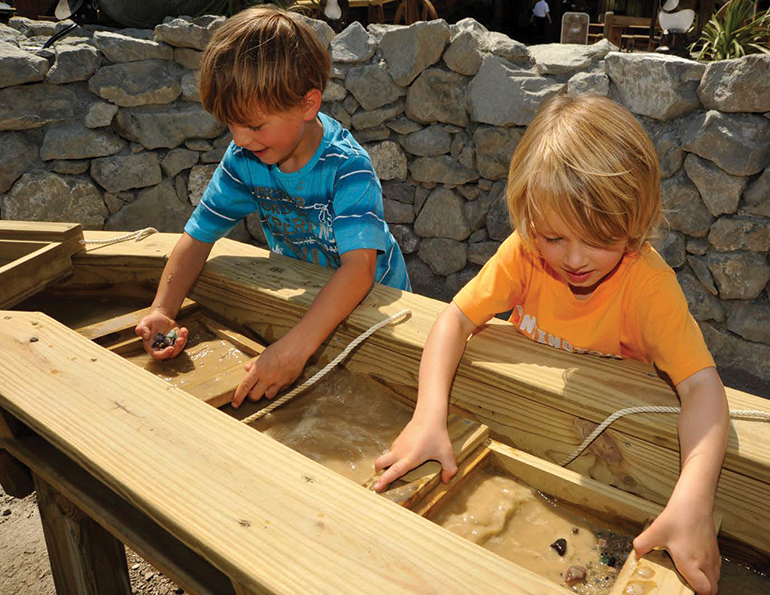 Sandy Creek Mining introduced the megastrike bag for longer play.
That 20-pound bag, which retails for about $50, was new this past summer—a result of increased demand. "We found that consumer spending changed a bit—they were actually spending more," says Woodruff. 
The activity has about a two-thirds gross profit, says Woodruff, and can keep guests entertained and spread out while they are waiting for other attractions. There are also built-in branding opportunities, with each keepsake bag of rough labeled with a resort's logo. 
Having a ball. Sunkid's Wooden Ball attractions offer similar advantages. The company's three wooden ball offerings—free-standing wooden ball tracks, wooden ball games, and wooden ball towers—are all self-served. Guests buy a resort-branded wooden ball from a vending machine, drop it at the top of the track, and follow alongside as the ball makes its way through unique wooden features. 
These themeable, interactive wooden attractions, geared toward kids aged 3-12, were tremendously popular in Europe last summer. Sunkid installed almost 2,000 combined feet of new track in 2020. There are several ball runs in North America, some of them home-grown.
While the gravity-fed tracks need a natural slope, the new wooden ball track towers create their own pitch, packing big fun into a smaller footprint. "You can place them anywhere," says Sunkid's Georg Dobler, like right next to an outdoor F&B outlet. "Parents can watch their kids while enjoying a coffee"—or while working remotely—suggests Dobler. 
New old school. The idea isn't dissimilar to an old-fashioned playground, a kid-friendly staple that's been given a facelift as of late. For example, Sunkid builds themed playgrounds with swings that look like resort mascots and equipment constructed to spell out resort names, "as if you were playing on the Hollywood sign," says Dobler.
Aerial adventure course builder Tree-Mendous has also stepped into the playground space, designing traditional features with a twist—such as a four-way seesaw—that embrace a natural, woody aesthetic. The unusual-looking structures, which CEO Gerhard Komenda displays on the company's office lawn, were in high demand last summer from both private and commercial buyers. 
Net gain. Netted play areas are another trending attraction that offers the same ease of use as a playground with an added thrill. For example, the Tree-Mendous Netscape uses trees or poles and woven nets to create fully enclosed, netted play spaces. These have been incredibly popular, says Komenda. 
The harness-free Netscapes are fully scalable. Tree-Mendous can build single bouncy nets or a multi-level play space, with peaks, valleys, shelves, tunnels, and more, to suit a variety of uses.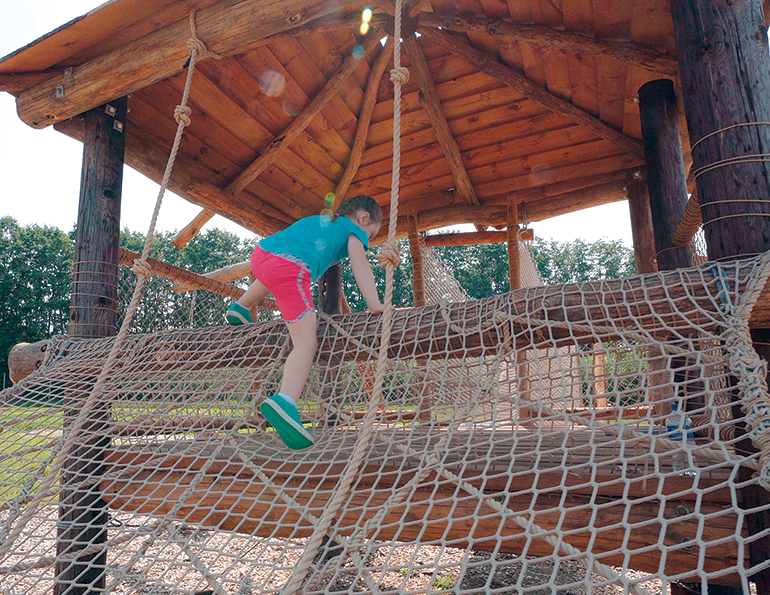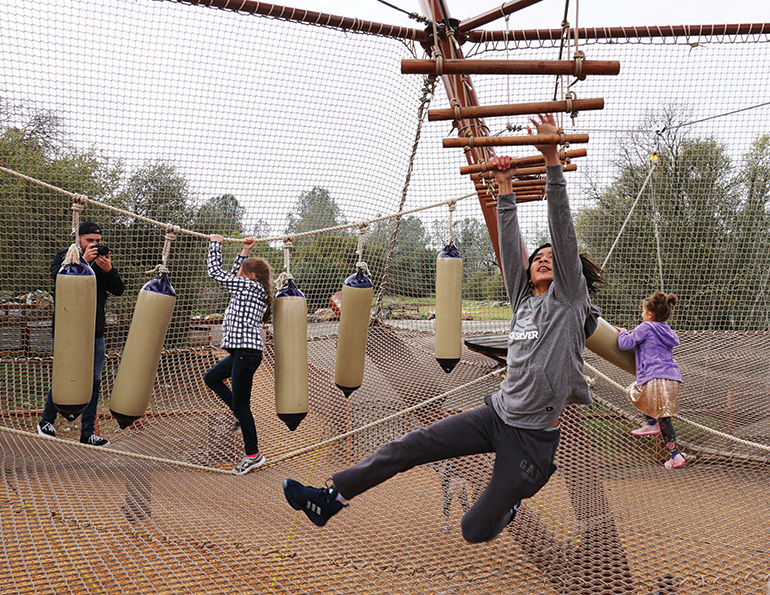 Net play continues to grow in popularity. Installs from Tree-Mendous (top) and Bonsai Design (above).
Komenda says the Netscapes are durable, and, most importantly, they appeal to a broad demographic. "It doesn't matter if you are 4, 14 or 40, the nets are just fun," he says. 
That no-equipment, low-skill focus has been a major consideration in product development at Bonsai Design as well. The company had been looking at net-based attractions for the last few years and recently began installing netted Kid Zones. These are steel-based structures that support fully netted nodes filled with challenge elements. 
A Kid Zone, which can be monitored lifeguard-style by a single staff member, is also harness free. "It simplifies the adventure opportunity," says Bonsai's John Nixon, "but still gets guests outside in new and interesting ways."
A NEW MAGNET
The scalable nature of those equipment-free attractions makes them ripe to become potential tent-pole additions to an existing operation. Take Bonsai's recent high-profile installation at the Children's Museum of Denver, the Adventure Forest. The unique outdoor adventure helped draw a record number of visitors to the museum in 2020.
Adventure meets art. Bonsai calls it an adventure playground, but the attraction, which includes seemingly standard features like slides and rope swings, has more in common with a challenge course than a backyard swing set.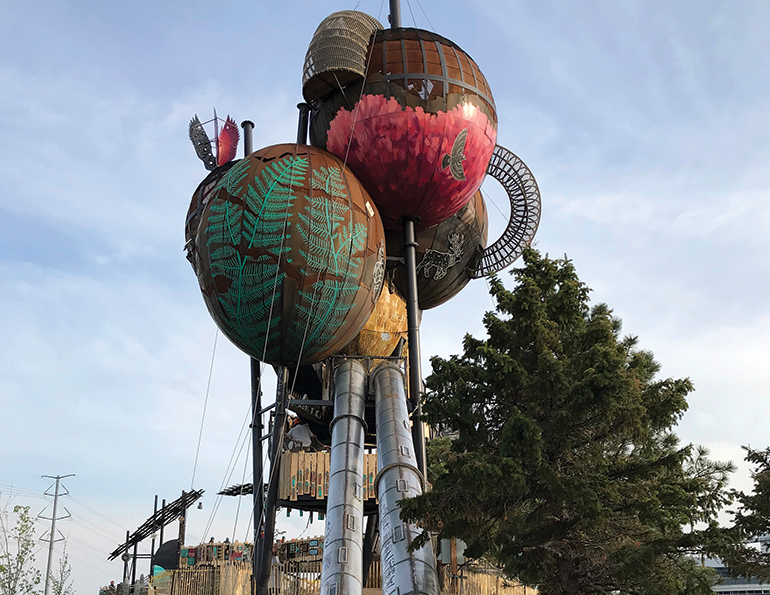 Bonsai Design's high-profile install at the Children's Museum of Denver pairs simple playground fun with an artful twist.
The 500-foot-long course-cum-art installation, with its massive painted steel bulbs (called Cluster Climbers) and numerous bridges, is distinctive and intriguing—the kind of attraction that demands to be climbed (and photographed). It's open to kids as young as 5, needs no harnesses, and utilizes timed entry (guests book their slot at a kiosk). 
That architectural and artistic sensibility and the desire to appeal to a broad demographic is driving another forthcoming Bonsai Design—the Adventure Tower. The hourglass-shaped tower will have interior netted play zones for kids, stair systems, an observation deck, and exterior climbing and rappel options. It will be "a pretty iconic piece of architecture," says Nixon. 
Dynamic climbing. Multi-activity towers are becoming increasingly popular. Eldorado Climbing is creating an outdoor version of its Kinetix Action Tower—a free-standing structure with multiple, modular climbing elements, not dissimilar to a vertical Ninja Warrior course.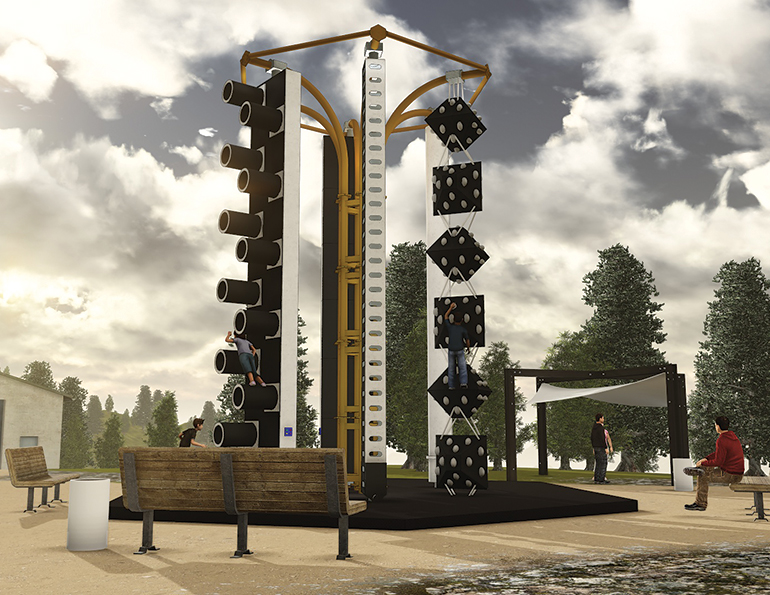 Eldorado Climbing's new Kinetix Action Tower is akin to a vertical ninja warrior course.
The modular elements range in difficulty, with options for people of all abilities and ages. The elements can be as small as 14 feet and as tall as 40 feet, and unlike a static climbing wall, they move.
"The elements are not static—they're very active," says key account sales manager Tami Velasquez. For example, the Leaning Ladder allows two climbers to race up either side, competing to knock the ladder off axis or cooperating to keep it straight. 
The modular elements can be attached to a variety of platforms, including Eldorado's freestanding Superstructures, which can support multiple elements, as well as existing platforms like outdoor decks or ropes course towers. Resorts can choose from a growing slate of 23 elements, which can be swapped in and out to keep the attraction fresh. Additionally, since the elements use auto belays to support harnessed participants, resorts don't need highly skilled staff to run them. 
Thrill factor. Terra-Nova's new ZipWhipper tower is a different animal entirely. It combines speed climbing with a unique "lead fall" thrill. Once a cycle begins, harnessed guests have 20 seconds to climb as high as they can up a 50-foot climbing wall. When time runs out, the automated belay pulls guests to the top of the wall, where they get a brief moment to take in the view before the ZipWhipper drops them backward into a freefall that swings them away from the wall.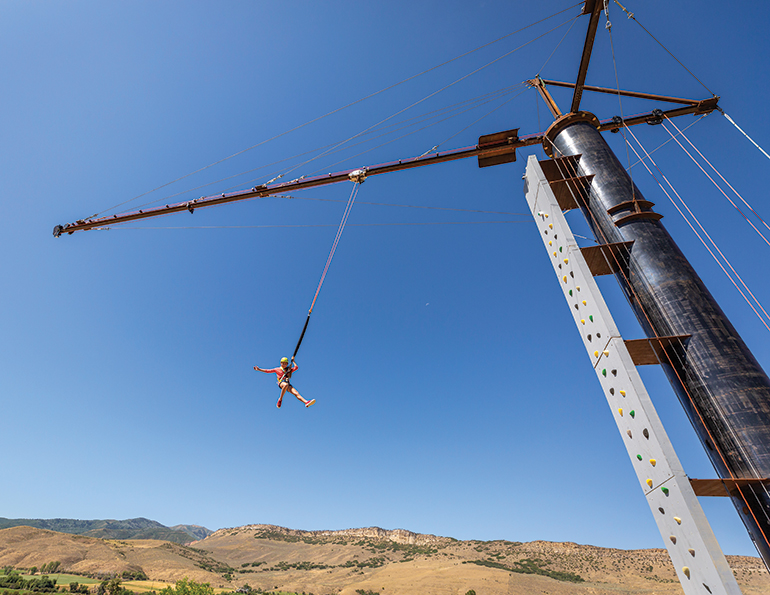 The new ZipWhipper from Terra-Nova combines a climbing wall and free fall fun.
The freestanding tower has a distinctive look. At 60 feet tall, it's much larger than the average climbing wall, and ZipWhipper beams—up to 12 of them on a single tower—extend horizontally from the top like spokes on a wheel. 
The competitive nature of the timed climb allows the attraction to be interactive and social (even as it's socially distant). And the automated technology means that every participant gets to ride to the top and experience the freefall.
"The ZipWhipper provides a lot of bang for the buck—the price point isn't too high, but the visual impact is huge," says Terra-Nova owner Eric Cylvick. "We have a lot of interest, and everyone seems to want some new attraction coming out of Covid." 
ENHANCE WHAT YOU HAVE
While big new attractions certainly come with lots of marketing potential, adding enhancements to existing attractions and natural features is another way to boost summer business.
Coaster audio. For example, ADG Mountainsides has added new audio technology to its mountain coaster carts. The technology debuted on a new build at Mount Van Hoevenberg in Lake Placid, N.Y., but it can also be retrofitted to existing coasters.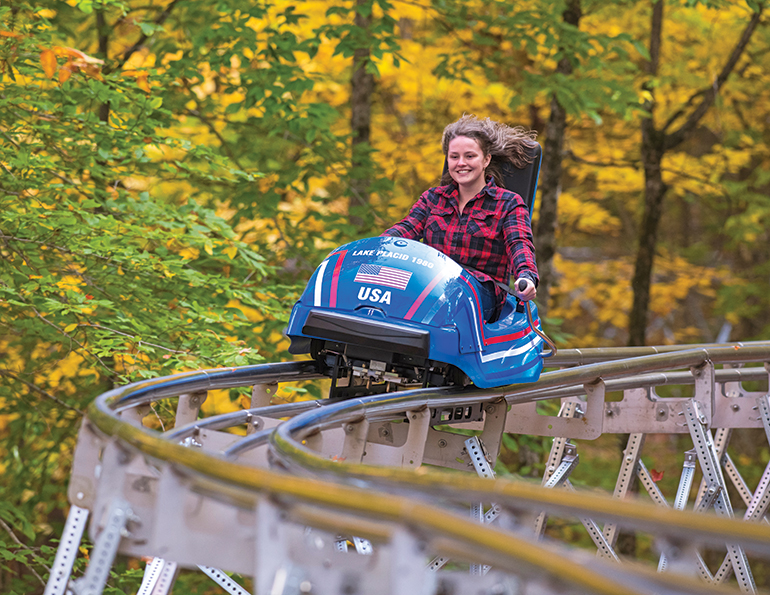 ADG Mountainsides added an audio element to the new Lake Placid coaster that runs along the 1980 Olympic bobsled track.
The Mount Van Hoevenberg coaster descends alongside the 1980 Olympic bobsled track. The audio highlights the site's bobsled history, offering educational facts on the way up, a brief safety message at the top, and then a thrilling play-by-play of the 1980 Olympic race, replete with a cheering crowd, whipping wind, rattling treads, and announcer commentary. 
The audio is triggered as the cart reaches certain phases of the coaster so that riders travelling different speeds have as authentic an experience as possible. The system uses standard mp3 audio files, so the soundtrack is highly customizable. "You can add exciting sounds or marry it to the landscape. You can theme the ride for different times of the year," explains Matthew Johnson, ADG business development. 
The technology also allows operators to share additional safety messaging, or to promote other attractions and deals to a captive audience. 
Light the night. Lights can create new experiences in the dark. Moment Factory's high-concept Lumina Night Walks, for example, blend multimedia technology with the natural landscape to create an immersive outdoor excursion. 
Using projections, lighting effects, and soundscaping, Moment Factory builds an interactive world and story that complement a resort's landscape, culture, and history. Take Vallea Lumina, which has been operating near Whistler village since 2018. The Night Walk invites guests to follow clues through the forest to a legendary hidden valley where stardust falls from the sky.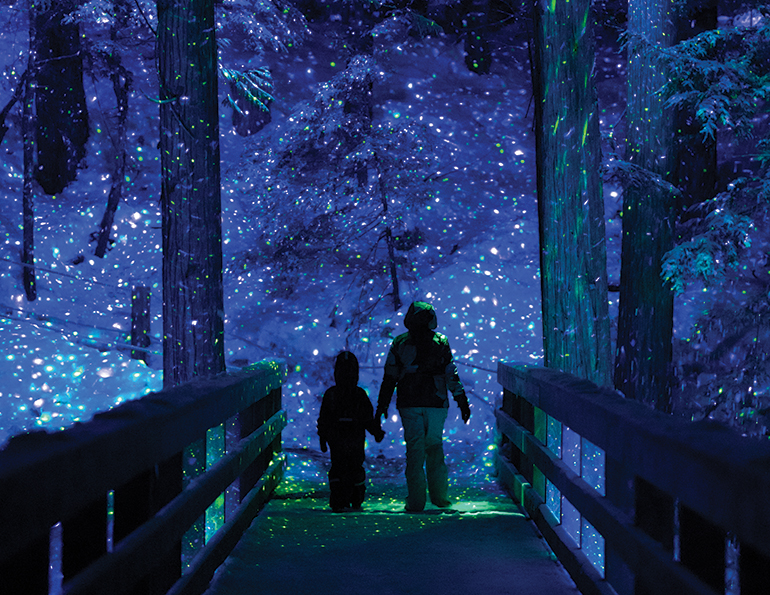 Moment Factory lights up the night at the Vallea Lumina Night Walk installation in the forest outside Whistler village, B.C.
Vallea Lumina was built to attract "more soft outdoor adventure enthusiasts," says Sara El Bain, Moment Factory business development manager. It was intended to be a summer attraction, but was so successful that Adventure Group Whistler, which operates the site, decided to keep it open through winter as well. 
The Lumina Night Walks also have the benefit of extending operating hours and have a positive effect on other revenue streams like food and beverage and lodging, says El Bain. Additionally, the touchless interactive technology and the space for physical distancing make it Covid-friendly.
Enchanted Trail. While Moment Factory's Night Walks are large-scale installations, other operators are tapping into the same concept on a smaller scale. In that vein, Boyne Highlands, Mich., opened the Enchanted Trail this winter. 
The goal was to create a low-skill, outdoor activity families could do together. Utilizing an existing cross-country trail and a renovated yurt, Boyne Highlands created a light-scaped walk through the woods that ends at a bonfire.
The only new investment the resort made was for the lighting. It worked with a company out of Detroit, Mich., to wrap trees and string overhead lights. The attraction also needs few staff—one to greet guests at the start of the trail, and one to man the s'mores and drinks bar by the bonfire.
Initially, the Enchanted Trail was only going to operate on Friday and Saturday nights. But high demand led Boyne Highlands to add Thursdays and Sundays, as well as more time slots later into the evening. "It's a feel-good experience," says Boyne Highlands director of communications Erin Ernst. In fact, six marriage proposals were made on the trail between Dec. 24 and Feb. 1. "People enjoy the magical experience of being outside at night," says Ernst. 
Night climbing. Outdoor Ventures Group CEO Bahman Azarm has seen something similar at his adventure park venues, where themed evenings like Fire Pit Fridays and Glow Nights have taken off. "It's special being up in the trees and having just enough light to climb at night," says Azarm, noting that Glow Nights always sell out. 
His parks started using day and evening theming a few years ago to "give people a reason to come now as opposed to waiting." Adding special programing to an existing attraction has become a way to attract people to the parks on specific dates and provide a memorable and unique experience. 
That, in a nutshell, is a winning formula. Giving guests new experiences they can talk about is one solid pathway to success this summer.