As the pandemic changed life as we know it last summer and resorts struggled to not only plan for this winter but to make the best of the warm season as well, something strange happened: The world discovered outdoor fun.
In recent years, alarming trends showed Americans were getting outside less—1 billion fewer outdoor outings in 2018 than in 2008. In 2020, though, overall outdoor participation saw its largest year-over-year increase since the Outdoor Industry Association began keeping track.
On streams and ponds, hiking trails and bike paths, guests of all stripes showed up. All were anxious to get out of their homes, and to be someplace—anyplace—that felt like an escape.
Many found their escape at mountain resorts. While Covid-19 restrictions may have limited things like ticket sales and indoor dining access, numbers still held relatively strong, operators say, thanks to the influx of fresh faces.
They geared up, too. Sales of outdoor equipment soared. Paddleboards, kayaks, bicycles and biking gear, e-bikes, hiking and camping goods—all flew off the shelves, reinforcing the notion that the world spent the summer discovering outdoor fun.
The sales increases were dramatic. According to research firm NPD, bike sales rose 48 percent. Of the top 20 fitness and outdoor sports product categories that saw dollar sales increase in 2020, seven were bike segments, led by suspension bikes and e-bikes. Together, those segments gained more than half a billion in sales. Paddle sports flourished, with paddleboard sales up 82 percent; canoes, up 36 percent, and recreational kayaks—the largest paddle category—up 26 percent. Many camping categories rose 20 to 30 percent and more.
All of those increases occurred even as overall outdoor sales declined by 6 percent, as apparel and footwear sales lagged.
Will they stay active outdoors? As we face perhaps another summer with at least some restrictions and then, all hope, an industry back to open as it once was, the question for resorts is this:
Can we recapture—and capture more of—these recreationists and win them over for good?
It's not an easily-answered question. Resort operators admit that this strange winter has made it challenging to plan ahead for summer. But they also understand the importance of doing so, because opportunity abounds. Summer business is something they need to study, act on, and succeed at.
If they can do that, they say, an ongoing summer (and winter) participation boom may just be the shiniest of pandemic silver linings for the industry.
"Our summer influx was terrific," says Brad Wilson, general manager of Bogus Basin in Boise, Idaho. "The big question is: Is this just a Covid bump or is this sustainable? We all hope people really enjoyed this and come back."
BETTER THAN EXPECTED
At Bogus Basin, as was the case at many other resorts, mountain biking visits were up exponentially in 2020: a 50 percent increase over 2019, despite restrictions that limited guest capacity.
Mountain Creek Resort in New Jersey had the same experience, notably on weekdays. "Our midweeks were so strong [last summer], with a lot of families coming out," says VP of sales and marketing Hugh Reynolds. "And it was clear these were people who had never been to a bike park before. We saw a lot of old mountain bikes come out of the closet and find their way to our lift line."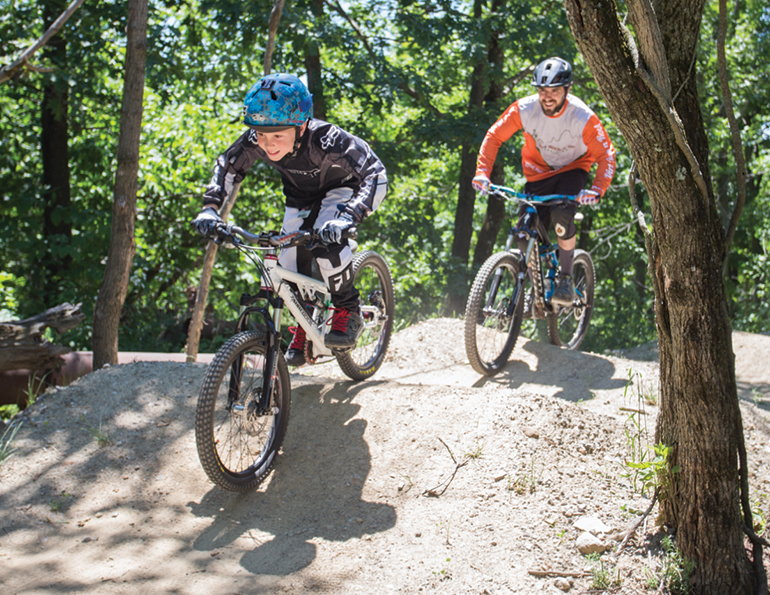 Family bike rides at Mountain Creek, N.J., happened frequently midweek in 2020.
Yoga. Mountain biking wasn't the only popular thing. In an effort to invite new visitors out to experience the mountain air and scenery, Bogus Basin held socially distanced outdoor yoga classes in a one-acre field on-resort. The hope was to get a few handfuls of folks to show up, take part, and soak it all in. Instead, "We got more than 100 people [each time]," Wilson says. "It was a beautiful sight."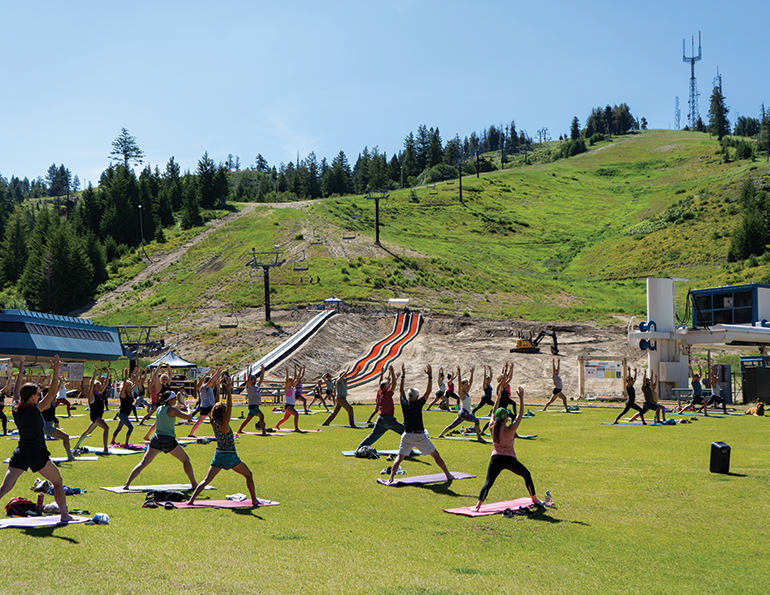 Outdoor yoga at Bogus Basin, Idaho, was much more popular than expected.
Blue Mountain Resort, Pa., had a big summer, too. With the exception of weddings, summer business was up across the board. Mountain biking was up 25 percent, says resort president Barb Green.
Glamping. But it was the resort's "glamping"—25 sites with platform canvas tents, beds, solar power, and other amenities—that "went through the roof," says Green.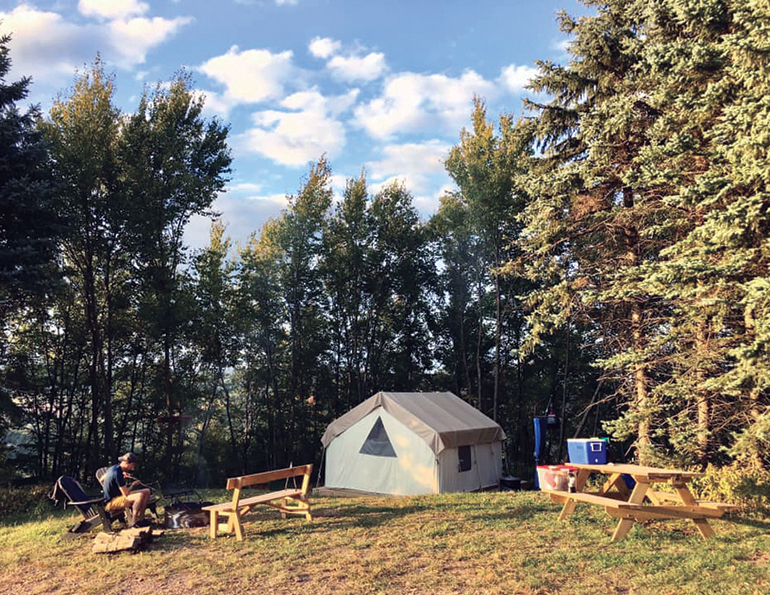 Glamping at Blue Mountain, Pa., was "through the roof" in 2020.
"People from cities who did not go on their usual vacation to some far-off resort came here instead," she says. "You could tell they had never camped before—and some had never been out on a mountain before."
Despite the unfamiliarity, they still came and enjoyed it. That gives her confidence that last summer wasn't a flash in the pan. "I think we're going to have a long, long tail from all this," she says.
WHAT'S A WEEKEND?
Regina Connell, founder of Collective Work—an insight, strategy, and brand experience consultancy serving hospitality, lifestyle, and design—works with many a resort on subjects like this. What she saw happening last summer, and believes will continue to ripple through the industry, is multifold: new people were trying new things in new places for new reasons. And at new times.
"I think it's time to look at how the world of work and education is shifting, and what that means for leisure time," says Connell.
She says that working remotely was already a growing trend pre-2020, and the pandemic just accelerated it and "made it go mainstream." How impactful might this new work life be, and should resorts plan accordingly? Connell is willing to go far with her vision.
"If this lasts, it's going to change the look of the weeks," she predicts. "If you are a 'Downton Abbey' fan, you know the Dowager used to say, 'What's a weekend?' That could be this industry in the future."
EDUCATION AND UNDERSTANDING
So, they came, they saw, they connected. How do resorts bring these recent newcomers back, not just this coming summer, but all summers—and perhaps in winter as well?
"Recreational area operators are going to have to think of people not as newbies to us, but more as newbies to the outdoors," she says. "Everyone is going to have to look at customers a little bit differently with that in mind."
Connell thinks those urbanites new to outdoor recreation may crave more "creature comforts," such as upgraded food and beverage. They may also need more hands-on guidance in how to savor the outdoor experiences resorts offer.
New to nature. Green says that much became clear last summer with guests in the glamping (and regular camping) spots. "We had to do a lot of educating, and be ready to do it," Green says. "Lots of customers had not had this experience before," and didn't know what to do when nature, well, happened.
For instance, Green says the resort's main phone rang at 11 p.m. one night from a glamper who wanted to let them know that a "baby deer was outside their tent." The guest's request? That the switchboard call animal control to help the baby deer "find its home."
Adorable and innocent, yes. But the story speaks to Connell's suggestion that many newbies may not fully understand outdoor activities and nature.
To help with this, Green says she'd like to explore partnerships with well-known brands and shops where those heading to Blue may stop first. "I would like to partner with REI, L.L.Bean—the types of places that can do things with us like 'learn how to camp,'" she says. "I see great opportunity for partnership here."
She's also planning to add an organic garden this summer, as well as some other touches to please new guests' elevated expectations.
Connell encourages resorts to come up with creative and fun ways to both re-engage those who tested the waters last summer, and invite those who have yet to.
"Have fun with it," she says. "Show them that you're excited to welcome them." She suggests things like invite-a-friend deals where, should you bring a friend along for the first time, you get a swag bag or some kind of fun outdoor kit.
Adventure Is in the Air

While some resorts kept their adventure parks closed last summer, in whole or in part, operators who took the necessary steps to open generally profited from the desire to get outside for recreation and entertainment.

According to an industry survey conducted last fall by SAM sister publication Adventure Park Insider, adventure parks reduced their capacity by nearly half, on average, but saw daily visits drop by just 9 percent. Many reported record volume in the latter half of the season, increased midweek business, and saw an influx of new visitors and a more diverse, urban clientele. Profit margins were nearly on par with 2019.

For more on adventure park operations, see the topline report in the Winter 2021 issue at adventureparkinsider.com, or order the full report.
GROWING DIVERSITY
Beyond the fact that resorts are drawing new people, exactly whom is showing up depends on the resort location. Many resorts reported more diversity in their clientele—culturally and racially, as well as where the new visitors came from.
"This area does not have a lot of diversity," says Wilson about the Boise region and Idaho generally. "About 96 percent of the population is Caucasian."
So, in Bogus Basin's case, diversification is more about urban vs. countryside. "We don't tend to see many guests from outside the Boise metro area," says Wilson. But this past summer, they did, drawing more from the broader, southwestern Idaho "Treasure Valley" as a whole, which has long been their goal. "We're always trying to get people up out of the valley to breathe the alpine air and feel what it's like in this environment," he says.
Year-round pass. To help folks want to return, Bogus now offers, for the first time, a year-round pass. It came partly because of a surprise they realized as new folks visited this past summer.
"The user groups [between winter and summer] are way more different than I imagined," says Wilson. "You would think skiers would be cyclists, but there's not as much crossover as you think."
That, of course, spells opportunity. Bogus Basin hopes the year-round pass helps that.
Give them what they need. Green says she believes many of Blue Mountain's new guests last summer came from the 40-and-under crowd, and, she says, "I don't think they are going away."
She hopes to add things like sports training for athletes who are not getting that from school sports, a continued well-run kids' camp ("Everyone's sick of their kids being at home all the time"), and other things that will speak to that market segment.
Reach out the right way. For resorts looking to reconnect, or make an initial connection, to more diverse markets, Connell advises to do so with great care, and with lots of guidance from those who truly know the target community.
She suggests using imagery, wording, and outreach that speaks to diverse groups but "does not pander. It's a fine line, and you have to be careful."
"This is a tremendous opportunity for us to all democratize the outdoors," she says. "As weird as this is to say, it has to be said: The outdoors is not just for Patagonia-wearing vegans."
Connell also suggests resort operators look to other similar brands and how they worked toward diversifying their loyalists. She points to a collaboration between Gucci and The North Face that merged fashion, diversity, and outdoor fun almost seamlessly. "That, to me, is an amazing example," she says.
THE FUTURE
Could all this mean another busy summer, more new people connecting long term, and even, dare we wish, more winter guests? Most agree there's a good outlook for a silver lining like that.
"Mountain destinations could become the default summer vacation," says Connell. "Family and friends coming together in a recreational area with things to do for all.
"And is summer going to be the gateway drug to winter?" she wonders. "I think it could happen. It really could. And that would be one great silver lining."