Face coverings? Check. Capacity limits? Check. Advance reservations, new fire pits, and booting up in the parking lot? Check, check, check.
Ski areas across North America have implemented a host of protocols this season in order to get—and stay—open during the ongoing Covid crisis. While resorts will gladly do away with most of those modifications once the crisis passes, there are a handful of innovations that might just stick around.
Some resorts found that the pandemic forced them to implement previously planned enhancements ahead of schedule, while others discovered creative ways to pivot to pandemic-friendly routines and amenities and help skiers and riders enjoy a semi-normal season. Given the industry's can-do spirit, the results have been pretty great, improving mountain operations and streamlining the overall guest experience in unexpected ways. Call it a pandemic silver lining.
Of course, it took months of careful planning amid relentless uncertainty to reach this point. "I actually had a client say to me, 'it's a military thing—in times of crisis you shorten your timeframe and narrow your focus,'" says Claire Humber, director of resort planning and design at SE Group. "But in addition to the need to be reactive, there was definitely an opportunity to be proactive, think longer term, and make some really sound investments." 
Humber calls it "proactive evolution," a topic she, John Ashworth, and Regina Connell covered in the July 2020 issue of SAM, and in a SAM Huddle as well. "I really think that as the dust starts to settle on this season, there will be more awareness that, in times of crisis, long-range planning is a really good thing to do, for a lot of different reasons," she says.
Bolton Valley, Vt., president Lindsay DesLauriers agrees. "At the end of this winter when all the ski areas sort of take a breath and start to debrief together, it'll be really interesting to see what we carry forward," she says.
Let's take a look at some of the trends that may stick the post-pandemic landing.
TECHNOLOGY REIGNS
Technology revamps transactions. Operating during a pandemic has meant rigorously managing resort capacity while also developing alternatives to traditional, in-person transactions such as ticket sales, equipment rentals, and food and beverage purchases. Many resorts have realized the enormous operational benefits of revamping their digital framework. While reduced capacity will hopefully be a thing of the past next season, technologies that enable guests to order lunch from the lift or book lift tickets in advance are here to stay.
"The pandemic really pushed a timeline for us," says Loryn Duke, director of communications at Steamboat, Colo. "I think a lot of resorts have been thinking about innovative technology and new ways of doing things for a long time. But those innovations always seemed so far out in the future. In 2020, we were forced to make those technologies a reality."
Ticket kiosks. One of Steamboat's biggest successes has been installing three new ticket pickup kiosks. "Guests purchase their tickets online in advance, scan their barcodes at a kiosk, and their tickets come right out," Duke explains. "They don't have to go inside the ticket office. They don't have to wait in a line. They get their tickets and go directly to the mountain."
Advance online purchasing. The pandemic pushed the tech timeline at Bolton Valley, too. The resort installed RFID gates ahead of the 2019-20 season, and while a larger tech overhaul was certainly in the pipeline, it wasn't slated to happen quite yet. "Essentially we migrated off our old platform and put everything—season passes, lift tickets, rentals, lodging, lessons—into one web shop," says DesLauriers. "We weren't planning to do it, but we sort of plowed forward because we knew we couldn't have long lines inside anymore."
Purchasing lift tickets in advance online is nothing new, of course, but the pandemic has made it a welcome standard practice. "We've been trying forever to get people to buy online. Now, guests have no choice," says Carolyn Stimpson, VP of mountain services at Wachusett Mountain, Mass.
Wachusett uses the information collected during an online transaction to better communicate with guests. "Having guests' contact info has given us SMS text ability so we can shoot out messages that say, 'Hey! You're here! Did you know that we have demos discounted right now? Or that you can stay for night skiing for super cheap?' People appreciate that. We're trying to give value added wherever possible," says Stimpson.
While some might worry that technology will take jobs away from humans, that seems unlikely. "We still need the support," says Duke. "Behind the scenes, these technologies require a lot of manpower. They may change the way our staff is deployed, but I don't see it minimizing our staff."
Better branding. Shifting to digital can also help a resort enhance its brand identity. "There's this whole revolution where things can get done online, but that still allows for the personal touch," says John Ashworth, principal at Bull Stockwell Allen. "There's a new opportunity to engage your guests, providing a much more holistic welcome experience and superior customer service."
NEXT GEN TICKETING
To manage capacity, many resorts have opted to limit day-ticket sales in favor of accommodating passholders this season. Others have implemented novel ticket modeling to accommodate day guests.
Using RFID data from previous years, resorts pinpointed days when they might hit maximum capacity and tailored day ticket sales accordingly. Some instituted timed sessions and dynamic ticket pricing to help spread the crowd throughout the day.

Left: Ticket pickup kiosks, like this one at Steamboat, are here to stay. Right: RFID gates at Bolton Valley allowed the resort to introduce half-day morning and afternoon tickets to spread crowds.
Time-block ticketing. "This year we added shifts," says Dave Tragethon, VP of marketing and sales at Mt. Hood Meadows, Ore. "We have a nine o'clock, a noon, a two o'clock, and a five o'clock on the nights that we operate for night skiing. Our whole goal was to try to spread out visitation. The number one thing that we will carry forward to future seasons is these shift tickets."
Bolton Valley has taken a similar approach, introducing half-day morning and afternoon tickets for the first time—something it hopes to continue post-pandemic. "I think our guests appreciate it," DesLauriers says. "A lot of people might not want to ski for eight hours. So, there's a value to them to be able to buy a less expensive ticket, and it enables us to have better control of traffic on the mountain. It's a win-win."       » continued
At Wachusett, a four-session-per-day ticket model has allowed more people to enjoy the mountain this season. "We're running at half outdoor capacity," says Stimpson. "So now, instead of having full-day tickets, we have four sessions because so many people were desperate to get out. That's definitely one Covid takeaway that I think we'll keep on some level."
BASE LODGE ALTERNATIVES
The industry-wide message to guests sounded loud and clear early in the season—treat your vehicle like a base lodge. State or local mandates limiting—or forbidding—indoor gatherings mean guests aren't allowed to haul their stuff indoors to gear up and set up camp. To provide guests refuge aside from their cars, some resorts devised unique alternatives.
Slopeside "cabanas" have popped up at ski areas across the country. Sugarbush's Base Cabins include creature comforts like artisan-made tables and benches, propane heat, storage cubbies, coolers, and options for food delivery. They're fully enclosed and fit up to eight people, with daily rental starting at $159.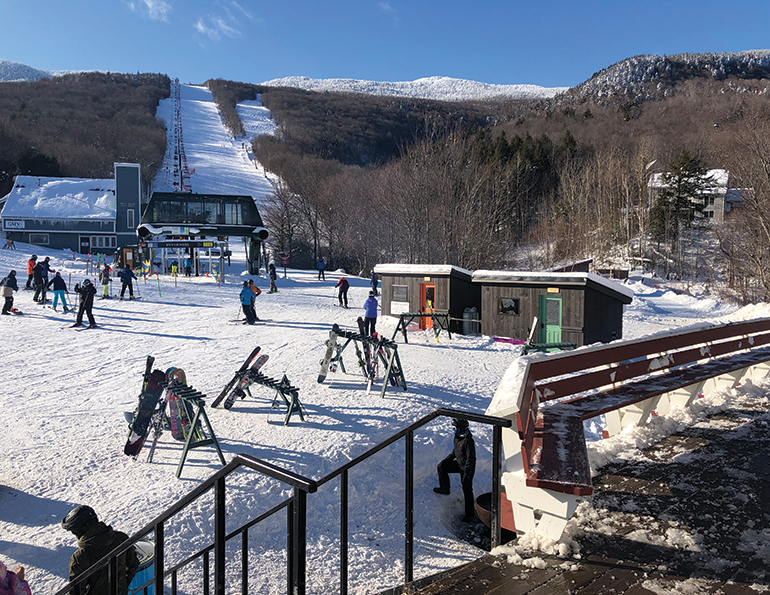 Sugarbush built slopeside heated cabins to rent this season.
"I think this is something we're going to see continue in the industry," says Ashworth. "It's a real opportunity for resorts to create a one-of-a-kind, private experience."
Berkshire East and Catamount (Mass.) went a similar route, building cabanas—28 at Berkshire East, 30 at Catamount—that are on the primitive side. Each has a picnic table, bench seating, and propane heater, but no door or electricity. They can be booked online for $100 to $150 per day. Catamount sold out of seasonal cabana rentals before winter even started.
Basic shelter. These shelters don't need to be fancy. "Skiers are dressed for the weather," Ashworth points out. "You just need a little bit of enclosure and wind protection. You want to create the feeling that people are at one with nature. That's the beauty of structures that have heaters but are still open to the elements. You feel protected but not enclosed."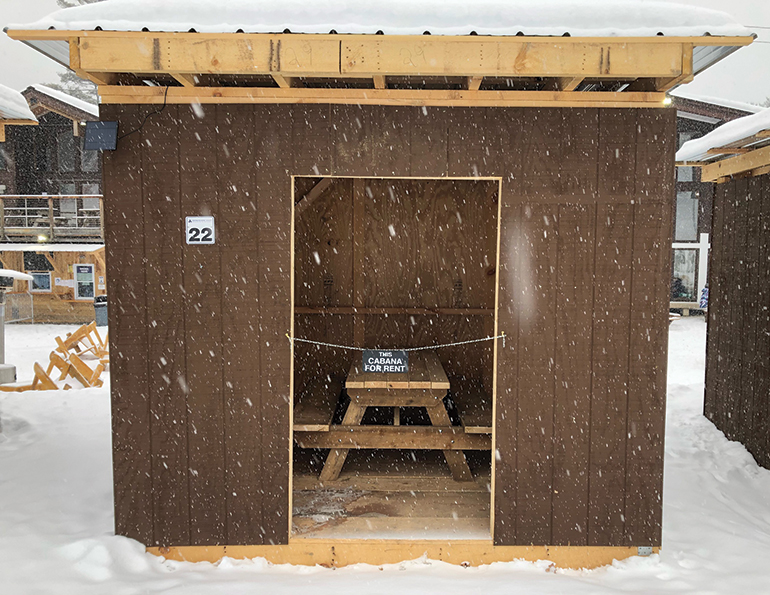 Berkshire East went more rustic with open-air cabanas for daily or seasonal rental.
Seasonal suites. In lieu of constructing cabanas, Bolton Valley pulled 22 rooms from its hotel inventory and transformed them into season-long private ski suites, each with cozy seating, TV, and dining table and chairs.
"We knew we had a couple of problems going into the season," says DesLauriers: limited space in the base lodge, and interstate travel restrictions that would limit the number of destination guests needing an overnight room.
It was a bit of a hedge, but it paid off. All of the rooms, which required a four-month rental commitment, sold out quickly. "We keep talking about whether we'll keep doing this," says DesLauriers, who plans to reach out to passholders in the spring to gauge interest in the offering for next season. "There was definitely a market for it this year."
OUTSIDE IS THE NEW INSIDE
Outdoor accessories. Resorts also had to think outside the box in order to create inviting outdoor spaces, upping the ante by investing in cold-busting accouterments like Dragon Seats heated benches, fire pits, and heat lamps as well as plenty of new, all-weather furniture.
"The broader conversation of what has to be inside and, therefore, what doesn't was crucial," says Humber. "Being really smart about outdoor space that can be made more comfortable—that's not a new conversation, but it's become real."
Rental staging. Those kinds of conversations led Wachusett to create an outdoor staging area for rentals. "I said to our outside engineer, 'Hey, we need a patio outside the rental shop,'" Stimpson recalls, "and he said, 'I think I have drawings for that from 2016.' So now we have a radiant-heated patio. It was in the plans—we just had to press play and do it. And it's going swimmingly."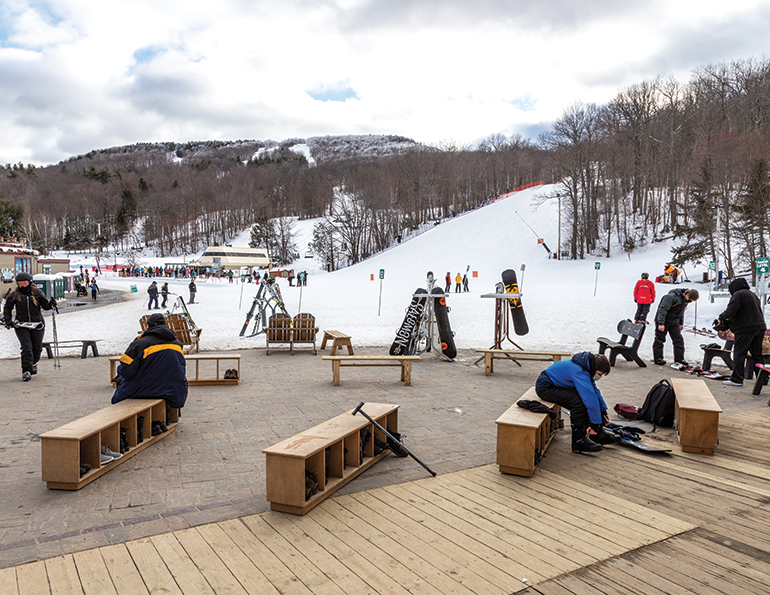 Wachusett placed outdoor cubbies throughout the resort to help folks prep outside.
Bag storage. In addition, a slew of outdoor bag storage has helped for guest convenience since bags aren't allowed inside the lodge. "We put cubbies outside everywhere!" says Stimpson. "The bags in the building is one of the things that I'm so not going to miss."
Outdoor F&B. Ski areas have also successfully expanded outdoor gathering areas and re-imagined their food and beverage options in creative ways—from ski-up donut windows to new food trucks and using apps to order food in advance.
"We leveled out an area in front of our lodge and created a large patio with fire rings and deck chairs," says Berkshire East general manager Gabe Porter-Henry. "We also enclosed a space underneath a deck and added a pick-up window for our food service. The whole outdoor atmosphere has been great. I think, for a lot of people, this has transformed the way they experience the mountain."
Steamboat implemented one of the more unique solutions to outdoor dining this season. It's called the Pizza Ranger, and draws on the success of the resort's Taco Beast, a roaming, snowcat-mounted taco stand. Guests can order pizza from anywhere they are on the mountain and then meet the Pizza Ranger—a tracked side-by-side with a warming box—at the resort's Bashor Pavilion. "It's super cool," says Duke. "People are loving it, and it created an entirely new space for guests to dine comfortably outdoors."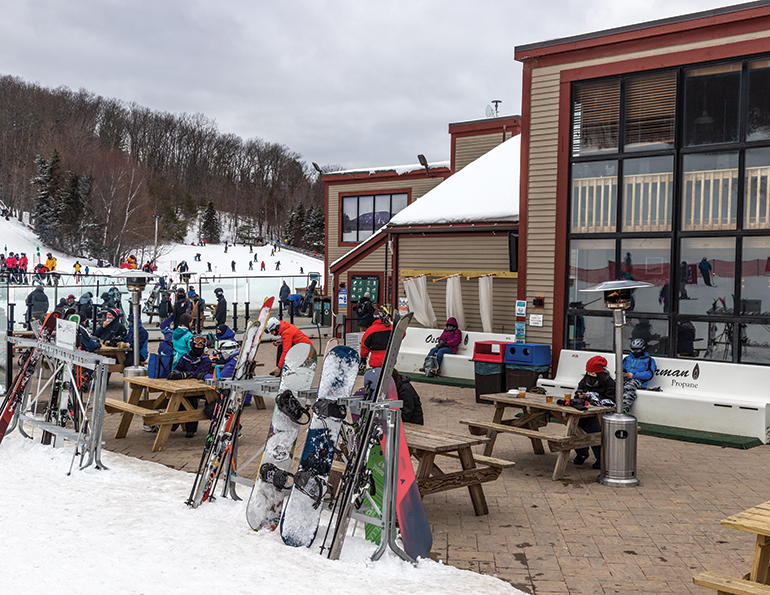 Heat lamps and Dragon Seats help keep guests warm at Wachusett.
BEYOND SKIING AND RIDING
If ski areas have proven anything over the past year, it's just how resilient they are. The ability of resorts across the country to adapt and flex and change has been truly remarkable. At the same time, despite this season's limited capacity, the fact that the pandemic propelled people outdoors may result in a new cadre of loyalists who want to remain part of what mountains are offering.
Expanding range of activities. "Outdoor recreation was the silver lining of 2020, and the golden opportunity for 2021," says SE Group's Humber. "People have gotten outside and hopefully some of that is going to stick, and it's going to bring new people to mountain resorts. And they're going to want to do new things. They may want to go for a fat-bike ride or a Nordic ski or a snowshoe. We've seen everything related to outdoor recreation just explode."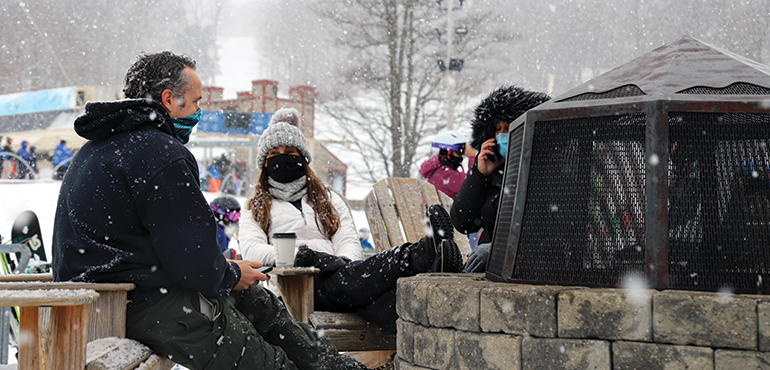 Staying warm at Wachusett.