When the alpenglow fades and night falls, most mountain resorts flip the switch, tuck things away, and head home until morning, assured their grooming team is doing its magic before the sun rises and it all starts again. But for a certain number of ski areas, another switch is flipped. Rather than hibernate until dawn, they come alive for a second time as their night skiing world revs up.
How does one know if a night skiing program is right for one's hill? And how does one do it correctly? Successful operators say it comes down to a few things: Knowing where you are, who you are, who your night clients are (they're not always your day clients), and most of all, creating a vibe that works within all that.
The Three L's
When it comes to night skiing success, there are three key ingredients: location, location and location. This isn't the only driving force, but it's the one you can trust most.
Quick and easy. Take Ski Bromont, Quebec, North America's largest night skiing operation (all lifts and 100 of the area's 140 runs are lit). "The first thing that leads to success is having your main customers one to one-and-a-half hours from the hill," says resort president Charles Désourdy. "They don't travel for night skiing, so you have to be very close to your customer base."
Désourdy also believes that size matters. While there are exceptions, "The bigger the hill, the less people like to night ski," he said. "Smaller hills are where it works."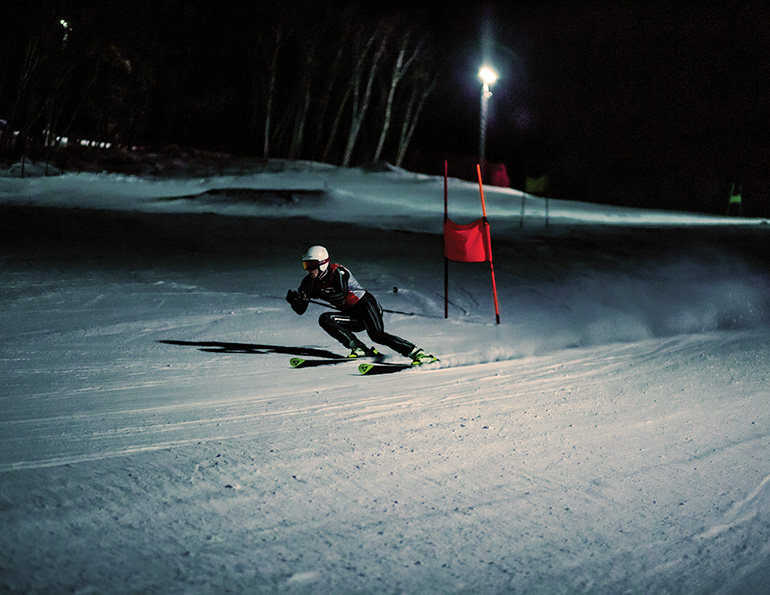 mayNight racing at Granite Peak, Wis., is one of the programmatic elements of night skiing success.21 lights are on 01
State's biggest babysitter. Yawgoo Valley Ski Area, the only ski area in Rhode Island, is a case in point. Resort general manager Tracy Hartman says that most of her clientele "comes here from a 25- to 30-mile radius." The area is just a half hour from the urban hub of Providence, so parents can easily zip their kids over not just on weekends, but on nights after school. "We are Rhode Island's biggest babysitter," she says.
Big Can Be Good, Too
Night skiing can work at a larger hill or destination resort, too. Take Steamboat, Colo. The resort added night skiing after a local racing group pushed for it, and has found success in lighting up a section of its trails at night.
"It really adds great value for our destination travelers," says Dave Hunter, Steamboat vice president of mountain operations. This past season, he says, "We saw a significant increase in night skiing with the pandemic."
Steamboat began offering night skiing in 2013 to create a night training spot for a local racing club. "They needed a training trail and lights on it, so we thought, 'If we're going to do it, let's do it right,'" Hunter says. The resort now offers night skiing off its six-pack lift out of the base, with a variety of trail levels, as well as a mini pipe and progression park under the lights.
The resort has learned that with the right attention to detail, from grooming to programming, night skiing can work well at a destination resort.
Programming the Night
"If you're going to have night skiing, you have to make sure you program it," Hunter says, especially at a destination resort. The area pursues what Hunter calls the "no one rides the bench" approach: There's something for parents, grandparents, racers, park lovers, etc., to enjoy.
"Some may think you turn on the lights and they come. But you need to give them more. You have to activate it," Hunter says. That comes from things like fireworks, torchlight parades, "family fun nights," affordable deals, plus great food and beverage offerings. The resort's Mountain Coaster runs under the lights at night as well.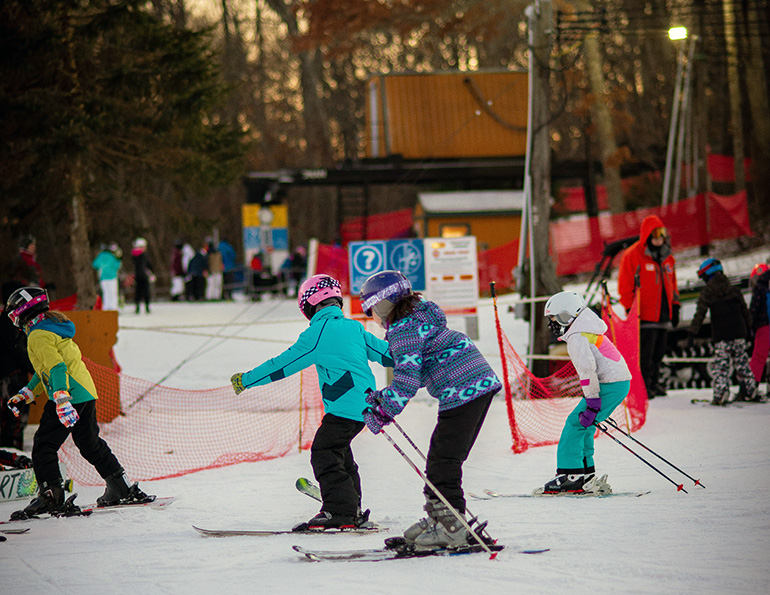 Yawgoo Valley Ski Area attracts after-school visits from famillies, making it what management calls "Rhode Island's biggest babysitter."
Désourdy, too, believes in programing for night skiing. "Night skiers want something to happen," he says. "Bells, whistles, activities, and more. It's a bit colder than the day [and there's no view to take in], so those special things are important, as is a low rate."
Details Matter
Attention to the details matters at most night-skiing areas, including those like Granite Peak, Wis., that already possess a lot of the basic ingredients for success. Night skiers can find lights on 80 percent of the trails at Granite Peak—48 in total. As the largest ski resort in Wisconsin and with excellent access from cities (Wausau and its 40,000 residents is close by; Green Bay is 90 minutes away), it would be easy to think it'd just naturally attract night skiers in droves.
General manager Greg Fisher says access certainly helps, but success stems from attention to detail, including good grooming, understanding what pricing draws folks, and hiring staff that can work well with the night crowd.
Night staff. "Night skiers tend to be younger, teens and young adults who may not be the best at following the rules—let's just say it that way," he says. "So, our night staff is less 'customer servicy' and more 'enforcementy.'"
Staffing the night team with "people who kids will see eye-to-eye with [translation: who seem cool and in touch]" keeps everyone in line and the action flowing smoothly—an important foundation for the overall experience. Finding those staffers can be a challenge, Fisher says, particularly when many folks already work full eight-hour days for the resort.
Simple pricing. Granite streamlined its night deals recently, a change that Fisher believes helped boost sales this past year. Instead of offering promotions like "Free Rental Mondays," Fisher thought, "Why not just make it affordable all the time and end the promos?" And so they did.
Guests no longer had to keep up on promotions and when they were offered. The change also helped staff with managing nights as well. "If you have promotions, you have to market and manage them," Fisher says. "This way, the guest can go when they want and get what they want, any day at all."
Grooming in the Afternoon
Afternoon grooming is another key step. Steamboat, for example, ends its day-skiing hours at 4 p.m., grooms the night skiing trails, and opens again at 5:30 for the evening. Catching the first turns of the evening, Hunter says, has become a bucket-list type experience for many.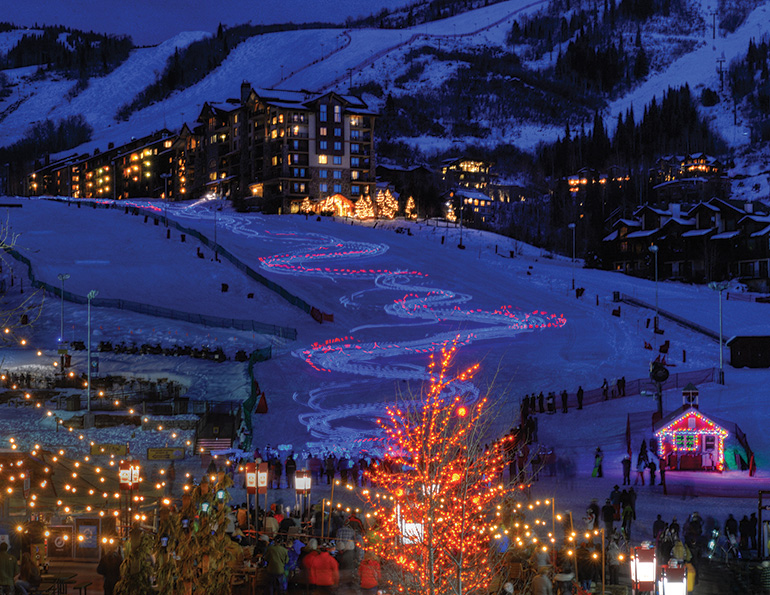 Steamboat went all in on night skiing, developing programming to support it and give everyone something to do. Family events like this kids' torchlight parade help bring people out when the lights are on. Photo courtesy Steamboat Ski Resort.
"It's similar to getting first tracks in the morning," he says. "All that fresh corduroy; people love it."
Grooming, Désourdy agrees, is mandatory, even if it's not easy to do. "It's costly to add this, and you have to be very careful," he notes. "Safety is important when you close trails to groom them and reopen them."
But the payoff is clear. "It's not unusual for us to have 20 to 50 skiers lined up for when those ropes drop [after the night grooming]," he says. " It's pretty great to see."
Food for Thought (and Profit)
Désourdy and his team realized that the night audience might not have the budget for the area's usual food fare. So they launched inexpensive nighttime food and drink specials, and Bromont now has a brisk evening F&B program.
Yawgoo found success with a different approach. It is not unusual for parents, even in this era of hyper vigilance, to drop their children off at Yawgoo for a few hours of night skiing and then swing back to pick them up. "Everyone looks out for everyone here," says Hartman.
Serving parents' needs. Still, the resort found a way to keep the parents around and simplify life for them. Yawgoo offers evening lessons during the dinner hour, and couples that with an excellent food and beverage service situated in a location where mom and/or dad can relax and see their kids in action.
This succeeded for a couple of reasons. First, the evening lessons were more accessible to families. Kids did not have to rush from school, miss a sports practice, or juggle homework to get their skiing and riding in.
Second, it made parents happy—always a smart move. "Our 4 to 8 p.m. times have been great for this reason," she says. "Parents can relax on a deck or by big windows and have a glass of wine or beer and something to eat."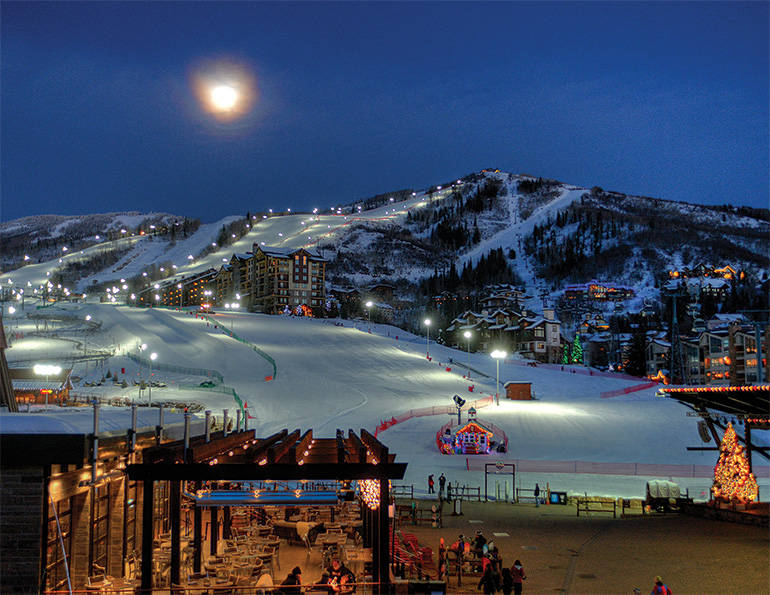 Steamboat Ski Resort's night lights spread from the hill into the base area and beyond.
The result? Rather than dropping kids off to ski with a few bucks in their pocket (which is not a bad thing on its own), parents are now opening their wallets for food and beverages as well.
More is not always better. Once upon a time, Yawgoo operated until 10 p.m. Several years ago it reduced that to 9 p.m. nightly, and most recently, to 8 p.m. You might think that would reduce ROI, but it has increased it.
How is that possible? More manageable times for both guests and staff, and an easier "yes" for mom and/or dad.
"I think parents were quite pleased," Hartman says. "No more arguments about leaving [on, say, a school night]. That time just works better for everyone."
Did we mention the importance of knowing your audience?
Challenges and Complications
For all its benefits, night skiing brings its own challenges, too. For Hartman, a big issue is how to manage snowmaking when you're skiing trails into the night. The area has worked at making sure its system—and schedule—can adapt to that.
Another issue: snow conditions. These can vary at night as the temperature drops. "We're seven miles from the ocean, so we are used to shifting conditions," Hartman says. But other areas should ready to constantly assess trails and take action as needed.
Fisher suggests that all night-skiing areas also build a solid emergency action plan, taking into account things like power outages (and how to evacuate lifts in the dark), proper trail closings, and of course, a night-adapted sweep program. "You don't want to miss someone out there," he says.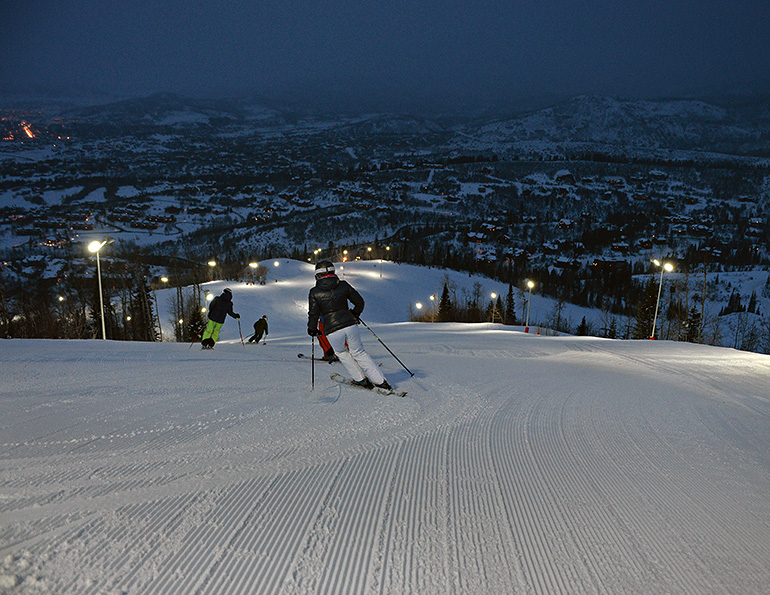 Snow-Bright fixtures at Steamboat face uphill, eliminating forward shadowing. Snow-Bright lights are also "dark sky" compliant, meaning they do not cause light pollution under most statutes and/or guidelines.
The Bottom Line
Done right, night skiing can add to a resort's vibe and bottom line, and build an ROI worth bragging about. "Nights are cheaper to run," Désourdy says. "Plowing costs [for lots and walkways] are zero since it's already done. You've invested in the lifts and made the snow. Now, it's like running the factory at night. A bit of grooming, the lights, and you're running."
And the revenue can be significant. Nights now account for 80 percent of Bromont's net revenues. And that benefits all of Bromont's guests. "Without nights, we wouldn't have all we have," Désourdy concludes.
Choosing the Right Lights

Lights for skiing have come a long way, baby.

Ask Howie Lowden. In the night skiing light business since the mid 1980s (and with Hart Skis prior to that), he's watched the evolution of lighting for many years. "The last five years, in particular, have brought a lot of improvements," he says, from new choices in lighting systems to longer-lasting bulbs and easier-to-maintain replacement parts for older systems.

Up until the 1980s, quartz lighting was standard, if not ideal. It broke often and didn't light hills particularly well. In the mid 1980s, high intensity discharge (HID) lighting—both metal halide (which shine more white) and high pressure sodium lights (which shine more yellow)—were introduced. Those, Lowden says, "had their own pros and cons," but also "gave great light and lasted longer."

LED lighting became available in the early 2000s. At first, LEDs had their own problems (ice freezing on them because of a lack of heat, with a substantial light loss as a result), but those issues have been largely worked out. "They are much better now than they were six years ago," Lowden asserts.

There's another relatively new option, magnetic induction lights (MIL), based on an invention from the late 1800s. With tweaks to work for night skiing, companies like Ultra Tech Lighting have now installed MIL systems in multiple ski areas, including Steamboat.

Philip Gotthelf, managing director of Ultra-Tech, says the company's Snow-Bright lighting system benefits a resort —and its surrounding community—in multiple ways.

"Light is electromagnetic radiation, and that can have an impact on biology," he says. So lights that don't impact humans and nature matter. Snow-Bright lights are dark-sky compliant and animal-friendly.

They're also effective. Ultra Tech modernized the MIL concept and created a spectrum such that the light from Snow-Bright refracts through the snow, rather than reflects off of it. That makes for a more natural-light feel and better vision, as well as no chance of having your eyes burned by looking directly at the bulbs. Better yet: the light is soft and barely visible from the surrounding areas.

The hitch: MIL systems are more expensive. But Lowden and Gotthelf point out that they last a long time. With a proven 100,000 hour life, it's an investment that should prove smart.

Even so, improvements to the technology in older systems make total replacement unnecessary, except perhaps for quartz lights, Lowden says. Instead, he recommends that resorts replace, add, and upgrade those systems with newer (and better working) similar products.