Many resort operators are working to create more inclusive, diverse, and equitable outdoor spaces. Much of that work happens at the organizational level—training, hiring, cultural competency, etc. When it comes to marketing, you can look outside the organization, too. There are folks in your community and online already working to foster a more welcoming outdoors by sharing their knowledge and stories on social media platforms.Resorts can partner with these individuals and elevate their voices, which can be an effective way to create change in your outdoor spaces.
Social media, particularly Instagram, has been a gateway for showcasing and lifting up diverse voices. On these platforms, athletes and professionals can reach markets and create followings in the millions. These influencers provide representation and community. Many of them also go beyond the role of the typical influencer, taking on a leadership role in social justice work in the outdoors. So, I propose a new term: torch bearer. A torch bearer "brings the light," which I think is exactly what these folks do.
We spoke with some influencers/torch bearers (we'll use the terms interchangeably here) to learn how resort marketers can partner with them in support of each party's mission and purpose.
PARTNERSHIPS BASED ON SHARED VALUES
There is a (mostly) unspoken truth that influencers focused on diversity, equity, and inclusion (DEI) want to work with companies that are already walking the talk when it comes to DEI. That's no surprise; torch bearers are vulnerable to tokenization. Hiring someone as part of a DEI effort in your marketing when no other DEI work is ongoing at your resort is a hollow gesture toward inclusivity, and it dehumanizes your influencer partner. Do not ask them to represent entire populations and, essentially, perform a dog and pony show for the cameras. 
Partnering with a torch bearer is about embracing shared values. "I'm still doing the work that I already do," says Mirna Valero (@themirnavator to her 135,000 followers on Instagram). When you engage in a partnership, she says, "you're helping me. You're putting your money where your mouth is. You're also doing the work by uplifting me."
Underpin representation with action. "A lot of the stuff I market is based around elevating the communities I'm a part of. So, hopefully, if I'm working with a ski resort or something, they are working with the local adaptive organization to try and elevate (celebrate, fund, and uplift) the work that they're doing … to provide that equity we all like to talk about," says disability access strategist and professional athlete Vasu Sojitra. 
Sojitra, @vasu_sojitra on Instagram, whose mission is "to bring intersectionality to the outdoors," has more than 46,000 Instagram followers. When asked about the tangible ways resorts can "walk the talk," Sojitra suggests, "incorporating their adaptive athletes into their marketing. Providing job opportunities for the folks who might be coming through those adaptive facilities. Creating a grant program to support adaptive organizations. All these little things can help." 
"The six [companies] that I'm sponsored by—The North Face being my main sponsor, Faction Skis, Hydro Flask—have been doing some really great stuff with disability representation," says Sojitra. He offers his sponsor Anon Optics as another example for its work "around family representation in its marketing, which is really cool." And, he notes, his partner Skullcandy "put out a big campaign and there's a few adaptive or disabled folks, including cognitive and physical disabilities, incorporated into that."
Collaborations should benefit every partner. Alterra Mountain Company "look[s] for collaborations that benefit everyone, help us all learn what we can do better, and find a common place in the passion we all have for the outdoors," says VP of public relations Kristin Rust. "We want stories to come from a natural place that speaks to our audiences who love the outdoors. And we want that audience and our storytellers to come from a diverse spectrum of athletes, content creators, and snow lovers."      cont. »
Real stories, real representation. "Representation and diversification of content and marketing can't be forced," adds Alterra SVP of sustainability and special projects David Perry. "It has to be real stories about real people, including both the struggles and good times in the mountains." 
"If someone is already holding space in an area, we look to them to tell us what stories they'd like to tell," says Rust. "We do not want to contrive anything; we want stories and content to be natural and a good fit for all." 
Alterra is walking its talk in its video campaigns. "We have created a number of larger video productions that are in line with our goals, including 'Boundless' [a series about three adaptive athletes], 'My Ikon: My Girls' [a video about the power of the mountains to bond women], 'A Mother Knows the Mountain Best' [two female athletes coming together to teach their children about their love for big mountain skiing], and 'My Ikon: My Connection' [a video about a Native skier and Native snowboarder and how the mountains connect them to their origins and allow them to teach others to have greater respect for protecting our environment]," says Rust.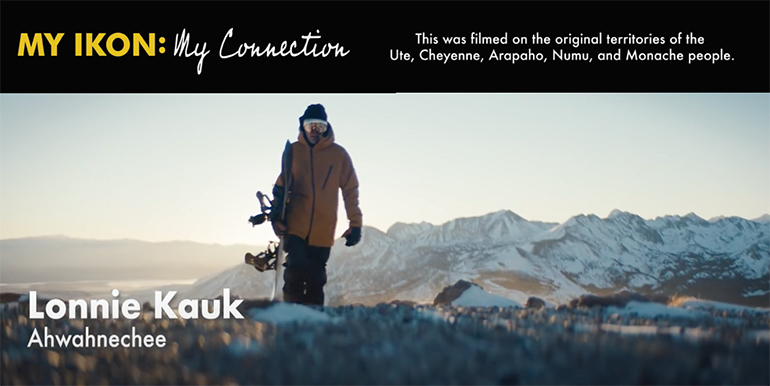 Alterra's "My Ikon: My Connection" film elevates the voices of two Native American athletes and their deep connections to the land.
In the case of "My Ikon: My Connection," Alterra also put its money where its mouth is. The company made a donation to Natives Outdoors and Sacred Rok, two wildly different companies that are diversifying the outdoors in their own way, on behalf of the video's stars, Connor Ryan and Lonnie Kauk. 
Clarify your goals. As an organization, when doing DEI work, it's important to know what "diversity" actually means to you. Will you focus on gender diversity, BIPOC, LGBTQIA+, the adaptive community? Are you looking for a partner with a big audience to share content on their platform, or a partner to share their story in content designed for your platforms and audience? Diversity isn't all black and white, and neither is marketing. Once you clarify your goals, it's easier to identify who to approach for partnerships.
How do you find influencers who already hold space in the community you are trying to connect with—BIPOC, Native American, Asian, adaptive, etc.? Says Rust, "The majority of the people we work with have been referred to us, either via partnerships with organizations like Protect Our Winters, SheJumps, Share Winter, Get Out and Trek, the National Brotherhood of Skiers, etc., or from resorts or other athletes." 
HOW TO GET IT RIGHT
Influencer Mirna Valero, aka the Mirnavator, an adventurer and author who is both an outdoor professional and a professional diversity practitioner, was approached this past winter by Coalition Snow, a women-led snowsports equipment and apparel maker, about forming a partnership. The idea was for Valero, an ultra-runner, to document her first time on skis (provided by Coalition Snow). 
Research. Coalition Snow had obviously done its research on Valero, an important step in creating trust. "Jen Gurecki [founder and CEO of Coalition Snow] reached out to me and said, 'I just keep seeing you everywhere. We were wondering if you'd be interested in doing a collaboration with us. We love the work that you do,'" explains Valero. 
Actually collaborate. The brand was excited to partner with Valero in ways that made sense for her as the professional and didn't just provide her with a laundry list of photo ops and agenda items, which was a mark in their favor. "[Gurecki] didn't just come up to me like, 'here's your scholarship for the work that you're going to do,'" says Valero. 
Valero's initial response to the propsal  was, "I don't know how to ski." To which Gurecki said, "I know, and that's great!" Coalition Snow supported the partnership by setting Valero up with new skis, a season pass, and lessons at her local hill, Bolton Valley, Vt. (Providing education and access is just one of the many ways organizations can create partnerships with the communities and markets they are looking to include.)
Make it mutually beneficial. "I got paid to learn how to ski, and it was phenomenal," says Valero. And Coalition Snow got Valero in its gear in front of her 135,000 Instagram followers—people who weren't necessarily searching for snowsports content but were able to see someone else new to the sport (who perhaps reflected some part of their own identity) walk through the process, the gear, and the lingo.
Support your partner. Bolton Valley jumped into the role of partner right away, too—and became a key part of the story shared online. "Bolton was amazing," says Valero. "They were like, 'What do you need? What can we do? How do we do it better? How can we work together?' And they were asking me, a person of color, and a person who knew a little bit about social media...and I really loved that." 
Not only was a meaningful partnership formed, but the experience also converted a new skier. "I had an amazing winter," says Valero. She's so hooked she took a trip across the country to go skiing: "I got to go to Bozeman and ski with Vasu."
KEY CONSIDERATIONS
Creating an outdoor context that is rich in opportunity for people of all backgrounds and life situations is not only good business, it's good for humanity. Using social media to our advantage is just one of the tools to put conversations on DEI into action and seek meaningful partnerships with people doing the work of outdoor transformation. 
Some things to remember about approaching and working with outdoor influencers:
• Do your homework. Really get to know your torch bearer. What makes them tick? What is their vision? 
• Make sure that your company values align with theirs. Now more than ever, folks are asking organizations: Who are you? What do you stand for? 
• Pay your partners. Unlike the influencers of old, today's torch bearer is a professional, who should be compensated accordingly. Walk the talk of equity by paying folks for their work. 
• Collaborate on storytelling, and together develop a clear understanding of services to be rendered. 
• Support the community. This can happen in many ways: operators can partner with local groups already doing social justice work in the community, or even simply ask the community what it needs. Support should also elevate the voices of people in the community and allow space for their purpose, brand, vision, etc.
• Provide education (if needed), resources (travel, lessons, gear, etc.), and a welcoming environment to your partners. Do not ask them to bear the burdens of access and financing.
With community, education, and trust at the forefront of your outdoor diversity, equity, and inclusivity conversations and partnerships, resorts can raise diverse voices that carry the light of change and talk to wider audiences.