KEYSTONE, CO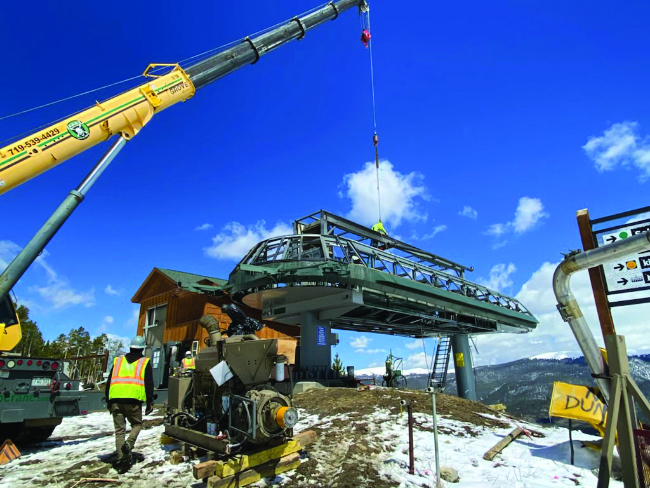 At the close of the season, after about three years of planning, permitting and proposal preparation, Keystone began pulling down the Peru lift, a Doppelmayr detachable quad from the early 1990s. In its place, the resort is stringing up a Leitner-Poma detachable six-pack. The Keystone project is part of a busy lift-building season for Vail Resorts (VR), with four other new-lift installations scheduled for this summer.
Keystone salvaged such components as motors and gear boxes from the Doppelmayr lift, to be reused where applicable at other VR properties, and sent out what couldn't be salvaged for recycling. After that, a Leitner-Poma team took full charge of the actual new-lift construction, with Keystone assisting with "peripherals," says Grant Ellis, the resort's director of lift maintenance. "Peripherals" include 10 feet of trail widening, as well as connections with electrical, fiber-optic, and telecommunications networks.
Most slopes on which lifts are built begin gradually and steepen toward the top. Not so at Keystone, where the slope is very steep for the first few towers before becoming much gentler for the rest of the span. That raised concerns about soil sluffing on the steep section and necessitated the rebuilding of some tower foundations, says Leitner-Poma senior sales manager Jon Mauch.
While improved technology might have been an important decision-making factor in the lift replacement, "capacity is the real driver," Mauch says. 
The new lift increases uphill capacity from 2,400 people per hour to 3,200 people per hour. That necessitated an increase in horsepower—from 700 hp with the old lift to 952 hp for the new lift, according to Ellis. 
Even with the significant increase in horsepower, the lift will consume significantly less energy, perhaps as much as 40 percent. That is largely a result of switching from direct-current electricity to alternating current, says Ellis. 
LE MASSIF DE CHARLEVOIX, QC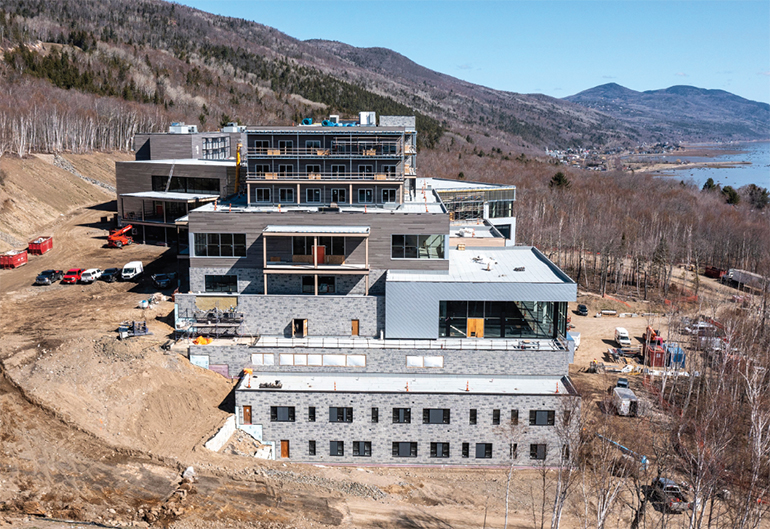 Le Massif de Charlevoix partnered with Club Med in the construction of a 302-guest-room hotel that will open this December. 
Construction began the summer of 2019 and proceeded relatively smoothly, interrupted only briefly by pandemic issues and by labor shortages that have plagued the construction industry in Quebec. Le Massif executive vice president Andre Roy credits the construction contractor, L'Intendant, with staying on schedule and on budget despite soaring price increases in building materials in the past year.
The partnership with Club Med was somewhat unusual, says Roy. In most hotel projects involving Club Med, Club Med comes aboard strictly on a management basis. But, while Le Massif owns a 75-percent stake in the hotel, Club Med has an ownership interest of most of the remaining 25 percent, along with its usual management contract.
Quebec-based architecture firm Lemay Michaud was hired to produce a look compatible with the resort hotel's mountainside setting. The resulting design features stark, Bauhaus-like angularity, in colors and materials that honor the natural surroundings and local traditions. Numerous large, often floor-to-ceiling windows maximize views of the Saint Lawrence River and mountain landscape.
Constructing a large building on a relatively steep mountainside brought into play what Roy calls "the biggest concern—water" in the form of rain and snow run-off. The architects had to devise a system of channels to divert water away from the structure. Snow loading on a flat-roofed building might seem to be a concern in an area that typically sees more than 150 inches annually and where cold weather preserves snow for months at a time. But Roy says that plentiful wind should do a sufficient job of stripping excess snow weight. 
LOON MOIUNTAIN, NH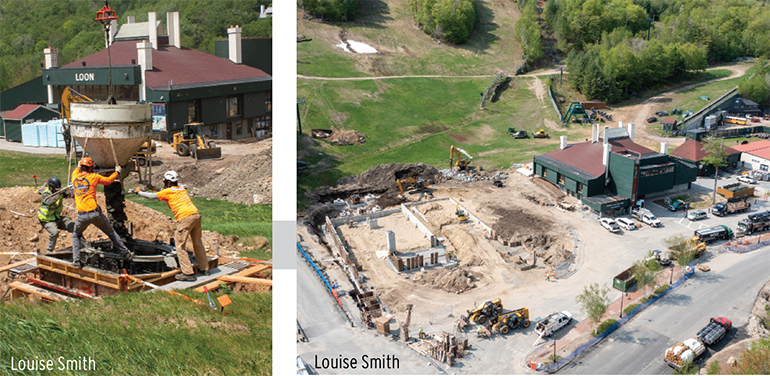 Boyne Resorts was the first in North America to install an eight-person Doppelmayr chairlift, at Big Sky in Montana. Now it's following suit at Loon Mountain in New Hampshire with the installation of the new Kanc8 chair, which is replacing a 1995 Doppelmayr quad.
The new lift features Doppelmayr's D-Line technology. It is a bottom drive, powered by a direct-drive system with 808 hp that will propel carriers up the 3,791-foot slope at a maximum rate of 1,038 fpm. It follows the same line as the previous lift, rising 1,068 vertical feet.
The Kanc8 will increase uphill capacity but won't double it, says Loon director of mountain operations Brian Norton. The increase will be about 20 percent because the total number of chairs on the line will be reduced from 100 to 62. That will mean intervals of roughly eight seconds between chairs, compared with five seconds previously, resulting in a less stressful loading process, says Norton.
New towers in new locations, with larger concrete footings, were required to handle "loads that are so much greater," according to Doppelmayr sales engineer Eric Mann. The new lift actually runs on fewer towers than the quad, with 12 towers versus 14, but Mann says the overall concrete volume was roughly doubled. 
The lift's 62 carriers need to be housed overnight. A structure was designed for overhead storage of the chairs, with the ground level serving as the loading corral—a creative use of space in a base area with precious little room to spare. The carrier storage building and bottom terminal are one structure, with a total of 12,800 sq. ft. of space. Doppelmayr is installing the lift components, while Loon is responsible for such things as replacing transformers to accommodate increased power requirements. A building contractor, Engelberg, was hired to oversee construction of the dual-use facility, and numerous subcontractors supported as well.
The pre-existing quad has been carefully disassembled, with some parts to be sent away for refurbishing while others will be moved to an off-site storage facility. Boyne's plan is to reinstall the lift at a different location next year. 
GRAND TARGHEE, WY
As part of a $20 million upgrade this summer, Grand Targhee included the development of a $6.5 million employee-housing cluster in Driggs, Idaho. Driggs is the closest town to the resort, about 12 miles away. 
The resort hired Zip Kit Homes, a pre-fab construction business based in Utah, to design 16 identical free-standing buildings, each with six bedrooms, on a three-acre lot in downtown Driggs. The site was selected for its proximity to grocery shopping and shuttle transportation to the resort, says resort spokesperson Jennie White. The total 96 bedrooms will be able to accommodate roughly a quarter of Grand Targhee's winter workforce. Construction was expected to be completed by August of this year. 
Also part of Grand Targhee's $20 million overhaul is a new 13,000-square-foot maintenance facility that will include nine work bays, two lifts for vehicle maintenance, and two overhead cranes for other heavy lifting, as well as office space. Before beginning the project, a Grand Targhee team went to nearby Jackson Hole Mountain Resort "to look at the positive and negative things they did at their [maintenance] facility," says Mark Neff, Grand Targhee director of mountain operations.
Grand Targhee is one of the snowiest resorts in North America with an average annual snowfall of more than 500 in. That means "snow loads that are ridiculous," says Neff, resulting in a facility that Neff calls necessarily "overbuilt." Included in the new facility's design is an oil/water/contaminant separator to clean up the spillage inherent in maintenance; the recovered oil will be used as fuel for supplemental heat, while the gray water will be used in pressure washers, says Neff.