After what could be called the "summer of stop right here and obey all kinds of rules," the mountain sports industry is about to dive into a new era. Call it the "Summer of Love." With Covid restrictions lifting and the world hungry to gather, there's been a shift from "whoa there!" to "come on in!" But it's important to realize adapting to this shift may not be as easy as it sounds.
Faced with the silver-lining challenge of blending long-time outdoor activity lovers (who oft not only know the rules but hold them close to their souls) with new-to-this-experience folks (driven outdoors by the lack of indoor things to do), resorts now have to figure out how to keep everyone happy, satisfied, and safe. 
The key to it all is somewhat abstract, say experts. It lies in compassion, gentle guidance and, most of all, understanding how the brain works while people are out in nature. "Part of recreating is emotional and mental," explains Mark Petrozzi, principal of AlpenRisk Safety Advisors. "People go out there to get away from having to focus on job tasks. It's really good to understand and recognize that in people."
Eugenie Bostrom, campaign and coalition manager for Recreate Responsibly and founder of consulting firm Embracing the Bear, agrees. Bostrom, who consults on growth strategies, says her top tip going into this unique summer: lead with compassion. "Assume positive intent," says Bostrom. "Everyone is coming to seek the joy you get out there. Ask yourself how you can help them do that, instead of just sharing a list of regulations." 
BE PREPARED
Even love takes preparation. To welcome all, resort operators will need to provision by re-adopting pre-pandemic practices and adding new steps, processes, and guidance. 
Expect crowds. If last summer taught us something, says Don Dressler, program manager for the U.S. Forest Service Rocky Mountain Region, it's that crowds can impact everything—from trailhead parking and restrooms to trash and traffic flow on trails and at activities. While more freedom to open things up and move around will alleviate much of that, he says, we still need to be ready. "Folks are going to come back and bring their friends, and we need to prepare," says Dressler. "This is a golden opportunity."
"FOLKS ARE GOING TO  COME BACK AND BRING  THEIR FRIENDS, AND  WE NEED TO PREPARE,"  SAYS DON DRESSLER. "THIS  IS A GOLDEN OPPORTUNITY."
Utilize reservations. While Dressler hasn't seen the "perfect model" yet, he notes some things that seem to work. For one, helping guests to plan ahead. Ironically, the pandemic assisted with this: People were forced to make online reservations ahead of time at most resorts last summer and this past winter. The world is used to doing so, and many prefer it.
Burke Mountain Resort in Vermont, considered a summer mountain biking mecca of sorts, is operating with a hybrid, reservations-recommended model to manage volume this summer.
With the Canadian border closed and Vermont having some of the tightest restrictions in the Northeast, Burke's numbers were actually down last summer. While the Canadian border was still closed at press time, the rest of the region (and the nation) has opened up to travel, meaning Burke will see a jump this summer. "New York, Connecticut, Massachusetts? [Their populations] are all filled with highly vaccinated and enthusiastic outdoor folks," says Burke Mountain general manager Kevin Mack.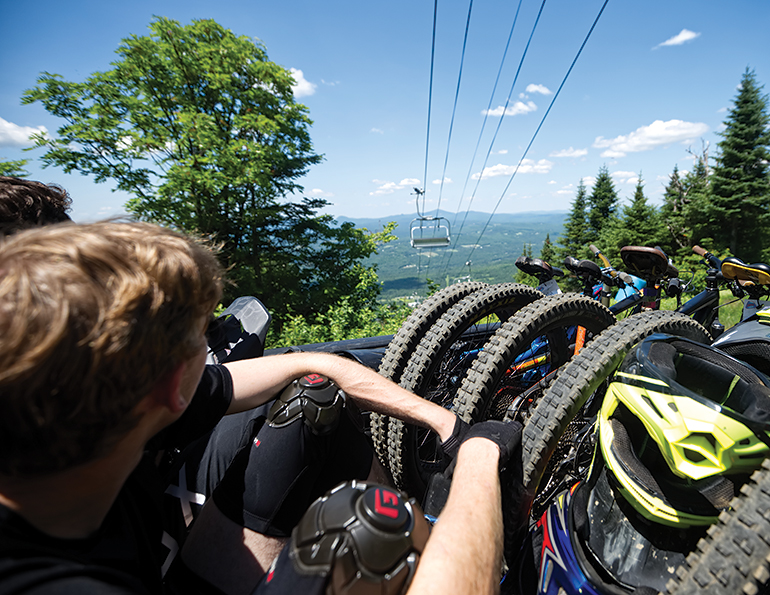 Burke Mountain, Vt., is expecting mountain bikers to return in droves this summer as restrictions lift.
Burke is pushing advance reservations as the best option in its social media, advertising, and other guest outreach. It's also encouraging folks to reserve their bike rental—Covid-related supply setbacks prevented Burke from updating or adding to its rental fleet this year.
Reservations allow resorts to communicate ahead of time—everything from rules and tips to what other activities are available. Pre-bookings can even help a resort guide an upcoming guest to activities that are less crowded, a tactic Dressler says some of Colorado's busy I-70 resorts have been doing effectively. "If an activity is full, they have a list of alternatives to suggest," says Dressler. (Zip tour fully booked? Try this instead!)
At Burke, says Mack, "we are ready with other options if we cannot give them a bike. We can help them embrace activities like hiking, fishing, etc., and still give them a memorable experience."
Keep additional outlets. Burke is also keeping some things in place that it instituted due to Covid that could help with crowds, such as added food truck options. "Keeping people outside as much as possible still makes sense to us," says Mack. 
"This summer will be different," he says. "Most of the rules will be relaxed. But we still want people to be mindful of all the little things we can do to make everyone comfortable out there."
KNOW YOUR AUDIENCE
Petrozzi, who has been advising resorts on risk management communications for decades, says it's more important than ever for resorts to recognize who they're communicating with and where that audience is coming from. "They're not outdoor people," he says, of many of the newbies. "They want to be. They look online and think, 'I want to do that.'"
This lack of knowledge may lead new participants to undertake adventures without thinking things through properly, a situation often exacerbated by technology. "They think: 'I have a GPS on my phone, so I can call if I am in trouble,' which is a false sense of security," says Petrozzi. "And it's summer, so they have a false sense already." (Summer weather can be tricky, too.)
Common sense education. Good pre-arrival communication can help guests to prepare, even if it seems like common sense: don't use brand-new hiking boots before breaking them in; carry sunscreen and bug repellent; dress in layers. "We want them to have a positive experience," says Petrozzi. "Bug bites, blisters on a toe, too hot or too cold can all ruin someone's day." 
Responsible recreation. We also want new participants to embrace the responsible "how" of outdoor recreation now that they've discovered the "why" and "where." "We've always wanted more people to love nature and build a relationship with nature," Bostrom says. "But we also need to foster that relationship in a positive way."
Check your tone. "It's really easy for people who have been stewards of the land to come off a bit naggy and judgey," Bostrom warns. Well intended, yes, but it's not the best way for resort operators and long-time guests to educate new participants. "Strike a tone of 'you want to do this, because you want to build your relationship [with the land].'"
Utilize existing resources. There are programs and materials to help a resort communicate responsible recreation practices. For example, six years ago, the National Ski Areas Association (NSAA) collaborated with its Canadian counterparts to create the North American Mountain Bike Responsibility Code. 
Petrozzi sees the code as a future across-the-board primer for trail use generally, because he believes that, while each resort does have its own nuances, universal consistency works in messaging. "How we use language to talk about all this should be consistent resort to resort," he says. "Whether it is with symbols, language, colors or other things, we can make this feel familiar." 
Consider ski trail markings, for example. At one time, the green-blue-black trail system was new, and the industry had to educate folks. Now, it's hard to find even a newbie who does not understand the difference between a green circle and a black diamond.
Share best practices. When it comes to messaging, Petrozzi suggests resorts seek out and share with others in the industry. "The industry has done a great job in figuring things out and sharing [during the pandemic]," he says. "The value of what has been done is massive."
SIGN OF THE TIMES
While it would be nice to expect all guests to read emails or web pages that prep them for their visit, it's safe to assume that not all do, Petrozzi says. That means signage could be your last chance.
Petrozzi suggests resorts choose eye-catching, clear, and relevant signage that draws a person in, so they read and absorb it, not just see it.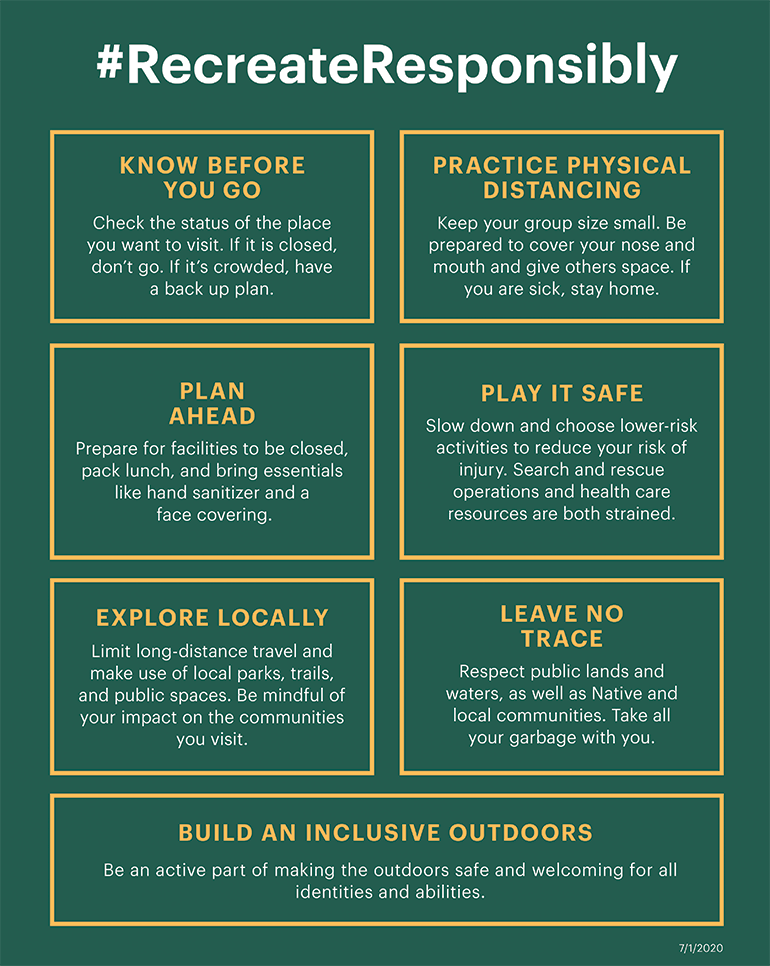 Good signage and communication is key. Recreate Responsibly offers print- and web-friendly templates in nine languages to help educate and foster a caring outdoor community.
Safety signage. What should new recreators be reminded of via signage? Thankfully, it's no longer about Covid, per se. Dressler says newbies need to know about the impact of high elevation (where appropriate) and how to prep for it, about animals and wildlife and how to recreate safely among them (yes, in Steamboat, Colo., signs warning people not to pet the moose had to be posted), and about how weather can change in an instant.
Etiquette signage. Petrozzi adds that educating about multi-use trails is important as well. "They need to know the etiquette," he says, such as on which side cyclists should pass walkers, who has the right of way, etc. Rules may vary by jurisdiction, but whatever the signs say, Petrozzi advises to keep it basic. "Basic is smart. People can understand and adopt basic rules quickly," he says.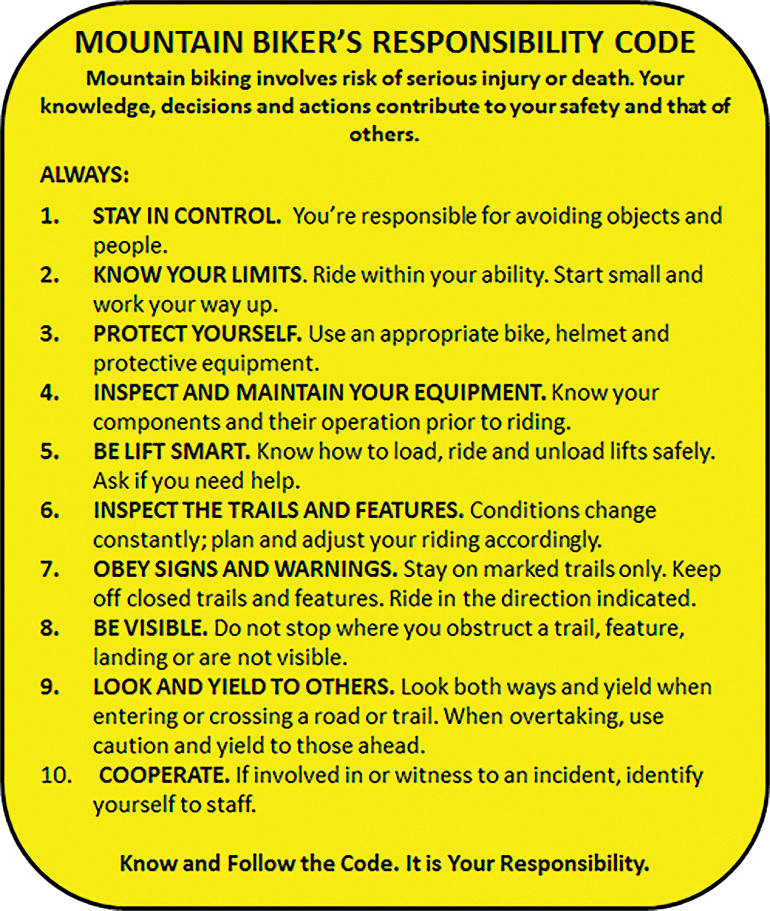 NSAA and its Canadian counterparts collaborated to create the North American Bike Responsibility Code.
Storytelling. Bostrom suggests going even further. With the goal of building long, meaningful relationships between the guest and nature, she suggests using messaging and signage to bring the history of the spot alive for the guest.
"Lean into the historic uses of the land, and weave that into your story," she says. "Look at the Native Americans and indigenous people of the world and how they respect and love the land." Infuse an understanding of historic land use and preservation of the earth into messaging, she adds, and people may think twice about things like littering or hurting natural settings.
Reflect the population. Bostrom also suggests we continue to be open minded. "We're learning there is no such thing as an 'outdoor person,'" she says. "There are only people who want to enjoy the land. People are realizing that, and seeing it in themselves. They are thinking: Even though I may not look like an REI ad, I like the outdoors." Signage, websites, and ads should all reflect that, she says.
BABY STEPS
Feeling overwhelmed? Don't. It's never too late to dig into this more. "You don't have to do all of this a year in advance," says Petrozzi. "There are still things you can do to be ready."
With solid messaging and a fluid plan for crowds of newbies and regulars, resorts can equip guests to embrace guidance and savor the outdoor fun. 
TEND TO STAFF FIRST

Timberline Lodge, Ore., had a massive influx of guests last summer and expects the same this year. It can be draining on staff, so Timberline director of marketing and PR John Burton says the resort's approach to staff wellness is akin to the airlines' rule of putting your own mask on before you can help others. "We've got to take care of ourselves first," says Burton. "People need to come to work at Timberline with confidence." 

To do that, Timberline has mapped out a three-tiered approach:

1. Communicate with staff directly. Don't leave employees to sift through outside sources—like the news and social media—to find out how things are being handled on site. Give staff your own steady stream of updates, official news on regulations, and more. This will help them block out the noise and focus on what you need them to know. 

2. Educate employees about safety in the workplace and how they can contribute. Even though restrictions are being lifted, says Burton, staff should continue to do things like stay home if they feel ill. Operations should remind their workers that it's OK to stay home, and also ensure that it doesn't hurt staff members' wallets if they do.

3. Boost staff morale. "We need to maintain empathy and flexibility as we move through this," says Burton. "If employees are relaxed, our customers will be, too." 

He recommends managers encourage their staff to bring forth ideas and suggest plans on how to handle all this—encourage them to use their voices and experiences to help the team thrive. 

Generally, while there are still rules, they're less about restrictions and more about understanding the fun to be had outdoors—which is easier for staff to communicate and enforce than Covid rules have been. "It's time to get back to more enjoyment," says Burton.