Last year, when businesses were faced with the notion of survival during a pandemic, resort marketers faced a dilemma. All they thought they knew about marketing "trends" at the end of the 2019-20 season was out the window. Many were forced to reset their marketing for the 2020-21 winter season, as existing plans based on existing trends and opportunities may have become obsolete. Still, ski areas found ways to communicate with consumers, and as time passed, some marketing trends that emerged out of necessity have caught on. For example: screen time. 
"The use of screens, both digital and television, is at record high consumption," says Perry Kapiloff, a media-buying consultant based in West Boylston, Mass. "This creates a great opportunity for new brands to take over a category, or for an established brand to re-claim its position as the dominant player in its category."
 Kapiloff has coined a term for this marketing approach: "tra-digital."
Embracing traditional and digital media. "Tra-digital is the combination of digital and traditional media working together," explains Kapiloff. "In today's world, marketing is about the use of screens—telephone screens, TV screens, computer screens."
Kapiloff says that giant radio companies saw tremendous losses in listening habits as the pandemic wiped out the car commuter—and the dashboard radio. "Now companies like iHeart [iHeartMedia, which combines radio, podcasts, and music into one mobile app] are remaking themselves into digital companies. Other traditional mediums, like newspapers and magazines, are doing the same."
 Such changes have come into play for ski areas. With smaller marketing budgets heading into the 2020-21 season, we faced the challenge of continuing to promote our brands while managing customer expectations around Covid. For many of us, email, social media, and our websites became the primary marketing channels used to inform and educate customers, while more traditional forms of advertising took a back seat. 
 In the spirit of Kapiloff's tra-digital approach, Wachusett, Mass., is focusing its promotional direction on using three tools, all of which helped "reset" the resort's marketing last winter:
• Over-the-top TV advertising
• SMS/texting
• Dynamic sponsored content digital advertising
OVER-THE-TOP TELEVISION (OTT) ADVERTISING
It's become more and more difficult to reach a targeted audience through traditional advertising. Media sources have become more focused on helping advertisers overcome that. With the advent of streaming through the use of "connected" or "smart" TVs, none are doing that better than television.
The beauty of Connected TV is that the "big screen" is now connected to the same Wi-Fi as your mobile and desktop computer. This allows marketers to serve ads through a streaming platform to a much more targeted audience than broadcast TV ads, with added frequency. 
Targeted audience. How does it work? As an example, you and your partner are watching the same streaming show, one upstairs in the bedroom, and one in the living room, each using your individual profiles. If an advertiser chose an audience that matched your demo but not your partner's, you'd see the ad in the living room and your partner in the bedroom would not. 
The ability of OTT to reach a more defined demographic audience than traditional broadcast TV allows the advertiser to purchase a timeslot and know it is reaching a desired demographic rather than just hoping for the best. 
Optimize spending, reach. Marketers are also looking for ways to be more efficient with their ad dollars. Keith MacPherson, an account executive at WCVB-TV—Boston's ABC affiliate, owned by Hearst—says an OTT platform (like Hearst's Anyscreen) "combines the power of television and the targetability of digital to zero in on precise consumers. It is also a way to reach the rapidly growing segment of cord-cutters and cord-nevers to attain a desirable ROI." 
OTT allows marketers to have different creative speak to different audiences and optimize accordingly. Marketing efforts can be aligned and focused on the best ROI for the ad spend. Real-time insights and reporting also allow marketers to determine the effectiveness of the campaign and the audience they are targeting, as well as test new data segments. 
"The way we all consume media is changing expeditiously," says MacPherson. "Users are cutting the cord at an enormous rate; roughly 20 percent of U.S. households no longer have cable subscriptions, and Covid has escalated this, as more people are trying to find ways to cut costs."
 Wachusett, which built its brand on the back of broadcast television in the Boston market, has dabbled with OTT in recent years and deemed it a major focus in 2021. While broadcast still has a role, it's not as powerful as it was. Managed OTT platforms allow resort marketers to reach the right consumers with the right ad on the right device in a brand-safe environment (i.e., your ad will not end up placed next to inappropriate content).
SMS/TEXTING
The concept of text messaging is not new in marketing, but it's evolving. While there is a distinction between text messaging and app push notifications, they can be viewed as cousins. And if you have room at the table to invite only one cousin for dinner, which one would you ask? 
The answer is easy if you don't have the resources to build an effective app, or access to one with a push notification feature. Even if you do, the marketing dilemma you face is: who's listening? 
Application inundation. "The average person has roughly 80 apps installed on their mobile device. If you had push notifications enabled for all of them, you would be drowning in notifications," says Tom Grabowski, CEO of Six Degrees Analytics, a marketing consulting firm based in Charlotte, N.C. "It's impossible for consumers to determine what qualifies as high-priority information if they're being inundated with alerts."
Grabowski says to avoid this issue, consumers tend to turn notifications off on the apps they do not use or whose notifications they deem unimportant. This means the only way a consumer will click on an app is if they remember to. Given this, many apps are forgotten about, and 77 percent are deleted after 72 hours.
Text peer-to-peer. A small dinner table doesn't have to be a disadvantage if you can invite your SMS (short message service)/texting cousin, though. For businesses, SMS platforms come in two flavors—what's referred to as "peer-to-peer" and the more traditional "mass text blasting." The game-changer is that "mass text blasting" requires a customer to opt-in with their cell phone while "peer-to-peer" does not.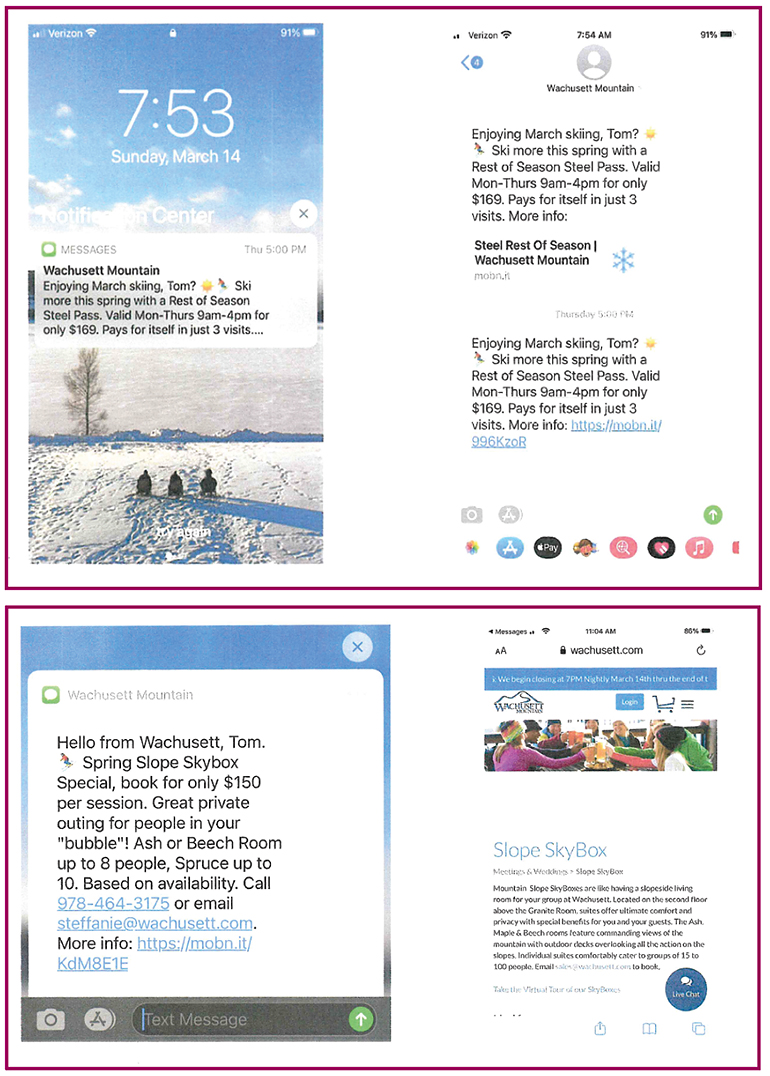 Some examples of peer-to-peer text messages that helped Wachusett engage with customers at highly-targeted times and locations.
This FCC-approved technology is already in wide use by professional and collegiate sports teams and major sports venues, says Grabowski. "Formats can include shorter-form SMS and longer-form MMS (multimedia messaging service) messages," he adds. "It's a game-changer for ski industry marketers." 
Wachusett opted to implement a peer-to-peer SMS/texting initiative to engage customers on a one-to-one basis through timely and pointed messaging, and to drive revenue through increased ancillary spending. The SMS campaign, launched in November 2020, combined a new marketing channel with existing email, social media, and advertising. The goal was to use an SMS/texting platform that enhanced customer communication and the customer experience by tailoring messages and offers through segmenting our customer database. 
Real-time connections. Even more effective has been the ability to reach skiers and riders on the mountain in real time utilizing RFID data. With an average open rate of 98 percent, Wachusett reached day-ticket purchasers and passholders before, during, and after their visit, and achieved exceptionally high click-through rates. 
The secondary goal was to establish two-way communication with customers on the mountain in real time with relevant offers and critical communication.
DYNAMIC SPONSORED CONTENT
It is hard to consider digital advertising a new trend. In fact, it's been used so long that it has become over-used and increasingly ineffective. Digital consumers don't want to be sold. Younger generations are "anti-ad," since they have grown up in the digital world. Click-through rates continue to decline, as ad blocking becomes the norm and users experience "banner blindness."
Customers also want to do research before they make a buying decision. During the Covid climate, people want to know it is safe to do certain activities, and marketers are looking for ways to get information across without it being viewed as advertorial.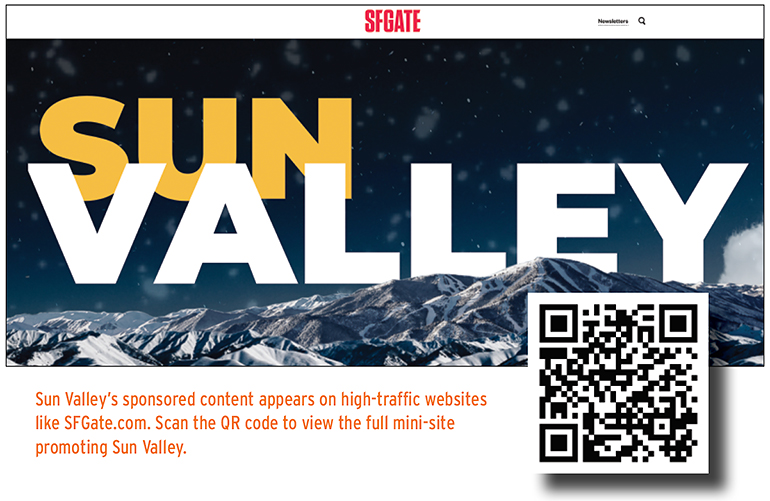 Storytell to sell. The abysmally low click-through rates on traditional digital banner ads have forced media companies to get more creative for their advertisers. Consumers are now expecting "content" from brands such as storytelling and product experience to help establish a connection. Content is a major part of the customer journey, allowing brands to be discovered and then creating an always-on relationship with the consumer that helps create brand affinity. 
This has its advantages—it allows brands to become thought leaders in their space and build a connection with their customer base. Sponsored content, in particular, allows marketers to focus on quality engagements as opposed to impressions. Engagements have led to better-quality traffic, which leads to a higher conversion rate. On average, users are spending 3-4 minutes reading Wachusett's sponsored content, which helps us to qualify our audience.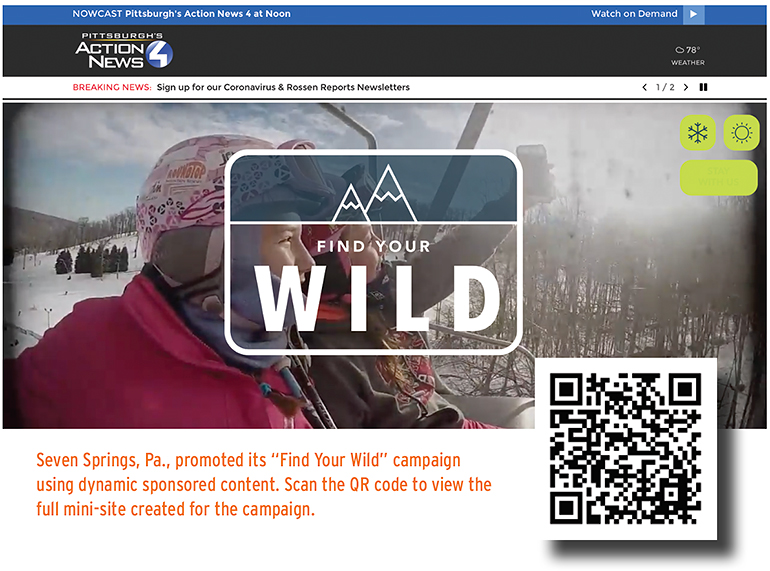 This is why ski area marketers seeking a stronger graphic engagement with web users are looking toward dynamic sponsored content. These credible-looking sponsored content campaigns, when clicked on by a web user, become, in effect, an advertiser's mini website. The sites pop up right into the selected websites included in a network digital buy. Some early adopters of dynamic sponsored content include Wachusett; Sun Valley, Idaho; and Seven Springs, Pa. 
THE FUTURE IS FOCUSED
"Marketing used to consist of just media and creative, but the game has changed with the rise of data from our Smart TVs, mobile devices, and desktop computers," says Pat Gram, digital sales manager for Boston's WCVB-TV. "Marketers realize there should be a data component to every marketing plan," and media partners can help leverage available data to reach the desired audience. 
In today's marketing climate, quality just may trump quantity. "In your messaging, get known for one thing and advertise that one thing everywhere," says Kapiloff. "Advertise in fewer places, be a bigger player in those outlets, and build your frequency of message."
It's important to remember that frequency is not how many impressions you receive or messages you send, reminds Kapiloff. "It's how many times your core demographic gets exposed to the message," and the action they take from there.